This White Wedding Cake recipe is the perfect, easy solution for making your own wedding cake. It turns out perfect every time, and it's delicious frosted with White Buttercream Frosting. Watch the video showing you how to make this recipe, then scroll to the bottom of this post and print out the recipe so you can bake this cake at home!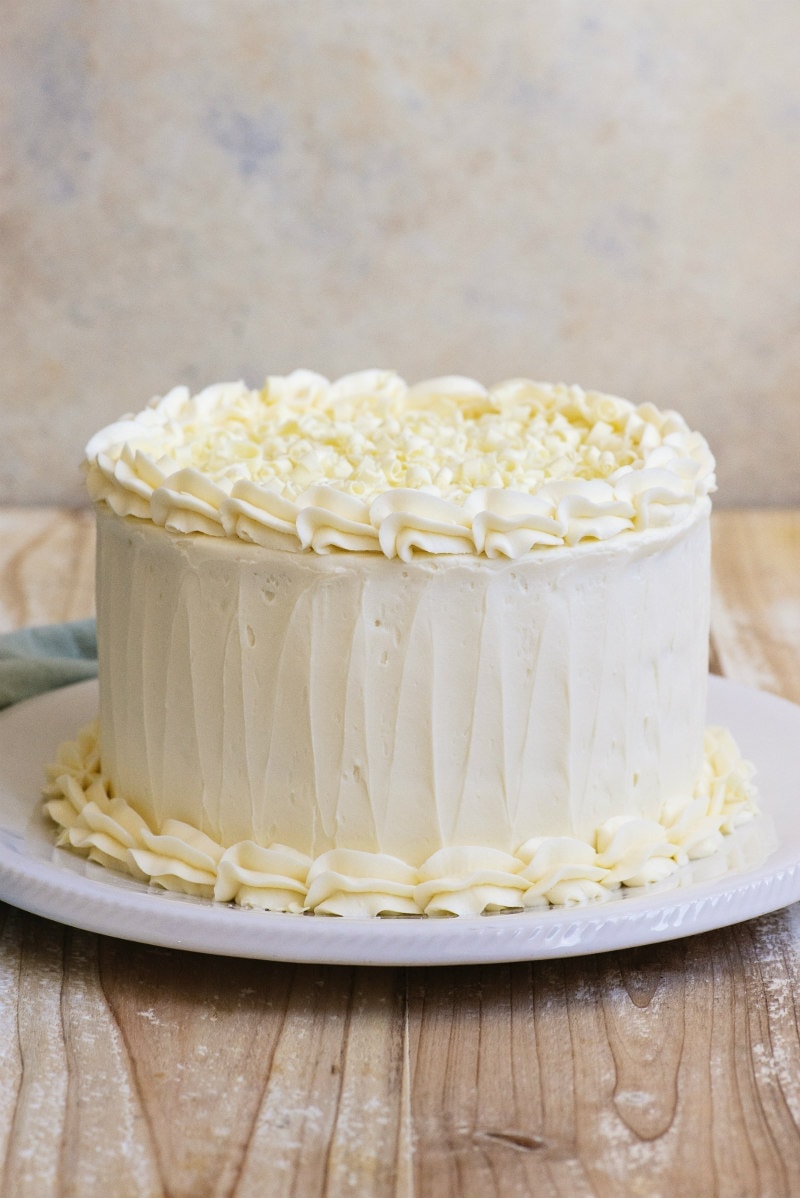 Bake Your Own Wedding Cake!
If you're having a small wedding, or if you are on a strict budget, you might consider making your own White Wedding Cake (or having a family member do it for you. This is a very simple recipe, and I have suggestions for you on how you can make a smaller cake like this and still feed all of your guests with the same cake. Read on!
You don't have to be a professional cake decorator to bake your own wedding cake. I've always had an interest in baking, but I wouldn't say I have any kind of special talent that is above any other avid baker. When my son was in Kindergarten, his teacher was getting married and asked if I might be interested in baking a cake for her small wedding. I was terrified to take on the responsibility, but I agreed to do it!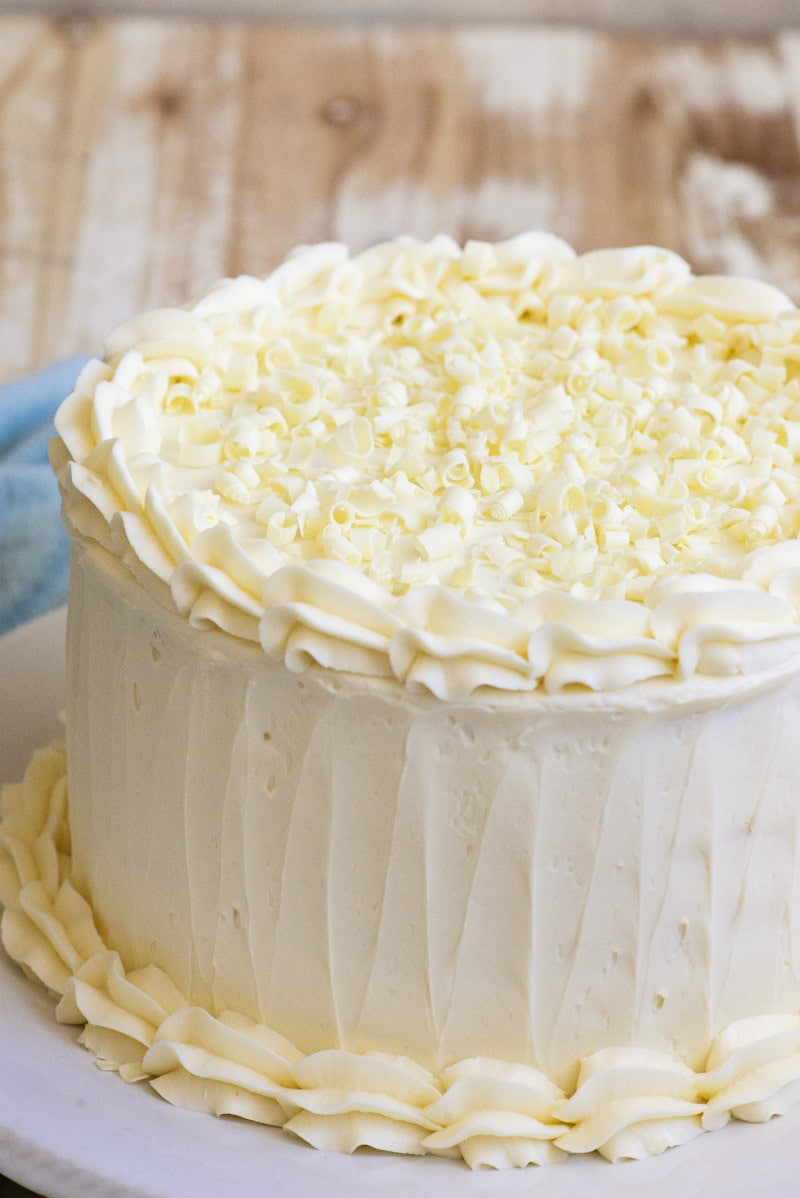 What makes this cake special?
I made a few different kinds of cakes, and then I did a tasting session with the kindergarten teacher. This is the recipe she chose. She and her mother agreed that this White Wedding Cake had the best flavor, and it was so tender too. Let's just say they were surprised when I told them that this recipe starts with a cake mix. Yep, it's a doctored-up cake mix recipe. I've been baking this cake for all kinds of celebrations for so many years now, and it's a big hit at every single event. People love this White Wedding Cake!
Now I know I've probably lost a few people at this point who are saying, "OMG, how could you serve a cake mix cake at a wedding??" And, "Why on earth wouldn't you make it from scratch?" Well… like I said, when I did the tasting with the K-teacher, I presented several cakes for tasting (scratch cakes and then this one), and this White Wedding Cake was the hands-down favorite. And now it has been a favorite with so many people ever since. No one who eats it can tell that it began with a cake mix. It doesn't taste like a boxed cake mix cake because it has been doctored-up to improve upon the taste.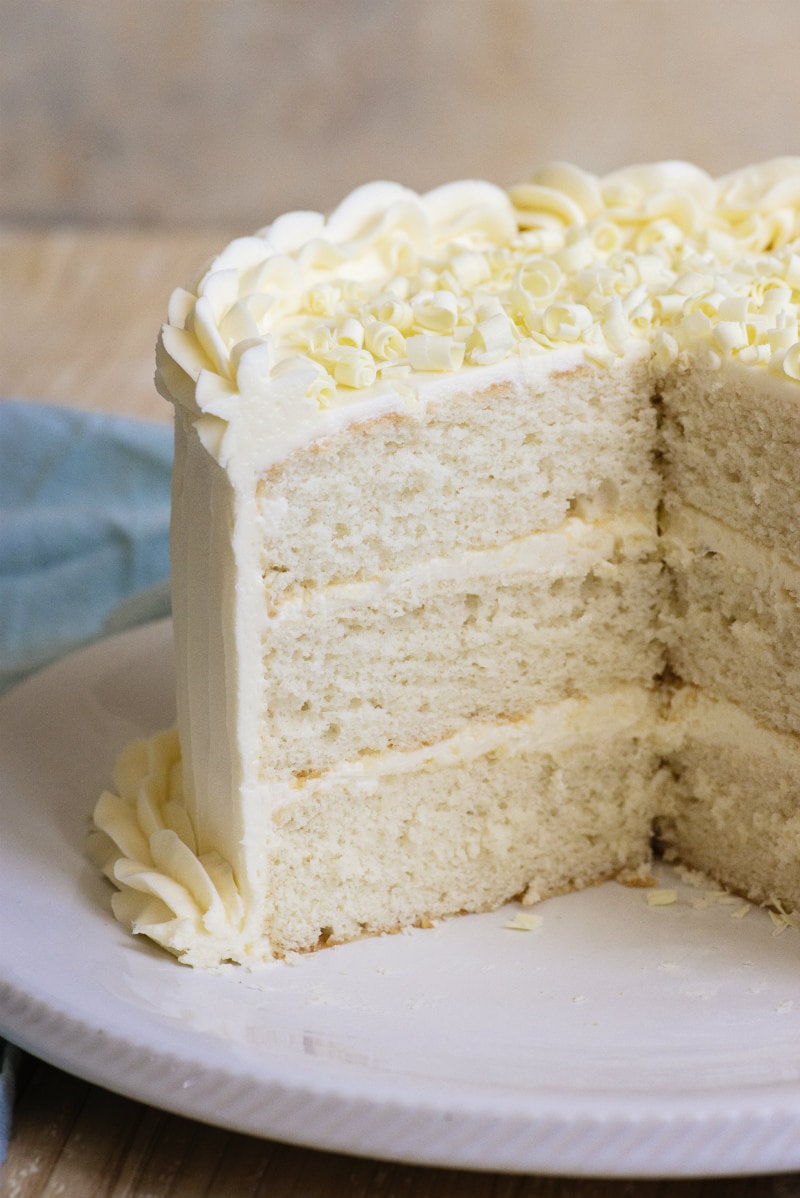 What kind of frosting is best for a wedding cake?
Part of the appeal of this cake is the frosting recipe that is paired with it. I call it, "Wedding Cupcake Buttercream." It has wonderful flavor, and it's perfect for piping if you want to make a few decorations here and there. I wrote a post devoted to Wedding Cupcake Buttercream with a ton of details about how to pipe decorations, as well as a video that shows you how to make it. Check it out HERE.
In the recipe below, I've included the buttercream frosting recipe. It makes enough to frost your three layer cake and have some leftover for piping decorations.
How to bake a cake for your own wedding:
This recipe makes a three layer cake. You'll use three 9-inch pans. And you'll frost it just as you would frost a two-layer cake, with frosting in between layers. If you'd like, you can put the remaining frosting in a piping bag and use it to create a simple border around the top and bottom edges. I like to grate some white chocolate shavings onto the top of the cake because that helps make it look a little more fancy. I've also used this recipe to make a 14-inch round cake too for other kinds of celebrations.
Obviously this recipe won't be enough to feed everyone at your wedding. You'll get 14 servings out of it. So what I suggest is baking this cake for display and tasting. Then use this same recipe to make White Wedding Cake Cupcakes for your guests. That's what I did for my son's Kindergarten teacher, and it made for very pretty display at her small wedding. I wrote a long post about How to Make Wedding Cupcakes, so that's worth reading too!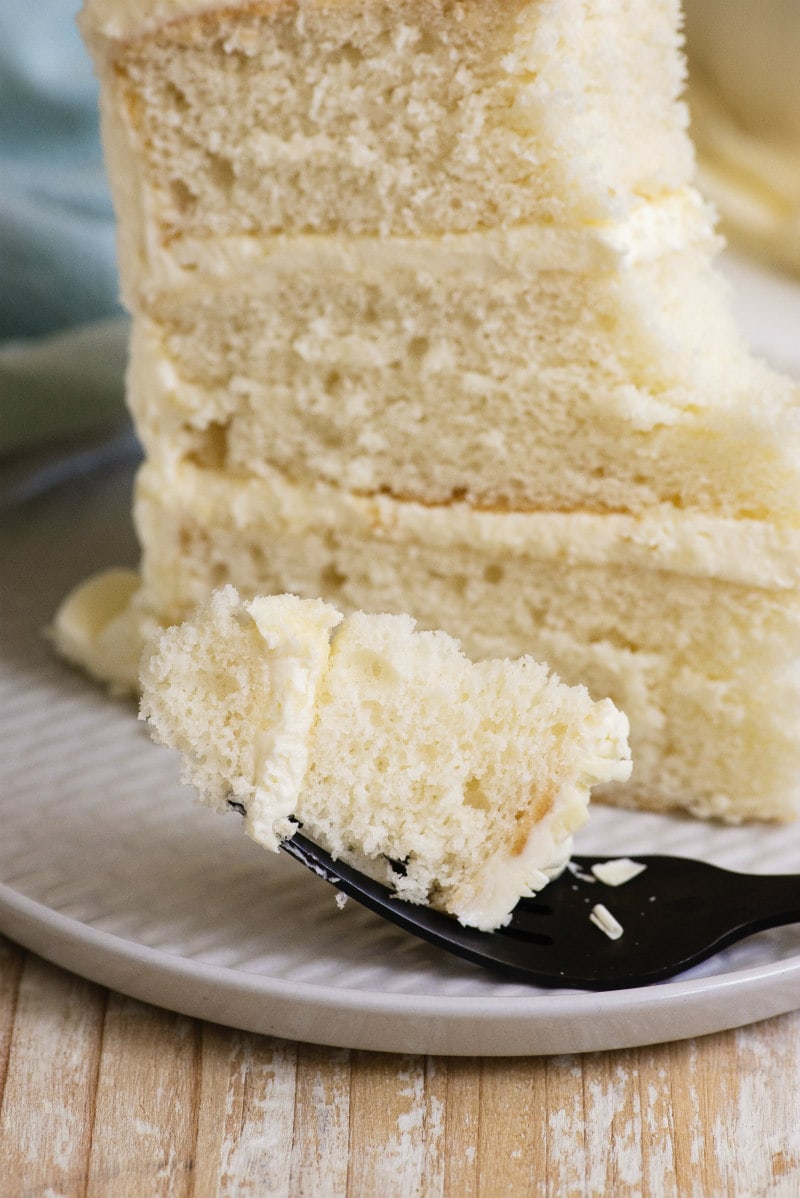 Good luck!
If you're looking for more recipes that are great for homemade weddings, consider these:
White Wedding Cake
Super simple recipe for White Wedding Cake!
Recipe Details
Ingredients
CAKE:
One

15.25-ounce box

white cake mix

(NOTE: make sure the cake mix you buy is 15.25 ounces-- companies have been reducing the size)

1

cup

all purpose flour

1

cup

granulated white sugar

¾

teaspoon

salt

1⅓

cups

water

2

tablespoons

vegetable or canola oil

1

teaspoon

vanilla extract

1

cup

sour cream

4

large

egg whites
BUTTERCREAM FROSTING:
4½

cups

powdered sugar

1½

cups (3 sticks)

salted butter,

at room temperature

1½

teaspoons

vanilla extract

(use clear extract, if you really want it white)

3 to 4

tablespoons

heavy whipping cream
Instructions
BAKE THE CAKE:
Preheat oven to 325°F. Grease and flour three 8-inch round pans. 8-inch pans are important as the layers will be thicker. It's easiest to get the cake out of the pans if you line them with rounds of parchment paper too.

In a large bowl, whisk together the cake mix, flour, sugar and salt. Add the remaining ingredients and beat with hand mixer for 2 minutes, or until well blended.

Divide the batter evenly between the prepared pans. Be sure to fill them ¾ to 1-inch below the top of the pan. Bake 35 to 45 minutes, or until a toothpick inserted into the center comes out clean. Watch closely- check after 35 minutes and then every 5 minutes until they test done. Time will vary based on which pans you choose to use. Let the cakes cool in the pans for a few minutes, then turn out onto cooling racks to cool completely before frosting.
FROST THE CAKE:
In a large bowl, with a hand or stand mixer, cream together the sugar and butter on low speed. Mix until well blended. Increase the speed to medium and beat for another 3 minutes. Add the vanilla and 3 tablespoons of cream and continue to beat on medium speed for 1 minute more. Add more cream if needed for desired spreading/piping consistency.

You may find that the layers are a bit moist on the surface, so just be careful when handling and frosting. Place one layer of the cake on a serving plate. Spoon a dollop of the frosting on the first layer and spread to cover. Place the second layer of cake on the first. Spread another thin layer of frosting on the second layer. Add the third layer of cake. Spread frosting on the top and then down the sides of the cake to cover. You should have enough frosting left over to add some decorations. Scoop the remaining frosting into a piping bag and pipe decoratively onto the cake, as desired. I like to refrigerate the cake until ready to serve (or at least until the day of serving (can make one day ahead).

Notes
*Add 1 teaspoon of almond extract (in addition to the vanilla) if you wish to have a different flavor.
*You can also use this mix to make cupcakes. Pour into cupcake liners and bake for about 18 minutes. It will make about 36 cupcakes.
*I've made this into a large 14-inch round cake too!
*If you want a bigger cake and thicker layers, use 9-inch pans and double the recipe. You won't use all of the batter, but you will be able to get thicker layers.
Nutrition
Serving:
1
serving
,
Calories:
594
kcal
,
Carbohydrates:
85
g
,
Protein:
3
g
,
Fat:
27
g
,
Saturated Fat:
15
g
,
Cholesterol:
65
mg
,
Sodium:
544
mg
,
Potassium:
73
mg
,
Sugar:
65
g
,
Vitamin A:
755
IU
,
Vitamin C:
0.2
mg
,
Calcium:
95
mg
,
Iron:
1.1
mg