I realize how confusing this must sound. Is it a pie? Is it a cake? Make up your mind, RecipeGirl! It was tough for me to decide, really. In this recipe, a cake batter is poured in and around the apples to hold it all together in the consistency of a cake, but there are so many apples involved that it can officially pass for a pie too. So here you go: Cinnamon Apple Pie Cake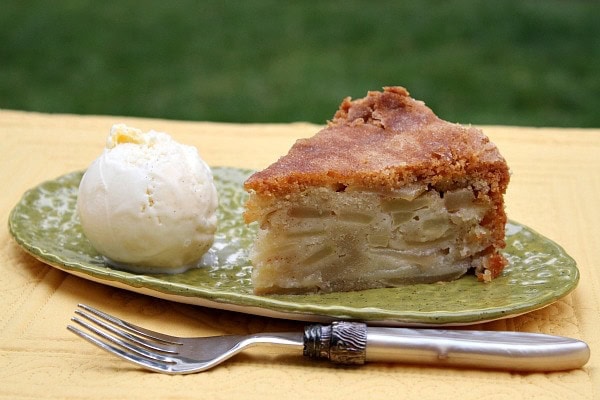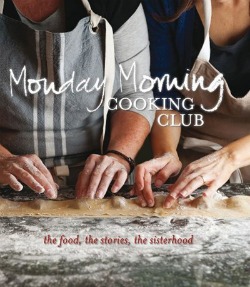 The recipe is one that I spotted while reading through one of the newest cookbooks I have on my shelf: Monday Morning Cooking Club.
Here's a description from Amazon:
In 2006, a group of Jewish women began meeting every Monday morning. They cooked, ate, drank endless cups of tea and – often heatedly – discussed the merits of different recipes. After just a few weekly meetings, the Monday Morning Cooking Club was born. Five years and hundreds of dishes later, six members of the sisterhood handpicked their favourite recipes to go into their book – the result is a generous, rich and inspiring cookbook featuring the best, most treasured recipes from a culturally diverse community. Each recipe begins with a short story of the cook and their history of the dish, and these stories, interwoven with amazing recipes, take the reader on a heartwarming and delicious journey through a community who finds a deep connection through food and the memory of generations that have gone before.
It's a rather interesting cookbook indeed. The authors are from Australia, so it's fascinating to read the stories that go along with the recipes. Some of the recipes have some out-of-the-ordinary ingredients, so it's not one that I'd cook from every day… but it's a great one to buy if you're a cookbook collector. Other recipes I'm eager to try: (there are actually a LOT): Plumb Cake, Souffle Pancakes, Chocolate Bread and Butter Pudding, Custard Chiffon Cake, Israeli Couscous Soup, South African Cheesecake, Morroccan Fish, Chicken and Barley Soup, Chicken Paprikash, and Challah From Heaven. There are a lot of neat things included in the book that you don't typically see here in America. It's a great way to get exposed to some new food.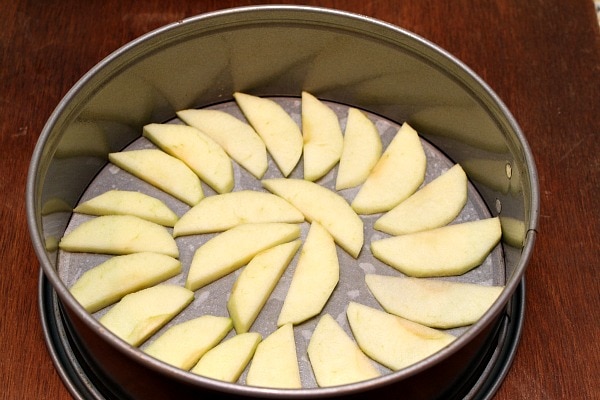 How to make an Apple Pie Cake:
You need a springform pan (like the kind you make cheesecake with). Apple slices are scattered around the bottom…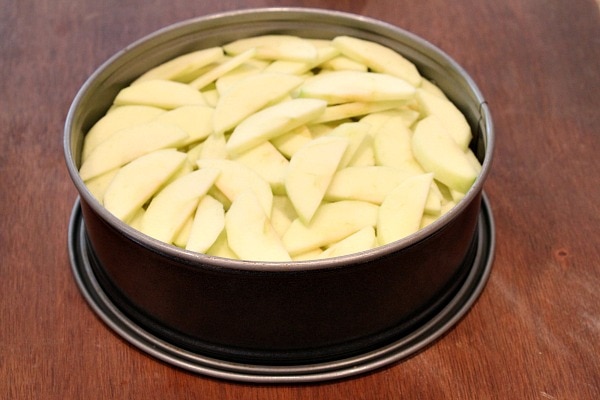 … and they're piled and piled until you almost reach the top.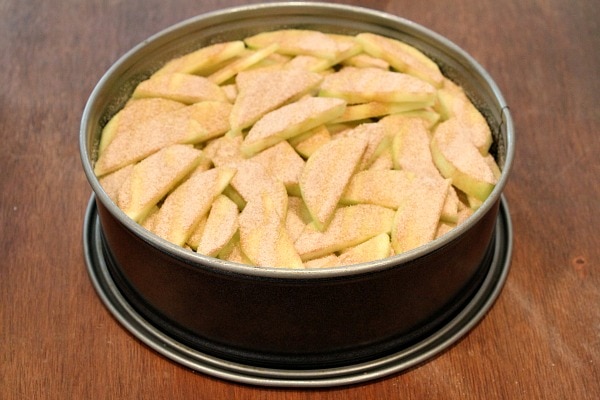 The apples get a sprinkling of cinnamon-sugar.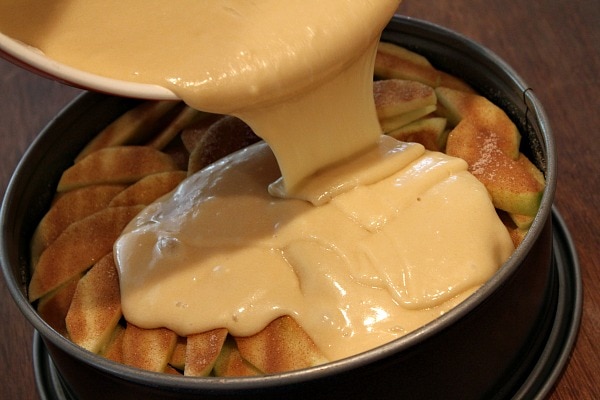 A cake batter is poured on top of the cinnamon apples.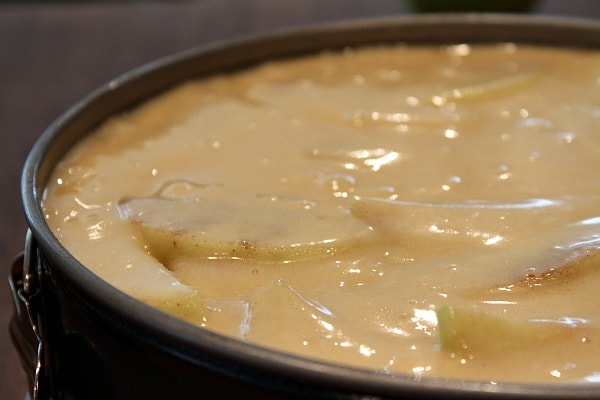 Let the cake batter drizzle down and around the apples, and give the pan a few taps on the counter to settle it all in there.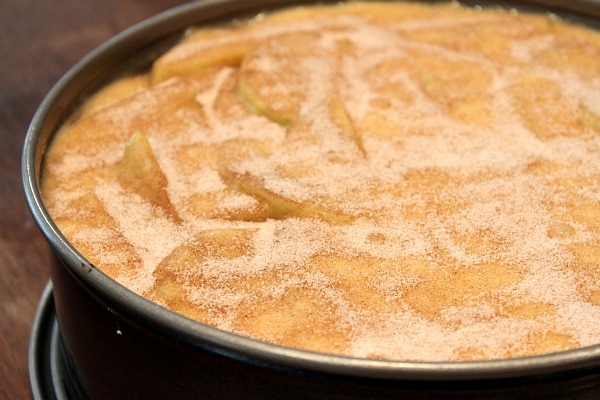 The batter gets a generous sprinkling of cinnamon- sugar too.
A quick peek into the inside of the pie- cake and you can see my dilemma. It sure looks like a cake, but it's so full of apples that it can pass for a pie too! I loved this recipe. It's really different than any apple pies or cakes I have made before, and it was a major hit with my taste testers. Interestingly enough, the author of this recipe refers to this as her husband's "favorite cake" in the introduction to the recipe, but she named the recipe "Cinnamon and Apple Pie." Clearly, everyone is confused!
Here are a few more apple cake recipes you might enjoy:
Cinnamon Apple Pie Cake
The best of both worlds in a pie and a cake put together!
Recipe Details
Ingredients
PIE- CAKE:
6 to 8

medium

Granny Smith apples,

peeled and thinly sliced

1 1/4

tablespoons

granulated white sugar

1/4

teaspoon

ground cinnamon

3

large

eggs

1 1/2

cups

superfine white sugar

(see NOTES below)

3/4

cup

vegetable or canola oil

3/4

cup

unsweetened applesauce

3

teaspoons

vanilla extract

1 1/2

cups

all purpose flour
TOPPING:
1 1/4

tablespoons

granulated white sugar

1/4

teaspoon

ground cinnamon
Instructions
Preheat the oven to 350 degrees F. Spray a 9 1/2 to 10-inch springform pan with nonstick spray. Line the bottom with a round of parchment paper and then spray again.

Layer the apple slices in the pan until they come about 2/3 of the way up the side. (I went a little higher than that and it worked out fine). Sprinkle the cinnamon-sugar over the apples.

Prepare the batter by beating the eggs and sugar until light and fluffy. Add the oil, applesauce and vanilla and beat well, then stir in the flour. Pour the batter on top of the apples, and sprinkle with additional cinnamon-sugar on top. Tap the pan on the counter a few times to allow the batter to sink down and around the apples.

Bake for 1 hour and 20 minutes, or until a skewer inserted into the center of the cake comes out clean. Cool *completely* in the pan. If you try to remove the cake from the pan while it is still warm, it will tend to break apart. I refrigerated my cake before slicing, and that worked out well. Serve slices with ice cream (warm individual slices in the microwave, if desired).
Notes
You want "caster sugar" for this recipe: It is a finer grind than table sugar, but not as fine as powdered. Look for "Baker's Sugar" at the store, or simply put regular white sugar in your food processor and give it a few whirls to create superfine sugar.
Nutrition
Serving:
1
serving
,
Calories:
437
kcal
,
Carbohydrates:
65
g
,
Protein:
4
g
,
Fat:
19
g
,
Saturated Fat:
2
g
,
Cholesterol:
63
mg
,
Sodium:
26
mg
,
Potassium:
174
mg
,
Fiber:
3
g
,
Sugar:
46
g
,
Vitamin A:
155
IU
,
Vitamin C:
5.2
mg
,
Calcium:
19
mg
,
Iron:
1.3
mg