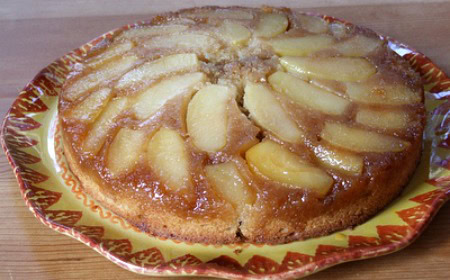 Apple Cinnamon Upside Down Cake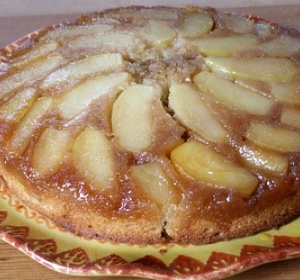 Yield:
8 servings
Prep Time:25 min
Cook Time:35 min
Ingredients:
10 Tablespoons unsalted butter, at room temperature (divided)
1/2 cup packed light brown sugar
3 medium apples, Empire or Gala (about 1 1/2 pounds), each peeled, cored and sliced into 8 wedges
1 Tablespoon freshly squeezed lemon juice
1 1/2 cups all-purpose flour
1 1/2 teaspoons baking powder
1/2 teaspoon salt
1/2 teaspoon ground cinnamon
1/2 cup granulated white sugar
2 large eggs
1 teaspoon vanilla extract
1/2 cup whole milk
Directions:
1. Preheat oven to 350°F. Coat bottom and side of a 9-inch round cake pan with 2 Tablespoons butter; sprinkle bottom with brown sugar.
2. In a medium bowl, toss apples with lemon juice; arrange in prepared pan in two concentric circles (you might not use all of them). In a separate bowl, whisk together flour, baking powder, salt and cinnamon; set aside.
3. With an electric mixer, beat remaining 8 Tablespoons butter with granulated sugar until light and fluffy. Add eggs and vanilla; beat until incorporated. With mixer on low speed, alternately add the flour mixture in three parts and the milk in two, beginning and ending with the flour mixture.
4. Spoon batter over apples in pan; smooth top. Bake until toothpick inserted in center comes out clean, 35 to 45 minutes. Cool cake in pan on a wire rack, at least 30 minutes and up to 6 hours (if cake has risen above rim of pan, simply push back inside rim).
5. To serve, run a knife around edge of pan, and invert cake onto rimmed platter.
Tips:
*This is a super easy cake to make. Watch the time- if you bake too long, it will be dry. Be sure to arrange the apples carefully so that it decorates the top when it's flipped over.
Source: RecipeGirl.com (via Everyday Food )