Peach Upside Down Cake is the best summer dessert!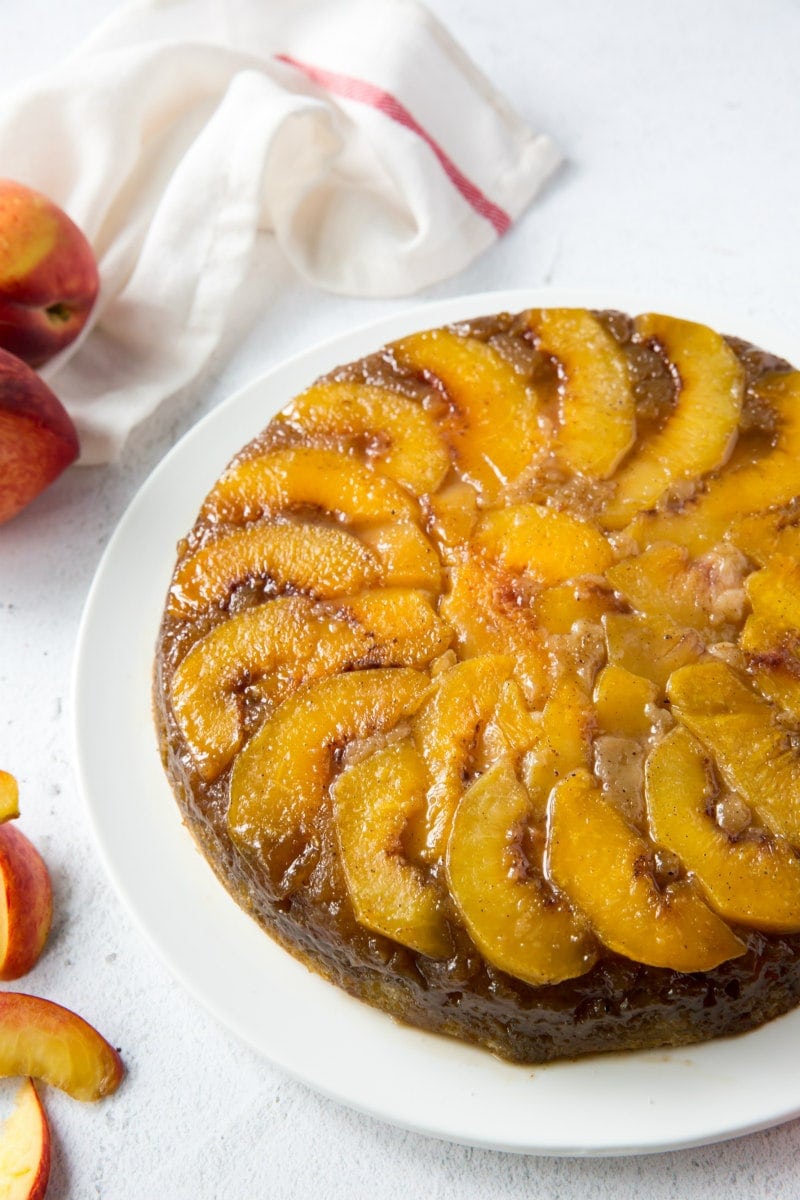 This peach upside down cake is the best recipe to make at the height of summer– when peaches are plentiful in the grocery stores, and when they're at their sweetest. A sweet, ripe peach is just about one of the best thing to eat in the summertime. And when you add fresh peaches to desserts, that's an even better way to enjoy them!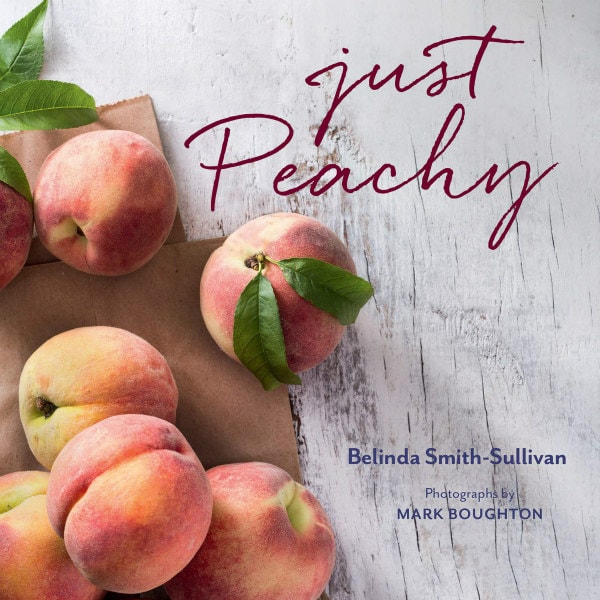 Just Peachy
Just Peachy is a new cookbook by Belinda Smith-Sullivan. If you're a regular reader of RecipeGirl, you will know that I have an affinity for niche cookbooks. This one is all about recipes made with peaches! It's the perfect cookbook to use in the summertime when you can find loads of fresh, juicy, sweet peaches! In this book, you'll find chapters highlighting breads/breakfasts, appetizers, soups/salads/sides, main courses, pies, desserts, sauces/condiments and beverages. I think all of the meals of the day are pretty much covered!
Here are a few recipes I've bookmarked to make: Blueberry Peach Scones with Lemon Glaze, Cast Iron Peach Cornbread, Spinach- Peach Salad with Stilton Cheese and Walnuts, Salmon with Peach- Mango Sauce, Flat Iron Steak with Honey Grilled Peaches, Raspberry- Peach Crumble, Peach Amaretto Ice Cream, Peach Salsa, Peach Barbecue Sauce and Peach Margaritas. Don't they all sound wonderful?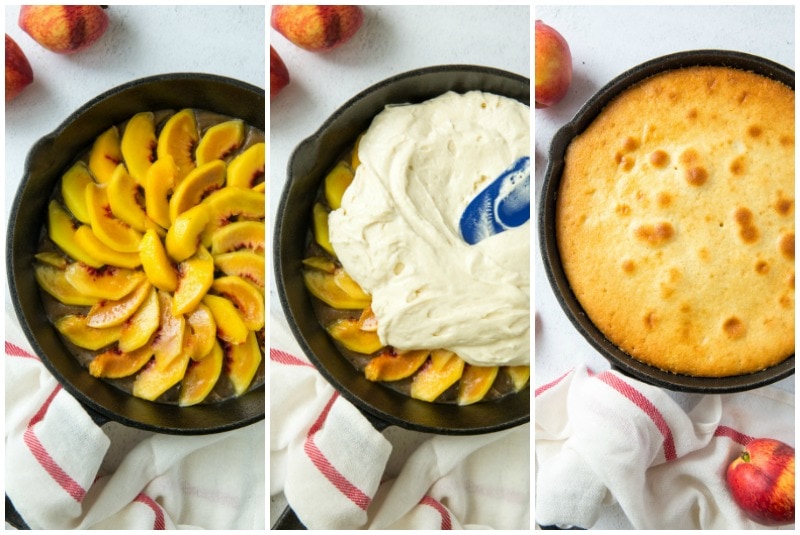 How to make a Peach Upside Down Cake:
Making an upside down cake is a two-step process. The first is preparing the fruit that will go in the bottom of the pan. In this recipe, peeled and sliced peaches are combined with brown sugar, melted butter and cinnamon. And then the peaches are placed (in a decorative way) into the bottom of the pan (a cast iron skillet). The extra juices are drizzled over.
The second part of the recipe is preparing the cake batter. It's an almond-scented buttermilk cake batter. And the cake batter is spread on top of the peaches in the pan. Then it's time to bake the cake!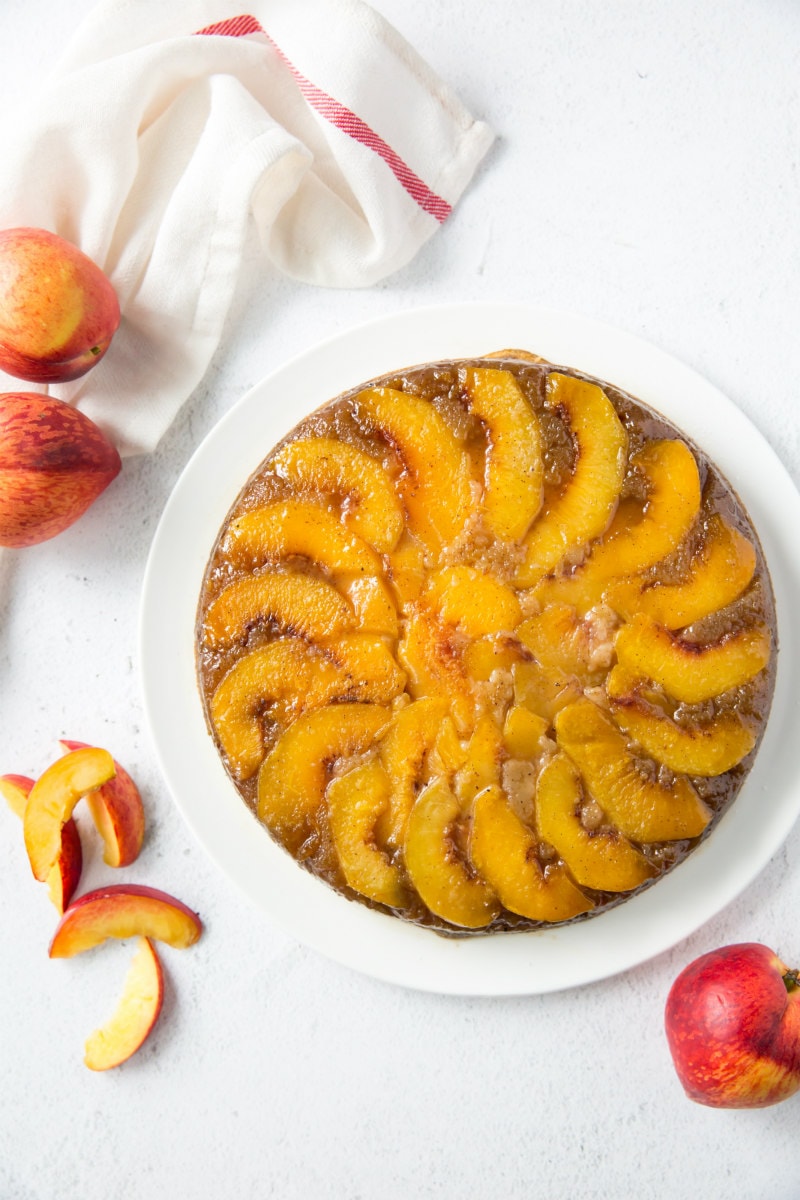 When the cake is done baking, you'll let it sit for about 10 minutes. Then it's time to get it onto a plate. You'll place a serving plate over the pan and carefully invert it to make the cake appear upside down on the plate. If any peaches stick to the pan, just pull them out of the pan and place them where they're supposed to go on the cake. You can drizzle any extra juices on top of the cake.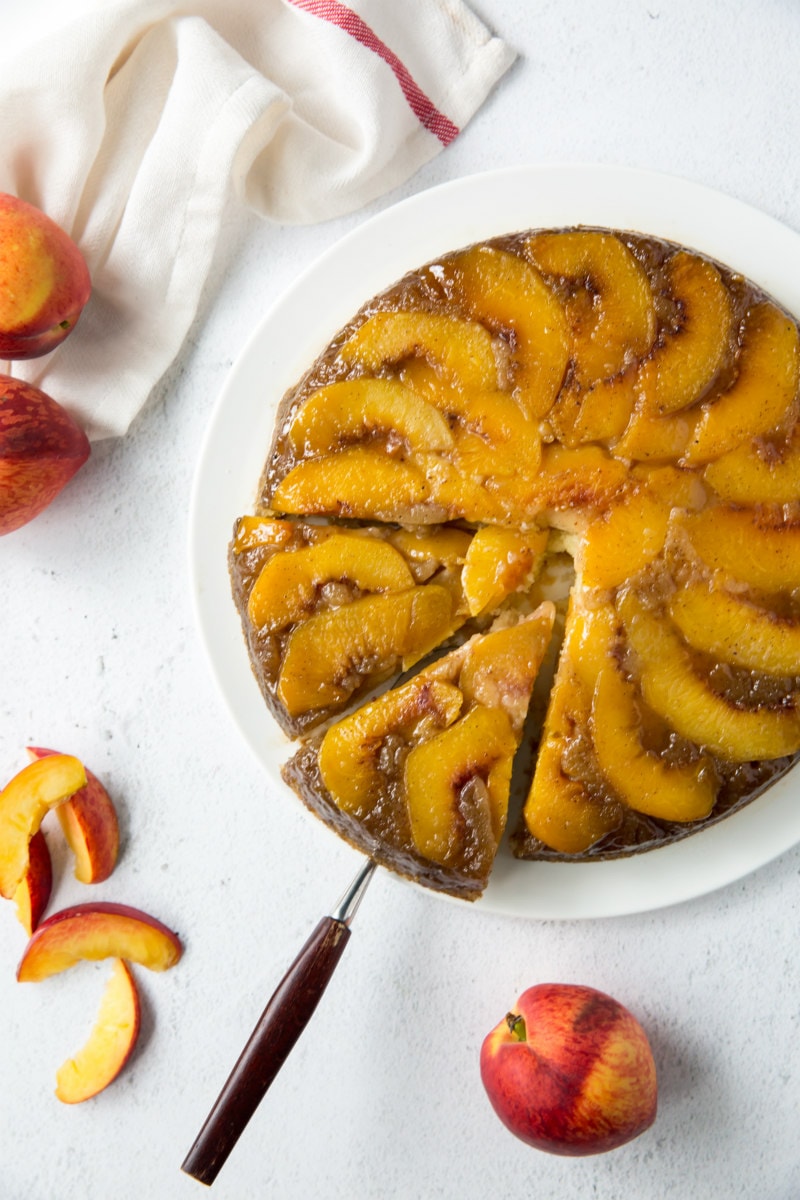 How to peel peaches:
Heat water to boiling in a large pot. Use a knife to make an X cut on the bottom of each peach and set aside. In a large bowl, prepare an ice bath (fill with water and some ice cubes). When the water comes to a boil, work in batches to put a few peaches in the boiling water for 45 to 60 seconds. Using a slotted spoon, remove the peaches from the boiling water and put them in the ice bath, and allow to cool completely. Where the X was made, you can see the skin pulling away from the peach. Repeat until you've boiled all the peaches you need.
When cool enough to handle, hold a peach in your hand and rub the skin with your fingers to remove the peach skin. It should easily separate from the peach. Then you can continue with your recipe preparation and slice your peaches into wedges.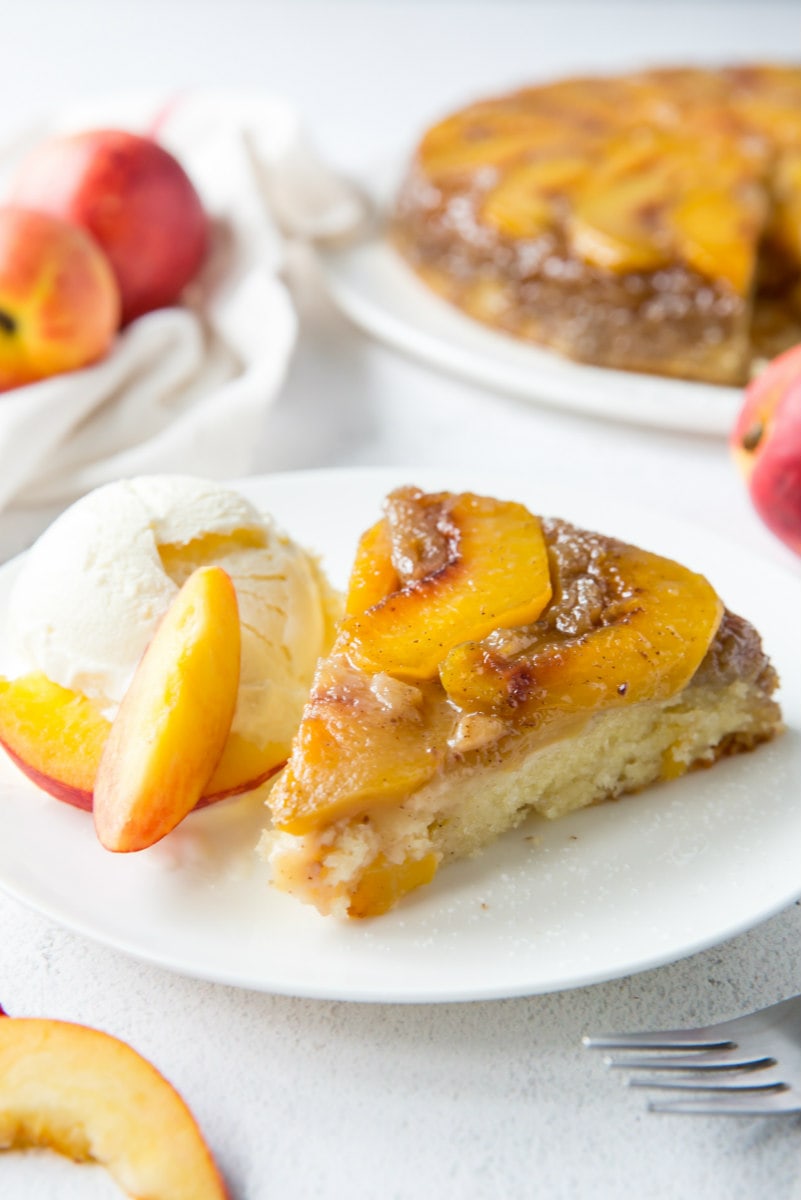 Serve slices with vanilla ice cream or freshly whipped cream. Enjoy!
Here are a few more upside down cake recipes you might enjoy:
Peach Upside Down Cake
Recipe Details
Ingredients
PEACHES:
1/2

cup

packed brown sugar

4

tablespoons

unsalted butter,

melted

1/2

teaspoon

ground cinnamon

5 to 6

medium

peaches,

peeled and sliced
CAKE BATTER:
1½

cups

all purpose flour

1

teaspoon

baking powder

1/2

teaspoon

baking soda

1/4

teaspoon

Kosher salt

1/2

cup (1 stick)

unsalted butter

2/3

cup

granulated white sugar

1

large

egg

1

teaspoon

almond extract

1

cup

buttermilk

powdered sugar,

for dusting the top of the cake
Instructions
Preheat the oven to 350 degrees F. Spray a well-seasoned 9-inch cast iron skillet with nonstick cooking spray.
PREPARE THE PEACHES:
In a small bowl, combine the brown sugar, melted butter and cinnamon. Pour into the skillet and arrange the peaches on top. Set aside.
PREPARE THE BATTER:
In a small bowl, combine the flour, baking powder, baking soda and salt. In a large bowl, use an electric mixer to beat the butter and sugar together until pale yellow. Add the egg and almond extract; beat until combined. Beat in the flour mixture and the buttermilk in parts, alternately; beat until just combined.

Pour the batter into the skillet and spread evenly over the peaches. Bake for 35 to 45 minutes, until a cake tester inserted into the center comes out clean. Cool for 10 minutes in the pan before inverting onto a serving plate. Dust with powdered sugar and serve warm.
Nutrition
Serving:
1
g
,
Calories:
337
kcal
,
Carbohydrates:
47
g
,
Protein:
4
g
,
Fat:
15
g
,
Saturated Fat:
9
g
,
Cholesterol:
60
mg
,
Sodium:
152
mg
,
Potassium:
258
mg
,
Fiber:
2
g
,
Sugar:
32
g
,
Vitamin A:
738
IU
,
Vitamin C:
5
mg
,
Calcium:
69
mg
,
Iron:
1
mg