Take advantage of peach season with this must try- Peach Cobbler!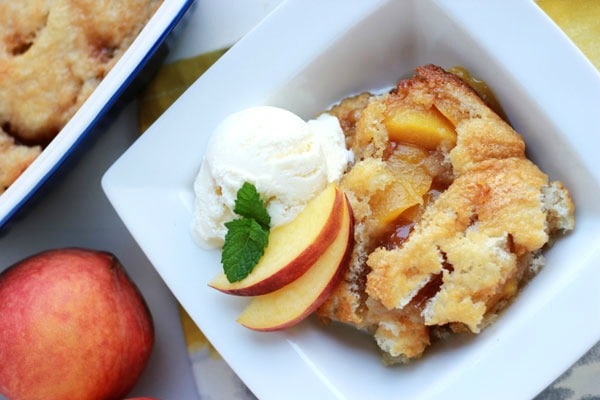 Peaches are on the top of my list of favorite foods- sweet, delicious, and special since they are only around part of the year. We patiently wait for them to make an appearance at our local farmers market and when they do we always buy one too many. About a week after I get them home I start to realize that we will never be able to get through them. This is when I do one of two things…
1. Freeze them for smoothies.
2. Make this cobbler.
Nine times out of ten the cobbler wins the coin toss.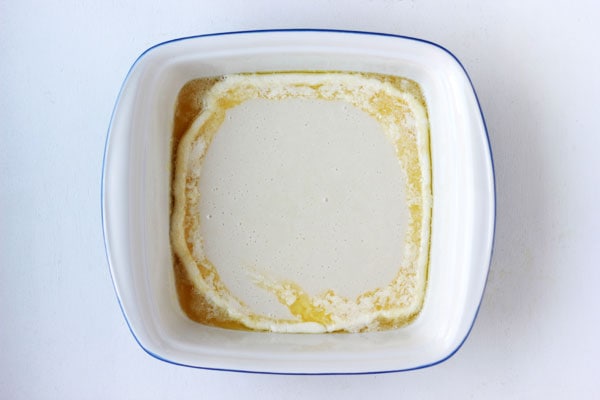 My favorite thing about this recipe has to be the simplicity. The ingredient list is short and you have hardly any work when it comes to prep. Right up my alley. When I first tried this out I was tempted to stir the butter and batter together. Trust me on this and do not give in to those urges. Follow the directions and you will be left with a crispy yet soft crust and sweet peach filling that will disappear in seconds.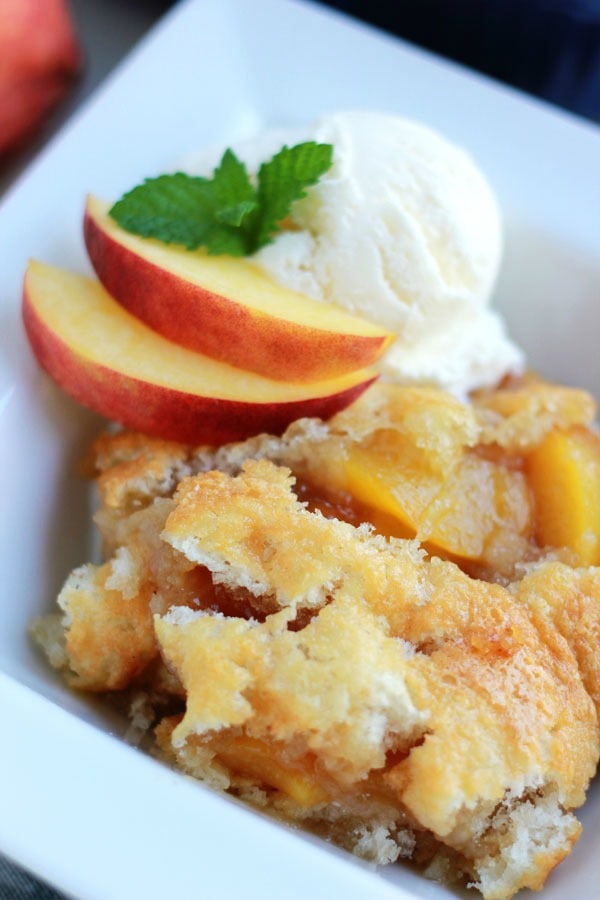 Once you pull it out of the oven you will can either let it cool and enjoy it chilled or serve it right away for a warm dish. We really enjoy adding a scoop of vanilla ice cream right to the top. The flavors blend together amazingly and leave you feeling satisfied.
Peach Cobbler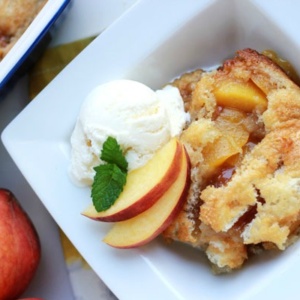 Yield:
6 servings
Prep Time:20 minutes
Cook Time:45 minutes
Ingredients:
1/4 cup (1/2 stick) butter
1/2 cup self rising flour
1/2 cup granulated white sugar
1/2 cup milk
2 cups peaches, peeled and sliced
1/2 cup packed brown sugar
2 teaspoons freshly squeezed lemon juice
1 1/2 teaspoons cornstarch
1/4 teaspoon cinnamon
pinch of nutmeg
Directions:
Preheat the oven to 375 degrees.
Place the butter into a 9 inch square pan and bake for 2 to 3 minutes or until the butter is completely melted. Remove from the oven and set aside.
In a medium bowl, whisk together the flour, white sugar, and milk. Pour the mixture directly over the melted butter but do not stir!
In a small saucepan combine the peaches, brown sugar, lemon juice, cornstarch, cinnamon, and nutmeg. Stir until combined. Bring to just a boil over medium heat stirring constantly. Pour the peach mixture over the batter in the pan -making sure to evenly distribute the peaches.
Bake 40 to 45 minutes or until golden brown. Serve warm with your favorite ice cream.
Tips:
As a substitute for self-rising flour, place 3/4 teaspoon baking powder and 1/4 teaspoon salt in a 1/2 cup measuring cup. Add all-purpose flour to measure 1/2 cup.
Decrease the amount of brown sugar according to taste. For riper, sweeter peaches you may not need a full 1/2 cup.
SOURCE:  RecipeGirl.com
Here are a few more cobbler recipes you might enjoy: