This recipe I'm sharing here today takes advantage of those fabulous, sweet fresh peaches you're seeing in the store: Fresh Peach Cake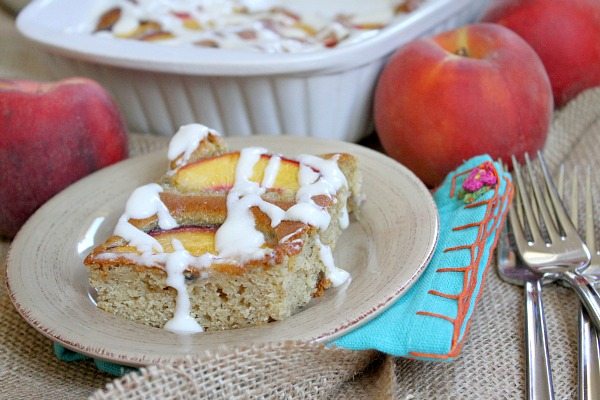 This turns out to be a tender, cinnamony cake topped with fresh peach wedges and drizzled with a simple cream cheese glaze.  It's the perfect dessert recipe for the end of summer!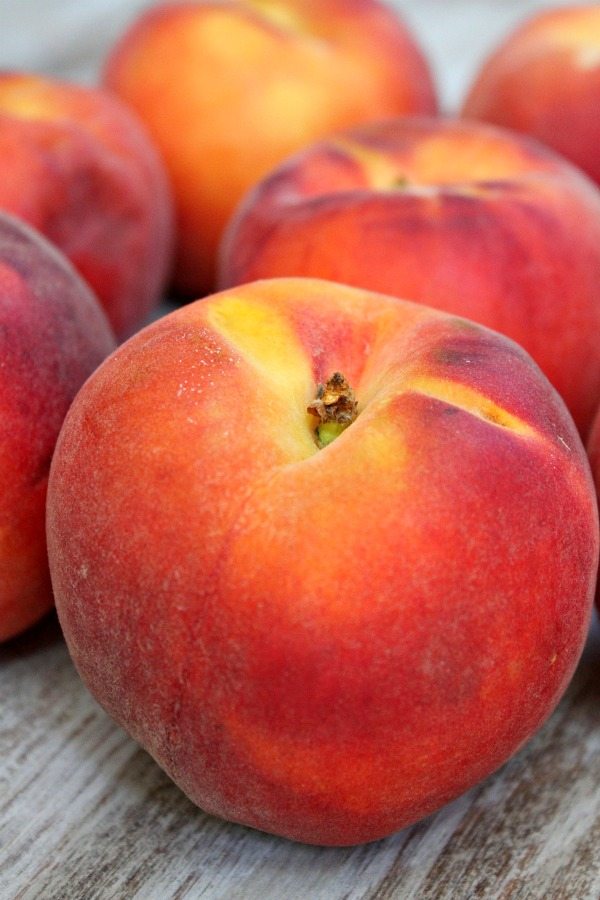 I've been up to my eyeballs in peaches lately.  Washington State Fruit Commission sent me a case of peaches to play with.  A case!!  We ate loads of them, made some peach jam, left a few in the refrigerator and made this peach cake.  I've never really noted where the peaches I've bought at the store have originated from, but now I pay attention.  Washington Stone Fruit (peaches, nectarines, apricots, plums and prunes) are sold all over the USA while the season lasts- through about mid-September.  Washington orchards are prized for producing stone fruits with unbelievable sweetness and flavor due to the regions unique microclimates and ancient volcanic soils that make for ideal growing conditions.  The early summer weather in Washington has meant that there is a slightly larger crop with some of the sweetest, juiciest fruits yet!  It's true… the peaches that they sent me are very sweet and juicy!
Turns out… peaches pack a nutritional punch!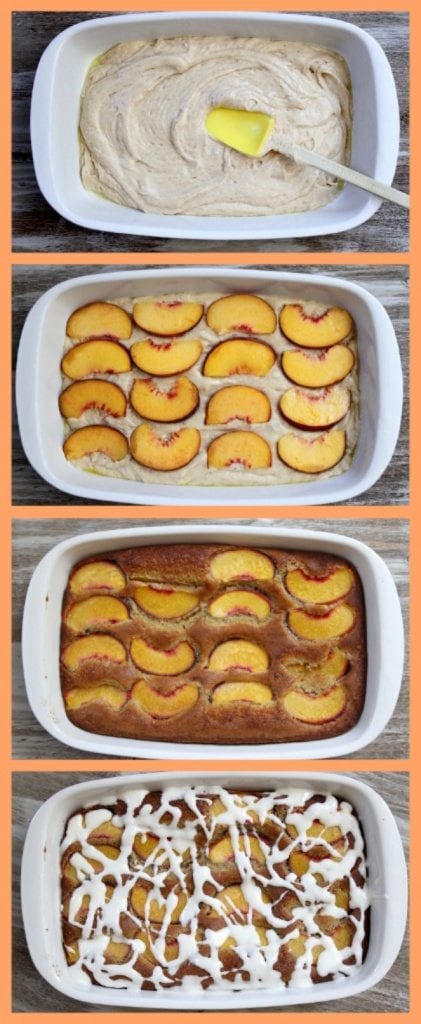 Look for these gorgeous peaches from Washington State in your market, and make this cake!  It' such an easy recipe >> The batter is spread into the bottom of your pan, peach wedges are arranged on top, then it's baked.  A cream cheesy glaze is drizzled on top.  That's it!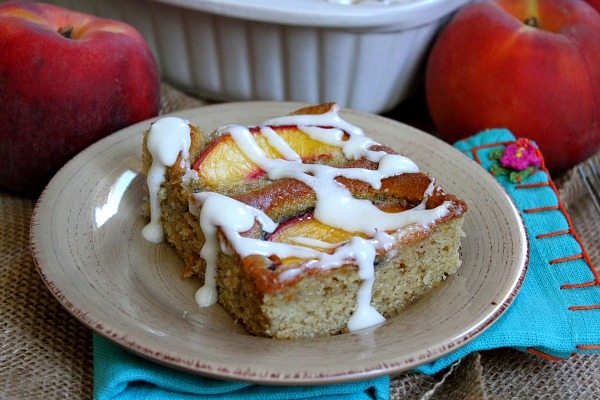 Since it's summer… and peaches are PERFECT… then you have every excuse in the book to justify putting them into this cake.  You don't even have to peel the peaches.  The cake turns out wonderful with unpeeled peach wedges.  That makes it terribly easy, doesn't it??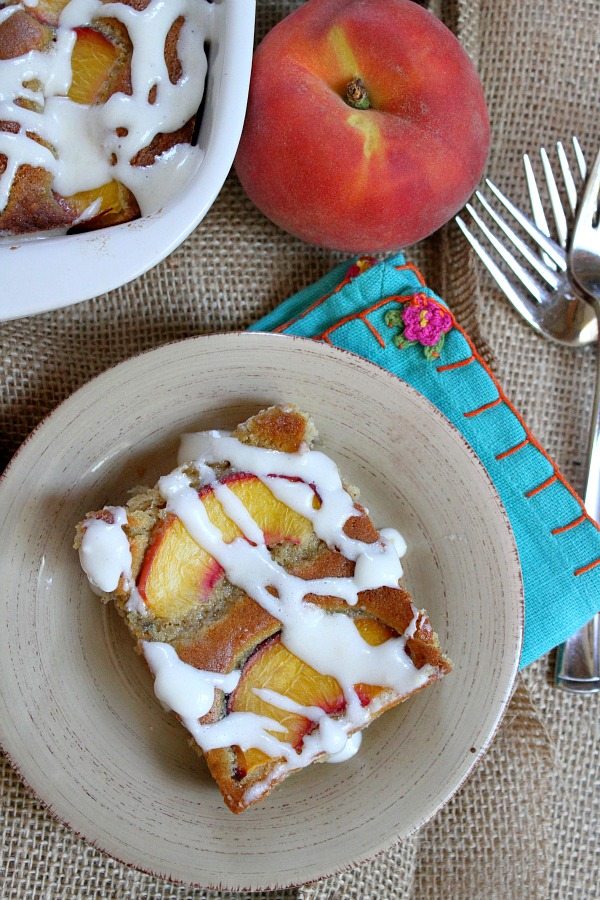 My family enjoyed this cake as you see here.  I personally snuck a large dollop of freshly whipped cream on top and enjoyed my slice that way.  Celebrate the approach of the end of summer by baking this Fresh Peach Cake!
Fresh Peach Cake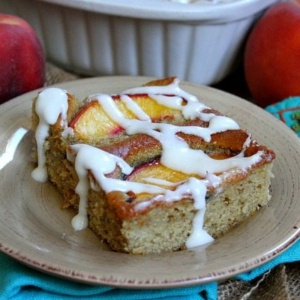 Yield:
10 to 12 servings
Prep Time:20 min
Cook Time:30 min
Ingredients:
CAKE:
3/4 cup granulated white sugar
1/4 cup packed light brown sugar
1/4 cup (1/2 stick) butter, softened
2 large eggs
1 teaspoon vanilla extract
1 3/4 cups all-purpose flour
1 teaspoon baking soda
1 teaspoon baking powder
1 teaspoon ground cinnamon
1/4 teaspoon salt
1/8 teaspoon ground nutmeg
2/3 cup buttermilk
2 medium-sized fresh Washington peaches, cut into 1/2-inch wedges
GLAZE:
2 ounces cream cheese, softened
1/2 cup powdered sugar, sifted
1 to 2 tablespoons milk
1/4 teaspoon vanilla extract
Directions:
1. Preheat the oven to 350 degrees F. Spray a 9 x 13 (or 8 1/2 x 11) pan with nonstick spray.
2. To prepare the cake: In a large bowl, use an electric mixer to combine the sugars with the butter, beating until fluffy. Add the eggs and vanilla and beat until well-combined. In a separate bowl, whisk together the flour, baking soda, baking powder, cinnamon, salt and nutmeg. Add the dry ingredients and buttermilk alternately to the wet mixture, making sure the batter is mixed well.
3. Scrape the batter into the prepared pan. Place peach wedges decoratively on top of the batter. Bake 30 to 35 minutes (depending on size of the pan) or until a wooden pick inserted near the center comes out clean. Let cool.
4. To prepare the glaze: In a medium bowl, use an electric mixer to combine the cream cheese with the powdered sugar. Mix until smooth. Add the vanilla and 1 tablespoon of milk. You want a drizzling consistency, so add a little more milk if you don't have that yet. Drizzle the glaze over the cooled cake. Keep covered at room temperature, or cover and refrigerate.
Tips:
*To make your own buttermilk (aka sour milk), combine 2/3 cup milk with 1/2 teaspoon vinegar. Let stand for 5 minutes before adding it to the recipe.
*No need to peel the peaches unless you really want to. The recipe is perfectly delicious when the peel is left on.
SOURCE: RecipeGirl.com (adapted from a recipe by the Washington State Fruit Commission)
Disclosure: This post was written in partnership with Washington State Stone Fruit. All opinions shared about these peaches are MINE. I love peaches!  For more information about Washington State Stone Fruit, visit www.wastatefruit.com.  For information about canning, preserving and freezing stone fruit, visit www.sweetpreservation.com.