Peach Cobbler French Toast Casserole is the very best of both worlds- dessert and breakfast- all wrapped up in one dish!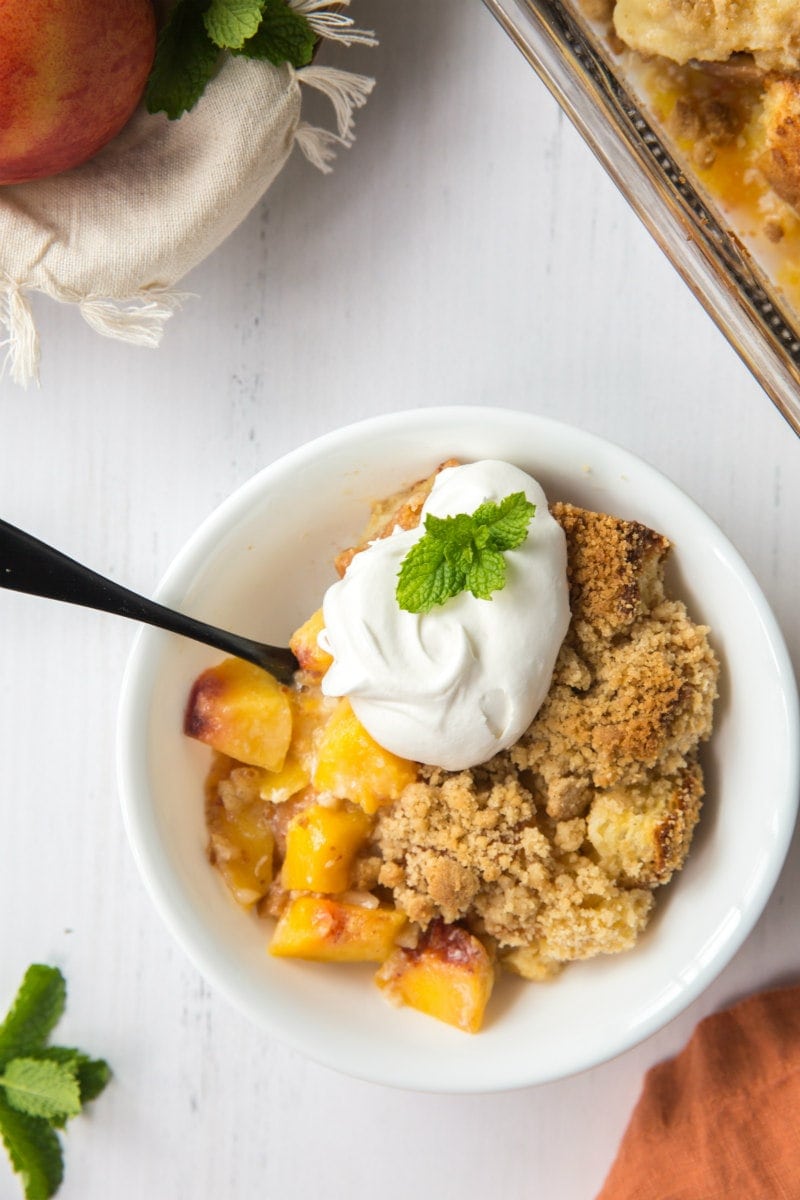 If you've ever had peach cobbler, then you'll know just how fabulous it is to make and serve as a summer dessert. Peaches are supremely juicy when they're in season. They're practically irresistible. And it's a big bonus when you get to include them in recipes.
French toast casserole is another favorite. It's one of those kinds of recipes that you pull out and make when you have guests visiting or when you just want to make something special for your family on a weekend morning.
In this recipe, Peach Cobbler merges with French Toast Casserole to create Peach Cobbler French Toast Casserole. Oh yeah!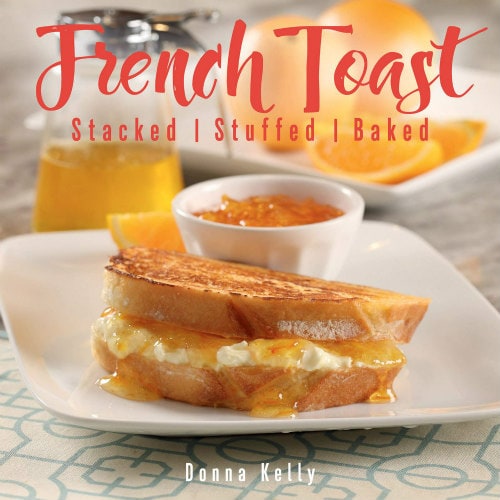 French Toast Cookbook:
This recipe comes from a new cookbook by Donna Kelly: French Toast: Stacked, Stuffed, Baked. I like to have little specialty cookbooks like this one on my cookbook shelves. And I especially love this one because making something special for breakfast on the weekends is so much fun to do. This book has chapters for family favorites, brunch, celebrations, casseroles, desserts, syrups/sauces and savory entrees.
Here are a few recipes in the book that have caught my eye: Chocolate- Hazelnut Banana French Toast, Eggs Benedict Stacks, Brie and Apple Stuffed French Toast, French Twist Casserole, Sticky Buns French Toast, Tomato-Basil Monte Cristos, Lemon-Blueberry Cobbler French Toast and Old Fashioned Buttermilk Syrup. There is so much more though!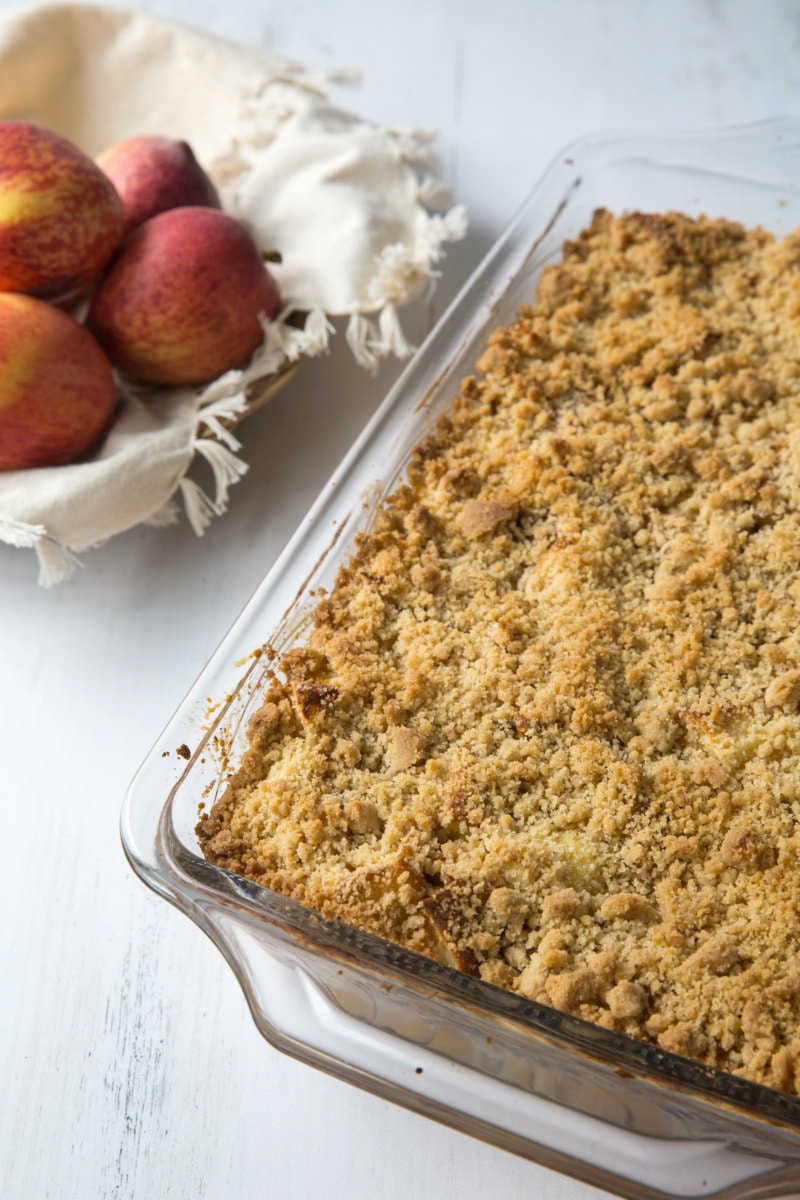 How to make Peach Cobbler French Toast Casserole:
Day old French bread cubes are tossed with a typical french toast custard mixture (eggs, milk and sweetened condensed milk). Peach chunks are tossed with cornstarch, lemon juice and sugar. The peaches are placed into a casserole dish (9×13-inch is perfect). The soaked bread cubes are spooned on top. The whole thing is covered with a sweet crumb topping (flour, cinnamon, sugar and butter).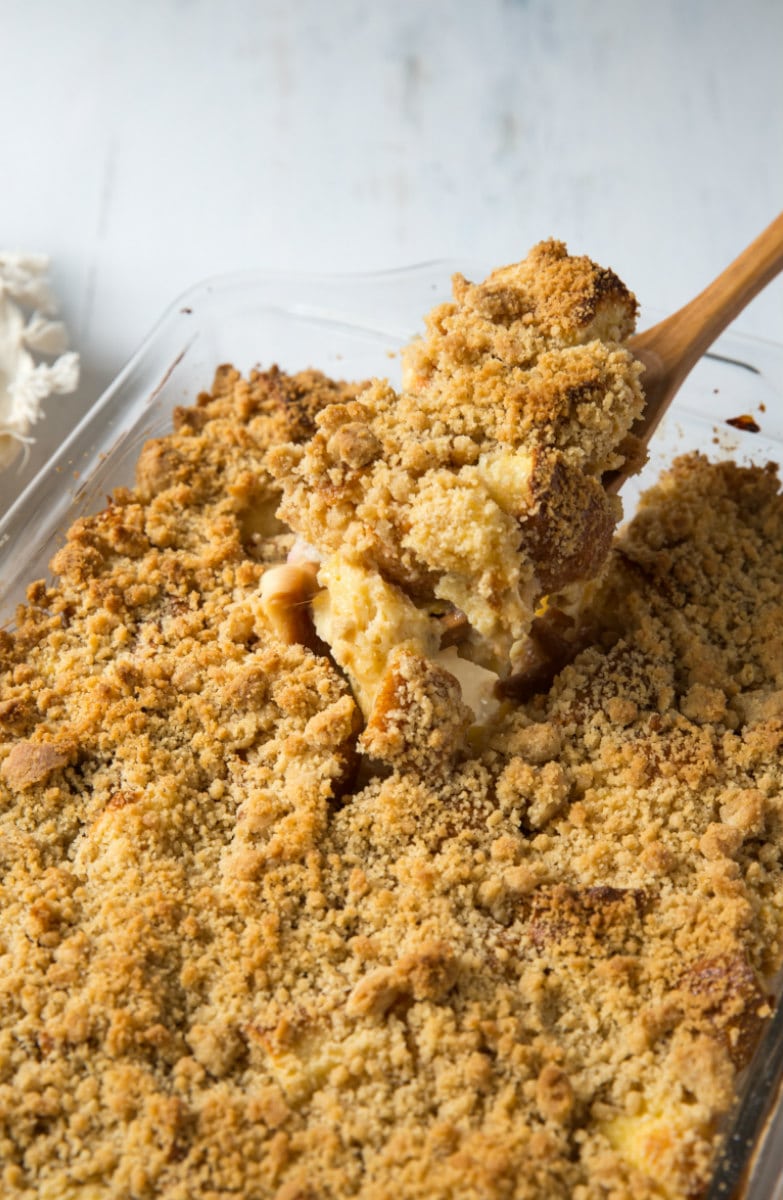 This French toast casserole is baked for about 40 minutes, until it's nice and golden and hot and bubbly.
About Peaches:
Use fresh or frozen (thawed) peaches for this recipe. If using fresh, there is a simple method for peeling them that assures you're going to get the skins off and be able to use maximum fruit. Place fresh peaches in a pot of boiling water for 10 to 20 seconds. Remove to a cool water bath, then to paper towels to dry. Use a paring knife and the peels should slip right off!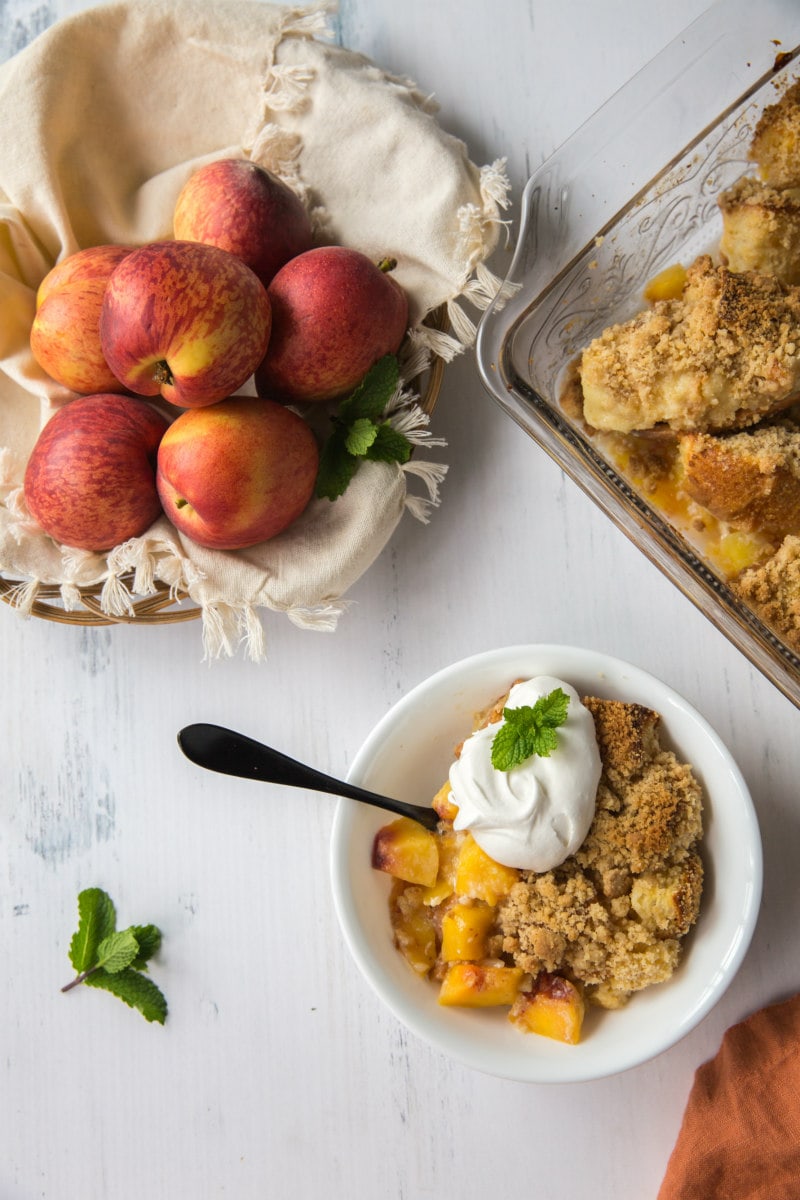 And you can see that it pretty much looks like dessert. Think about it though… when you go out to breakfast and they serve all of those fancy pancakes and French toast concoctions, they're not any different than something like this, right? So I believe that it's perfectly okay to make this decadent, wonderful, summery breakfast treat and enjoy it to the fullest! Have a salad for lunch, and call it even!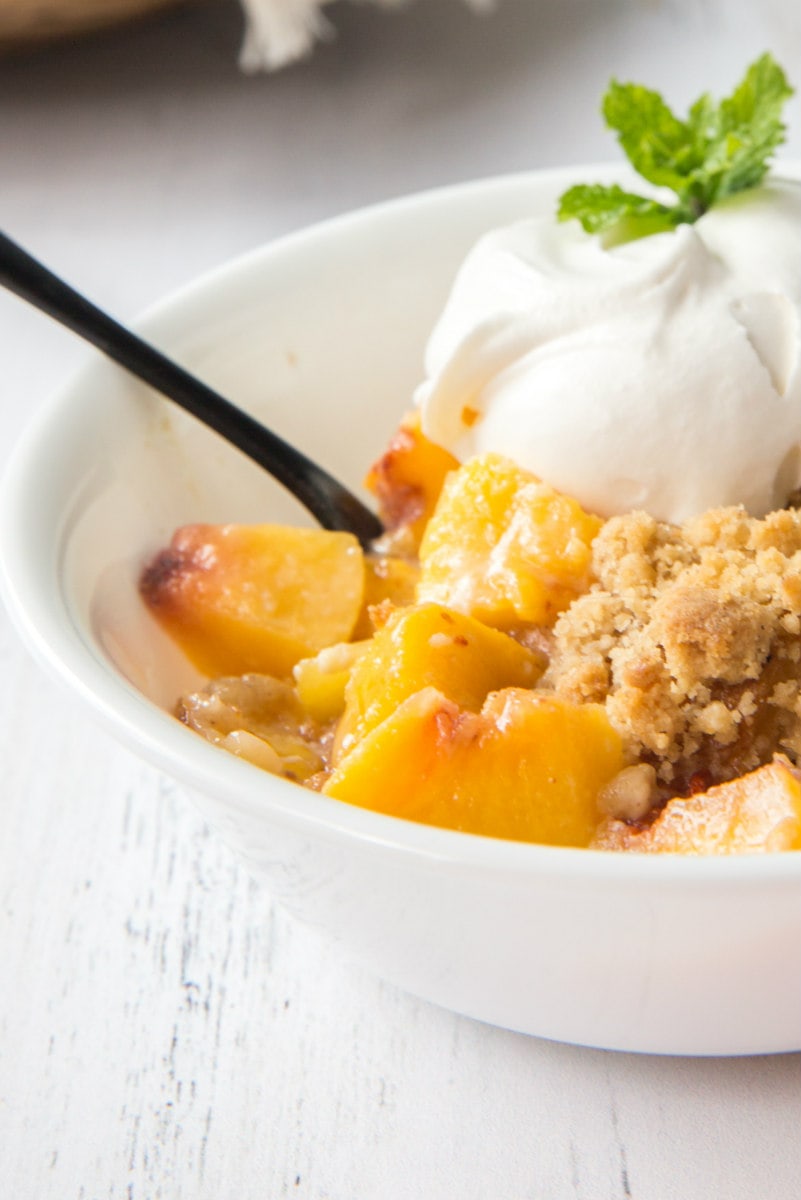 Serve individual servings with freshly whipped cream or even ICE CREAM, if you'd like. Garnish with fresh mint to make it pretty!
Here are a few more French Toast Casserole recipes you might enjoy:
Peach Cobbler French Toast Casserole
Such a delicious summer breakfast casserole that is perfect for entertaining!
Recipe Details
Ingredients
6

large

eggs

1

cup

milk

1/2

cup

sweetened condensed milk

8

cups

(1-inch cubes) day-old French bread

6

cups

fresh or frozen (thawed) peach chunks

3

tablespoons

cornstarch

1/2

cup

granulated white sugar

2

tablespoons

freshly squeezed lemon juice

1

cup

all purpose flour

1

teaspoon

ground cinnamon

1/3

cup

packed light brown sugar

6

tablespoons

cold butter, cut into small pieces

whipped cream or ice cream for serving,

optional
Instructions
Preheat the oven to 400 degrees F.

In a large bowl, whisk together the eggs, milk, condensed milk. Add bread cubes, tossing until evenly coated; set aside. Toss with a spoon occasionally to make sure liquid is evenly absorbed.

In a separate bowl, toss peaches with cornstarch, sugar, and lemon juice. Place in a 4-quart baking dish that has been sprayed with nonstick cooking spray. Spread soaked bread cubes evenly over the top.

In another bowl, whisk together the flour, cinnamon and brown sugar. Cut in the butter with a pastry cutter or fork until the mixture resembles small peas; scatter evenly over the top of the casserole.

Bake, uncovered, for 30 to 40 minutes, or until cooked through and bubbly around the edges. Serve topped with whipped cream or ice cream, if desired.
Nutrition
Serving:
1
serving
,
Calories:
498
kcal
,
Carbohydrates:
78
g
,
Protein:
14
g
,
Fat:
15
g
,
Saturated Fat:
8
g
,
Cholesterol:
188
mg
,
Sodium:
340
mg
,
Potassium:
467
mg
,
Fiber:
3
g
,
Sugar:
44
g
,
Vitamin A:
980
IU
,
Vitamin C:
9.6
mg
,
Calcium:
151
mg
,
Iron:
3
mg