It's Pie Day. You may happen to see an onslaught of pies being shared on food blogs, and Facebook and Twitter today. That's a good thing. I love pie. But I hate pie too… because it hates me. Pies make me nervous. They intimidate me. And their fussy nature (those pesky crusts) has me always thinking twice about wanting to make them. But I trudged ahead and made a pie anyways… just because it's pie day. I baked Mom's favorite: Fresh Peach Pie.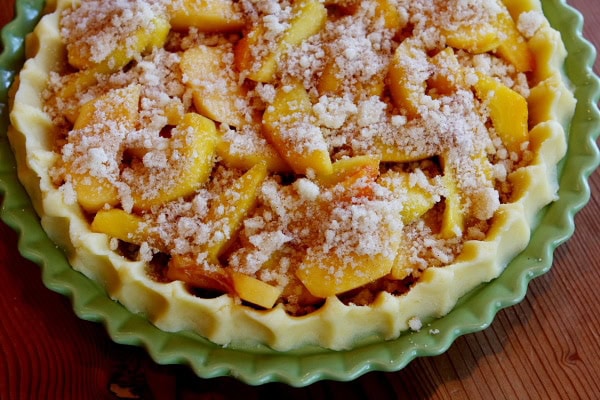 My Mom had spinal (neck) surgery just a week ago, and she's now hanging out at my house– letting me assist in her recovery. I've been taking her for short walks around the block, griping at her for lifting things or turning her head, and making sure she is well fed on her gluten-free diet. Peaches have been soft and wonderful and sweet- perfect for turning into pie.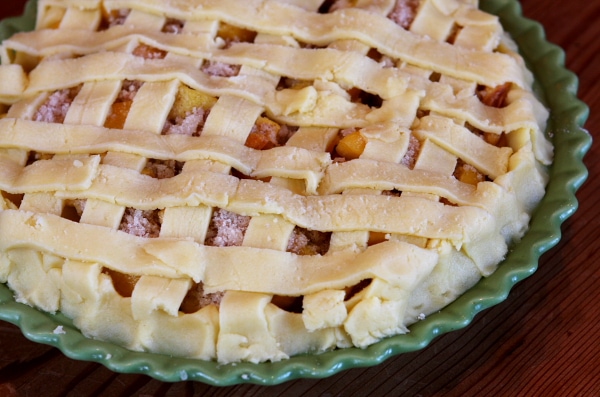 You can use your favorite crust for this one. Since Mom is gluten free, I used a boxed mix that she has used before successfully (Gluten Free Pantry). The crust worked out okay, though it was pretty tough to work with. You have to roll it out between two pieces of plastic wrap, and then peel one piece off and gently set it into the pie plate while you peel the other piece off. The trickier part was trying to do the lattice top this way! And I couldn't even consider trying to weave the lattice. It came out rather rustic looking, but that's okay.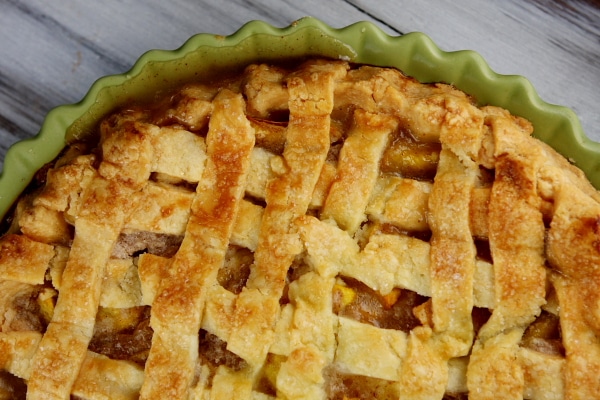 It all baked up just fine and golden and beautiful. Pies are supposed to be rustic, right?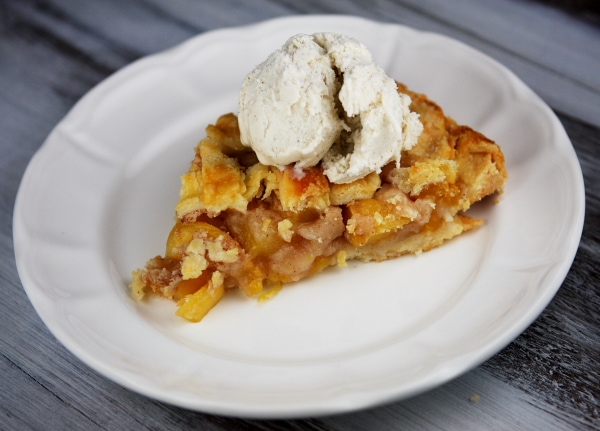 Peach pies sometimes come out all runny and icky and spilling out all over the place with goo. This one wasn't like that. Fresh peach slices were layered with a simple crumbly mix of sugar/butter/flour/cinnamon. I had never had a gluten free pie crust before, but I have to say that this particular one turned out light and flaky and just as good as any other pie crust I've eaten. This pie must be eaten slightly warmed and with a generous scoop of vanilla ice cream… just because.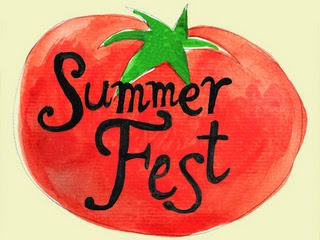 This recipe is my contribution to Food Network's Summer Fest, a season-long garden celebration to help give you ideas for using up Summer's best fruits and vegetables. What's your favorite way to eat peaches? Do you have a tip for working with peaches that you'd like to share? Share in the comments below, or join in the conversation on Twitter using the hash tag #cookingwith.
Fresh Peach Pie
Use up your bounty of fresh summer peaches in this delicious pie.
Recipe Details
Servings:
8
servings (1 slice per serving)
Ingredients
⅓

cup

all purpose flour

1

cup

white granulated sugar

½

teaspoon

cinnamon

¼

cup

butter,

at room temperature

1

recipe

double pie crust

(your favorite recipe, or store bought)

8 to 10

large

fresh peaches,

pitted, peeled and sliced

1

medium

egg,

whisked with 1 tablespoon water

coarse sugar,

for topping (optional)
Instructions
Preheat the oven to 350 degrees F.

In a medium bowl, use a fork to combine flour, sugar, cinnamon and butter. Mix until crumbly.

Place one pie crust into a 9 inch pie plate. Scoop in one layer of peaches. Top with some of the crumbly sugar mixture. Layer more peaches and more crumbles. Continue until you've used up all of your peaches and crumbles. Top the pie with your 2nd pie crust, as desired. (I cut mine into strips and created a lattice topping. If you'd like to cover the pie completely with the 2nd crust, just be sure to cut a few slits into the top crust to give that crust a chance to breathe while baking.) Crimp the edges decoratively.

Brush the top with the egg wash, and sprinkle with coarse sugar if you wish.

Bake on the center rack in the oven for 1 hour to 1½ hours. I start checking on my pie at 45 minutes, just to make sure the crust isn't browning too quickly and all looks good. Then I check every 15 minutes until I'm satisfied that it's done. Mine took an hour and 15 minutes, and it was nice and golden brown along the crust with the peach filling bubbling a bit in the center.

Cool until ready to eat. It's quite good served warm with vanilla ice cream.
Notes
This recipe is gluten free adaptable- use a gluten free pie crust, and use all-purpose GF flour in place of regular.
I like to place a large, rimmed cookie sheet on the rack underneath my baking pie just in case the juices happen to bubble over.
Nutrition
Serving:
1
serving
,
Calories:
485
kcal
,
Carbohydrates:
73
g
,
Protein:
6
g
,
Fat:
20
g
,
Saturated Fat:
8
g
,
Polyunsaturated Fat:
2
g
,
Monounsaturated Fat:
8
g
,
Trans Fat:
0.2
g
,
Cholesterol:
36
mg
,
Sodium:
284
mg
,
Potassium:
305
mg
,
Fiber:
4
g
,
Sugar:
42
g
,
Vitamin A:
850
IU
,
Vitamin C:
8
mg
,
Calcium:
24
mg
,
Iron:
2
mg
And here are a few more blogs participating in the Peach SummerFest! Check out these recipes too!
CIA Dropout: Peachy Keen Panna Cotta
What's Gaby Cooking: Peach and Blueberry Cobbler
In Jennie's Kitchen: Easy Peach Preserves
Daily Dishin: Fresh Peaches and Cream No-Bake Pie
Cooking with Books: Peaches and Cream Cheesecake
Cooking With My Kid: Peach & Friends Cobbler Pie
White on Rice Couple: Peach Heirloom Tomato Salad
Cooking With Elise: Bruschetta with Grilled Peach Chutney
FN Dish: Summer Fest: Peach Recipes
Taste With The Eyes: Warm White Peach and Blackberry Cobbler
Recipe Girl: Fresh Peach Pie
A Way to Garden: Farm Fresh Peaches Frozen to Perfection
Napa Farmhouse 1885: Fresh Peach Cookies
Sassy Radish: Peach, Apricot and Blueberry Cobbler with a Cornmeal Crust
Sweet Life Bake: Sweet Peach Ancho Chile Salsa
I Am Mommy: Peach Bread
Indian Simmer: Indian Peach Gujiya
Pinch My Salt: Creamy Peach Smoothie
Dixie Chik Cooks: Peach Cobbler
Food2: 5 Killer Peach Flavored Cocktails
Healthy Eats: 8 Ways You Didn't Know You Could Eat Peaches
Cooking Channel: Peaches on the Grill
Add a Pinch: My Grandmother's Peach Cobbler
And Love It Too: Pan Seared Salmon with Fresh Peach Salsa
The Sensitive Epicure: A Summer Peach Tart, Gluten-Free
From My Corner of Saratoga: Double Caramel Peaches
She Wears Many Hats: Peach Wontons