Try Grilled Balsamic Chicken and Peaches for your next new summer dinner recipe!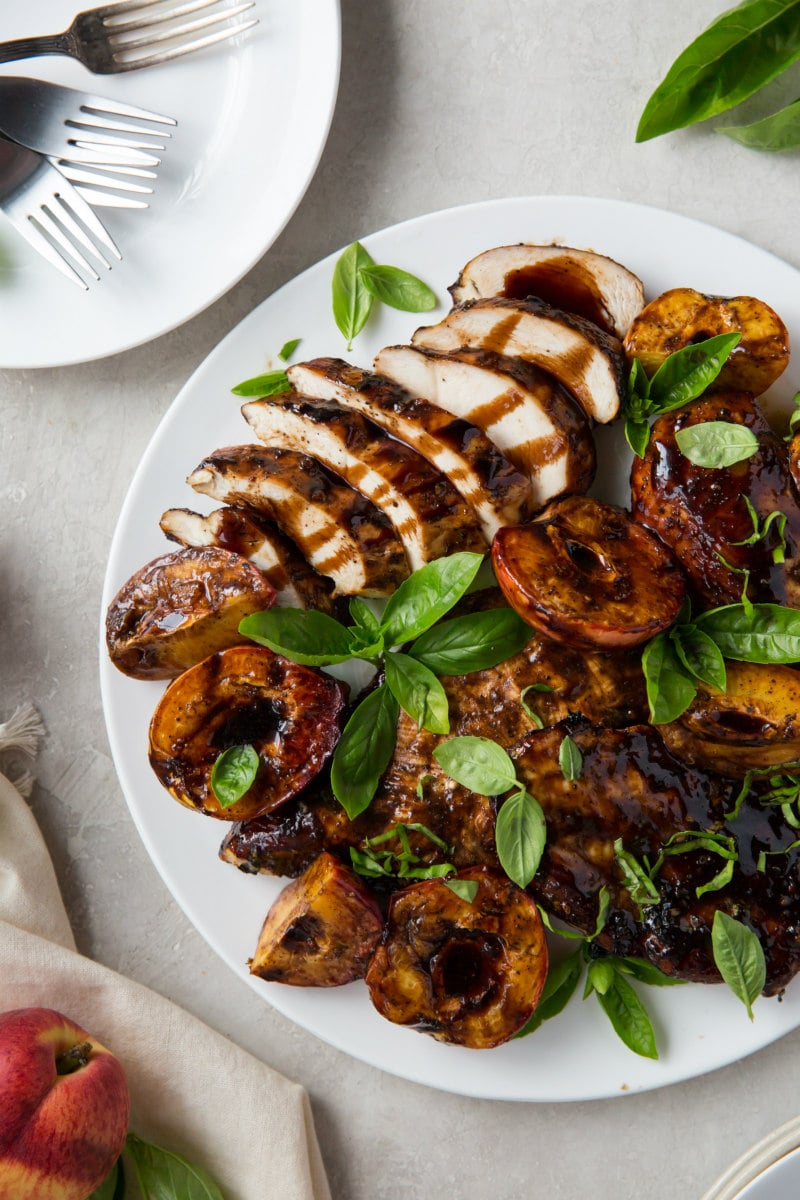 When it's the middle of summer, OF COURSE you need to be using your grill as much as possible! Take advantage of the beautiful weather. Even though Arizona is hotter than hot, we still use our grill all summer long. We have a standing umbrella that hovers over our grill so at least we're not toasting directly in the sun while we're out there grilling.
This is a fabulous chicken recipe to make on the grill. You'll make a really simple balsamic glaze. Chicken breasts are rubbed with olive oil/basil/garlic. And peaches are grilled too. The balsamic glaze is brushed onto the chicken and the peaches while grilling. And the result is a delicious meal of grilled chicken and peaches. The sweet of the peaches combined with the savory of the balsamic is totally to-die-for.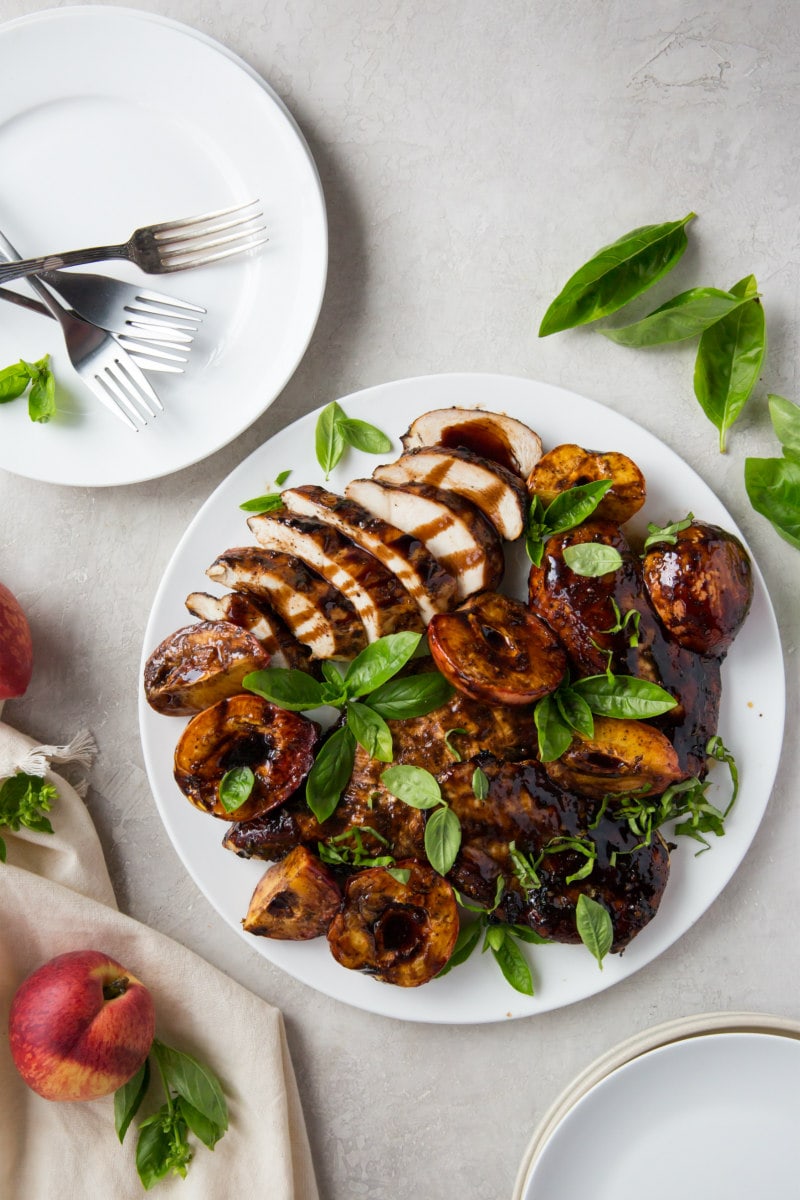 How to Peel Peaches:
You'll need peeled peaches for this recipe! Make sure they're ripe, or this method won't work as well. Heat water to boiling in a large pot. Use a knife to make an X cut on the bottom of each peach and set aside. In a large bowl, prepare an ice bath (fill with water and some ice cubes). When the water comes to a boil, work in batches to put a few peaches in the boiling water for 45 to 60 seconds. Using a slotted spoon, remove the peaches from the boiling water and put them in the ice bath, and allow to cool completely. Where the X was made, you can see the skin pulling away from the peach. Repeat until you've boiled all the peaches you need.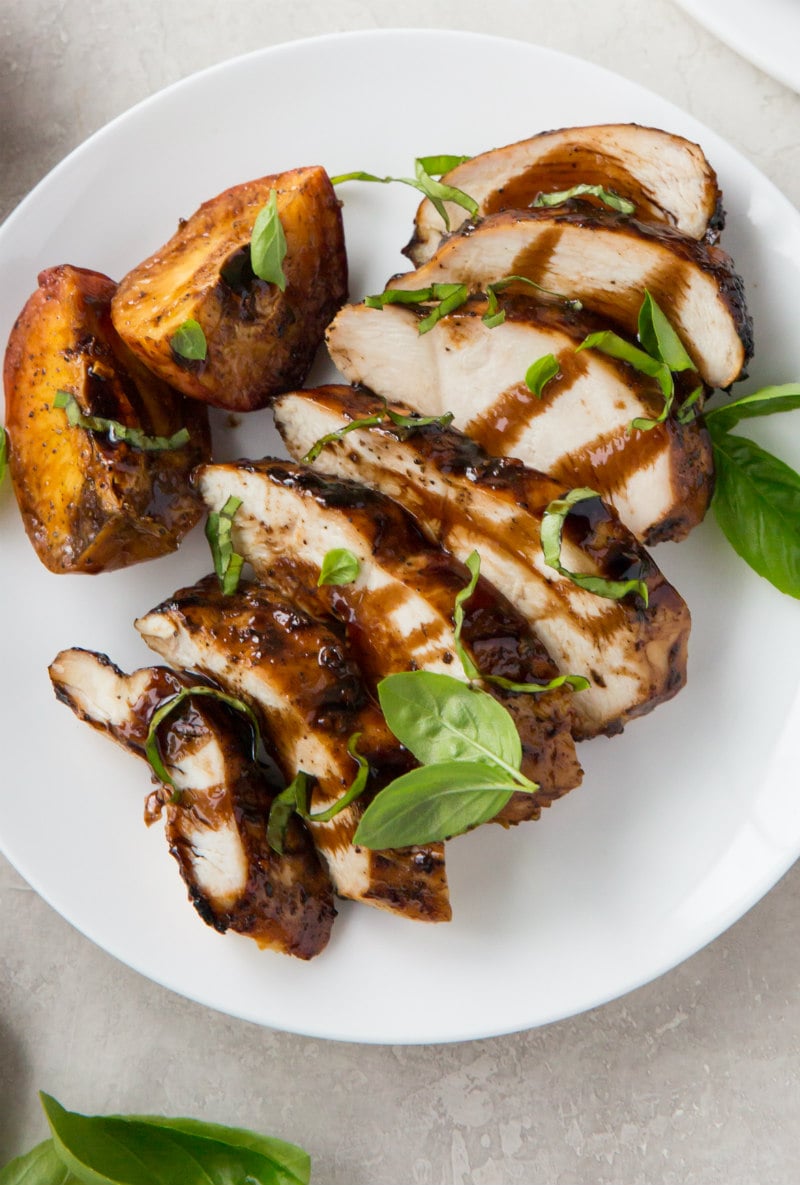 What to do with leftovers:
Salad! Chop up leftover balsamic chicken and peaches and add to your next green salad. Sprinkle in a little bit of blue cheese crumbles. Thank me later. So good!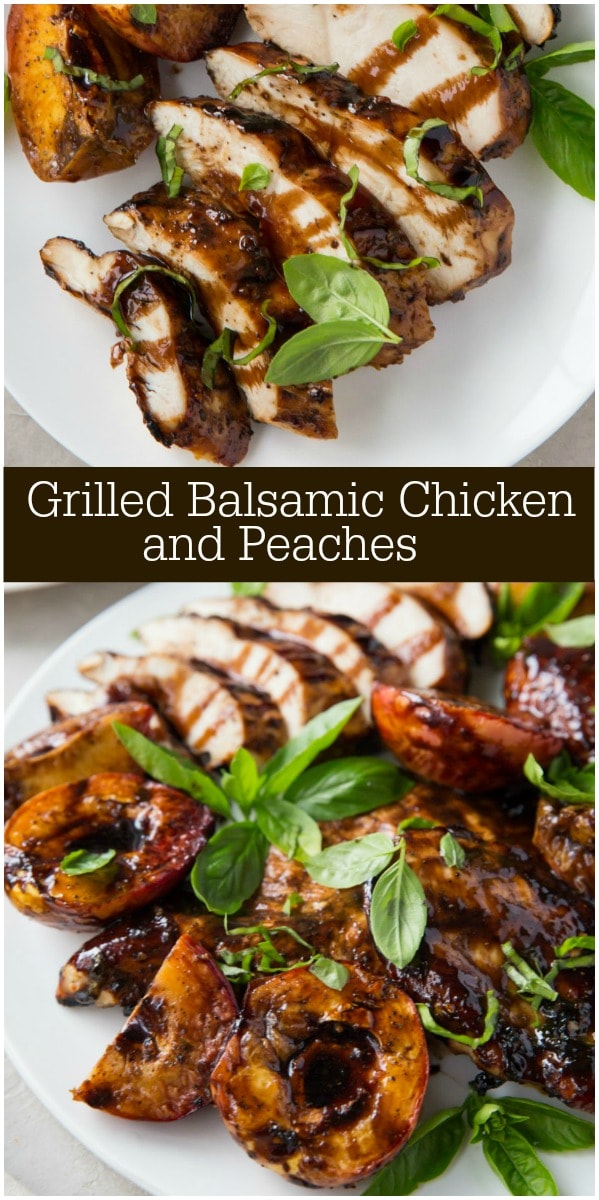 Here are a few more grilled chicken recipes you might enjoy:
Grilled Balsamic Chicken and Peaches
The best summer grilling recipe!
Recipe Details
Ingredients
BALSAMIC GLAZE:
1

cup

balsamic vinegar

1/4

cup

molasses

1

tablespoon

freshly ground black pepper
CHICKEN RUB:
1/2

cup

roughly chopped fresh basil leaves

3 to 4

medium

garlic cloves,

minced

1/4

cup

extra virgin olive oil
THE REST:
4

whole

boneless, skinless chicken breasts

(28 to 32 ounces)

salt and freshly ground black pepper,

to taste

4

large

ripe peaches

(skinned, halved and pitted- see NOTES below)
Instructions
PREPARE BALSAMIC GLAZE:
In a small saucepan over medium-high heat, bring the balsamic vinegar to a boil; reduce heat and simmer until it is reduced by half, approximately 20 to 25 minutes. Stir in the molasses and black pepper. Remove from heat and set aside.
PREPARE CHICKEN RUB:
In a medium bowl, combine the basil, garlic, and olive oil. Rub the chicken breasts with the basil mixture; sprinkle lightly with salt and pepper.
GRILL:
Preheat the grill (spray grill with cooking spray). Place the chicken onto hot grill and brush with balsamic vinegar glaze. Cover the grill with the lid, open any vents, and cook 10 to 15 minutes or until a meat thermometer registers an internal temperature or 165°F. (juices will run clear when cut with the tip of a knife); turning and basting several times. Grill time is totally dependent on how thick your chicken breasts are.

Just before the chicken is fully cooked, place the peaches on the grill (cut side down). Brush the top side of the peaches with the balsamic glaze. Grill until they are lightly browned, approximately 2 minutes. Turn them over, brush the cut side with the balsamic glaze and continue to cook for another 2 minutes.

Remove the chicken and peaches from the grill, transfer onto a serving platter, and serve immediately.
Notes
*Peaches may be served whole or sliced with the chicken breasts.
*To peel peaches, cut a small X on the skin, place into boiling water for 1 minute, remove and place in a bowl of ice water. The skins will loosen, allowing you to easily peel the skin off. The peaches must be ripe in order for this to work. Hard peaches won't yield a loose skin.
NOTE ABOUT NUTRITIONAL INFORMATION: Since there are two things being brushed on- the glaze and the rub- the nutritional info is likely going to be a little bit better than shared here (fewer calories and fat grams!)
Nutrition
Serving:
1
serving
,
Calories:
539
kcal
,
Carbohydrates:
45
g
,
Protein:
44
g
,
Fat:
19
g
,
Saturated Fat:
3
g
,
Cholesterol:
127
mg
,
Sodium:
254
mg
,
Potassium:
1484
mg
,
Fiber:
3
g
,
Sugar:
40
g
,
Vitamin A:
788
IU
,
Vitamin C:
15
mg
,
Calcium:
97
mg
,
Iron:
3
mg