I guess I've been kind of all about fruit this summer with my blueberry jam and my cherry cobbler and now with my Peach and Pecan Quinoa Salad.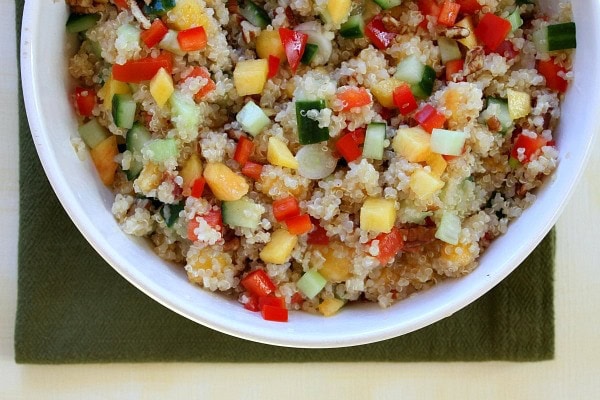 It's a good thing though, I think.  Fresh, juicy summer fruit is in full-swing, and it feels mighty fine to take advantage of it!  Check out this healthy, delicious summer salad: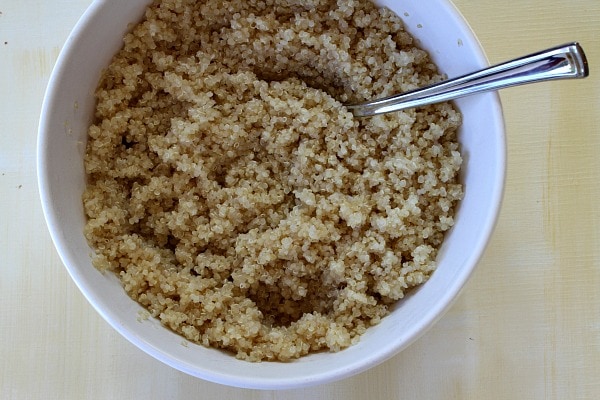 It starts with cooked quinoa (just follow the directions on the package).  FULL DISCLOSURE: I'm not always crazy about quinoa.  But I know it's quite good for you, and when it's combined with delicious things, it can be quite good!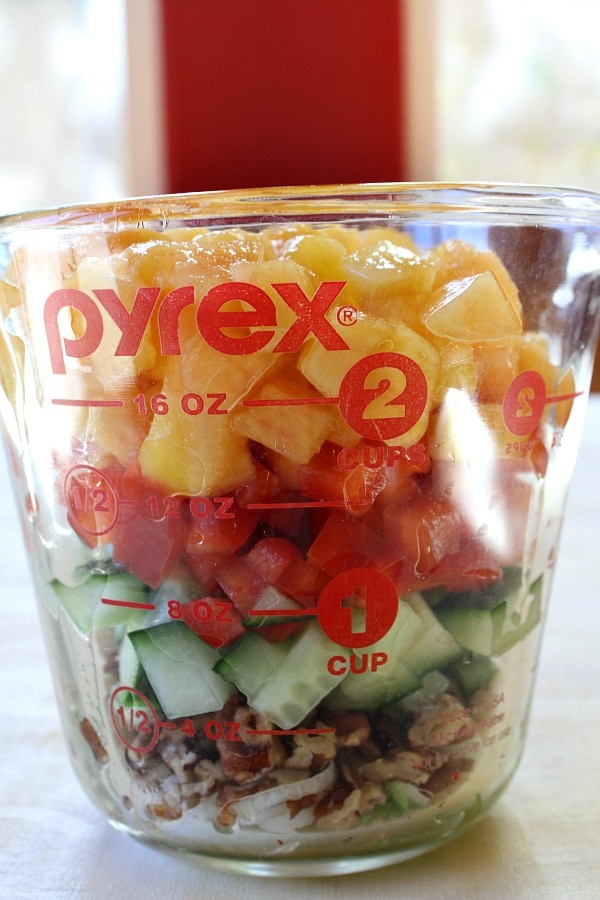 This salad combines quinoa with delicious things.  Things like green onions, bell pepper, cucumber, pecans and PEACHES.  Fresh peaches!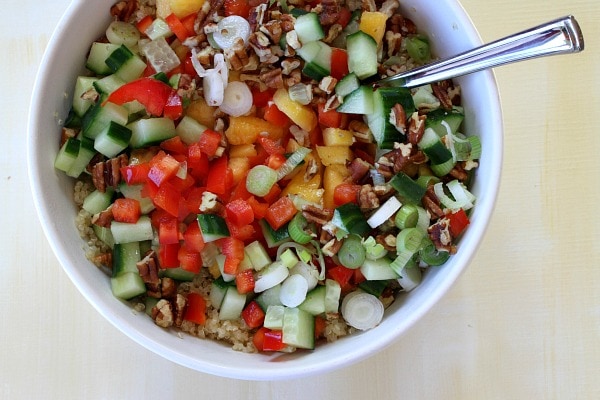 I love that it's colorful too.  "Eat colorful foods and you'll be eating healthy things."  That's always what I've heard.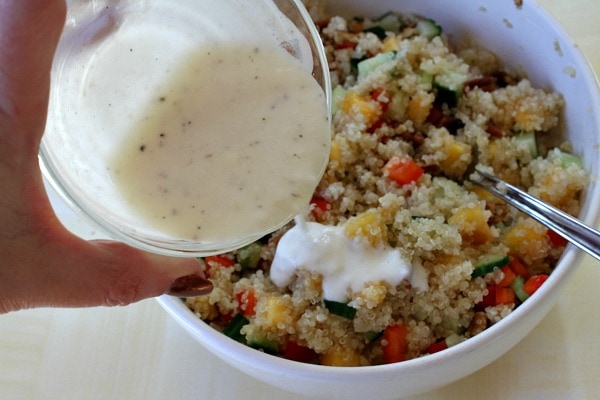 The dressing is a simple mix of yogurt, lemon, garlic and honey.  Add as little or as much honey as you'd like (depending on how much you like a sweet flavor).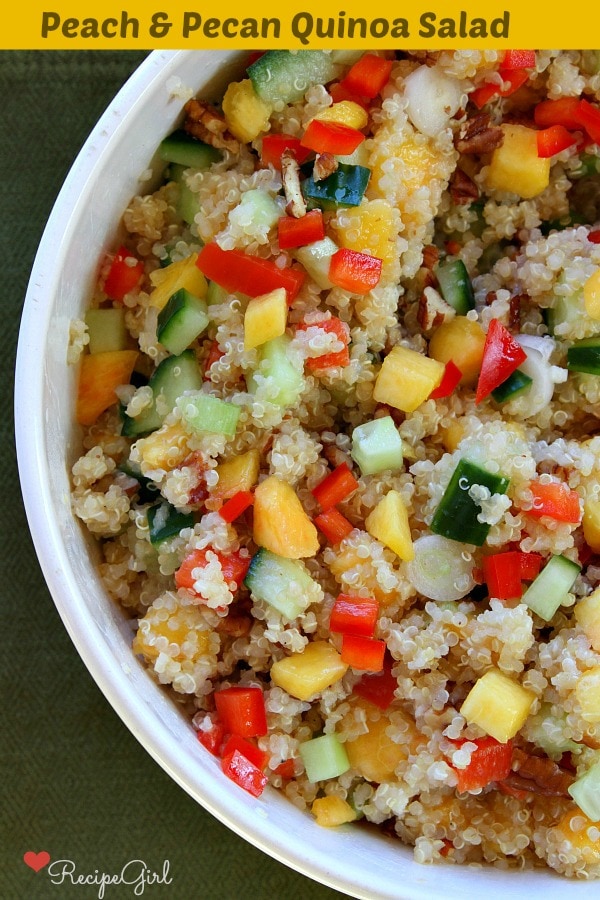 It's pretty isn't it?  I save a few of the mix-ins to sprinkle on top for a prettier presentation.  The dressing mixed with the salad ingredients makes for a quite delicious, summery salad (especially if you're a lover of fresh peaches).  If you're not into pecans, you can leave them out or sub in almonds instead.  Enjoy!
Peach and Pecan Quinoa Salad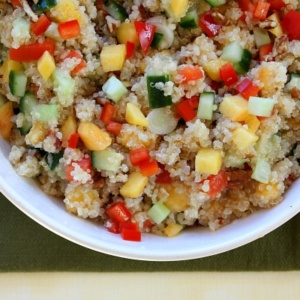 Yield:
4 servings
Prep Time:20 minutes
Cook Time:20 minutes
Ingredients:
SALAD:
1 cup uncooked quinoa
1/3 cup chopped pecans (toasted or not)
1 green onion, sliced
1 cup diced (peeled) peaches
3/4 cup diced cucumber
1/2 cup diced red bell pepper
DRESSING:
2 tablespoons plain nonfat yogurt
1 tablespoon freshly squeezed lemon juice
1 small clove garlic, minced
a drizzle of honey, to taste
salt and freshly ground pepper, to taste
Directions:
Prepare the quinoa according to the package directions. Place it into a bowl and let it cool.
Add the remaining salad ingredients to the bowl: pecans, onion, peaches, cucumber and bell pepper. Stir to combine.
In a separate small bowl, whisk together the dressing ingredients- add a little honey at a time until you reach desired sweetness. I ended up drizzling some honey directly into the salad at the end to get it just right! Add the dressing to the salad and stir to combine. Serve immediately, or cover and chill until ready to serve.
Nutrition:
7 WEIGHT WATCHERS FreeStyle SmartPoints per serving (based on 4 servings... using 2 teaspoons of honey)
SOURCE:
 RecipeGirl.com (very loosely based on
this recipe
)
Here are a few more quinoa salad recipes you might enjoy: