A summery breakfast treat to enjoy:  Fresh Peach Scones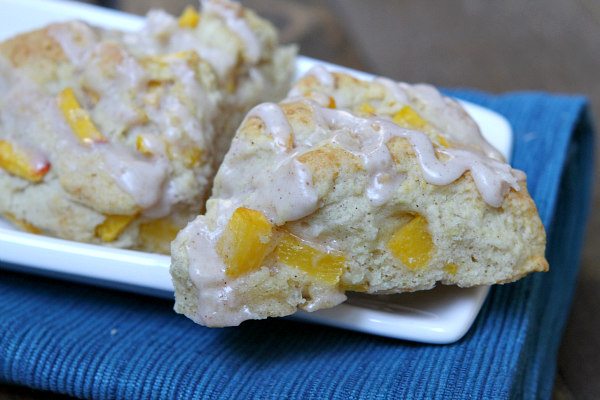 Before we jump head first into apples, pumpkins and cranberries, let's squeeze out a tiny bit more of summer and utilize the juicy peaches that are still lingering in our Farmer's Markets and produce aisles. Peaches are pretty much the best fruit ever.  And peaches happen to be a fabulous addition to cream scones.  They add a bright, sweet flavor to a classic, tender scones recipe.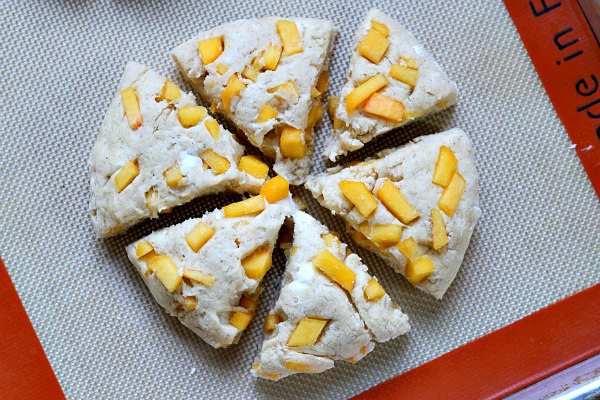 This recipe makes two rounds of scones- so you'll end up with 12 miniature scones.  Mini's are really the best way to make scones for a couple of reasons.  They're easier to bake when they're small… and you won't end up with uncooked centers.  And hopefully, when you eat a mini scone… you be satisfied with what you just ate… so you won't be tempted to eat three!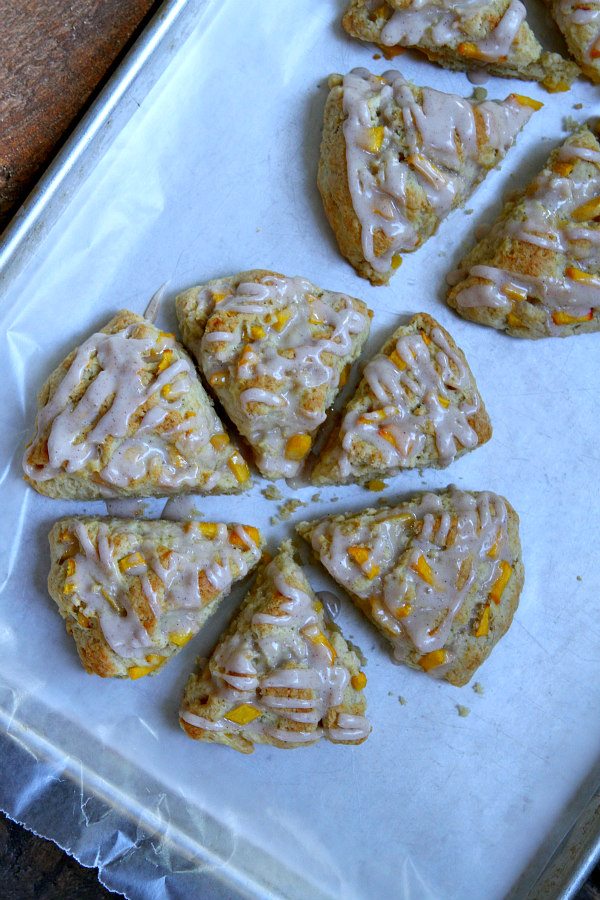 These delicious little scones are topped with an easy cinnamon glaze (totally optional, but totally recommended).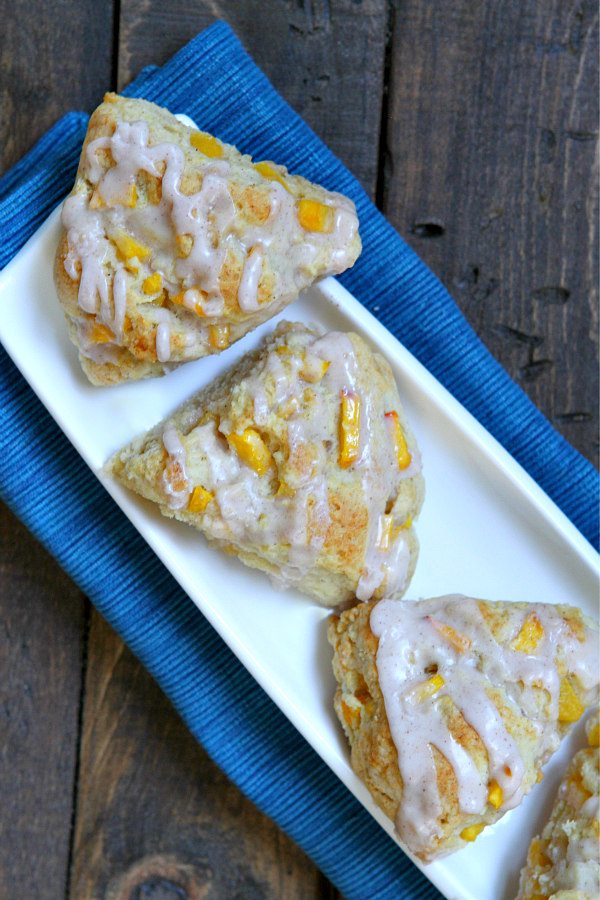 We polished these off pretty quickly in my house, but they do freeze beautifully if you want to save some for grab-and-go breakfasts during the week.  Let's celebrate fresh peaches while they're still around!
Fresh Peach Scones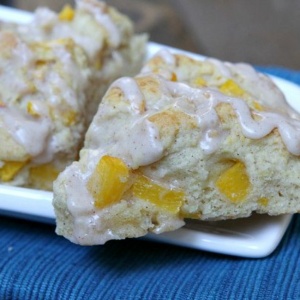 Yield:
12 mini scones
Prep Time:25 minutes
Cook Time:20 minutes
Ingredients:
Scones:
1 large

 Eggland's Best 

egg

2/3 cup

heavy whipping cream

2 cups

all-purpose flour

2 tablespoons

granulated white sugar

1 tablespoon

baking powder

1/4 teaspoon

salt

5 tablespoons

unsalted butter

, chilled & cut into small pieces

3/4 cup

 finely 

chopped fresh peaches + a few extra to dot on top
Optional Cinnamon Glaze:
1 cup powdered sugar
2 tablespoons heavy cream
1 tablespoon milk
1/4 teaspoon ground cinnamon
Directions:
Center a rack in the oven and preheat the oven to 400°F. Line a baking sheet with parchment or a silicone mat.
In a small bowl, stir the egg and cream together.
In a separate, larger bowl, whisk together the flour, sugar, baking powder and salt. Drop in the butter and, using your fingers, toss to coat the pieces of butter with flour. Quickly, working with your fingertips or a pastry blender, cut and rub the butter into the dry ingredients until the mixture is pebbly.
Pour the egg, cream and 3/4 cup peaches over the dry ingredients and stir with a fork just until the dough, which will be wet and sticky, comes together. Don't overdo it. Still in the bowl, gently knead the dough by hand, or turn it with a rubber spatula 8 to 10 times.
Lightly dust a work surface with flour and turn out the dough. Divide it in half. Working with one piece at a time, pat the dough into a rough circle that's about 5 inches in diameter, cut it into 6 wedges and place it on the baking sheet. (At this point, the scones can be frozen on the baking sheet, then wrapped airtight. Don't defrost before baking- just add about 2 minutes to the baking time.)
Bake the scones for 20 to 22 minutes, or until their tops are golden and firm. Transfer them to a rack to cool completely (or you can eat them warm if you're not adding the glaze).
To make the glaze:  In a medium bowl, whisk together the glaze ingredients.  Drizzle over the cooled scones.  The glaze will eventually set, or you can put the scones in the refrigerator for a few minutes to speed up the process.
SOURCE:  RecipeGirl.com
Here are a few more recipes for scones you might enjoy: