Here's a delicious fall breakfast pastry recipe:  Cranberry Orange Scones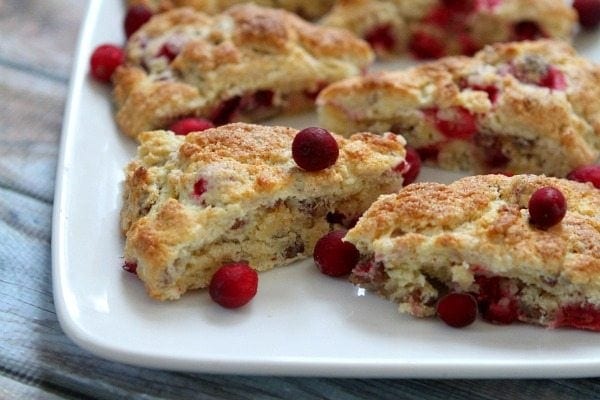 When Sunday afternoon rolls around each week, I'm jotting down ideas for the week's menu while I'm sitting on the couch watching football.  YES, I watch football!  It's my weird, crazy pleasure to watch football on Sunday afternoons while I make some new recipes in my kitchen.  I can barely see the TV from the kitchen, but the roar of the crowd riles me up and the ref's announcements keep me posted on game progress.  While things are cooking, I sneak over to the couch to snuggle in a blanket and scour my cookbooks and magazines for new recipe ideas.  Planning breakfast for the following weekend is always on the agenda.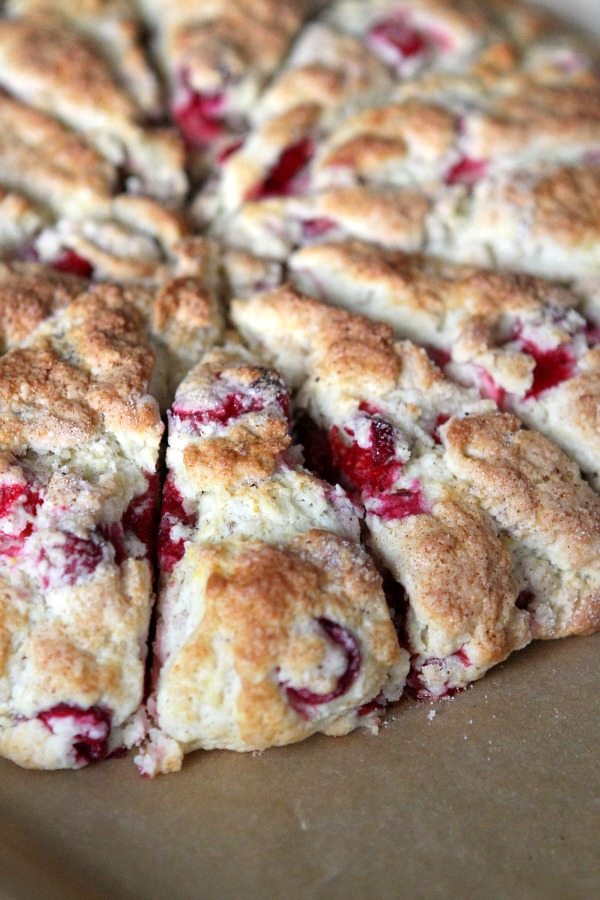 I knew that after Halloween I'd start craving cranberries (and hoped that everyone else would too).  Cranberry and orange are such a classic and wonderful combination in cranberry sauce, and they work beautifully together in scones too.  The best thing about buying a bag of fresh cranberries is that the leftovers freeze beautifully.  I've had fresh cranberries in my freezer since last fall, and they're still perfect and fresh when you defrost them.  I baked my scones in one giant round like this (wedges cut before baking).  They were a tiny bit undercooked in the center when I pulled them out, so I gently pulled the wedges away from the center and let them bake for a few more minutes, and then they were good to go.  It would be better to pull them all out from the center before baking if your dough isn't too crumbly.  Either way works just fine.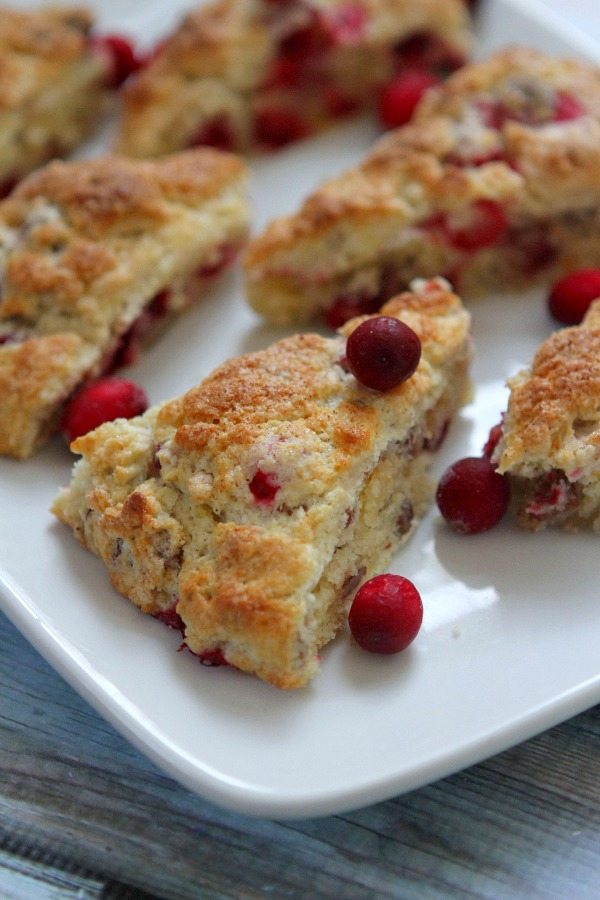 This recipe did turn out a tender scone that was not at all dry.  I rubbed a little bit of soft REAL butter on my bites and topped that with a drizzle of honey too.  We enjoyed them very much!
Cranberry Orange Scones
Yield:
12 scones
Prep Time: 20 min
Cook Time: 15 min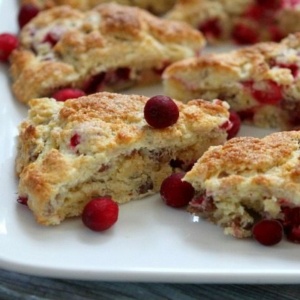 Ingredients:

SCONES:
1 cup cranberries, fresh or frozen (see *Tips below)
3 cups all-purpose flour
1/2 cup granulated white sugar
1 tablespoon baking powder
1/4 teaspoon salt
1/2 teaspoon baking soda
3/4 cup (1 1/2 sticks) salted butter, slightly softened
1/2 cup chopped pecans
2 teaspoons grated orange zest
1 cup buttermilk

TOPPING:
1 tablespoon milk
1 tablespoon granulated white sugar
1/4 teaspoon ground cinnamon
1/8 teaspoon ground nutmeg

Instructions:

1. Preheat oven to 400 degrees F. Grease a baking sheet or line with parchment paper.

2. In a large bowl, whisk together the flour, sugar, baking powder, salt and baking soda.

3. Cut the butter into the flour mixture until it becomes a course crumb texture (use two knives or a pastry blender).

4. Stir in the cranberries, nuts and orange zest. Add the buttermilk and mix with a fork until moistened.

5. Gather dough into a ball and place on a floured board. Roll or pat into a circle 3/4-inch thick.

6. Cut into into 12 pie shaped pieces. Place on prepared baking sheet 1 1/2-inches apart. I transfer the whole circle of dough onto the baking sheet with a pizza peel, then gently pull each wedge away from the circle a bit to create space between scones. Brush tops of scones with milk and sprinkle with sugar/cinnnamon/nutmeg (stir together first).

7. Bake 14 to 18 minutes, until lightly browned.

Tips:

*If you'd like the cranberries more spread out, roughly chop them (but only if they're frozen). Trying to chop fresh cranberries is kind of a messy disaster!
More Cranberry Scone recipes you might enjoy:
Gluten-Free Cranberry and Quinoa Scones by Cannelle et Vanille
Gingerbread and Cranberry Scones by A Farmgirl's Dabble
Meyer Lemon and Cranberry Scones by Teenie Cakes
Weight Watchers Lowfat Cranberry- Pumpkin Scones by Simple Nourished Living
White Chocolate Cranberry Scones by Buns in my Oven