This recipe has been featured in a post on The Recipe Girl blog: Cranberry Whole Grain Muffins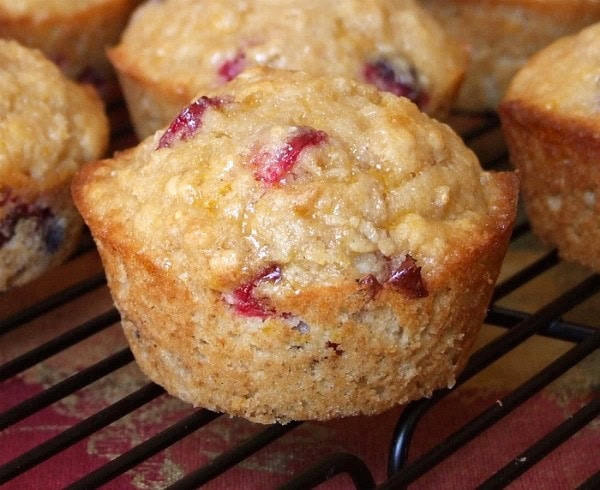 Cranberry Whole Grain Muffins with Sweet Orange Glaze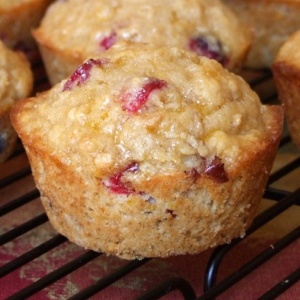 Glad these are whole grain as they feel healthier but taste great!
Yield:
12 muffins
Prep Time: 20 min
Cook Time: 20 min
Ingredients:
MUFFINS:
1 1/2 cups whole wheat flour or white whole wheat flour
3/4 cup quick-cooking rolled oats
1/4 cup nonfat dry milk
2/3 cup granulated white sugar
2 teaspoons baking powder
1/2 teaspoon salt
1 cup fresh or frozen cranberries, chopped
1 Tablespoon finely grated orange peel
2 large eggs
3/4 cup milk
1/3 cup vegetable oil or melted butter
GLAZE:
2 Tablespoons orange juice
3 Tablespoons granulated white sugar
Directions:
1. Preheat oven to 350°F. Spray a 12-cup muffin tin with nonstick spray, or fill with paper liners.
2. In a medium-sized bowl, whisk together the dry ingredients, then stir in the cranberries. In a separate bowl, whisk together the orange zest, eggs, milk, and oil or melted butter. Add the wet ingredients to the dry, stirring just until blended (don't over-mix or your muffins will be tough!) Fill prepared muffin cups about 3/4 full.
3. Bake muffins 15 to 20 minutes, until they're golden brown. Remove them from the oven, leave them in the pan for 5 minutes, then transfer them to a rack to cool completely.
4. In a small saucepan (or microwave) stir together the glaze ingredients. Bring to a boil to dissolve the sugar. Stir until granules are dissolved. Dip tops of warm muffins into the glaze and set right-side-up on racks to dry.
Tips:
*For a sweeter muffin, use dried cranberries instead of fresh. Fresh will give them a more tart flavor.