Definitely perfect for breakfast, and easy to throw in the freezer to have on a moment's notice:  Irish Soda Bread Muffins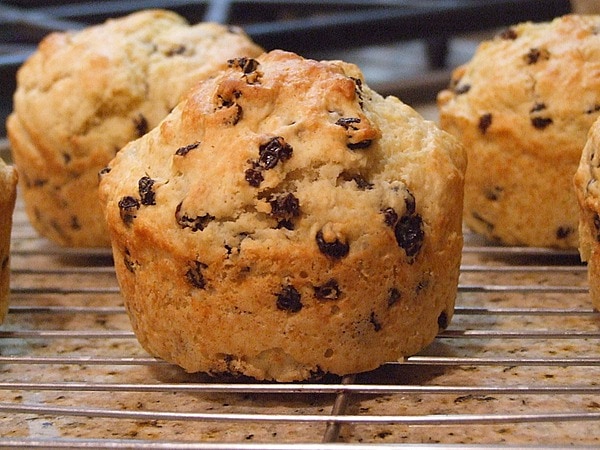 Three easy steps: The dry ingredients are cut with butter. Eggs and buttermilk are added. Currants and caraway seeds are added last.  We left out the caraway seeds (picky child in the house!)  They rise up nicely, and they're definitely most delicious directly out of the oven!
Irish Soda Bread Muffins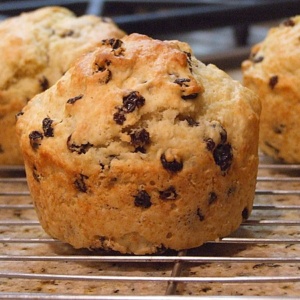 These are really terrific, especially right out of the oven- moist & delicious and very easy to prepare. They'd also do well as a dinner roll/biscuit made in a smaller muffin tin.
Yield:
12 regular-sized muffins or 5 large
Prep Time:25 min
Cook Time:20 min
Ingredients:
2 cups all-purpose flour
3 Tablespoons granulated white sugar
1 1/2 teaspoons baking powder
1/2 teaspoon baking soda
1/2 teaspoon salt
1/4 cup salted butter
1 cup buttermilk (low fat is fine)
1 large egg, beaten
3/4 cup currants
1/2 teaspoon caraway seeds (optional)
Directions:
1. Preheat oven to 375°F. Spray small muffin tins or large muffin tins with nonstick spray.
2. In a large bowl, whisk together flour, sugar, baking powder, baking soda, and salt. With pastry cutter or two knives used scissors fashion, cut in butter until mixture resembles coarse crumbs. (You can also do this part in a food processor and let the blades mix the flour & butter together). In a small bowl, stir together buttermilk and egg until blended. Add buttermilk mixture to dry ingredients and stir to combine. Stir in currants and caraway seeds (if using).
3. Spoon batter into prepared muffin cups. Bake 20 to 25 minutes (longer for the larger muffins), or until cake tester inserted in center of one muffin comes out clean.
4. Remove muffin tin or tins to wire rack. Cool 5 minutes before removing muffins from cups; finish cooling on rack. Serve warm or cool completely and store muffins in an airtight container at room temperature.
Tips:
*These muffins freeze well.
*Reader tip: Try using 1 cup of white flour and 1 cup of wheat flour- yum!
*Reader tip: Try subbing raspberries and blueberries for the currants (with no caraway seeds).