There is something very comforting about stew. I made this recipe from Rachel Allen's Irish Family Food Cookbook last weekend for my family. It wasn't a terribly cold day. In fact, it was one of those rather warm, spring-like days where shorts and flip flops were appropriate. But still I assembled this Irish Stew and put it into the oven around noon. It simmered for a couple of hours and delivered a scent to our kitchen that was decidedly welcome.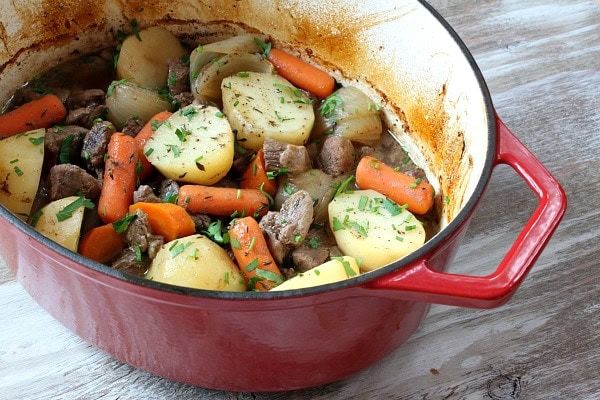 This stew was best eaten right out of the oven- the lamb so pull-apart tender and delicious. Author Allen suggests making it with bone-in chops for the greatest flavor results. Those are tough to find around my neck-of-the-woods, so I made it with lamb stew meat instead. It was still fabulous, and it would be a great choice for a St. Patrick's Day dinner.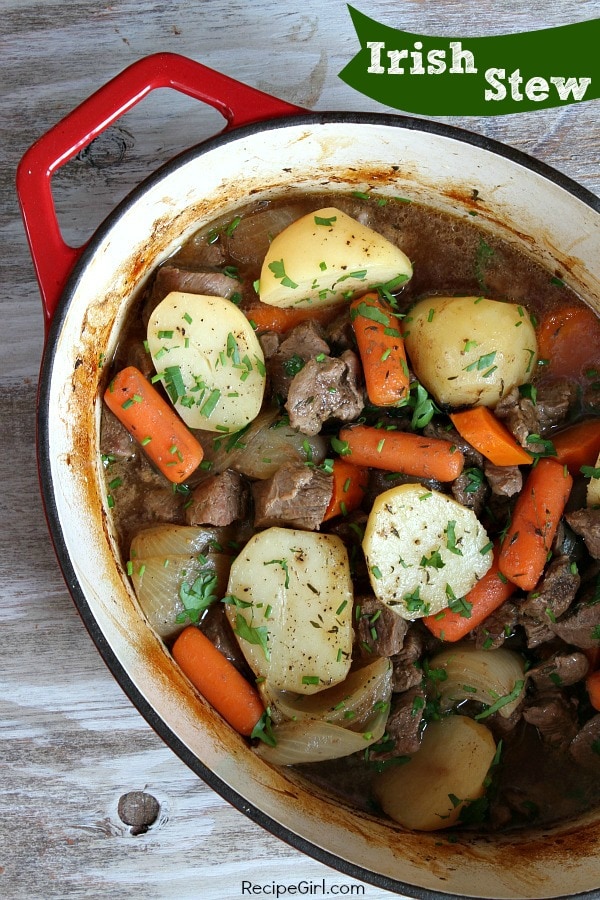 It's actually a little bit odd that I had never made an Irish Stew before. My husband (Brian Patrick Michael) is about as Irish as they come. He's quite drawn to Irish Pubs- loves sampling the beer and enjoys the food too. And so it came to be that this cookbook from Ireland's #1 bestselling cookbook author arrived in the mail. I was thrilled to flip through and read about recipes that you'd never find in an Irish pub in America: Fish Cakes, Kale & Bean Stew, Pork Chops with Sage & Apple, Hot Buttered Lobster, Crumbed Bacon Chops with Sweet Whiskey Sauce (yes!), Roast Pork Belly with Cumin and Garlic Rub, Beef and Red Wine Hot Pot, Sticky Cumin and Apricot Roast Carrots & Parsnips, Cauliflower Cheese, Spotted Dog, Fluffy Lemon Pudding and Brown Bread Ice Cream.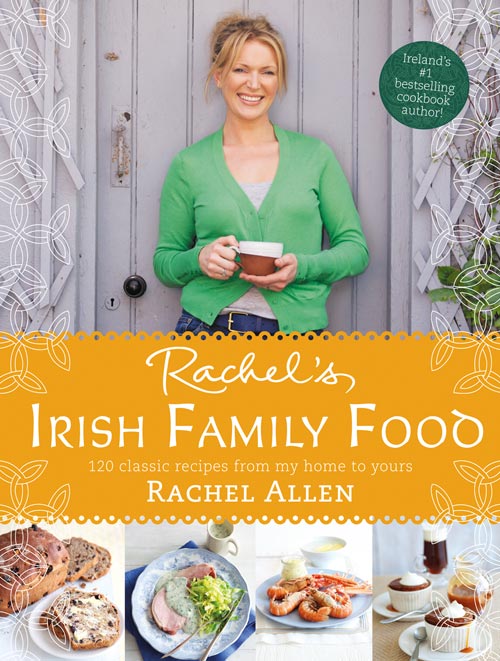 Rachel's Irish Family Food is a beautiful cookbook with a ton of photos and easy to follow, traditional Irish recipes. If I were hosting a St. Patrick's Day party this year, I'd be choosing recipes from this book! Would you like a copy? Well, I'm giving away a copy of this book today. Use the widget below for up to 4 chances to win a copy of the book (open to USA only- giveaway ends on Sunday, March 10th)
Disclosure: I was given a copy of this cookbook for review. I was not compensated for this post. All opinions shared are my own. Amazon affiliate links are included within this post.
Irish Stew
Yield:
4 servings
Prep Time:20 min
Cook Time:2 hours
Ingredients:
3 tablespoons extra-virgin olive oil
2 pounds lamb stew meat (see tips below)
3 large carrots, peeled and cut into thick slices
3 medium onions, peeled and cut into quarters
Kosher salt and freshly ground black pepper
2 cups lamb or chicken stock (broth)
8 medium white or red potatoes, peeled and halved
2 sprigs fresh thyme
1 tablespoon chopped fresh Italian parsley
1 tablespoon chopped chives
Directions:
1. Preheat the oven to 325 degrees F.
2. Heat the olive oil in a medium to large Dutch oven or flameproof casserole dish. Add the lamb to the hot oil and cook until browned on all sides (a few minutes). Remove the meat from the pan and set it aside. Add the carrots and onions to the pan- stir and cook for a few minutes, seasoning to taste with salt and pepper. Return the meat to the pot, add the broth and bring to a boil. Add the potatoes and season again with salt and pepper. Place thyme sprigs on top.
3. Cover and bake in the oven for 1 1/2 to 2 hours, until the meat is very tender. (see tips below for alternative step here) Add chopped herbs and serve.
Tips:
*The author suggests using 3 1/3 pounds lamb chops from the neck or shoulder, still on the bone (cut 3/4-inch thick). I chose to use stew meat instead.
*If your stew yields excess fat, you may wish to pour off the cooking liquid and allow it to sit for a few minutes until the fat floats to the top (author suggests adding an ice cube to speed up the process). Spoon off the fat and pour the juices back over the stew. NOTE: I didn't have a problem with excess fat using just lamb stew meat.
Other Irish recipes on the blogs that you might enjoy!
Guinness- Braised Beef Stew by A Pretty Life
Apricot- Glazed Corned Beef with Colcannon and Sauteed Cabbage by Closet Cooking
How to Make Irish Butter by David Lebovitz