Here's a dessert that'll have you wanting seconds (and thirds!):  Irish Apple Crisp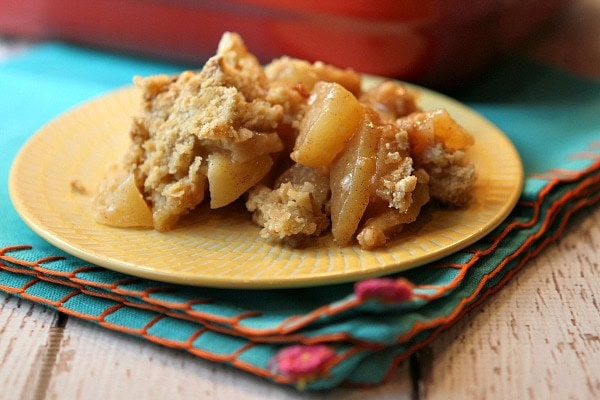 I'm not Irish myself (I'm a 1/2 Swedish, quarter Portuguese kinda girl).  My husband is very Irish though.  He has the fair skin, the rosy cheeks, he likes beer, he can talk to anyone, and he's the last one to leave the party.  So when I feed him something and tell him it's "Irish," he jumps on board for an enthusiastic taste test.  This apple crisp uses Irish oats (I use McCann's quick-cooking rolled oats… not the steel cut variety) in the crumbly topping.  The apples are tossed in a bit of Irish whiskey for good measure.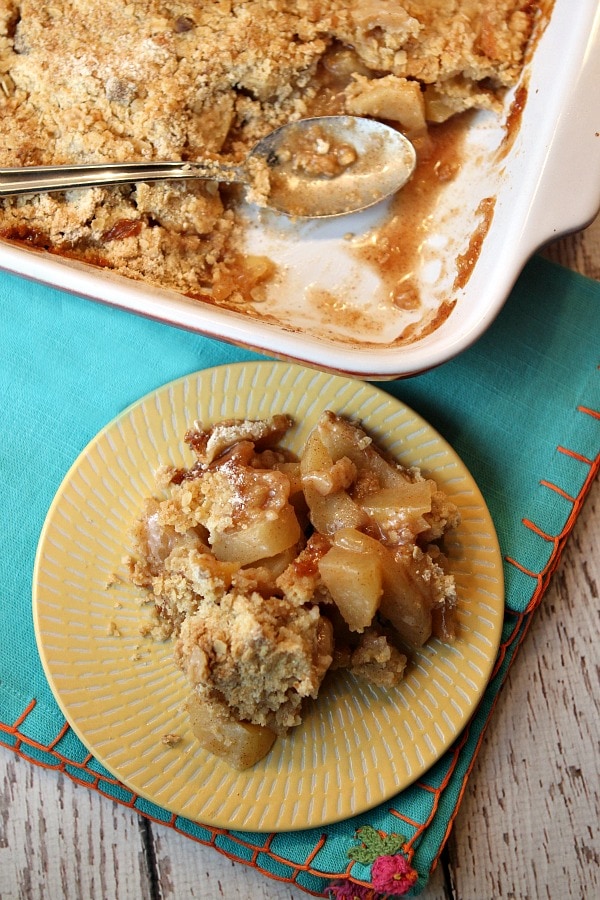 The result is a beautiful, sweet apple crisp with a lovely, crusty crumble baked on top.
We topped our servings with freshly whipped cream and a drizzle of caramel, just to be extra decadent.  And my Irish guy… he gave this dessert his Irish stamp of approval!
Irish Apple Crisp
Yield:
About 6 servings
Prep Time: 25 minutes
Cook Time: 35 minutes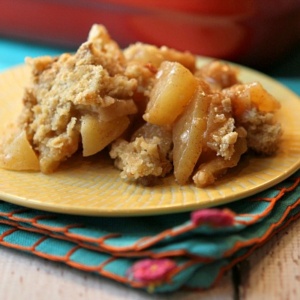 Ingredients:

2 pounds Rome, Beauty or Winesap apples, peeled, cored and sliced thinly
2 Tablespoons freshly squeezed lemon juice
3/4 cup packed light brown sugar, divided
2 tablespoons Irish whiskey
1 teaspoon ground cinnamon
1/4 teaspoon cardamom
pinch of salt
1 cup all-purpose flour
1/4 cup Irish oatmeal
6 tablespoons cold unsalted butter, cut into pieces
1/3 cup toasted, chopped walnut pieces
freshly whipped cream and caramel sauce for serving (optional)

Instructions:

Preheat the oven to 375 degrees F.  Spray a 11x7-inch baking pan with nonstick spray.
In a large bowl, toss the apples with the lemon juice, Then mix in 1/4 cup sugar, whiskey, cinnamon, cardamom and salt.  Scoop the apples into the prepared dish and scrape the juices on top.
In a separate bowl, whisk together the flour, oatmeal and remaining 1/2 cup sugar.  Add the butter, and use your fingers or a pastry blender to work the butter into the mixture until it resembles coarse crumbs.  Stir in the walnut pieces.
Sprinkle the crumb mixture evenly over the top.  Bake until golden brown and bubbly, 35 to 40 minutes.
Serve warm with freshly whipping cream and caramel sauce (optional).
SOURCE:  RecipeGirl.com
More apple crisp recipes you might enjoy: