Here's an easy recipe for Irish Bread Pudding served with Caramel Whiskey Sauce.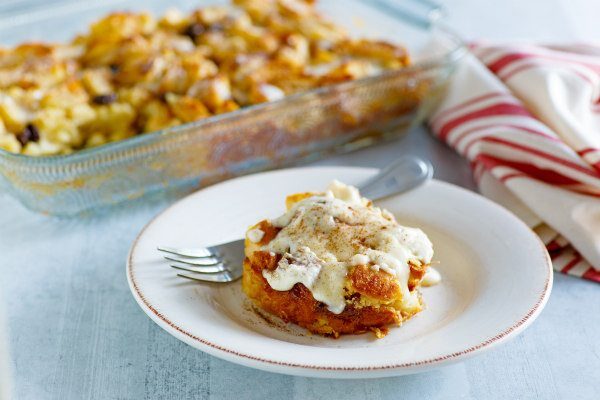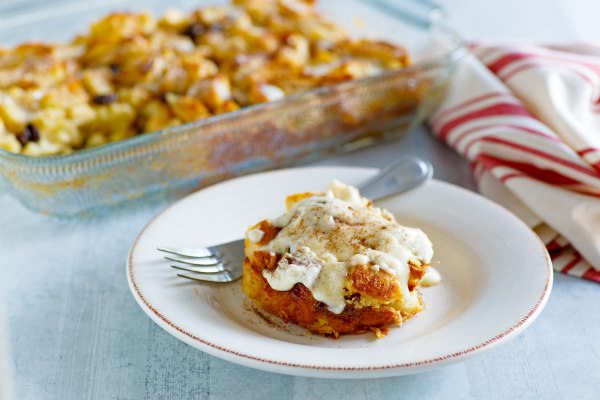 This recipe has been approved by my very Irish husband.  He enjoys his Irish whiskey, so a slice of Irish pudding topped with caramel whiskey sauce is the perfect dessert indeed!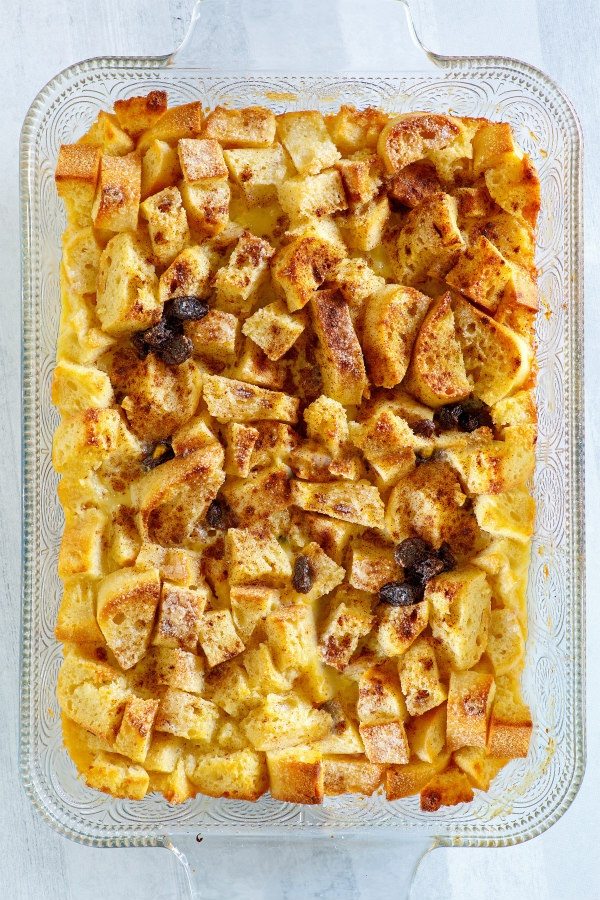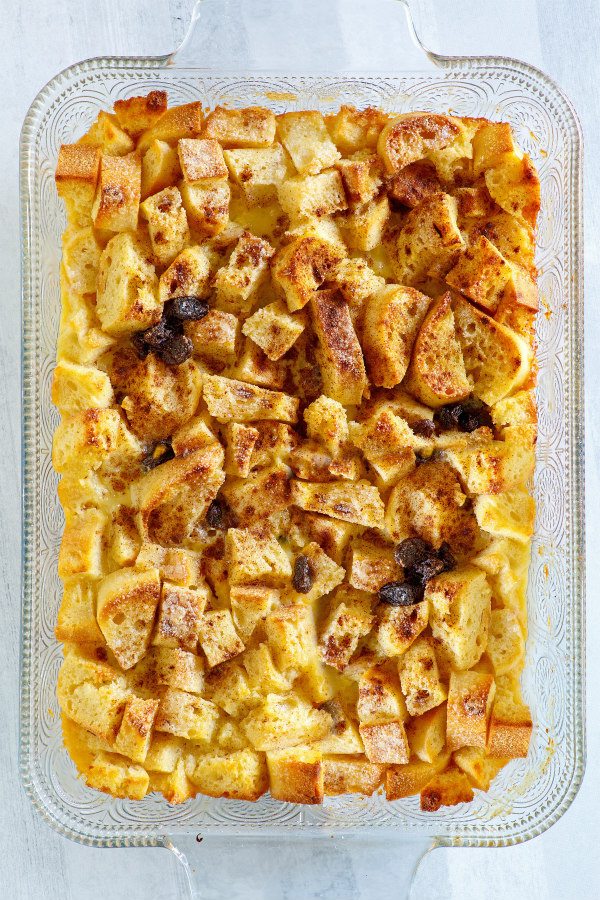 Irish Bread Pudding
This Irish Bread Pudding recipe begins with a classic bread pudding that has a little bit of Irish whiskey mixed in.  It's sweet and tender.  There are raisins mixed in.  And there is a cinnamon-sugar mix sprinkled on top.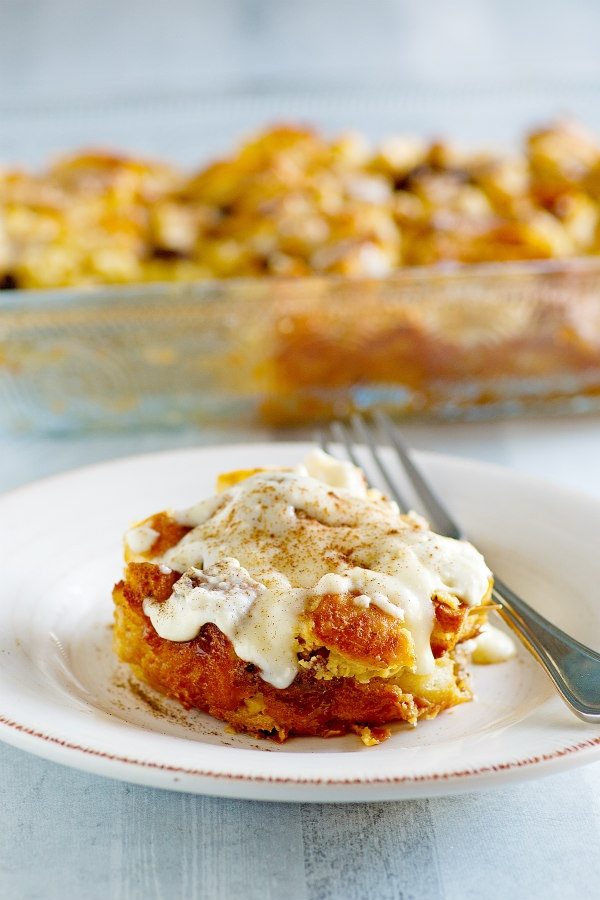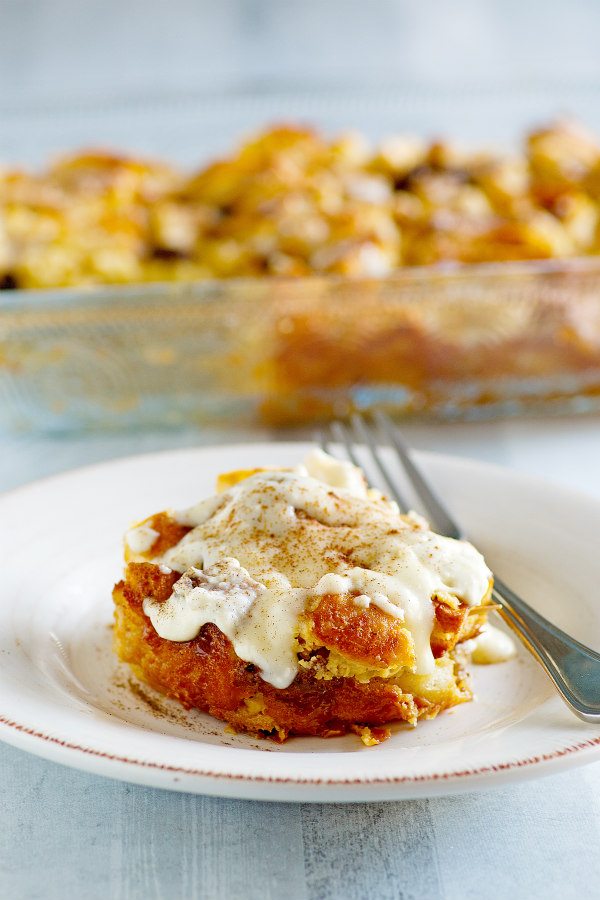 Individual slices (best served warm) are topped with  a generous spoonful of sweet, creamy caramel sauce with more Irish whiskey added in.  Yes, I believe you need to enjoy the flavor of whiskey at least a little bit to enjoy this dessert.  I'm not bonkers for whiskey, but I do love this Irish bread pudding recipe a lot.  I don't feel like the flavor of whiskey is overwhelming at all.
Here are a few more bread pudding recipes you might enjoy:
Irish Bread Pudding with Caramel Whiskey Sauce
Yield:
12 servings
Prep Time: 45 minutes
Cook Time: 1 hour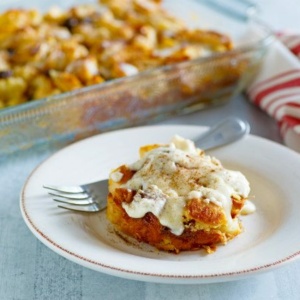 Ingredients:

PUDDING:

1/4 cup (1/2 stick) butter, melted
10 ounce French bread baguette, cut into 1-inch-thick slices
1/2 cup raisins
1/4 cup Irish whiskey
1 3/4 cups 1% low fat milk
1 cup granulated white sugar
1 tablespoon vanilla extract
One 12 ounce can evaporated skim milk
2 large eggs, slightly beaten

TOPPING:

2 tablespoons granulated white sugar
1 teaspoon ground cinnamon

SAUCE:

1 1/2 cups granulated white sugar
2/3 cup water
1/4 cup (1/2 stick) butter
2 ounces cream cheese, cut into cubes (about 1/4 cup)
1/4 cup Irish whiskey
1/4 cup 1% low fat milk

Instructions:

Preheat oven to 350°F. Spray 13x9-inch baking dish with cooking spray and set aside.
Brush melted butter on one side of French bread slices, and place bread, buttered sides up, on a baking sheet. Bake bread at 350° for 10 minutes or until lightly toasted. (leave oven on) Cut bread into cubes and set aside.
Combine raisins and whiskey in a small bowl; cover and let stand 10 minutes or until soft; do not drain.
Whisk together 1% milk, sugar, vanilla, evap. milk, and eggs in a large bowl. Add bread and raisin mixture, pressing gently to moisten; let stand 15 minutes. Spoon mixture into prepared baking dish. Combine topping ingredients and sprinkle evenly on top. Bake 35 minutes, or until set.
Prepare sauce: Combine sugar and water in a small saucepan over medium-high heat; cook until sugar dissolves, stirring constantly. Simmer on low and cook an additional 15 minutes or until golden - the mixture should be bubbling (do not stir). Remove from heat. Carefully add butter and cream cheese, stirring constantly with a whisk (the mixture will be hot and bubble vigorously). Cool slightly, and stir in whiskey and milk.
Serve individual slices with warm sauce drizzled on top.

Tips:

If you prefer not to use whiskey, substitute apple juice for whiskey in the pudding. In the sauce, substitute 1 tablespoon imitation rum extract and 3 tablespoons water for the whiskey.
SOURCE: RecipeGirl.com (adapted from Cooking Light)