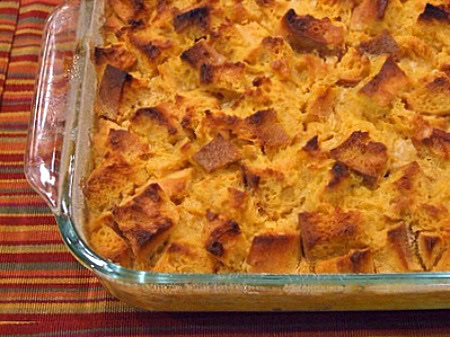 Pumpkin Bread Pudding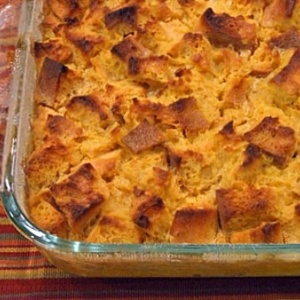 I served this for a fall dinner party and it received raves. I added the bourbon cream sauce (mentioned in the tips below) and we loved that too. Would make this again in a heartbeat- very moist and flavorful.
Yield:
12 servings
Prep Time: 35 min
Cook Time: 35 min
Ingredients:
1 3/4 cups whole milk
1 1/2 cups heavy whipping cream
15 ounces stale Italian bread with crusts on, cut into cubes
3/4 cup butter, softened
1/2 cup light brown sugar
3/4 teaspoon ground cinnamon
pinch of nutmeg
pinch of ground ginger
6 large egg yolks
1 3/4 cups pumpkin purée, at room temperature
3 large egg whites
1 1/2 tablespoons granulated white sugar
3/4 teaspoon salt
Directions:
1. Preheat oven to 350° F. Butter and sugar a 9x-13-inch pan (or use twelve 3-inch ramekins).
2. In a medium saucepan, bring milk and cream to a simmer over low heat. Place bread cubes in bowl. Remove milk mixture from heat and pour half of the liquid over the bread cubes.
3. With an electric mixer, cream butter and sugar in a large bowl until light and fluffy. Add cinnamon, nutmeg, ginger and egg yolks, beating well. Add pumpkin purée and the other half of the heated cream and milk.
4. Fold the soaked bread into the pumpkin mixture.
5. In a separate bowl, beat the egg whites and sugar and salt until they form stiff peaks and gently fold into the batter.
6. Pour batter into the prepared pan.
7. Bake 35-45 minutes, or until knife inserted in center comes out clean.
Tips:
*This dessert may be baked and then wrapped and refrigerated for up to 3 days. Re-heat in the oven wrapped in foil, or microwaved until warm.
*Bourbon Cream Sauce option: Heat 1 cup of heavy cream just enough to melt about one-half cup of white chocolate chips, and add 1/3 cup bourbon. Pour lightly over individual servings for a delightful finishing touch.