Maple Custard Bread Pudding is a delicious twist on classic bread pudding!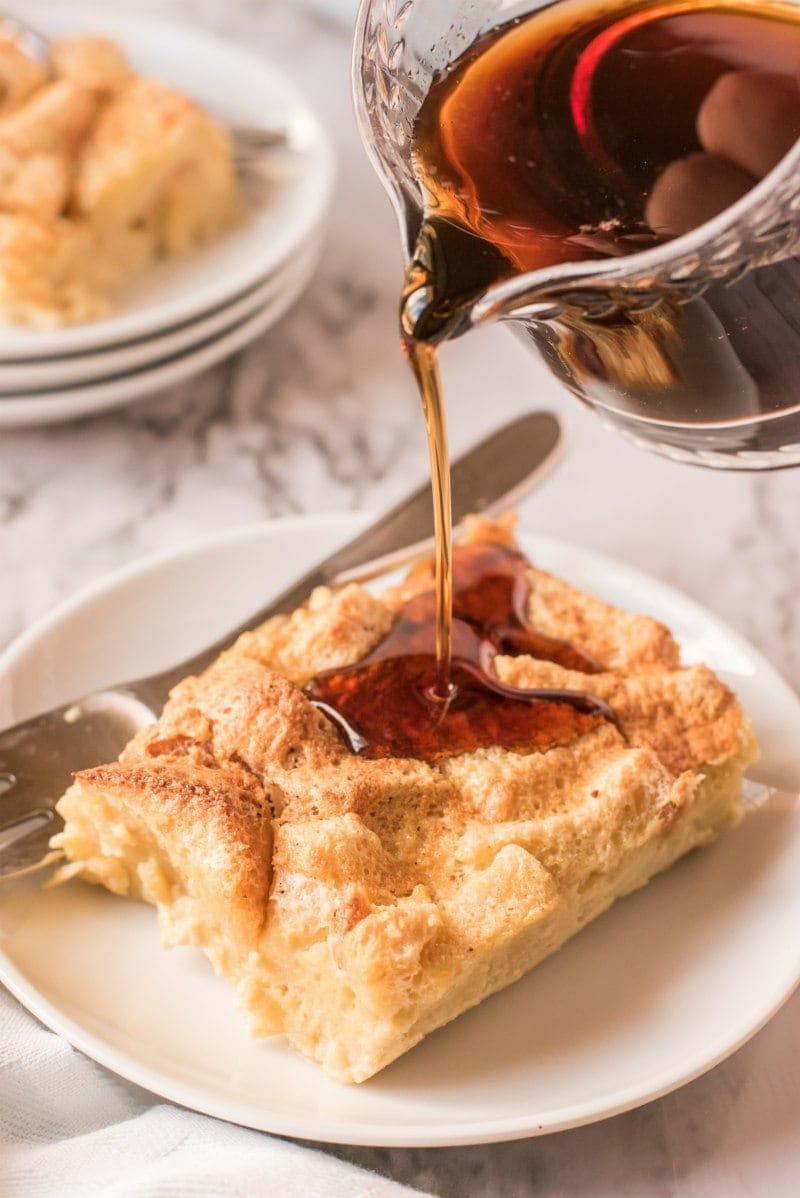 If you're looking for a comforting and delicious fall dessert, this Maple Custard Bread Pudding fits that description. It has all of the good components of a good bread pudding- bread soaked in an egg custard. And then it has an added bonus of maple syrup built in to the custard (and you can add more on top too!)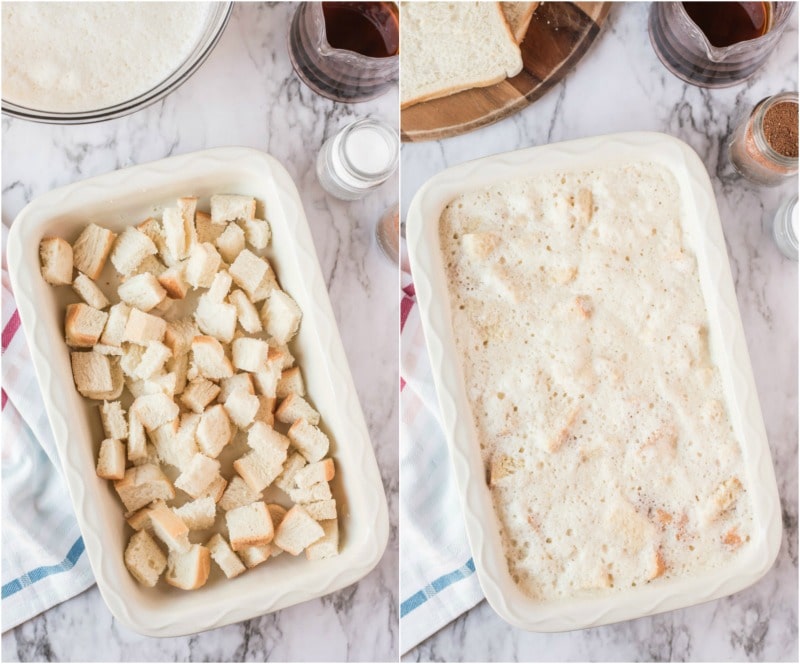 How to make Maple Custard Bread Pudding:
Cut-up bread is placed into a casserole dish. Use a good bread that is more bakery-quality for the best results. The custard starts with a mix of warmed milk and cream with egg yolks, maple syrup and salt. Beaten egg whites are then folded into the milk mixture. The egg custard is then poured over the bread cubes in the dish. A sprinkle of nutmeg is added to the top.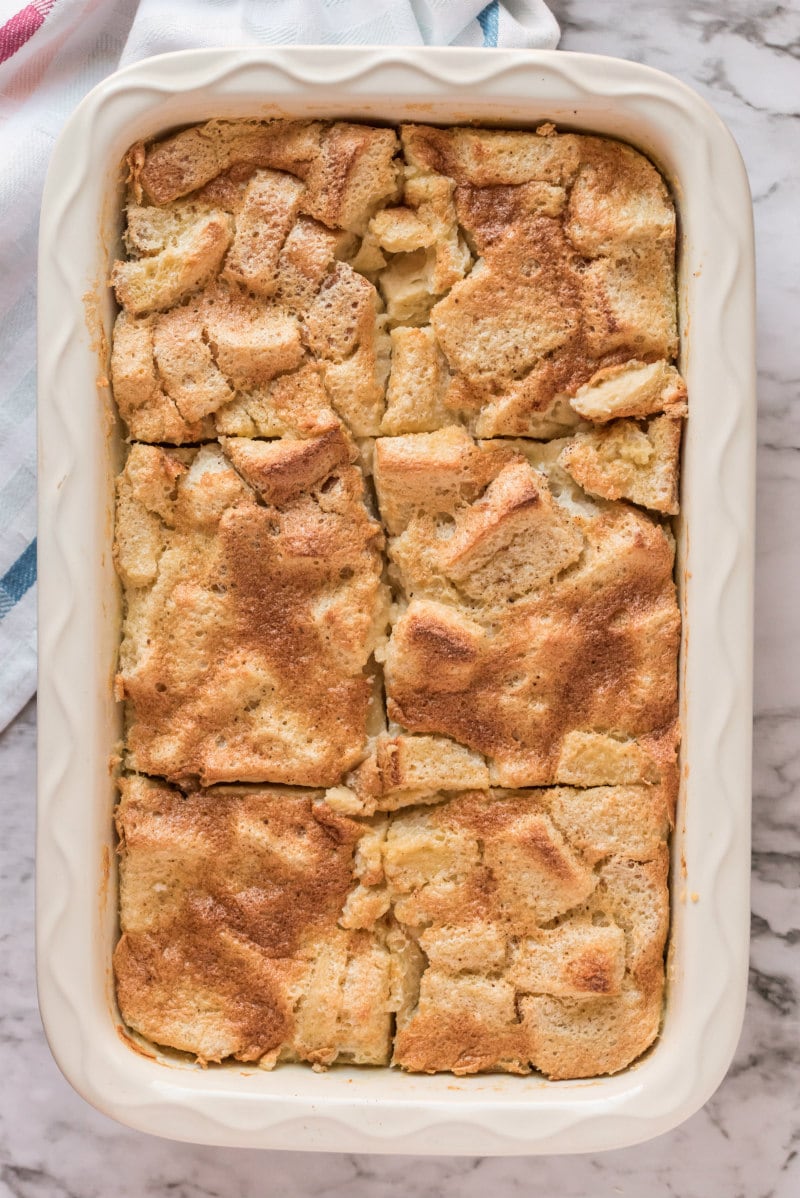 To bake, you'll place the dish into a larger pan that has about an inch of hot water in it. This is called, "placing it into a water bath." Baking the Maple Custard Bread Pudding in a water bath is important because it helps prevent the bread pudding from burning or drying out. You don't want any of the water to seep into the bread pudding, so just make sure the water comes up about halfway on the sides of the baking dish when you set it into the larger pan.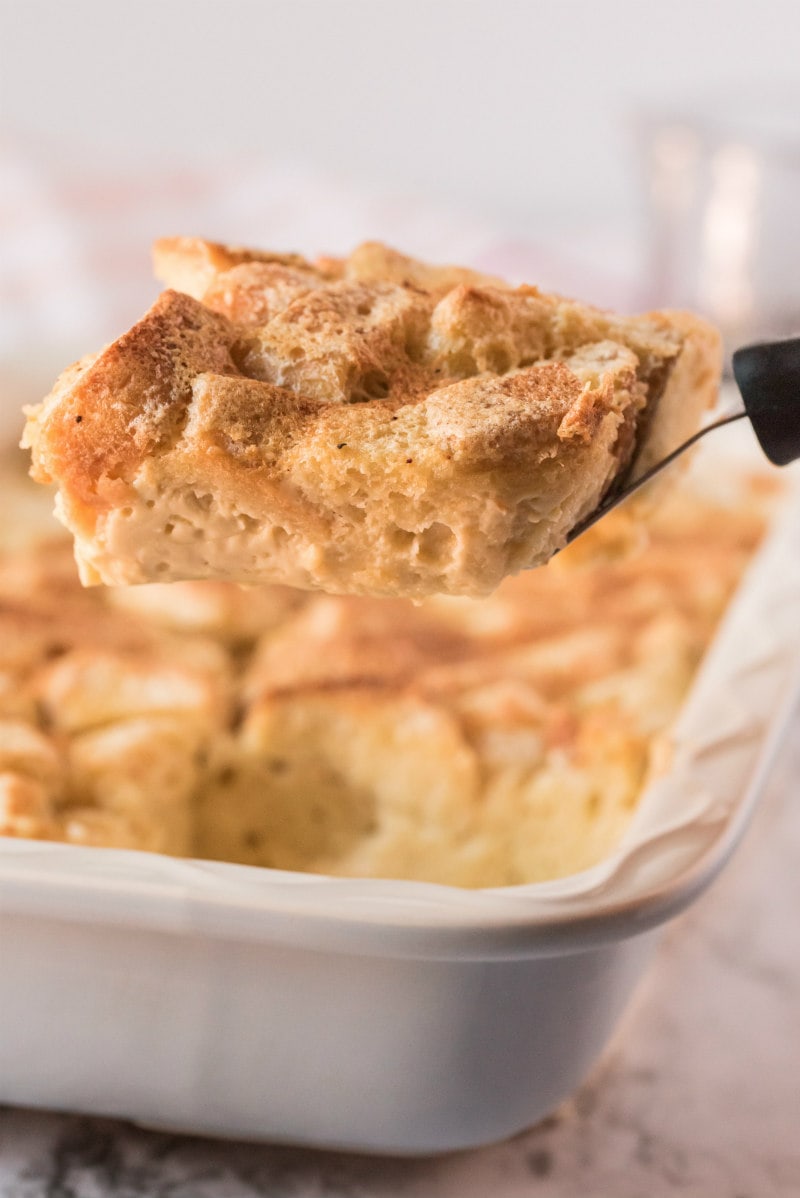 The water bath will help your bread pudding to come up nice and tender. It will have a custard-like, creamy texture.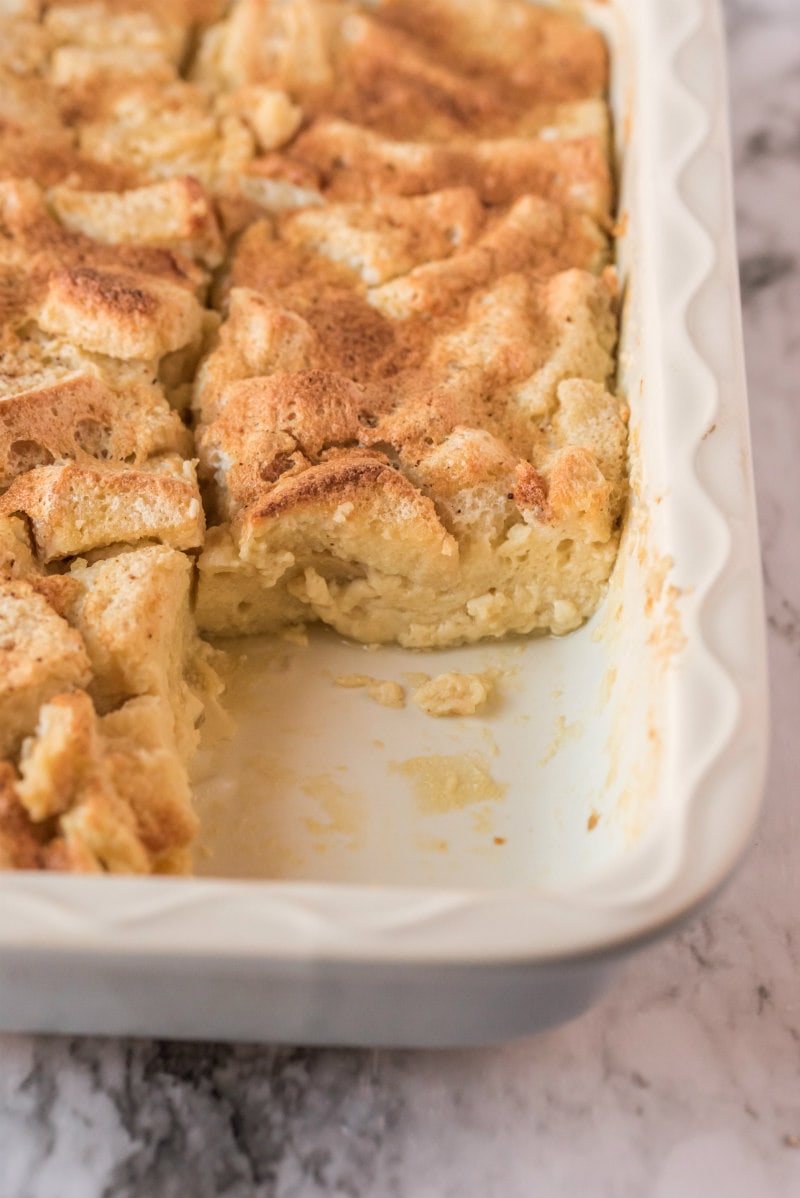 This bread pudding recipe makes 6 servings. Leftovers are great, so just refrigerate and heat in the microwave to re-heat. It can be served for dessert, but it's also a delicious option for a weekend or holiday breakfast!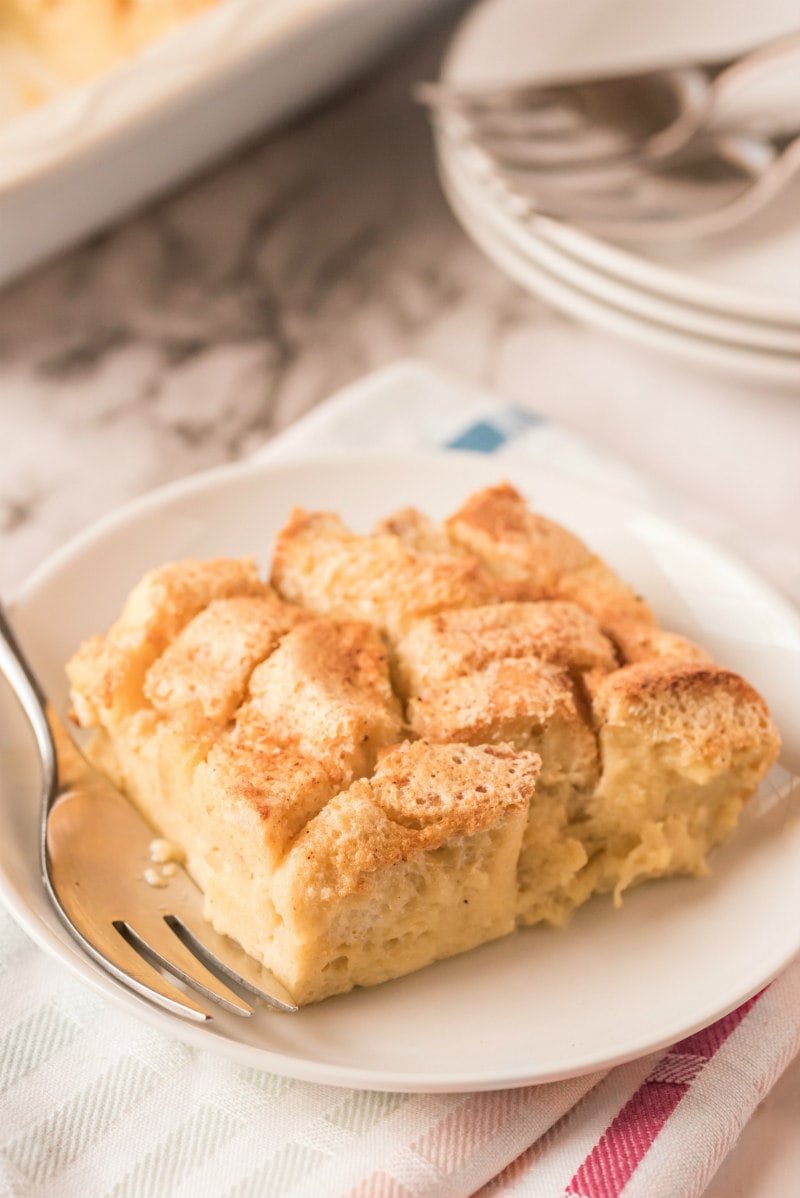 Maple Custard Bread Pudding isn't an overly sweet version of bread pudding. Maple syrup is the only sugary element added to the bread pudding. It's enough to add a good amount of sweetness and flavor.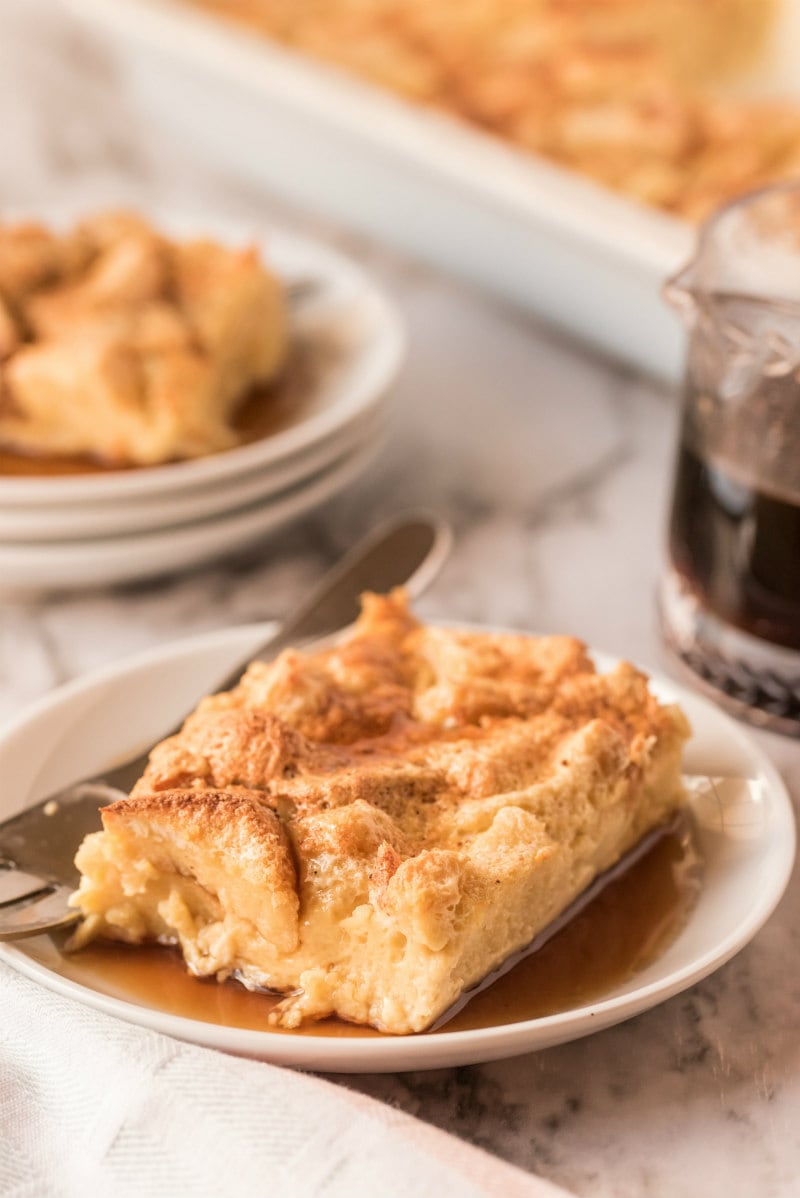 We like to add more maple syrup for serving (but that's up to you). Enjoy!
Here are a few more maple-themed recipes you might like to try:
Maple Custard Bread Pudding
Another great flavor for bread pudding!
Recipe Details
Ingredients
2

cups

whole milk

1/2

cup

heavy whipping cream

4

large

eggs, separated into yolks and whites

1/2

cup

pure maple syrup

dash of

salt

5

slices

day-old bread,

cubed

dash of

nutmeg

maple syrup,

for serving (optional)
Instructions
Preheat the oven to 350 degrees F. Butter a 1½ quart baking dish. Take out a larger pan and be prepared to add about 1 inch of hot water in that dish when ready to bake. This will be the "water bath" for baking your bread pudding. The larger dish must be large enough to contain the baking dish you're using for the bread pudding.

In a small saucepan heat the milk and cream together. Set aside to cool slightly.

In a medium bowl, combine and whisk together the egg yolks, maple syrup, and salt. Very gradually whisk the milk mixture into the egg mixture. You don't want to scramble the eggs with hot milk, so do this slowly!

In a separate bowl, use a hand mixer to beat the egg whites to stiff-peak stage (not dry). Fold the beaten egg whites into the egg custard mixture.

Spread the bread cubes evenly in the prepared dish. Pour the egg custard mixture over the bread cubes and sprinkle nutmeg lightly on top. Place the baking dish in a larger pan filled with about 1 inch of hot water. You want enough water in the larger dish so the water comes up about halfway on the bread pudding baking dish when it's set into the water bath.

Bake 40 to 45 minutes, or until a knife inserted into the center comes out clean.
Notes
Use good, bakery-quality bread!
Nutrition
Serving:
1
serving
,
Calories:
301
kcal
,
Carbohydrates:
34
g
,
Protein:
10
g
,
Fat:
14
g
,
Saturated Fat:
7
g
,
Cholesterol:
159
mg
,
Sodium:
213
mg
,
Potassium:
271
mg
,
Fiber:
1
g
,
Sugar:
22
g
,
Vitamin A:
603
IU
,
Calcium:
185
mg
,
Iron:
1
mg