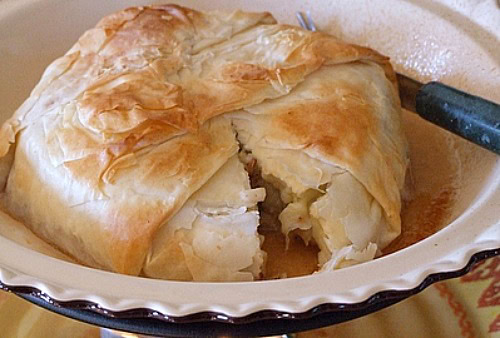 Maple- Pecan Apple Stuffed Brie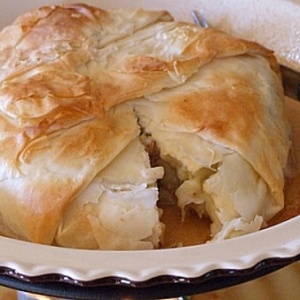 I've made many kinds of stuffed brie but this one is unique and delicious.
Yield:
8 to 10 servings
Prep Time: 15 min
Cook Time: 15 min
Ingredients:
1/2 small Granny Smith apple, finely chopped
1 Tablespoon finely chopped, toasted pecans or walnuts
2 Tablespoons maple syrup
4 sheets frozen phyllo, thawed
2 Tablespoons butter, melted
1 medium sized round of brie cheese (5- 6-inch diameter)
Directions:
1. Preheat oven to 400°F. Mix apple and pecans in bowl. Stir in maple syrup. Set aside.
2. Brush 1 phyllo sheet lightly with melted butter. Top with remaining 3 phyllo sheets, brushing each layer with butter. Cut large circle from stack.
3. Cut cheese in half horizontally. Place 1 cheese half in center of phyllo circle stack; top with half of the apple-nut mixture. Top with second cheese half and remaining apple-nut mixture. Wrap phyllo around cheese, folding phyllo as needed to completely enclose cheese. Brush with remaining butter. Place on baking sheet or pie plate.
4. Bake 15 minutes, or until golden brown. Serve immediately with crackers, sliced baguette or apple slices (or a combination of these).
Tips:
*Thaw frozen phyllo in refrigerator for at least 8 hours or overnight; this will prevent damp spots that could cause the sheets of dough to stick together.
*When working with thawed phyllo, dampen a paper towel and squeeze dry. Open and keep over phyllo while preparing sheets. This will help them from drying out.
*Cut strips in the remaining phyllo trimmings. Sprinkle with ground cinnamon and sugar. Twist strips to get several coils in each. Bake on baking sheet with cheese for last 5 minutes of baking time or until crisp golden brown. A great edible garnish to dress up the appetizer.
*Use a clean pair of kitchen scissors to cut out the phyllo circle.