Maple Pecan Apple Stuffed Brie is a delicious and decadent appetizer.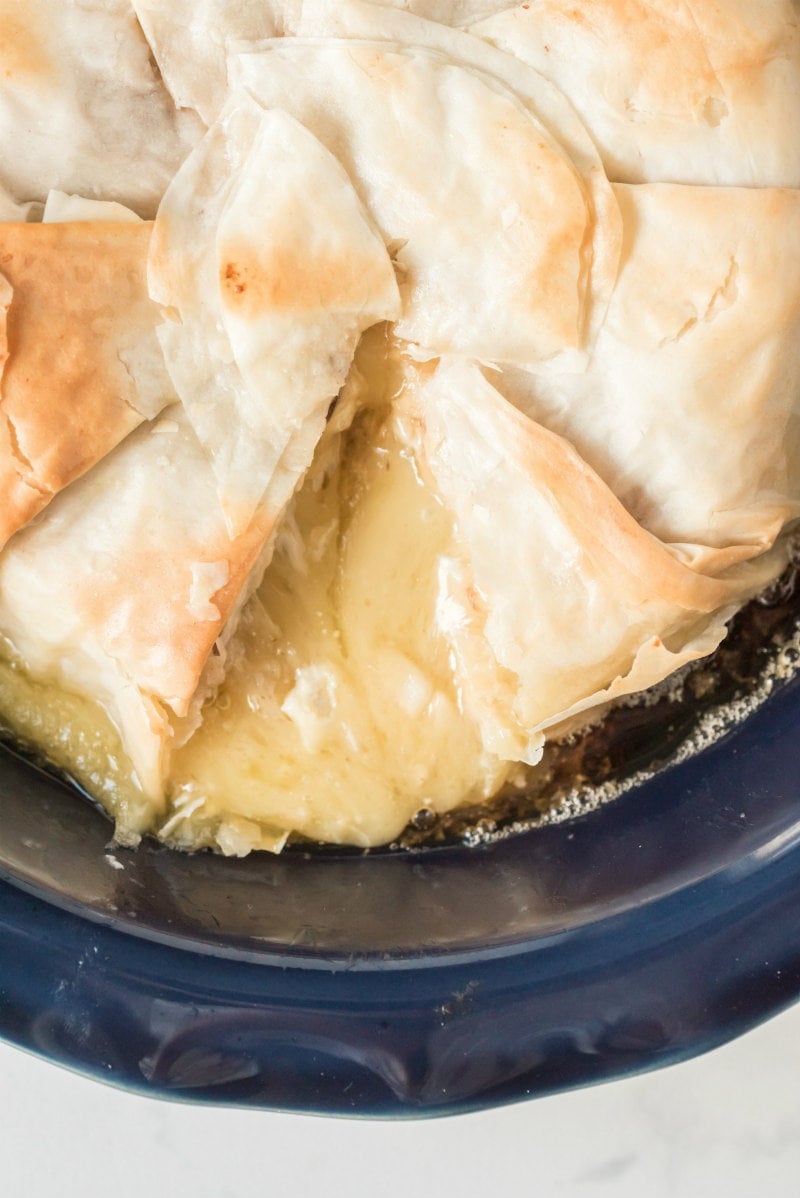 Have you ever tried perfectly melted and gooey brie? It's the best appetizer. I worked many catering gigs back in college, and we used to serve large wheels of brie that were melted in chafing dishes. People were drawn to that melted brie like crazy. I've made it at home ever since I learned how to do it. It's the most wonderful vessel for dipping sliced baguette. And I think you will find that it's impossible to stop eating this Maple Pecan Apple Stuffed Brie!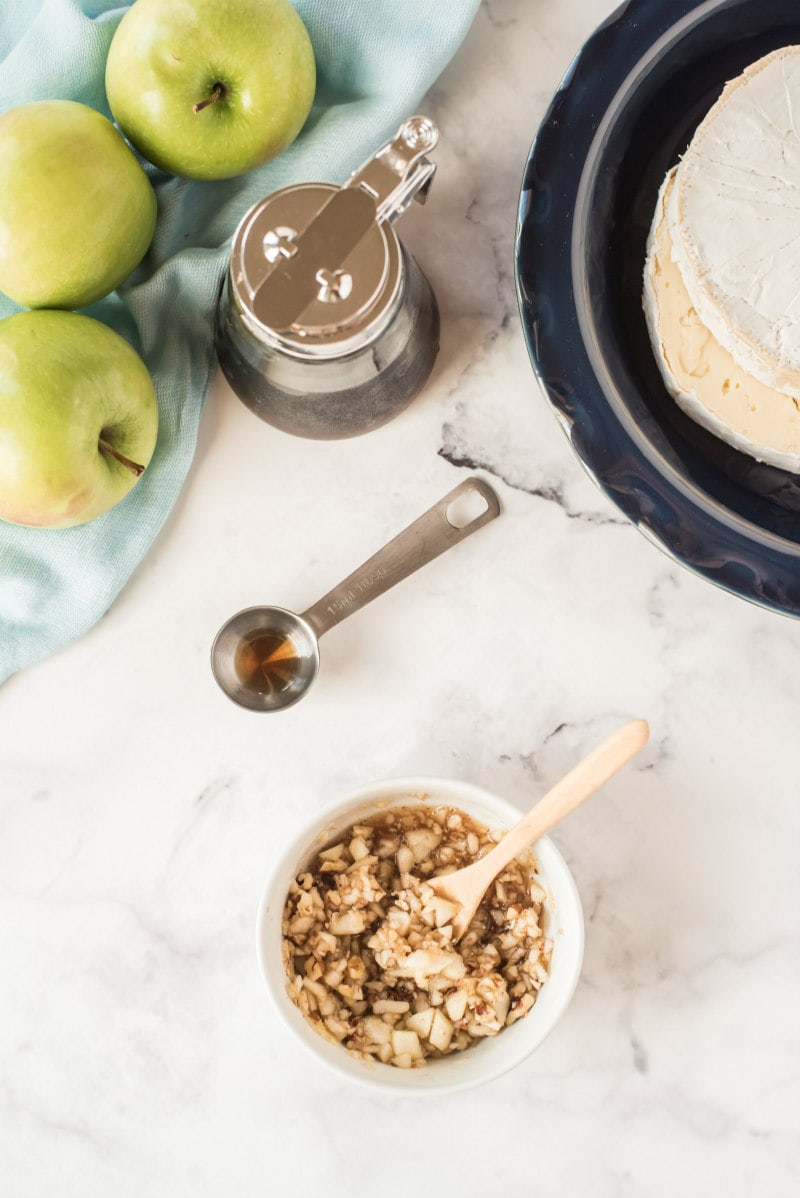 Ingredients needed:
Granny Smith apple
Toasted pecans (or walnuts)
maple syrup
phyllo dough
melted butter
one round of brie cheese
How to toast pecans:
Place the pecans on a baking sheet. Bake in a 350 degree F. oven for 15 minutes, or until lightly browned and fragrant. Keep an eye on them so they don't brown too quickly or burn.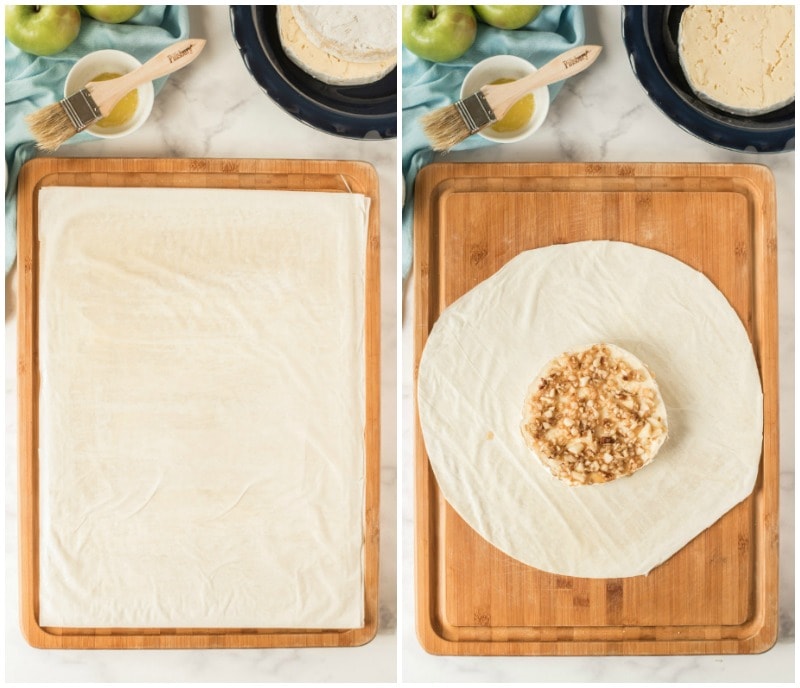 How to make Maple Pecan Apple Stuffed Brie:
One sheet of phyllo is laid on a work surface and brushed with melted butter. Three more sheets of phyllo are stacked upon the first one, brushing each with butter as they are added. Then you'll use kitchen scissors to cut a large round out of the phyllo. Your round of brie cheese will be cut in half horizontally and placed onto the round of phyllo. Apple, toasted pecans and maple syrup are then spread onto the cheese.
Tips on working with phyllo dough (it can be tricky):
Refrigerate frozen phyllo for about 8 hours or overnight to allow it to thaw, then leave it at room temp for another hour or two until all the sheets are pliable. Trying to hurry the process might lead to cracking the sheets of phyllo.
For golden layers, you need to brush each layer of phyllo with butter. Use a pastry brush, and remember that each sheet will soak up around 1 tablespoon of butter, so plan accordingly.
When working with one sheet of phyllo, keep the rest of the dough tightly wrapped so that it doesn't dry out while you are making the recipe. Alternately, you can cover the phyllo with a barely damp kitchen towel. It will keep the sheets together and pliable, instead of it becoming brittle and breaking apart.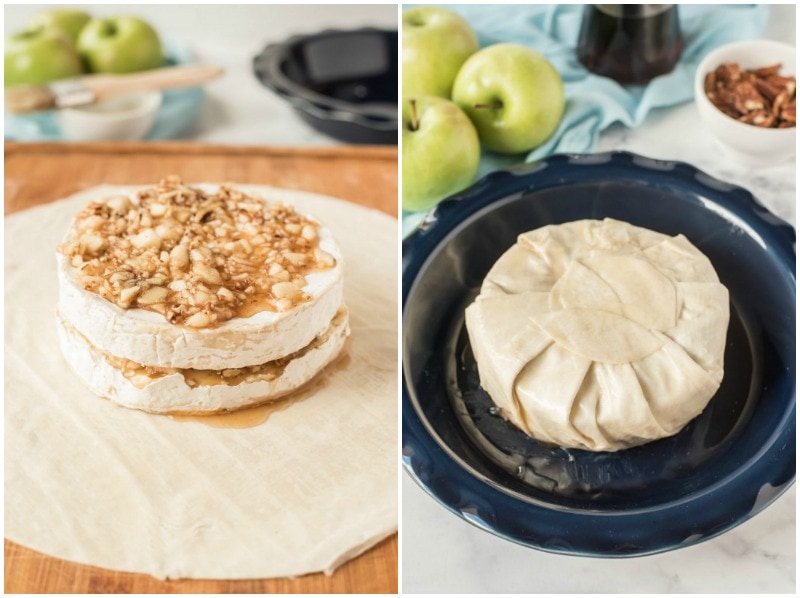 The next round of brie is then placed on top of the first and topped with more apples, pecans and maple syrup. Then the phyllo is wrapped around the brie and placed into a baking dish.
The brie is baked for about 15 minutes until golden brown. At this point the cheese will be completely melted and wonderful.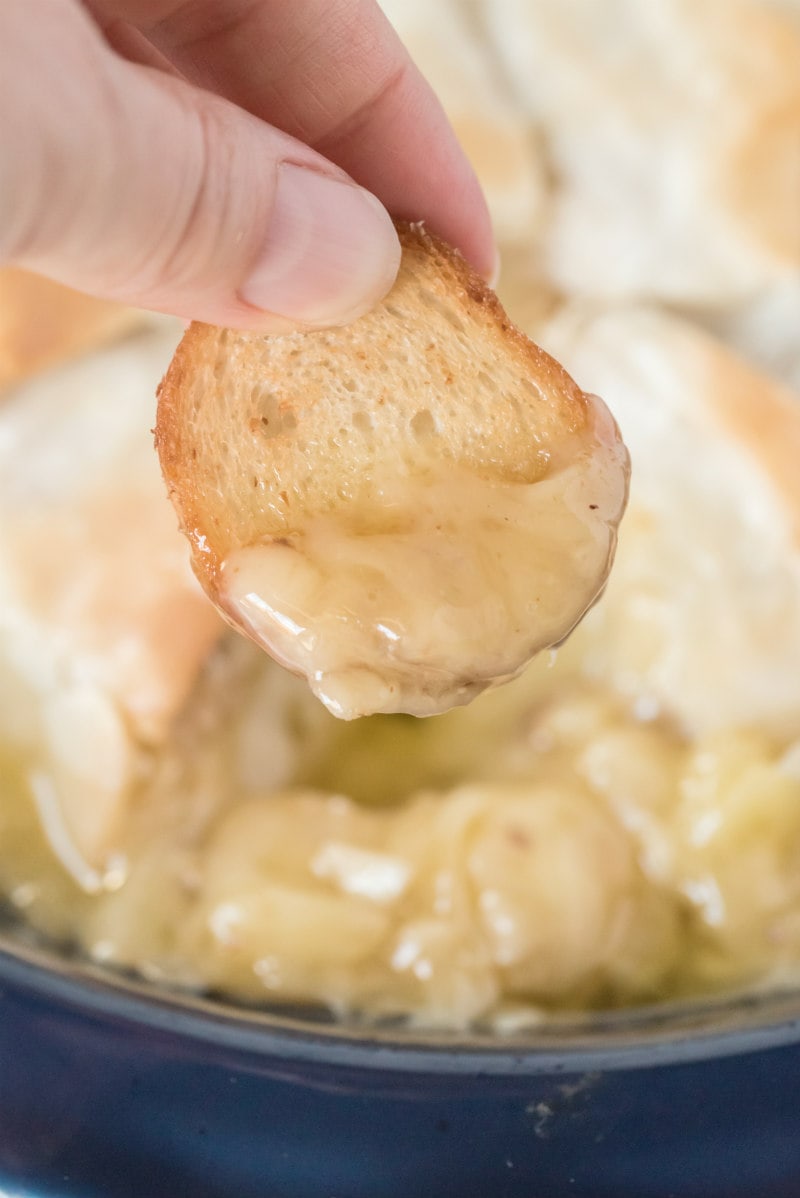 What to serve with melted brie:
Cut into the cheese after baking, and use baguette slices and apple slices for dipping.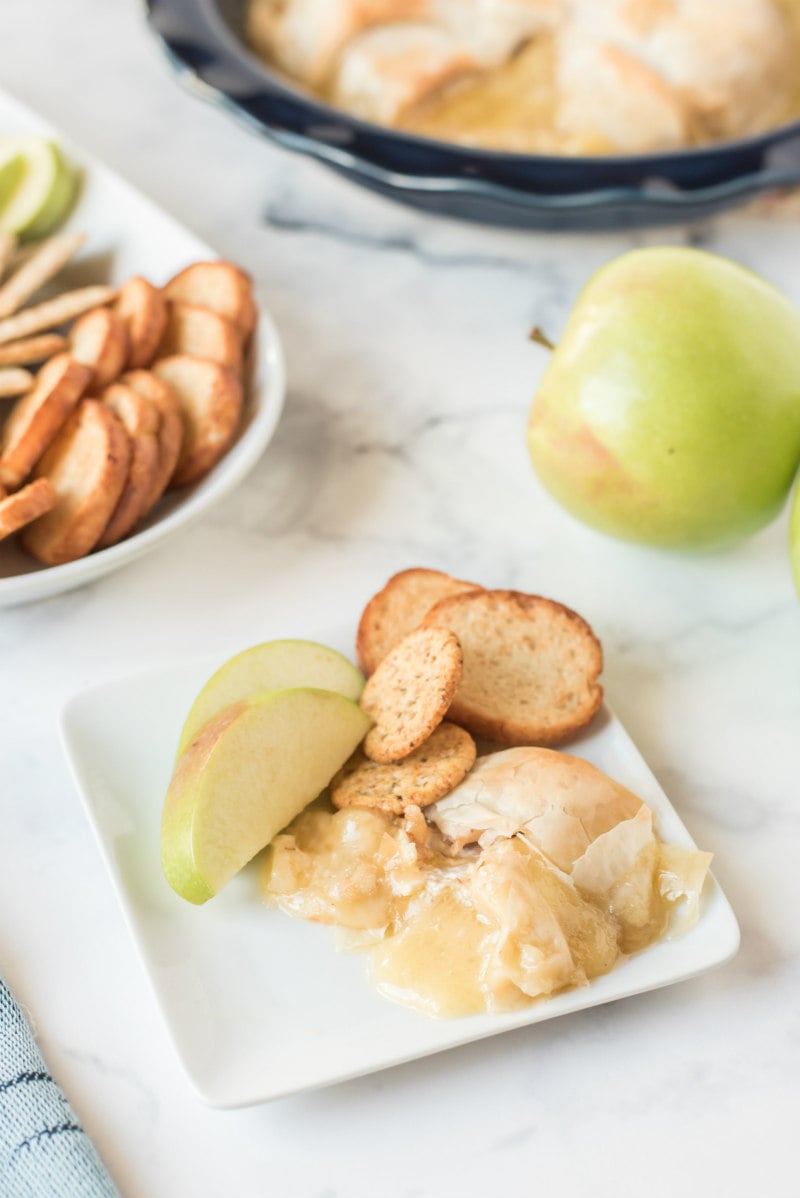 Serve this Maple Pecan Apple Brie with little plates and forks so people can slice it and place it on a plate with bread and apple. The maple/pecan/chopped apple in this recipe adds some awesome fall flavors to an already amazing baked cheese. Enjoy!
Here are a few more brie recipes you might like to try:
Maple- Pecan Apple Stuffed Brie
A decadent appetizer for dunking baguette and apple slices!
Recipe Details
Ingredients
1/2

small

Granny Smith apple,

peeled and finely chopped

2

tablespoons

maple syrup

1

tablespoon

finely chopped toasted pecans or walnuts

4

sheets

frozen phyllo sheets,

thawed

2

tablespoons

butter,

melted

One

5 to 6-inch round

brie cheese
Instructions
Preheat the oven to 400°F. In a small bowl, stir together the apple, maple syrup and pecans. Set aside.

Brush 1 phyllo sheet lightly with melted butter. Top with remaining 3 phyllo sheets, brushing each layer with butter. Cut a large circle from the stack.

Cut the round of cheese in half horizontally. Place 1 cheese half in the center of the phyllo circle stack; top with half of the apple-nut mixture. Top with second cheese half and remaining apple-nut mixture. Wrap the phyllo around the cheese, folding the phyllo as needed to completely enclose cheese. Use the extra scraps if you need to cover it fully. Brush the wrapped brie with the remaining butter. Place on a baking sheet or inside a pie plate.

Bake for 15 minutes, or until golden brown. Serve immediately with crackers, sliced baguette or apple slices (or a combination of these).
Notes
*Thaw frozen phyllo in refrigerator for at least 8 hours or overnight; this will prevent damp spots that could cause the sheets of dough to stick together.
*When working with thawed phyllo, dampen a paper towel and squeeze dry. Open and keep over phyllo while preparing sheets. This will help them from drying out.
*Use a clean pair of kitchen scissors to cut out the phyllo circle.
Nutrition
Serving:
1
serving
,
Calories:
140
kcal
,
Carbohydrates:
8
g
,
Protein:
5
g
,
Fat:
10
g
,
Saturated Fat:
6
g
,
Cholesterol:
29
mg
,
Sodium:
200
mg
,
Potassium:
61
mg
,
Fiber:
1
g
,
Sugar:
3
g
,
Vitamin A:
204
IU
,
Vitamin C:
1
mg
,
Calcium:
46
mg
,
Iron:
1
mg