Craving grilled cheese?  Here's a new kind of grilled cheese with a secret ingredient:  Brie, Apple and Cranberry Grilled Cheese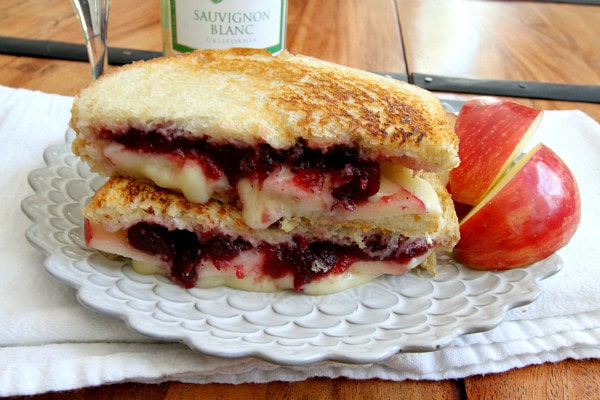 The boys in my house almost always ask me to make grilled cheese sandwiches for them on the weekends.  My go-to method is good bread, good butter, sharp cheddar and sliced tomato.  They love the usual, but I asked them if they'd be willing to try something a little different last weekend.  After eyeing me suspiciously, they tentatively agreed.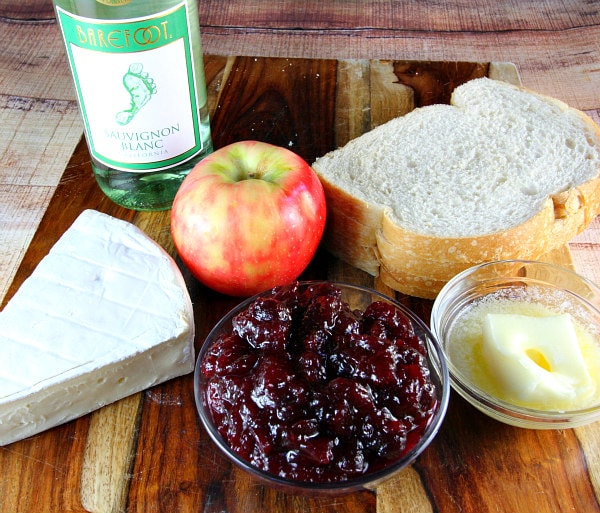 Here are all of the goodies I used in my new grilled cheese sandwich recipe.  A (very smart) friend told me a long time ago that there was a trick to making a really amazing grilled cheese sandwich: brush the bread with (secret ingredient reveal) white wine.  Why I've never tried it until now is a big mystery.  I chose a hearty sourdough bread that would be able to take on a decent brush of wine without getting soggy, and I brushed Barefoot Sauvignon Blanc on one side and buttered the other side.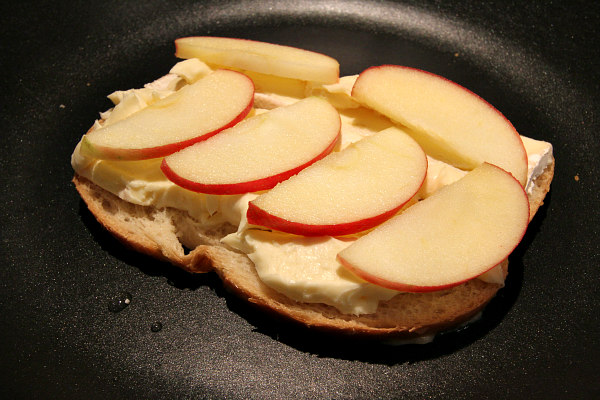 Butter-side-down on a hot skillet, I topped my bread slice with soft brie and honeycrisp apple slices…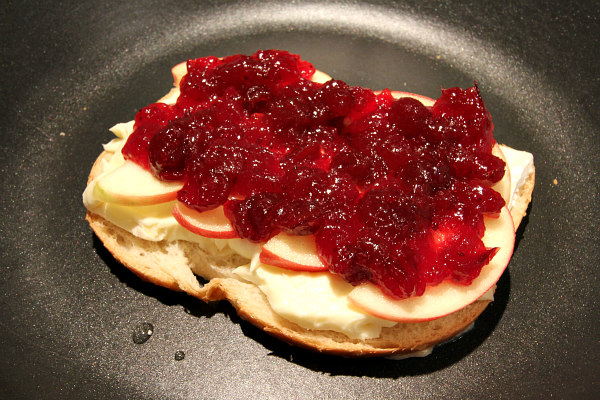 …then spread some whole cranberry sauce on top.  The other slice of bread placed on top (wine-brushed-side-down).  Skillet cook until the bread is golden and the brie is beginning to melt, then flip and toast the other side too.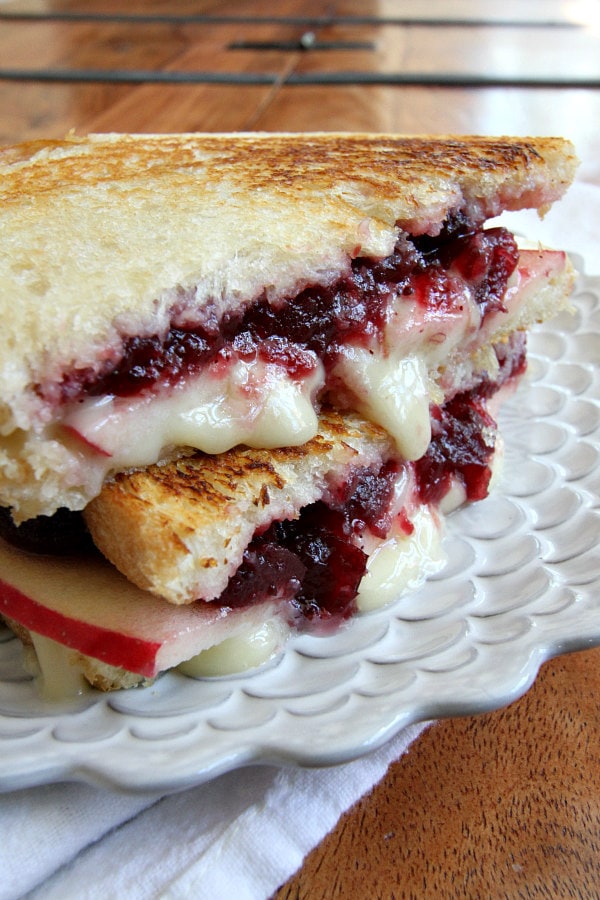 The result is a gooey grilled cheese filled with tangy brie, cranberry and the crunch of apple.  The wine brushed on the bread lends a nice flavor to the sandwich as well.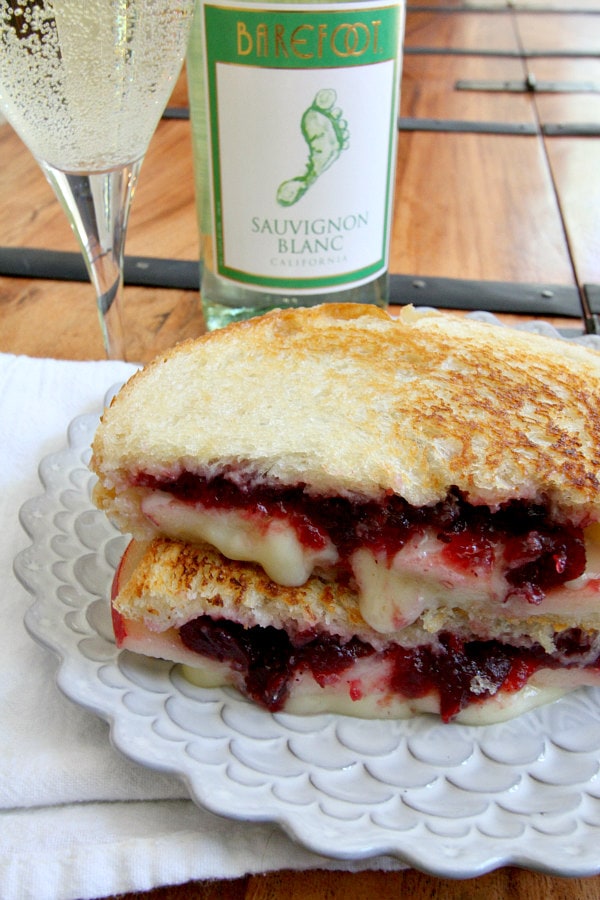 And of course if you have wine INSIDE your sandwich, you simply must have wine WITH your sandwich too, right?  I paired my husband's sandwich with a chilled glass of Barefoot's Sauvignon Blanc- their fruity, dry wine  was a nice treat to accompany a Saturday afternoon lunch!
The verdict:  My boys both enjoyed my new version of grilled cheese very much.  My husband declared it as "restaurant quality," which is a very big deal in our house!  It's the perfect fall-themed grilled cheese sandwich recipe.
Brie, Apple and Cranberry Grilled Cheese
Yield:
2 sandwiches
Prep Time:20 minutes
Cook Time:8 minutes
Ingredients:
4 sturdy slices sourdough bread (not super soft)
4 tablespoons butter
One 750ml. bottle Barefoot Sauvignon Blanc, chilled
8 ounce wedge of brie (chilled), rind removed, cut into thin pieces
1 medium honeycrisp apple, cut into thin slices
1/2 cup whole berry cranberry sauce
Directions:
Butter the four slices of bread.  Brush the other side with Sauvignon Blanc.
Heat a large skillet over medium-high heat.  Place two slices of bread butter-side-down on the skillet.  Top each slice with brie pieces, sliced apple and cranberry sauce.  Place the other slices of bread on top- butter-side-up. Place a lid  on top of the skillet.
Reduce heat to medium and let the sandwiches toast on the bottom.  When the cheese looks like it's beginning to melt, take the lid off the skillet and use a spatula to check under the sandwiches.  When they're golden brown, flip them gently.  Toast the other side of the sandwich until golden brown.  Serve and eat immediately with a glass of chilled Sauvignon Blanc!
SOURCE:  RecipeGirl.com
Here are a few more grilled cheese recipes you might enjoy: