These simple open-faced sandwiches are SO good:  Grilled Eggplant, Tomato and Goat Cheese Sandwiches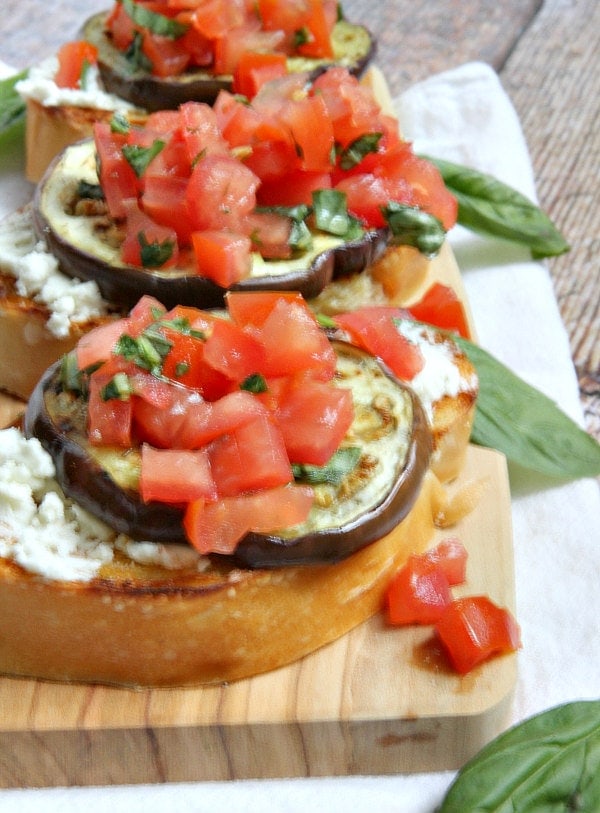 Grilled Eggplant, Tomato and Goat Cheese Sandwiches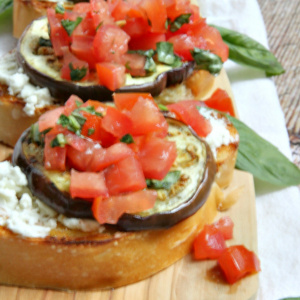 Yield:
6 servings
Prep Time: 25 minutes
Cook Time: 12 minutes
Ingredients:
1 1/2 cups chopped seeded tomatoes
1/4 cup chopped fresh basil
2 teaspoons red wine vinegar
1 small eggplant, cut crosswise into 1/2-inch-thick slices
olive oil
Six 1-inch-thick slices French bread
9 ounces soft mild goat cheese (or honey goat cheese)
Directions:
Combine chopped tomatoes, chopped fresh basil and red wine vinegar in a small bowl. Season mixture to taste with salt and pepper. Set aside.
Preheat grill to medium-high heat (or preheat broiler). Brush 6 eggplant slices lightly with olive oil (reserve remaining eggplant for another use). Brush bread lightly with olive oil. Grill eggplant and bread until golden, about 4 minutes per side for eggplant and 2 minutes per side for bread. Arrange bread slices on plates. Spread goat cheese over, dividing evenly. Top with eggplant slices. Season with salt and pepper. Using slotted spoon, mound tomato mixture on eggplant, spread to cover and serve.
SOURCE:
 RecipeGirl.com (adapted slightly from
Bon Appetit
)