I've been meaning to share this recipe with you for a long time:  Dad's Denver Sandwiches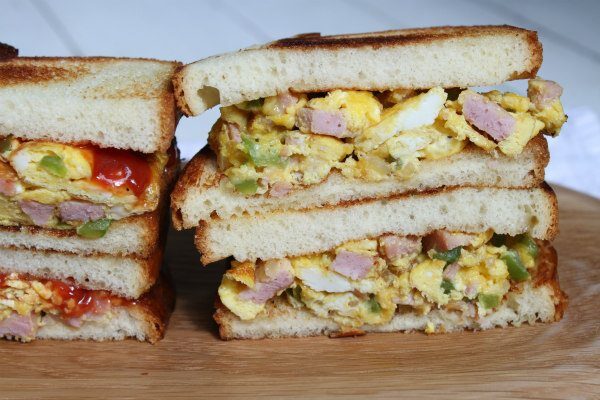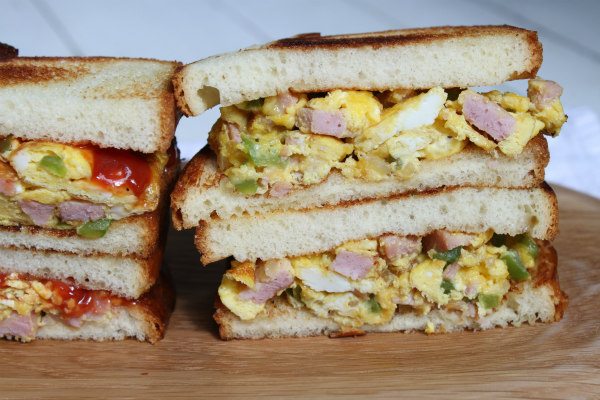 First, I need to tell you about the 2017 Eggland's Best "Foodtography" Contest!  Eggland's Best is searching for the most passionate egg fan, who also happens to have an eye for taking beautiful photos of their delicious Eggland's Best dishes! Show them how you celebrate the only egg that provides better taste, better nutrition and better quality for the past 25 years! Submit your Eggland's Best foodie photos by April 12, 2017 for a chance to win $5,000! All dish creations must include at least two whole Eggland's Best eggs.  Enter here > https://www.ebfoodtography.com/.
You don't have to have a fancy camera to get a great shot.  Use your iPhone to take a cool in-process photo of your egg recipe, or style it and grab a finished shot of your dish. Play with light, capture a dripping yolk, cut into your dish and take a first-bite photo… be creative, and good luck!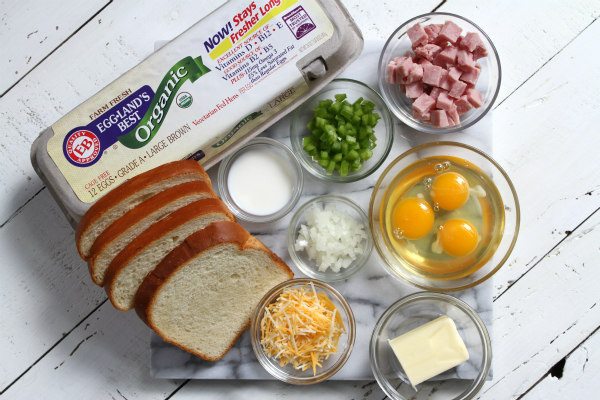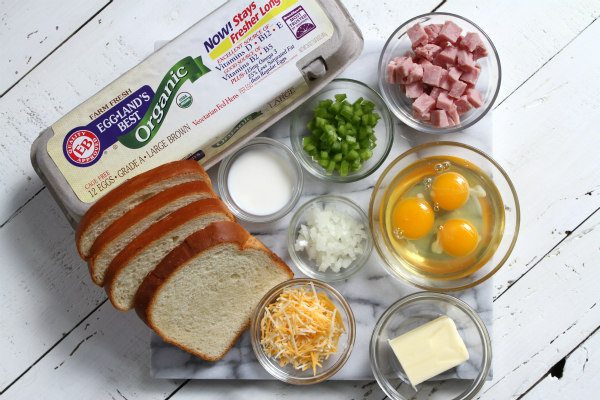 Back to my sandwich…it all started with my grandmother.  Every time I visited her, she whipped up all kinds of meals and treats that she learned to make growing up in her Swedish household.  I remember fig cookies, which I was not fond of at all.  And I remember these Denver Sandwiches- always welcome in my tummy.  Grandma made them with plenty of butter, and she used white bread with no ketchup.
Dad took over making Denver sandwiches after grandma was gone.  He used sweet egg bread, and he added ketchup!  Since I remember his method over grandma's, I'm giving Dad credit for the recipe here.  He changed things up a bit, and I liked his version better.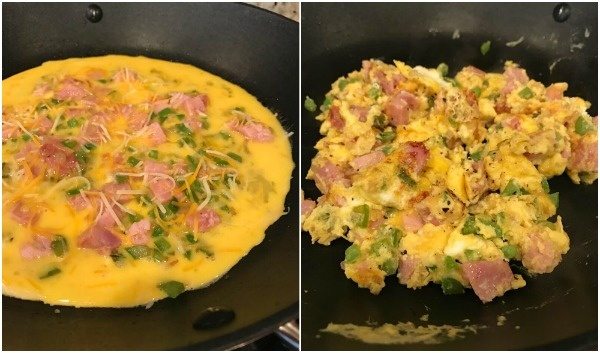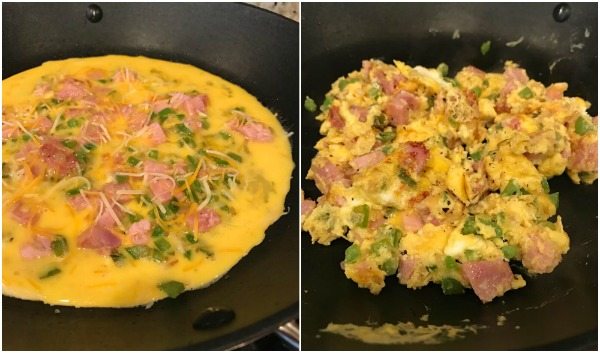 For the Denver part of the sandwich (think "Denver omelette"), you'll need onion, bell pepper, ham, cheese and eggs.  You'll be scrambling them up into a chunky scramble.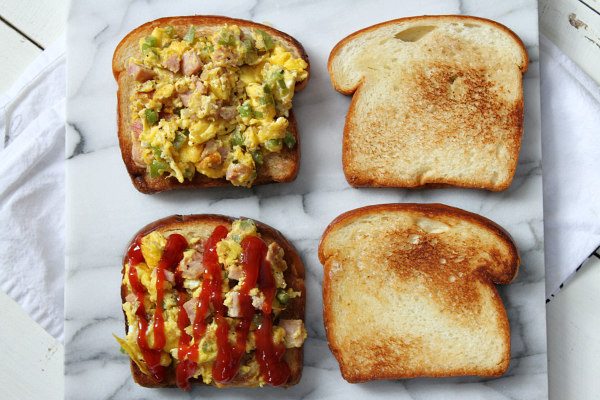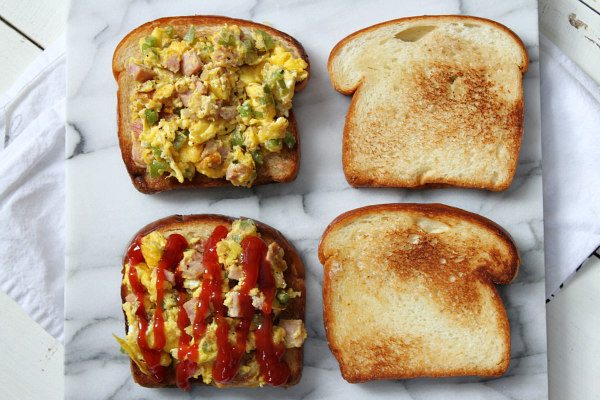 That scrambled Denver is divided between two buttery pieces of toasted egg bread.  You can eat these with or without the ketchup.  I recommend ketchup!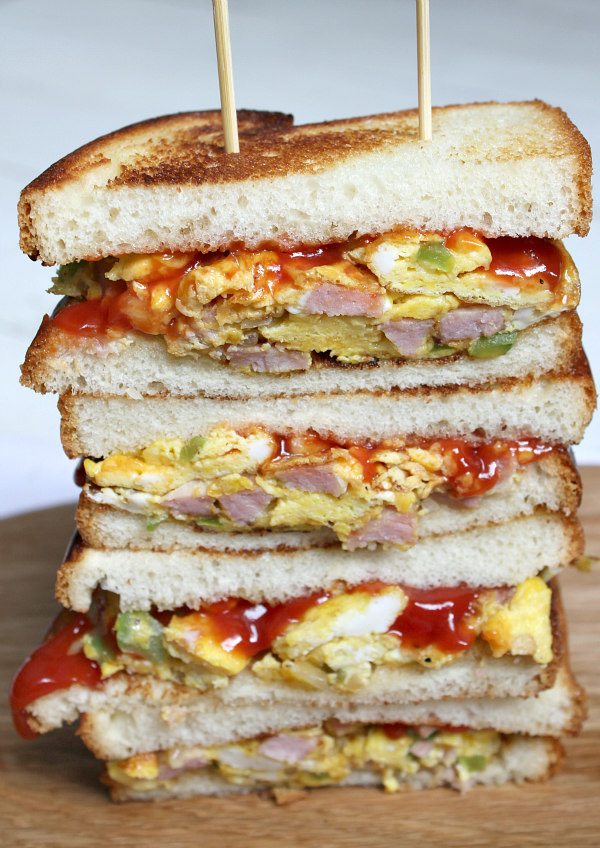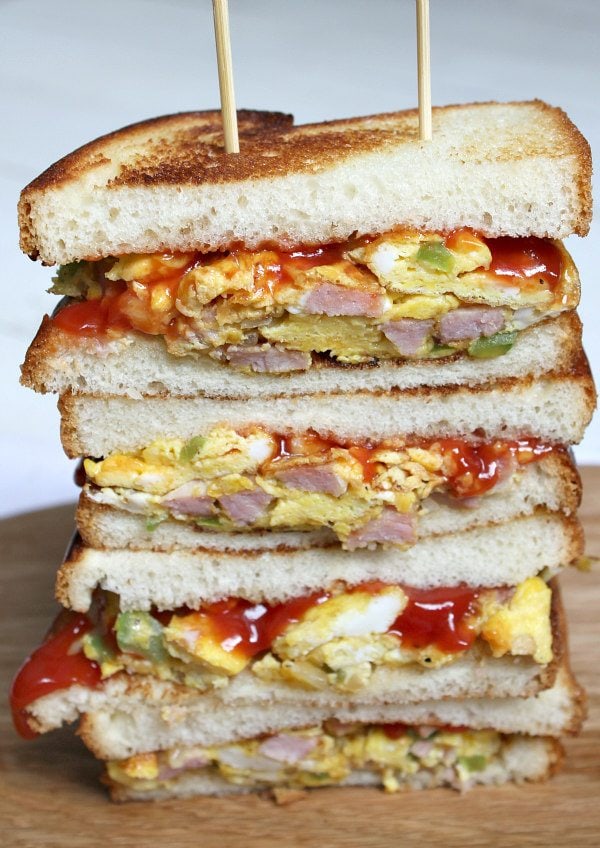 This is a fantastic breakfast sandwich, but it's also awesome for lunch or for an afternoon snack.  I wish my Dad was still around to see this sandwich of his displayed in full glory on the internet!
I used my favorite Eggland's Best eggs for this recipe.  Compared to ordinary eggs, Eggland's Best eggs contain five times more vitamin D, 25 percent less saturated fat, more than double the Omega-3s, ten times more vitamin E, and three times more vitamin B12.  All of that added nutritional value works for me.
More information about the 2017 Eggland's Best Foodtography Contest: Visit www.egglandsbest.com/foodtography now through April 12, 2017 and submit two mouthwatering foodie photos of your dish that includes at least two whole Eggland's Best eggs into one of four categories mentioned below.  You may submit up to two photos in each of the four categories: Brunch, Appetizer, Main course, and Dessert
Prizing:
(1) Grand Prize Winner: $5,000 and a year's supply of Eggland's Best eggs
(4) Finalist Winners: $1,000 and a year's supply of Eggland's Best eggs
(20) Semi-finalist Winners: A year's supply of Eggland's Best eggs
You can visit the Eggland's Best website to find more information and official rules about the 2017 Eggland's Best Foodtography Contest: http://www.egglandsbest.com/foodtography  GOOD LUCK!
For more information, you can visit EgglandsBest.com or Eggland's Best Health and Nutrition Information.  Follow Eggland's Best on Facebook, Instagram, Pinterest and Twitter.
Dad's Denver Sandwiches
Yield:
2 sandwiches
Prep Time: 15 minutes
Cook Time: 5 minutes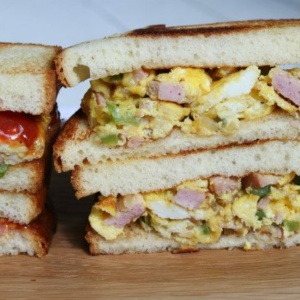 Ingredients:

3 large Eggland's Best eggs
1 1/2 tablespoons whole milk
about 4 tablespoons butter
4 slices egg bread
1/2 cup finely chopped ham
1/4 cup finely chopped green bell pepper
1 1/2 tablespoons finely chopped onion
1/4 cup finely shredded cheddar cheese
salt and pepper, to taste
ketchup, optional

Instructions:

Whisk together the eggs and milk in a medium bowl.  Set aside.
Add about 1/2 tablespoon butter to a large sauté pan.  Heat to medium.  Add two slices of bread and heat until toasted.  Add another 1/2 tablespoon of butter, flip the bread and toast the other side.  Remove to a plate.  Repeat with the remaining two slices of bread.
Heat another tablespoon of butter in the pan.  Add the ham, bell pepper and onion, and sauté a couple of minutes- until softened.  Add the egg mixture and sprinkle cheese on top.  Sprinkle salt and pepper.  Let the eggs cook until lightly browned underneath.  Then take a rubber spatula and drag them around until cooked all the way through.  Remove from heat.
Assemble the sandwiches- divide the egg mixture between two slices of bread.  Add ketchup, if desired.  Top with the other piece of bread, slice in half and enjoy!
SOURCE:  RecipeGirl.com
Here are a few more egg sandwich recipes you might enjoy:
Disclosure:  This recipe was created in partnership with Eggland's Best.  I only write about products that I already use in my kitchen- and this is one of them!  RecipeGirl.com maintains full editorial control of the content published on this site. As always, all thoughts, opinions, and enthusiasm for products are entirely my own.