Here's a fun recipe for the campers out there:  Camping Breakfast Sandwiches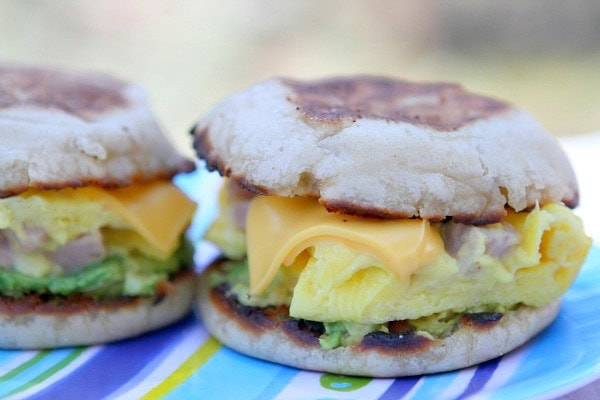 These goodies are easily made with your camping equipment- you'll just need a portable grill, a camping stock pot and a small skillet.  It's the kind of breakfast that you'll make and enjoy, and it will keep you full for a long hike or a lazy day of reading in a lounge chair under a tall tree.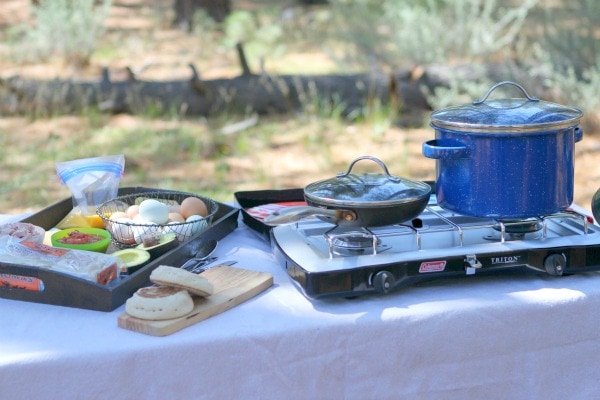 Here's what your setup looks like!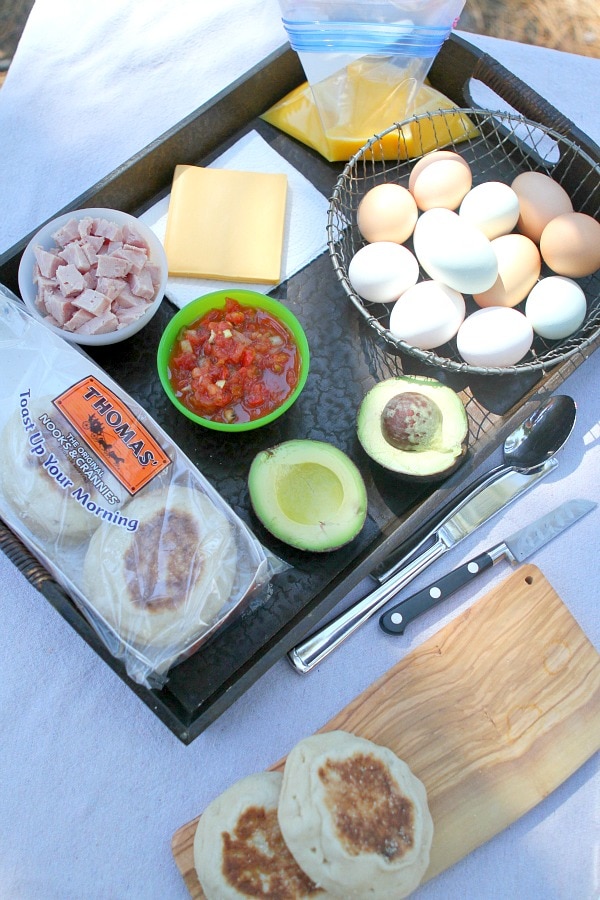 These awesome camping breakfast sandwiches are made with Thomas' English Muffins.  I use the sourdough variety.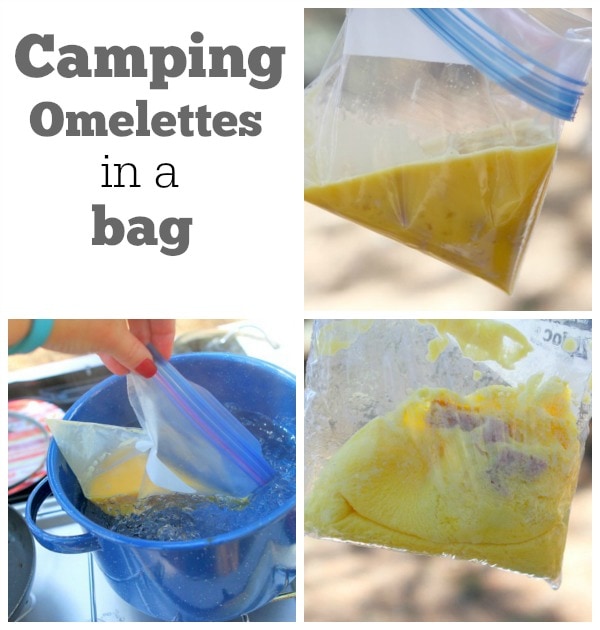 For the eggs, you can make them "camping omelette style."  This is a no-mess way to make the eggs.  Just scramble the eggs in a zip baggie and add a little ham or cooked bacon.  Drop the (closed) zip baggie into a pot of boiling water and just let it cook until it is no longer runny.  This is an amazing way to make an omelette while you're camping.  It turns out perfect!!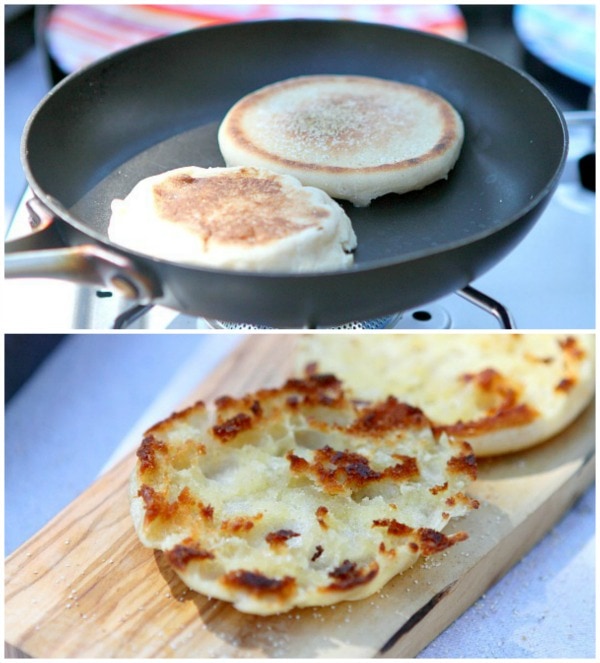 For the English muffin part, I spread a little butter on the muffins and toast them butter-side-down on a hot skillet to get them toasty.  You can do this while your eggs are cooking.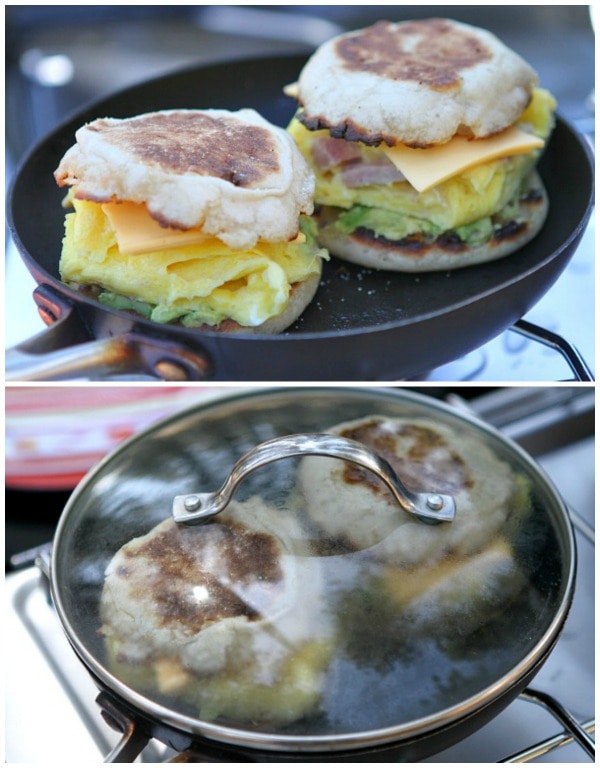 Once the eggs are cooked, assemble the breakfast sandwiches.  Spread mashed avocado on an English muffin, cut a piece of the omelette and place it on top of the avocado.  Add the cheese and muffin top.  Place the breakfast sandwiches in a skillet with the lid on top and let them heat for a few minutes.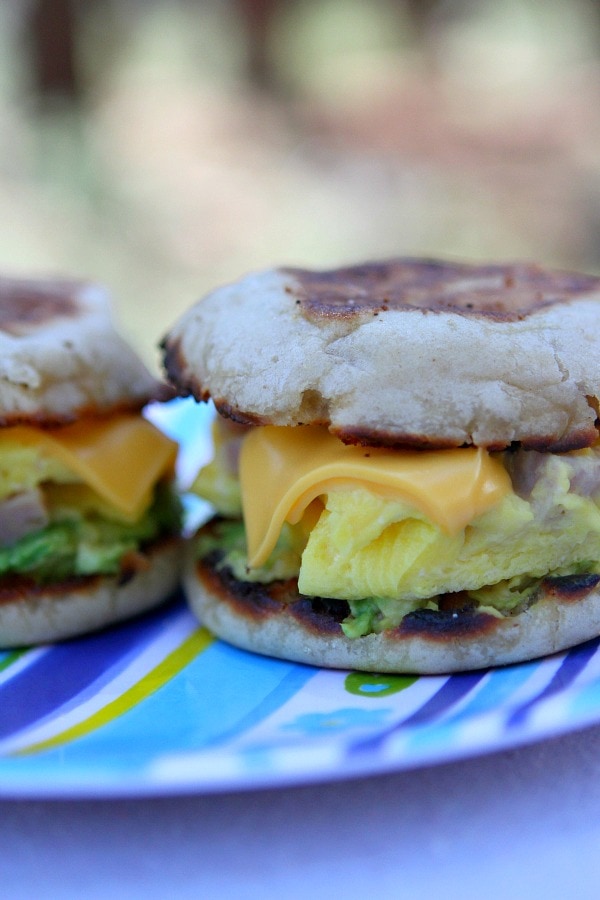 Once they're completely warmed up, they're ready to eat!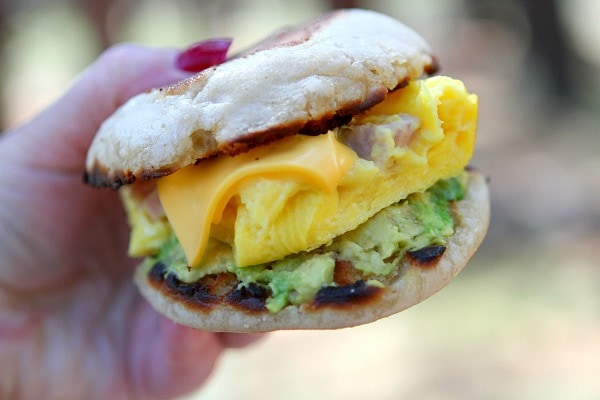 You're camping, you're starving, and you get to eat this delicious breakfast sandwich!!  Add salsa if you'd like.  And let the nearby campers stare at you with big-time envy.  Enjoy!
Camping Breakfast Sandwiches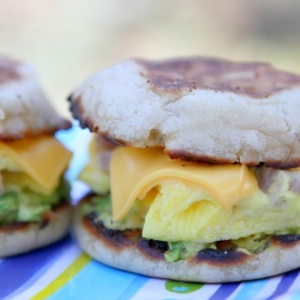 Yield:
2 sandwiches
Prep Time:15 minutes
Cook Time:15 minutes
Ingredients:
3 large eggs
1/2 cup chopped ham or cooked bacon
1 quart-sized zip baggie
2 Thomas' Sourdough English Muffins
1 tablespoon butter
1 small avocado, pitted and mashed
2 slices American cheese
salsa, for serving (optional)
Directions:
Bring a large pot of water to boil on your camping stove.

 

Scramble your eggs in the zip baggie and add the ham or bacon.

 

Zip the bag closed and drop into the boiling water.

 

Boil and cook the eggs, turning the baggie occasionally, until you can no longer spot any runny egg in the bag (about 10 minutes).
While your eggs are cooking, prepare the English Muffins.

 

Gently break them apart and spread each half with butter.

 

Heat a small pan on your other camping burner and place the English Muffins butter-side-down in the pan.

 

Cook until the muffins are browned.

 

Remove from the pan and toast the other muffin.

 

Top each muffin bottom with the mashed avocado.
When the eggs are cooked through, open the zip and slide the cooked egg onto a plate.

 

Cut into two pieces and place on top of the avocado.

 

Top each egg muffin with cheese and put the other half of the muffin on top. 
Place the breakfast sandwiches back into the pan, place the lid on top and heat them on low until they are sufficiently warmed and the cheese has slightly melted.

 

Add salsa, if you'd like.

 

Devour immediately!
SOURCE:  RecipeGirl.com
Here are a few more breakfast sandwiches you might enjoy:
Disclosure:  I am working with Thomas' English Muffins and Bagels to create recipes using their products.  I love to work with brands that I use in my kitchen every day, and this is one of them!  Thank you for helping me to support great products.