Here's a great idea to help you get prepared for busy mornings: Make Ahead Breakfast Sandwiches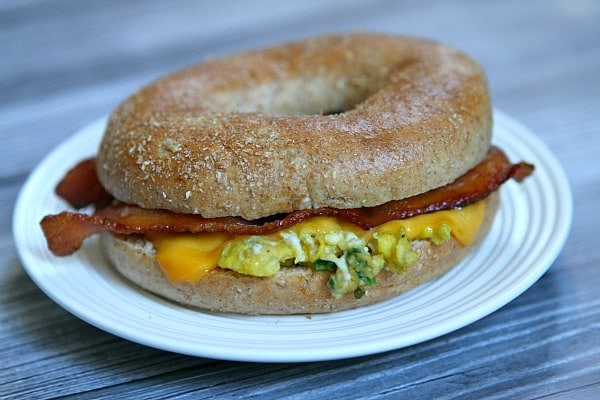 Make them on Sunday and freeze them for the week. They're super easy to either defrost overnight and bake in the AM… or simply bake when totally frozen while you're getting ready for work or school. They're grab and go!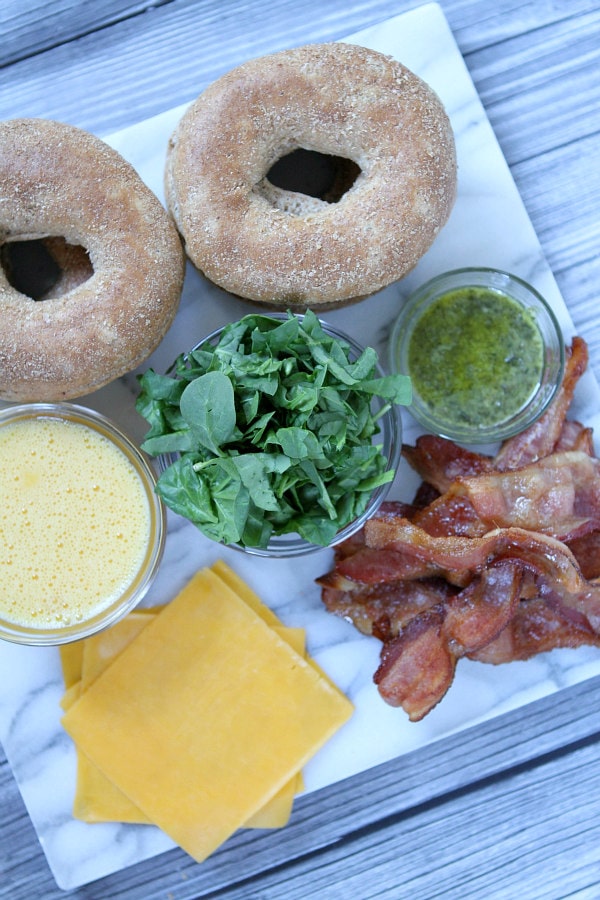 I used Thomas' 100% Whole Wheat Bagels for this recipe. Normally my son might shy away from bagels that seem like they're anywhere on the "probably good for you" spectrum, but when I used them to assemble delicious breakfast sandwiches he totally didn't even notice that they were whole wheat. For the rest of the sandwich, you'll need eggs, chopped spinach, pesto, cheese and cooked bacon.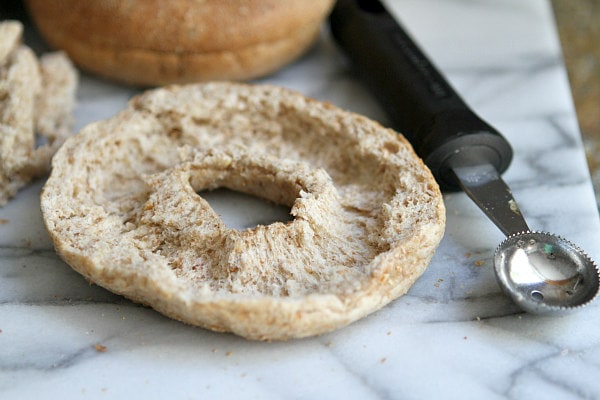 Since I was going to be making an egg scramble, I wanted my egg to be able to stay in the bagel without getting squished out with every bite. We hollowed out one side of the bagel to use as a "container" for holding the scrambled egg.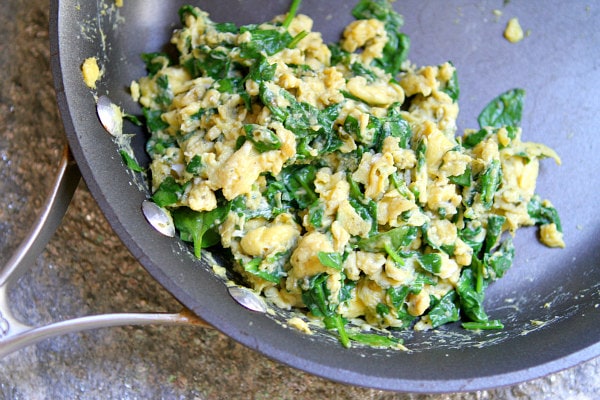 Eggs are quickly scrambled with spinach and pesto. The pesto gives the eggs a little bit of flavor, and the spinach adds veggies to breakfast!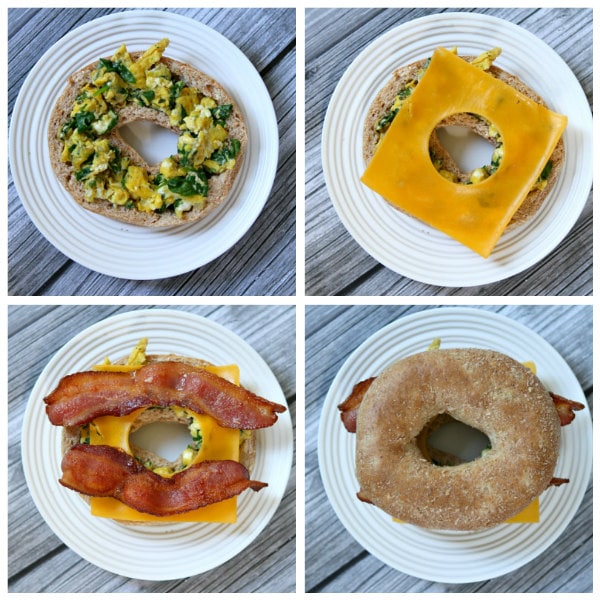 Assembling the sandwiches:
Put the scrambled egg in the hollowed out side of the bagel.
Top with cheese (make a hole or not!)
Add the bacon.
Put the 2nd half of the bagel on top!
If you want to eat them now, you'll be wrapping them in foil and baking them for about 10 minutes… just until everything gets nice and bubbly and hot.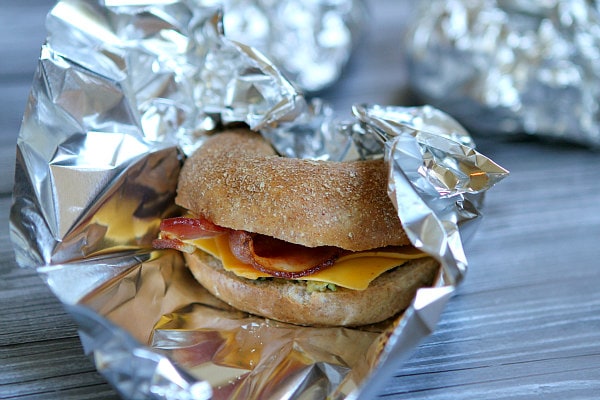 If you'd like to save some of them (or all of them) for another day, simply wrap each breakfast sandwich tightly with foil and pop them in the freezer. The recipe below gives you instructions for how to heat them up on the day you'd like to eat them.
I tested these out on my (picky) breakfast eating son. He's usually a cereal-for-breakfast or bagels-with-cream-cheese kind of guy. He loved these, and said he really enjoyed having something different. We froze them, and he warmed one up and ate one every morning for four days straight. The great thing is if you're running late, you (or the kids) can grab one of these to eat on the way to school or work. Success!
Make Ahead Breakfast Sandwiches
Something healthy for breakfast on busy mornings!
Recipe Details
Ingredients
4

medium

whole wheat bagels

4

large

eggs

1

cup

chopped fresh spinach

1 to 2

teaspoons

prepared pesto

1

ponch

kosher salt

4

slices

cheddar cheese

8

slices

cooked bacon
Instructions
If you're making these to eat today, preheat your oven to 400 degrees F.  If you're making them ahead to eat later, you do not need to preheat the oven.

Separate each of your bagels into halves. Use a knife, spoon or your fingers to hollow out the bottom half of each bagel. Set bread aside to use for breadcrumbs in another recipe.

In a medium bowl, whisk together the eggs, spinach, pesto and salt. Heat a medium skillet over medium heat. Spray with nonstick spray. Add egg mixture; cook and stir until eggs are fully cooked. Remove from heat.

Assemble your breakfast sandwiches by dividing the cooked eggs between the four bagels, filling the hollowed out portion of each bagel. Top with cheese (cut a hole in the middle of the cheese, if you'd like), then bacon and top with the other half of the bagel.

To eat now, wrap each of the breakfast sandwiches in foil and bake for 10 minutes. To save for later, wrap each of the breakfast sandwiches in foil and place in the freezer for up to 2 weeks. To reheat, take a sandwich out of the freezer while you preheat your oven to 400 degrees F. Bake the frozen bagel sandwiches for about 30 minutes. Grab and go!
Nutrition
Serving:
1
serving
,
Calories:
636
kcal
,
Carbohydrates:
60
g
,
Protein:
29
g
,
Fat:
31
g
,
Saturated Fat:
11
g
,
Polyunsaturated Fat:
5
g
,
Monounsaturated Fat:
11
g
,
Trans Fat:
0.1
g
,
Cholesterol:
232
mg
,
Sodium:
1201
mg
,
Potassium:
605
mg
,
Fiber:
4
g
,
Sugar:
1
g
,
Vitamin A:
6053
IU
,
Vitamin C:
17
mg
,
Calcium:
232
mg
,
Iron:
4
mg
Here are a few more breakfast sandwiches you might enjoy:
Disclosure: I am working with Thomas' English Muffins and Bagels to create recipes using their products. I love to work with brands that I use in my kitchen every day, and this is one of them! Thank you for helping me to support great products.