A delicious dinner recipe made lighter:  Eggplant Rolatini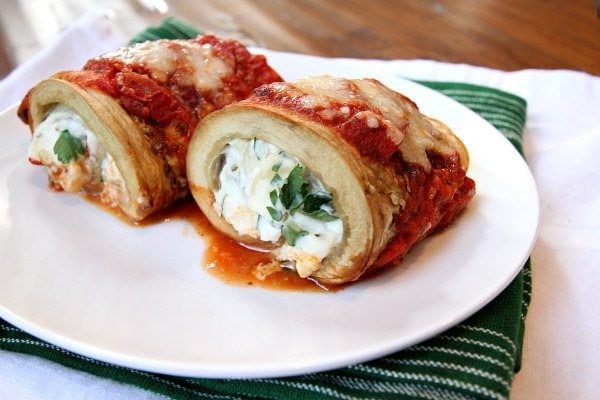 I adapted this recipe a bit from Weight Watchers New Complete Cookbook.  I've been making a lot of Weight Watchers type recipes lately.  Yes, I've been eating light lately!  But if you're not eating light or have no interest in eating light… you don't need to worry.  All of these recipes I'm sharing are really, really good, and they definitely aren't "diet tasting" recipes.  Weight Watchers is good like that- you can eat whatever you want, but you just need to watch your portion sizes and choice of ingredients.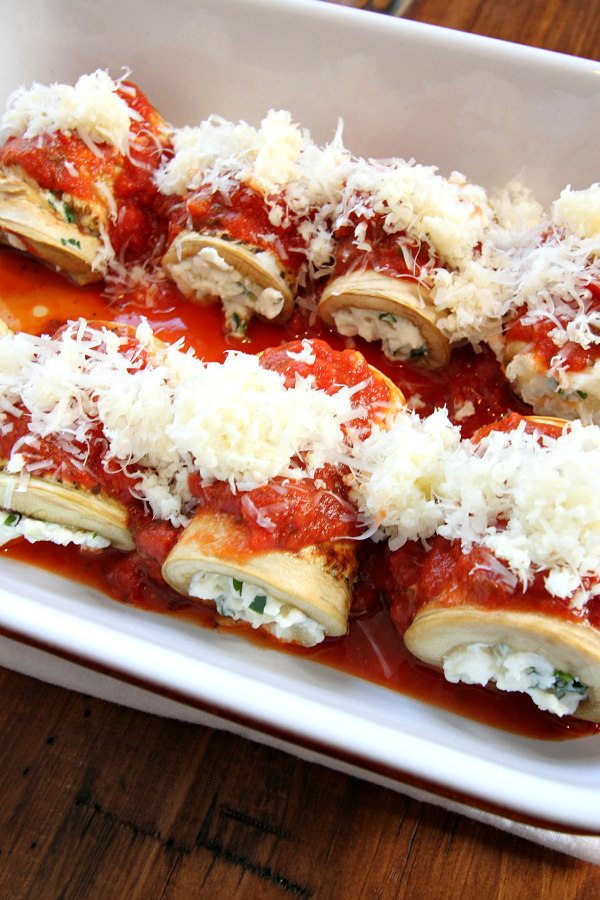 This recipe is one of the favorites I've tried recently.  Slices of eggplant are rolled up with cheese like lasagna roll-ups.  Then they're smothered in marinara and topped with more cheese.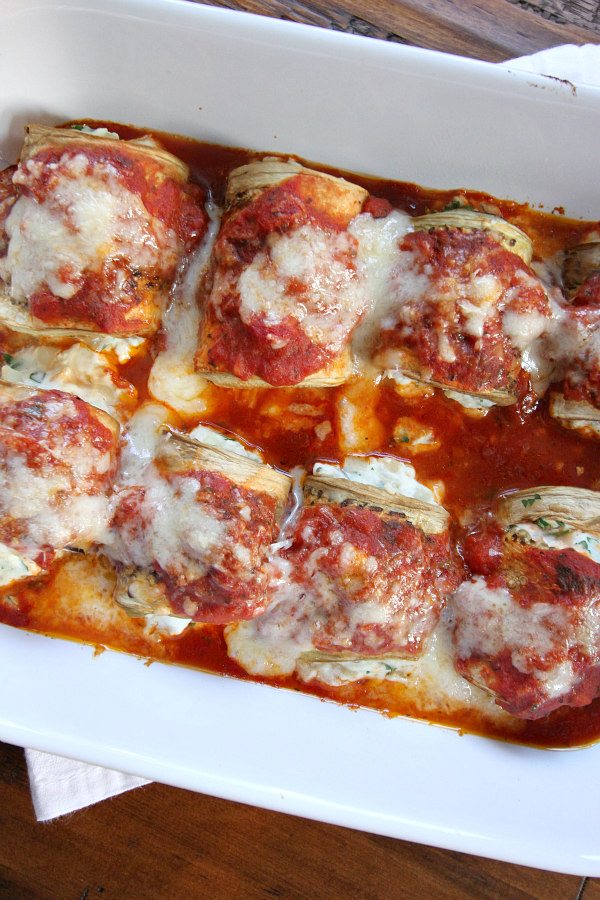 They come out all gooey like this.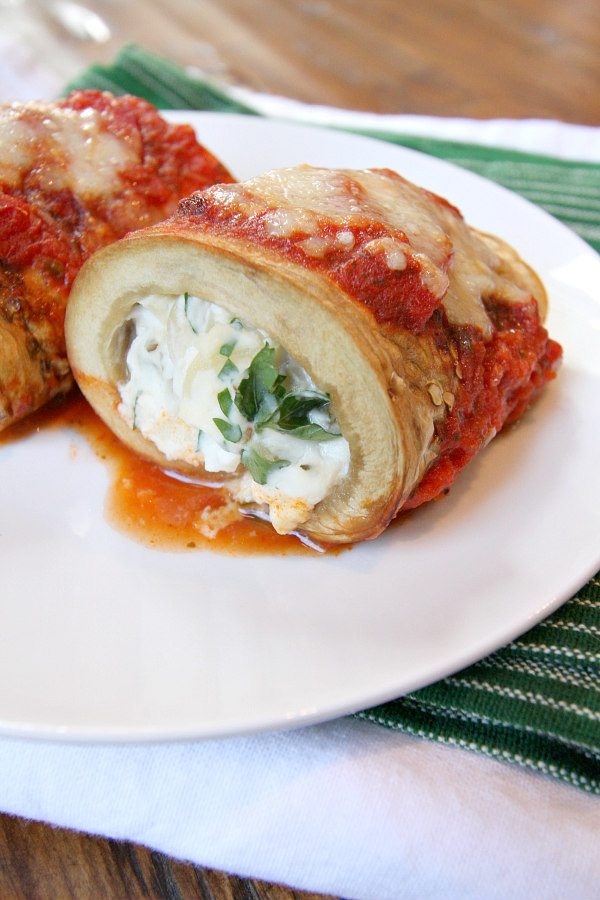 Two roll-ups makes a complete serving.  Eat these with a big side salad and you're good to go for a healthy and delicious dinner!
Eggplant Rolatini
Yield:
4 servings
Prep Time: 25 minutes
Cook Time: 30 minutes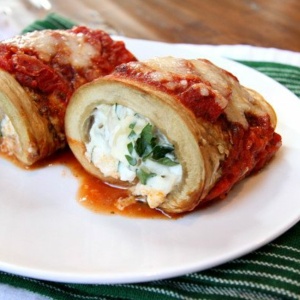 Ingredients:

2 eggplant (about 1 1/2 pounds each), peeled and each cut lengthwise into 4 thin slices
2 teaspoons olive oil
1 medium onion, chopped
3 garlic cloves, minced
1 cup fat-free ricotta cheese
2 tablespoons chopped fresh parsley
3/4 teaspoon dried oregano
1 1/4 cups tomato-basil marinara sauce (no more than 2g fat per serving)
1/3 cup shredded fontina or mozzarella cheese
2 tablespoons grated Parmesan cheese

Instructions:

Place your oven rack 5-inch from the heat.  Preheat your oven's broiler.  Line a large baking sheet with foil and spray with nonstick spray.  Arrange the eggplant slices on the baking sheet.  Broil, without turning, until deep golden brown- about 6 minutes.  Remove from the oven and let cool.
Preheat the oven to 375 degrees F.  Spray a 9x13-inch (or slightly smaller) dish with nonstick spray.
In a large nonstick skillet, heat the oil and add onions and garlic.  Cook, stirring occasionally, about 5 minutes.
In a medium bowl, stir together the ricotta, parsley and oregano.  Stir in the onion mixture.  Spread a couple of teaspoonfuls of the ricotta mixture onto the pale side of each eggplant slice.  Spread to cover.  Roll up each slice to enclose the filling.  Place the eggplant rolls, seam-side-down, in the prepared baking dish.
Spoon the marinara sauce on top of the rolls.  Sprinkle with shredded cheese and Parmesan.
Bake until the eggplant is browned and the sauce is bubbly, about 30 minutes.  Serve immediately.

Nutrition:

Nutritional information per serving (2 roll-ups per serving):  Calories: 188, Fat 5.7g, Sat Fat: 2g, Cholesterol: 18mg, Sodium: 423mg, Potassium: 437mg, Carbohydrates: 25g, Fiber: 5.6g, Sugar: 5.1g, Protein: 12g
Weight Watchers POINTS:  Freestyle SmartPoints: 5, SmartPoints: 5, PointsPlus: 5, Old Program: 3
Here are a few more Italian themed recipes you might enjoy: