This recipe has been featured in a menu on The Recipe Girl blog: Greek Dinner Party Drinks & Appetizers.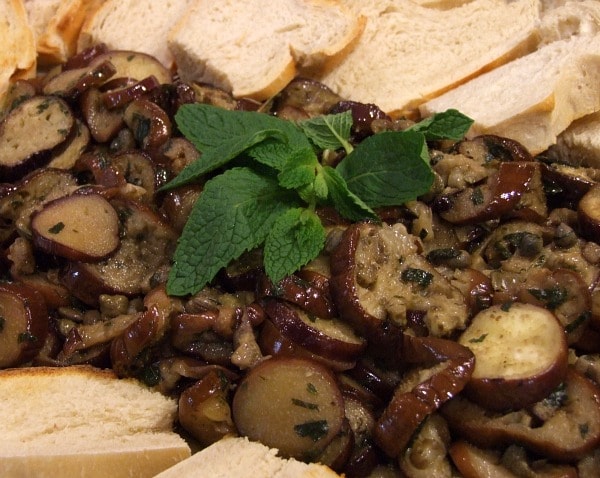 Marinated Eggplant with Capers and Mint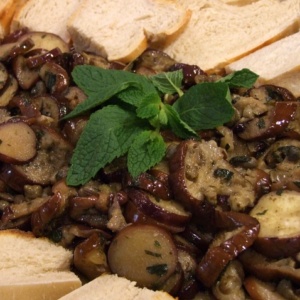 A favorite at one of my dinner parties, guests gobbled up this marinated eggplant quickly. I've made it many times since.
Yield:
4 servings
Prep Time:30 min + marinating time
Cook Time:12 min
Ingredients:
1 pound thin Italian or Asian eggplants, cut into 1/4-inch rounds
5 Tablespoons extra-virgin olive oil, divided
2 Tablespoons red wine vinegar
1/4 cup chopped fresh mint
2 Tablespoons capers, rinsed
Directions:
1. Preheat broiler.
2. Arrange eggplant in 1 layer on a large baking sheet and brush both sides with 2 tablespoons oil (total). Broil about 4 inches from heat, turning once, until golden, 8 to 12 minutes total.
3. Stir together vinegar, mint, capers, 1/4 teaspoon salt, 1/2 teaspoon pepper, and remaining 3 tablespoons oil and toss with warm eggplant. Marinate at least 20 minutes.
Tips:
*Marinated eggplant can be made 1 day ahead and chilled. Bring to room temperature before serving.
*Serve with Crisp Rosemary Flatbread or sliced & toasted baguette.
Source: RecipeGirl.com (via Gourmet)