For a Greek theme, try to stick with gold & blue… the typical colors associated with Greece.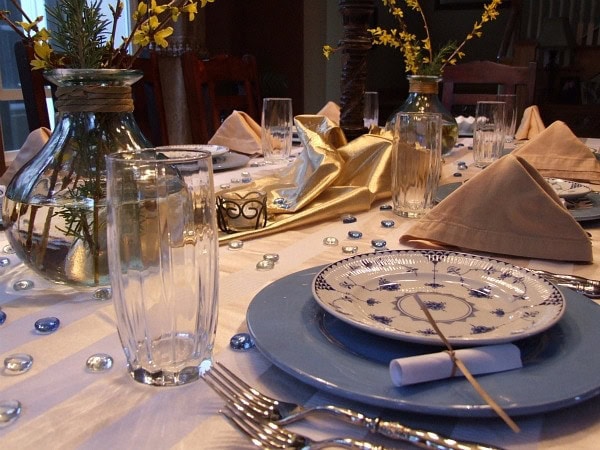 Greek wine was tough to find in our big city, but a few of our guests managed to find it.  Instead, we included a Greek cocktail.  Use all or some of the recipes below to create a Greek-themed dinner party.  Double or triple the recipes to reach the desired serving sizes.  Give recipe links to your dinner party participants so that they can contribute to dinner, or prepare all on your own.  I tend to over-plan and have included lots of recipes for this party.  Pick and choose which ones you like best, or use them all!  Our Gourmet Group voted this one as the best in terms of how delicious all of the food was.
You can read more about my Greek Dinner Party (and see photos) in these blog posts:  part 1 – part 2 & part 3, but for recipes with photos, click on titles below to print.
Cocktail:
Greek Mojitos
Appetizers:
Marinated Eggplant with Capers & Mint
Goat Cheese w/ Olives, Lemon & Thyme
w/ Crisp Rosemary Flatbread
Dried Fig Souvlaki
Starter:
Chopped Vegetable Salad with Feta & Olives
Main Course & Sides:
Leg of Lamb Roast with Garlic & Rosemary
Spinach, Feta & Pine Nut Phyllo Tart
Roasted Garbanzo Beans & Garlic with Swiss Chard
Greek Potatoes with Lemon Vinaigrette
Desserts:
Chocolate Baklava
Greek Butter Cookies
Spiced Fresh Orange & Honey Sorbet
Click here for a printable .pdf copy of the Greek Dinner Party menu.
greek-dinner-partymenu
For a fun little table-talk activity, I researched Greek Gods & Goddesses.  I did a little write up on each one and rolled them up in a little scroll to put at each place setting.  When my guests sat down for salads, everyone was asked to open their scroll and they took turns reading about their designated God or Goddess.  It was quite fun, as the scrolls are written in the first person and most of the gods have some pretty bizarre stories associated with them.  There activity provided for lots of laughter, and it was a great way to begin the dinner.
If you're interested in doing this same activity at your Greek Dinner Party, click here for a printable pdf copy of the greek god information & pictures.  Simply cut them out, roll them up and tie with a little ribbon (blue for gods & pink for goddesses).
greekdinnerpartygreekgods