This recipe has been featured in a post on The Recipe Girl blog: Roasted Eggplant with Chiles, Peanuts and Mint.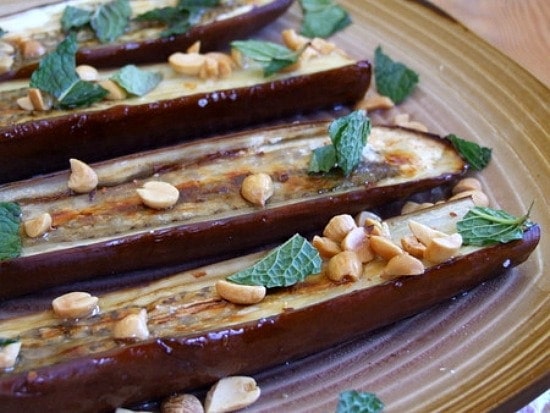 Roasted Eggplant w/ Chiles, Peanuts and Mint
Love this very different side dish... it's unexpectedly delicious!
Yield:
4 to 6 servings (as a side dish)
Prep Time: 15 min
Cook Time: 15 min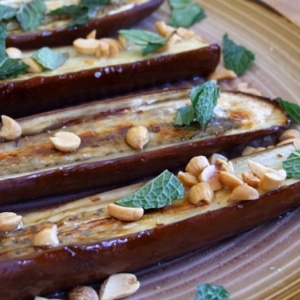 Ingredients:

1/4 cup unsalted peanuts
5 Tablespoons + 1 teaspoon peanut oil
kosher salt
4 skinny Japanese or Chinese eggplant
1/4 teaspoon crushed red pepper flakes, more or less to taste
2 Tablespoons fresh lime juice
1 teaspoon honey
12 medium fresh mint leaves, coarsely torn (about 3 Tablespoons)

Instructions:

1. Position rack in middle of oven and preheat to 425°F.

2. Scatter peanuts in a pie plate and toss them with 1 teaspoon oil and a generous pinch of salt. Roast, shaking pan once or twice, until peanuts are a golden brown (about 5 minutes). Set aside to cool and then coarsely chop them up. Reduce oven temperature to 375F.

3. Rinse the eggplant. Trim off tops and then cut eggplant in half lengthwise. In a large shallow pan, toss eggplant with 2 Tablespoons of the oil and the red pepper flakes. Put eggplant cut-side-up on a rimmed baking sheet and sprinkle generously with salt. Roast until eggplant is tender when pierced with a fork and the flesh has turned a light golden brown, 10 to 12 minutes.

4. While eggplant is roasting, whisk 3 Tablespoons oil with lime juice, honey and 1/4 teaspoon salt in a small bowl. Season to taste with more salt, if necessary.

5. With the eggplant still on the center rack, turn the broiler on high and broil the eggplant until well-browned on top, about 5 minutes. Transfer eggplant to a serving platter. Drizzle with dressing and sprinkle with mint and peanuts. Serve immediately.