This recipe has been featured in a post on The Recipe Girl blog:  Grilled Salad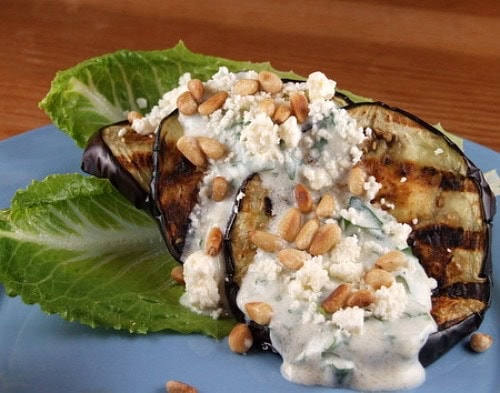 Grilled Eggplant Salad w/ Feta and Pine Nuts
Yield:
4 servings
Prep Time: 20 min
Cook Time: 8 min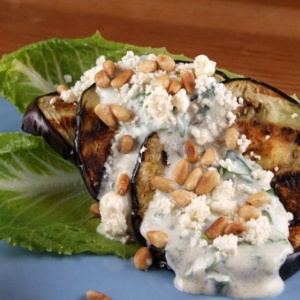 Ingredients:

4 large hearts of romaine lettuce, washed and dried
1 large eggplant (about 1 1/4 pounds), cut crosswise into 1/2-inch slices
5 Tablespoons extra-virgin olive oil, divided
kosher salt and freshly ground black pepper
3/4 cup plain yogurt
2 Tablespoons freshly squeezed lemon juice
1 small clove of garlic, minced
1/4 teaspoon ground cumin
1/2 cup tightly packed fresh flat-leaf parsley, finely chopped
3/4 cup crumbled feta cheese
1/3 cup toasted pine nuts

Instructions:

1. Preheat grill to medium-high heat.

2. Brush eggplant slices with 3 Tablespoons of oil and season with salt and pepper.

3. In a small bowl, combine remaining 2 Tablespoons oil with yogurt, lemon juice, garlic, cumin and parsley. season to taste with salt and pepper. Refrigerate until ready to use.

4. Grill eggplant slices until softened and browned on each side, 3 to 4 minutes per side. Transfer to a plate.

5. Divide lettuce on four plates. Lay the eggplant on top and drizzle with dressing. Top with a sprinkle of feta and pine nuts.