This Grilled Watermelon Salad is the perfect way to use up some fresh, summer watermelon. The simple combination of lightly-grilled watermelon, goat cheese, greens and balsamic works well.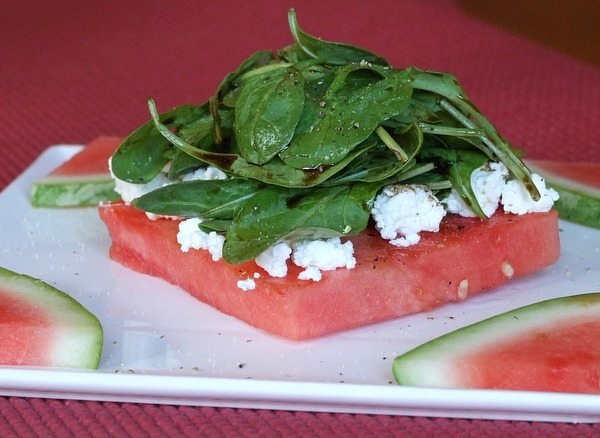 The summer season demands that you eat watermelon. Nibbling chilly watermelon slices saturated with sweetness seems indulgent as you devour slice after slice on a heat-drenched summer day. Its juicy nature and bright color make it a natural superstar at an outdoor barbecue. But have you ever thrown it on the grill? Watermelon caramelizes ever so slightly when it's briefly grilled– who knew?
Grilled watermelon is the best discovery since goat cheese. Add those together and you've got a salad. It makes for a pretty presentation and an impressive salad to serve to guests.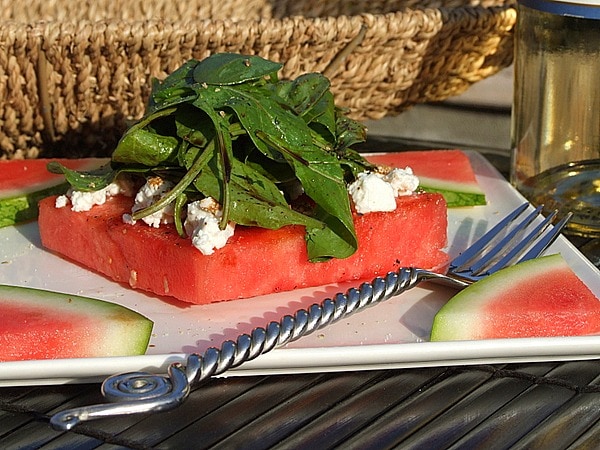 This is my new favorite salad… the hit of the summer (and it's only just the beginning!) Amaze your friends and family by grilling up some watermelon. It's easier than you might think.
If you're looking for more watermelon salad recipes, you might also enjoy Watermelon, Feta and Arugula Salad or Watermelon and Avocado Salad.
Grilled Watermelon Salad
A nice summer salad that's just a little bit different...
Yield:
8 servings
Prep Time: 25 minutes
Cook Time: 5 minutes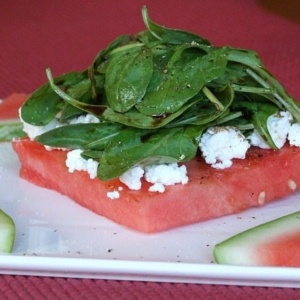 Ingredients:

1 small (5 pound)

seedless watermelon

, cut into 8 (1-inch-thick) slices

2 tablespoons

olive oil

salt and pepper

2 bunches

watercress or arugula

, trimmed

2 tablespoons

balsamic vinegar

1 cup

crumbled goat or feta cheese

Instructions:

Preheat grill.
Brush watermelon slices with oil. Season with salt and pepper. Grill watermelon 1 to 2 minutes on each side.
In a medium bowl, toss the greens with vinegar. Season with salt and pepper to taste. Set aside.
To assemble, sprinkle each grilled watermelon slice with goat cheese. Top with the greens.

Tips:

Keep the rind on or off for this recipe.
SOURCE: RecipeGirl.com (Adapted from instyle)