This Strawberry Melon Salad with Watermelon Vinaigrette is an adult-loving- but kid friendly salad because just about everything in it is something that most adults & children will happily eat.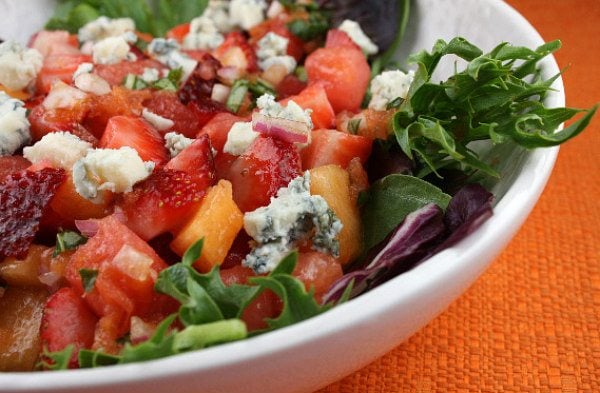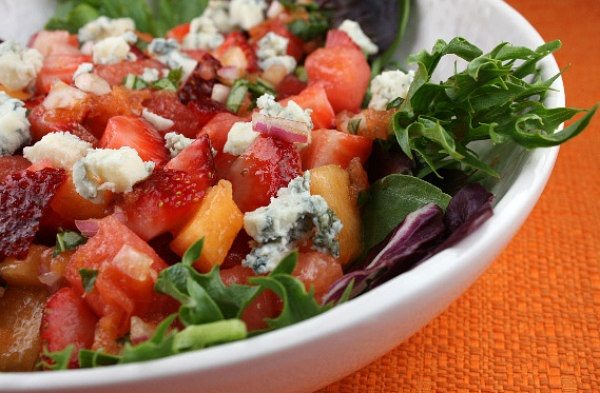 Cantaloupes were 69 cents EACH at my local supermarket the other day, and this is a good thing. My son would eat cantaloupe morning, noon and night if he could. And he pretty much feels the same about strawberries, too. That's why he loves this salad as much as the adults do!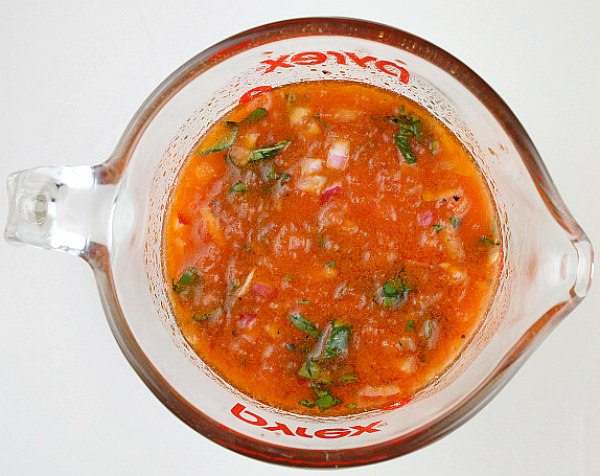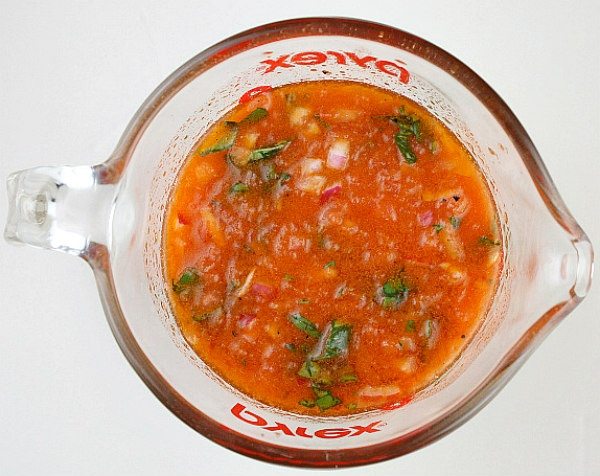 The star of this salad is the watermelon vinaigrette. It's a simple whir in the blender of watermelon chunks with onion, vinegar, honey, olive oil and basil.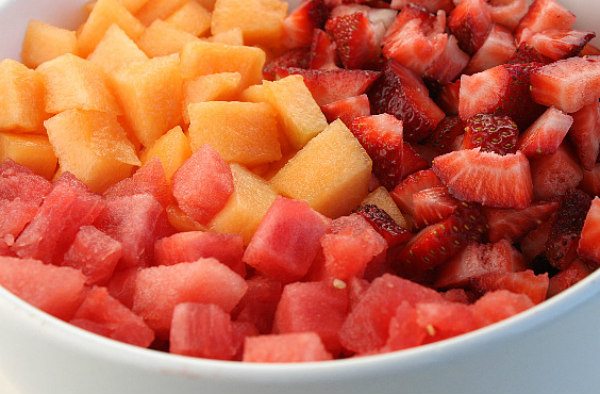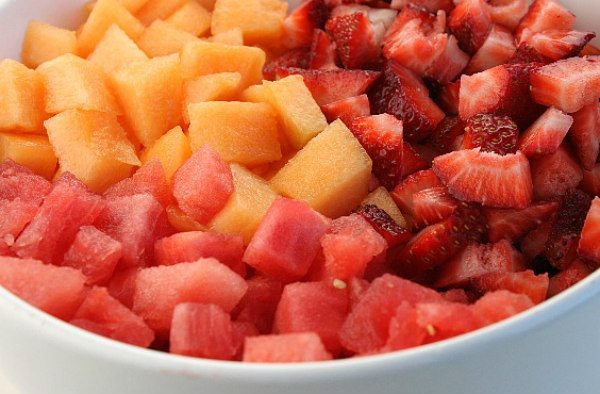 The salad itself starts with strawberries and melon. I used watermelon and cantaloupe chunks, but you can certainly be flexible with your choice of melons… and I think raspberries might be good in here as well.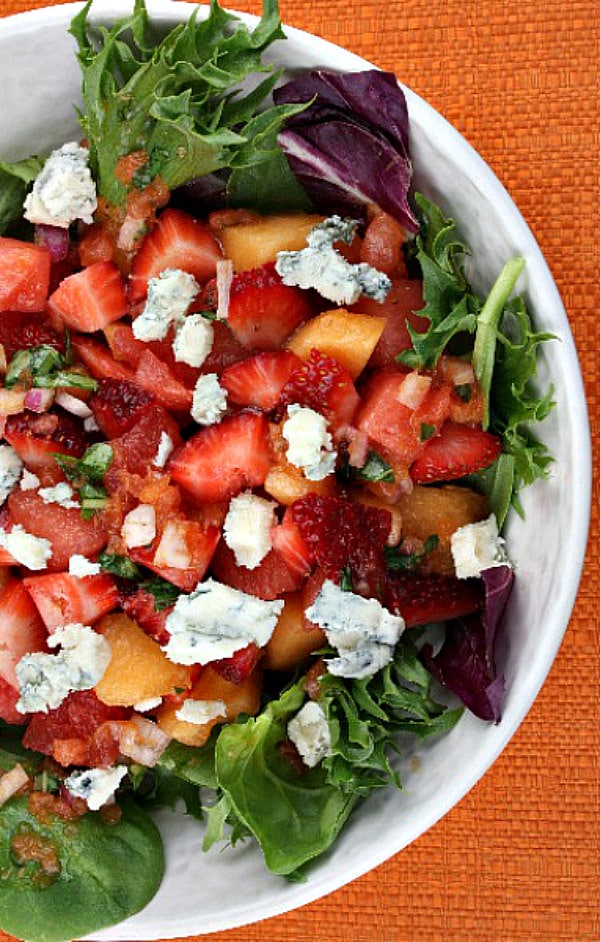 The fruit is spooned onto mixed greens and then topped with crumbled gorgonzola. I like to use the real creamy kind of gorgonzola that you buy in the package and crumble yourself, but you can always use the already-crumbled sort if you prefer. If you're not a big fan of gorgonzola, leave it out or sub with feta cheese. The watermelon vinaigrette is drizzled on top.
What do you think? Will your kids eat this? Or more importantly, will you eat this? Our family thought it was quite refreshing and delicious in the midst of the hot days of summer. The gorgonzola was a nice touch- a welcomed tangy flavor to pair with the sweetness of the fruit. And it sure is an affordable salad if your end-of-summer fruit is as cheap as it is where I live right now.
A few things about this salad- It's 4 Weight Watchers Freestyle SmartPoints per serving if you're on the Weight Watchers plan. It's a mere 175 calories for those who are counting. And it's gluten free (providing that your olive oil and cheese choices are free of gluten).
Strawberry Melon Salad with Watermelon Vinaigrette
Perfect for end of summer strawberries and melons, this blend of fruits and mixed greens is quite delicious with chunks of gorgonzola and a watermelon vinaigrette.
Yield:
6 servings
Prep Time: 25 minutes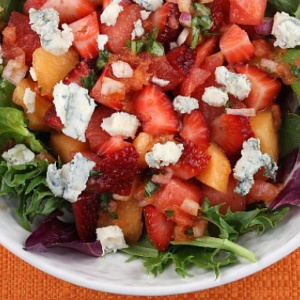 Ingredients:

Vinaigrette:

1/2 cup watermelon chunks
2 tablespoons chopped red onion
2 tablespoons champagne vinegar (or white wine vinegar)
2 tablespoons extra-virgin olive oil
1 teaspoon honey
1 tablespoon chopped fresh basil
salt and pepper, to taste

Salad:

2 cups chopped fresh strawberries
2 cups chopped fresh cantaloupe
2 cups chopped fresh watermelon
6 cups mixed greens
3/4 cup crumbled gorgonzola

Instructions:

Prepare vinaigrette: Combine all ingredients in a blender or mini food processor and pulse until well combined. Add in salt and pepper to taste. Transfer to a bowl, cover and refrigerate until ready to use.
Toss strawberries and melon together in a medium bowl.
To serve, divide green between 6 salad bowls. Top each with about 1 cup of fruit, and sprinkle with gorgonzola cheese. Drizzle each serving with watermelon vinaigrette.

Tips:

Try using other kinds of berries or melon too.
If you don't care for gorgonzola, try subbing feta cheese (or leave out the cheese).

Nutrition:

Nutritional Information per serving:  Serving size:

1/6th of the salad : 

Calories:

175, 

Fat:

11g, 

Saturated Fat:

4.7g, 

Fiber:

2.5g, 

Protein:

6.6g, 

Cholesterol:

16mg, 

Carbohydrates:

17g

WEIGHT WATCHERS POINTS per serving:  Freestyle SmartPoints: 4, Points Plus Program:

5, 

Old Points Program:

4
SOURCE: RecipeGirl.com (Inspired by Creative Culinary)
Here are a few more fruit salad recipes you might enjoy: