Here's a quick and easy salad recipe that incorporates fresh, unique flavors: Basil Lime Fruit Salad
The simple secret ingredient in this recipe is a basil-lime syrup- which adds a flavor that is very mild.  It adds a little something extra to make it much more than just a boring old, ho-hum fruit salad.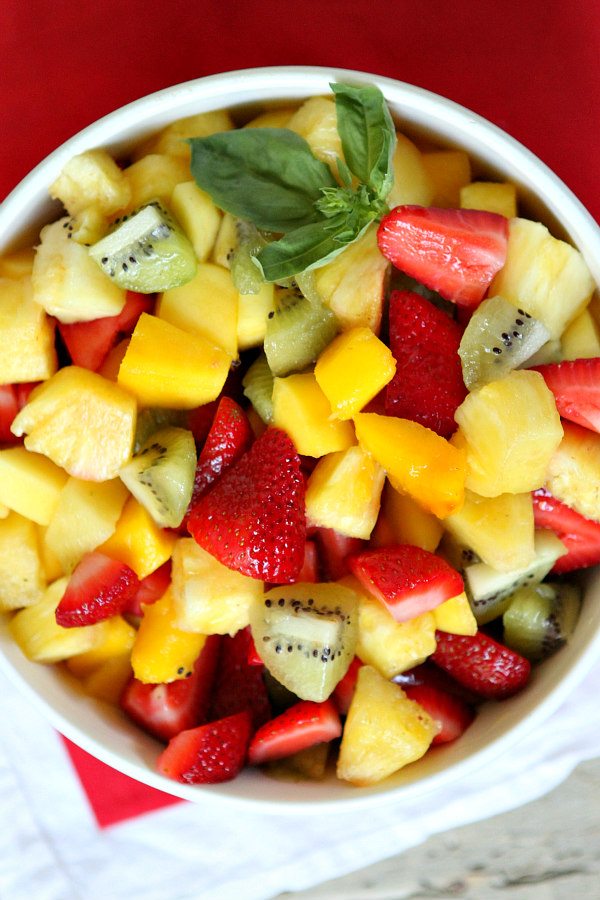 Basil Lime Fruit Salad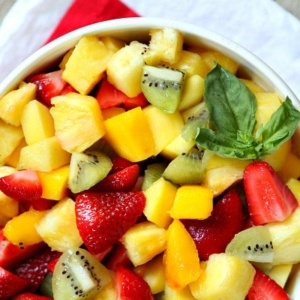 A lovely, fresh fruit salad tossed with a light basil-flavored syrup...
Yield:
12 Servings (3/4 cup per serving)
Prep Time:20 minutes
Cook Time:5 minutes
Ingredients:
SYRUP:
1/2 cup granulated white sugar
1/2 cup water
1/2 cup (packed) fresh basil leaves
1 tablespoon grated lime zest
SALAD:
4 cups cubed pineapple (about 1 medium)
3 cups quartered strawberries (about 1 pound)
2 cups cubed peeled mango (about 2 large) or cubed cantaloupe
5 large kiwi, peeled, halved lengthwise, & sliced (about 1 1/2 cups)
Directions:
Prepare syrup: Combine sugar and 1/2 cup water in a saucepan; bring to a boil. Cook 1 minute or until sugar dissolves. Remove from heat; stir in basil and rind. Cool. Strain sugar mixture through a fine sieve into a bowl; discard solids & keep syrup (chill until ready to use).
When ready to serve, combine fruit in a large bowl. Drizzle with syrup and toss gently.
Tips:
Make ahead- cut all fruit and keep separate from prepared syrup. Toss just before ready to serve.
Nutrition:
Nutritional Information per serving (Serving size:

3/4 cup):

Calories:

136, 

Fat:

.5g, 

Saturated Fat:

.04g, 

Sugar:

29.6g, 

Fiber:

3.13g, 

Protein:

1.23g, 

Carbohydrates:

35g

Weight Watchers POINTS:  SmartPoints:  2, PointsPlus: 3 Old Program: 3.5