Fruit Salad w/ Lime Syrup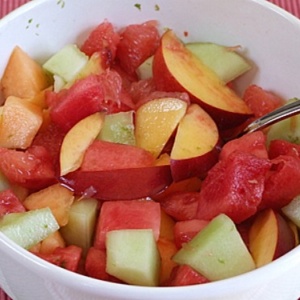 A simple mix of fresh fruit salad drizzled with a wonderful lime -flavored simple syrup.
Yield:
8 servings
Prep Time:20 min
Cook Time:10 min
Ingredients:
LIME SYRUP:
1/2 cup freshly squeezed lime juice (about 4 limes)
1/2 cup water
1/4 cup granulated white sugar
SALAD:
1 (2 pound) watermelon, cut into 1-inch cubes
2 medium nectarines, cut into wedges (leave skin on)
1/2 small cantaloupe, cut into thin wedges
1/2 small honeydew melon, cut into thin wedges
1/2 (24-ounce) jar pink grapefruit sections, drained (optional)
grated zest of 1 lime
Directions:
1. Prepare syrup: Combine lime juice, water and sugar in a small saucepan and mix well. Simmer for 10 minutes or until slightly thickened, stirring occasionally. Let stand until cool. The syrup may be prepared up to 1 week in advance.
2. Prepare salad: Combine all fruit and lime zest in a large bowl. Add the syrup and toss gently to coat.
Nutrition:
Nutritional Information per serving:
Serving size: 1/8th of the salad
Calories per serving: 120
Fat per serving: .46g
Saturated Fat per serving: .08g
Sugar per serving: 25.23g
Fiber per serving: 2.46g
Protein per serving: 1.86g
Carbohydrates per serving: 27.89g
WW POINTS per serving:
Points Plus Program: 3 Old Points Program: 3