Broiled Honey Lime Glazed Salmon is a favorite salmon recipe made easy in the oven!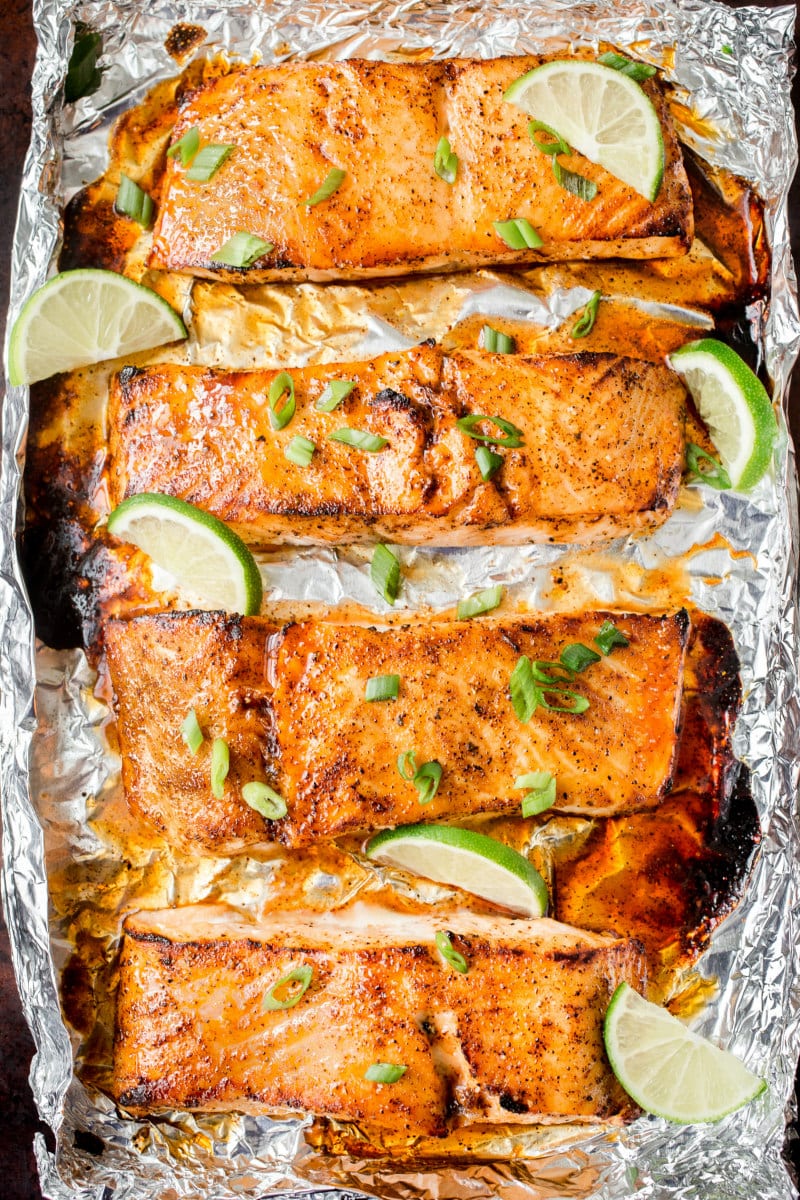 Salmon is a fish that we eat often in our house. So I'm always looking for new ways to make it. This recipe for Broiled Hone Lime Glazed Salmon is one of our favorites, and it's a pretty popular recipe on this website too. It's very easy to make, so that's a bonus!
Here are a few things you might like to buy to help you make this recipe:
Rimmed baking sheet: I used rimmed baking sheets for everything- large rimmed baking sheets for cookies, sheet pan dinners and roasted vegetables, and smaller rimmed baking sheets for baking chicken, salmon, pork tenderloin and other things.
Pastry Brushes: Super helpful in adding marinade during cooking process. And you'll use them for baking too!
The Best 30-Minute Recipe cookbook: this is where this recipe originated, and I love this cookbook. It's full of easy recipes that are stress-free and delicious.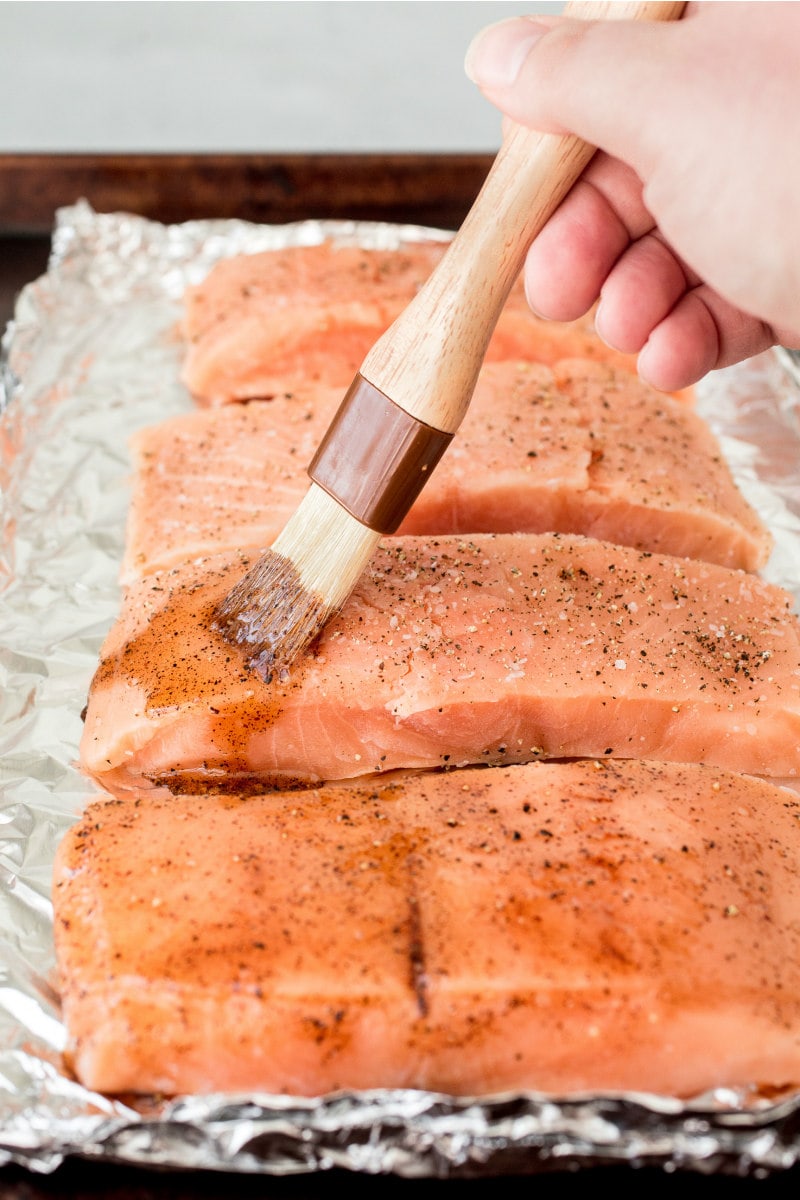 How to make Broiled Honey Lime Glazed Salmon:
An easy glaze of honey, lime juice, chili powder and cayenne pepper is combined in a small bowl. Four salmon fillets are placed onto a foil-lined baking sheet and are brushed with some of the glaze. The fish is broiled until cooked through (brushing more glaze on halfway through cooking). Remaining glaze is drizzled on top of the cooked salmon fillets are sprinkled with chopped green onions.
If you don't wish to cook the salmon in foil, you can certainly place the salmon on a baking sheet sprayed with nonstick spray. Alternately, you can cook the salmon in a glass dish.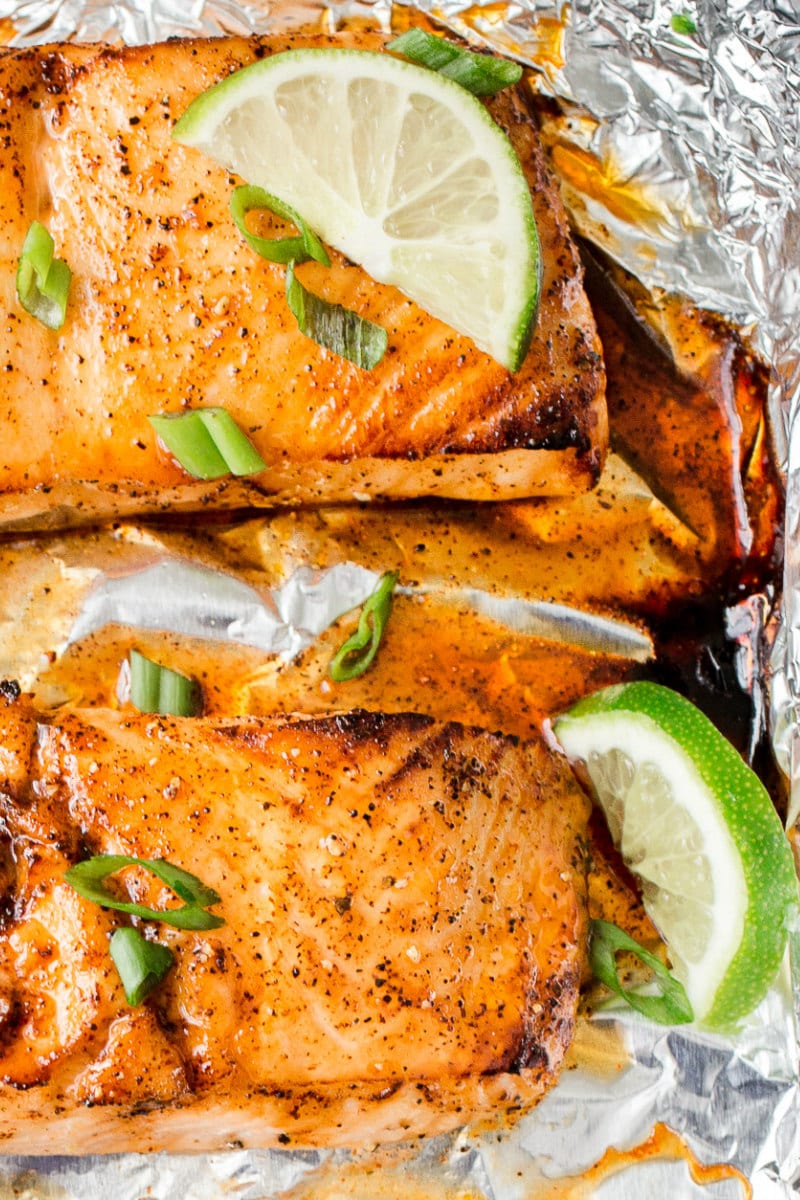 What kind of salmon should be used for this recipe?
I like to look for the freshest salmon I can find. I know that's difficult in some places. Any variety will do. One thing I make sure of is that I ask the seafood person if the salmon has been de-boned. I don't like to take the bones out myself, and it's hard to eat around them. Whole Foods is my favorite place to buy good salmon where I live in Arizona.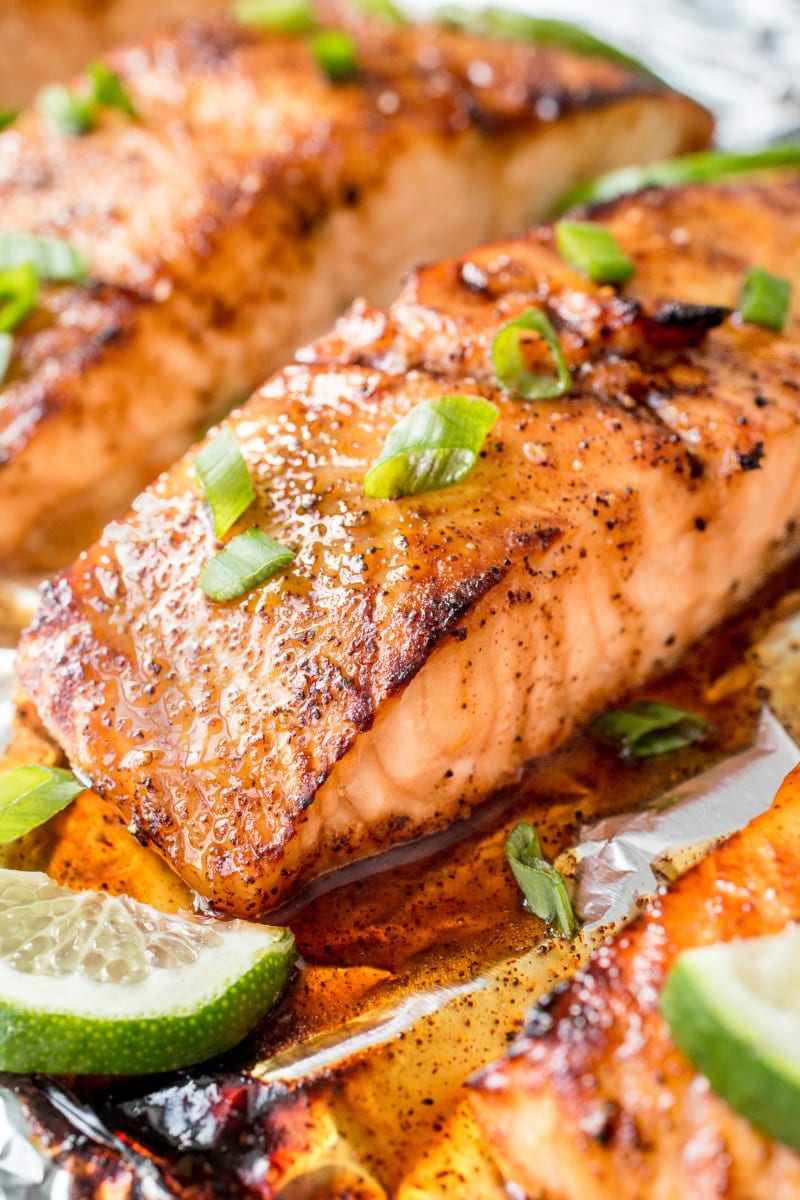 The simple glaze on this salmon is very good. It becomes a bit crystallized on the salmon during the broiling process due to the sweet addition of honey. Lime juice adds a good tang to the flavor. And finally… chili powder and cayenne pepper contribute a small amount of spice.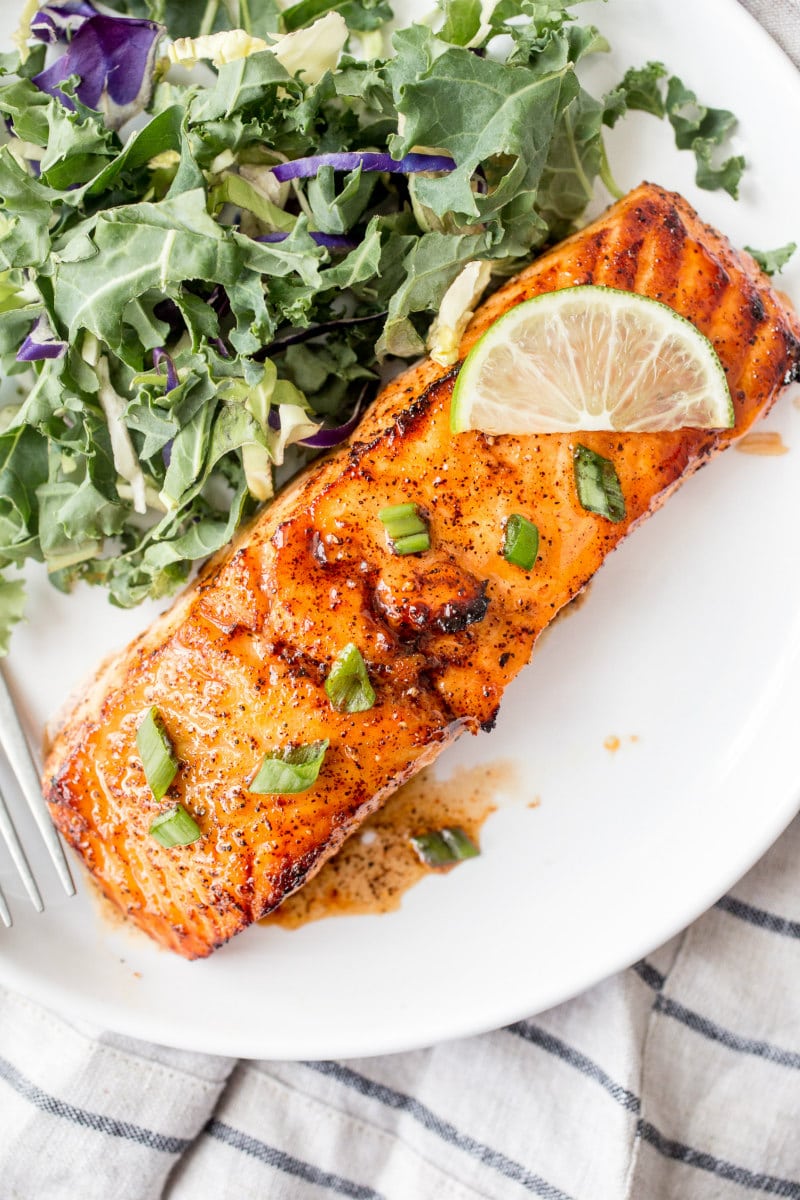 Let me know if this recipe becomes a new salmon favorite in your house. Enjoy!
Here are a few more recipes using salmon that you might like to try:
Broiled Honey Lime Glazed Salmon
This salmon is broiled with a sweet and tangy sauce- it's delicious!
Recipe Details
Ingredients
1/4

cup

honey

1

tablespoon

freshly squeezed lime juice

1

teaspoon

chili powder

1/8

teaspoon

cayenne pepper

Four

6-ounce

salmon fillets

salt and freshly ground black pepper

2

whole

green onions,

chopped
Instructions
Adjust your oven rack 6 inches from the broiler element and pre-heat the broiler. Make a foil pan out of heavy duty foil (or use two sheets of regular foil). Just crunch up the sides to hold in the glaze. Place it on top of a broiler pan. This makes for easy clean-up! If you don't feel comfortable cooking in foil, you can always do this in a glass dish instead.

Prepare the glaze while the oven is heating. In a small bowl, stir the honey, lime juice, chili powder and cayenne together. Set aside.

Pat the salmon dry with paper towels and season with salt and pepper. Lay the salmon (skin-side down) in a foil pan, spaced about ½-inch apart. Reserve 2 tablespoons of the glaze in a clean bowl for serving, then brush half of the remaining glaze evenly over the salmon.

Broil until all but the very center of the fish has turned from translucent to opaque and flakes away easily, 10 to 12 minutes, brushing the salmon again with the remaining glaze halfway through broiling.

Drizzle the reserved glaze over the salmon and sprinkle with green onions before serving.
Nutrition
Serving:
1
serving
,
Calories:
309
kcal
,
Carbohydrates:
18
g
,
Protein:
34
g
,
Fat:
11
g
,
Saturated Fat:
2
g
,
Cholesterol:
94
mg
,
Sodium:
84
mg
,
Potassium:
854
mg
,
Fiber:
1
g
,
Sugar:
18
g
,
Vitamin A:
242
IU
,
Vitamin C:
1
mg
,
Calcium:
20
mg
,
Iron:
2
mg