This Mexican Chopped Salad with Honey Lime Dressing is the perfect, light side dish to a heavy Mexican food meal.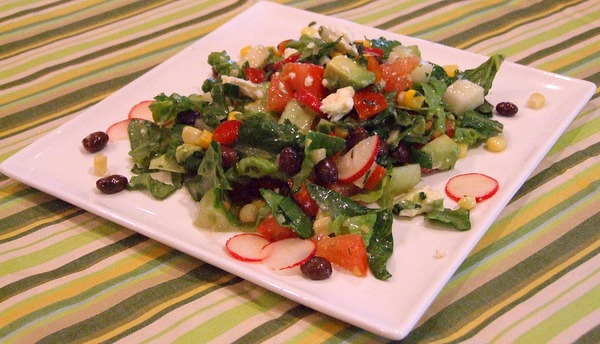 I find it tough to locate Mexican-style side dishes that aren't starchy (rice), heavy (beans), or fattening (quesadillas.) Since many Mexican main dishes tend to be starchy, heavy and fattening themselves, it's refreshing to have something light to serve alongside.
This salad is smack-full of good stuff… black beans, tomato, jicama, corn, radishes, avocado, red bells and reduced-fat feta cheese. You could certainly sub Cotija (Mexican) cheese for the feta if you'd like… but it will be a little more fattening. The whole thing is tossed in a really light, delicious honey-lime dressing.
Mexican Chopped Salad with Honey Lime Dressing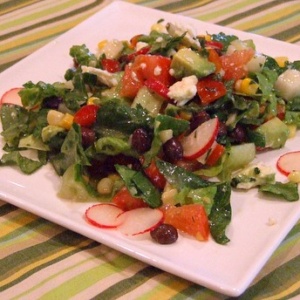 I've always found that it's tough to find good side dishes to Mexican dinners that aren't really heavy. This is a great salad to accompany fish tacos!
Yield:
4 servings
Prep Time:20 minutes
Ingredients:
SALAD:
2 1/2 cups chopped romaine lettuce
1 (15.5 ounce) can black beans, rinsed & well-drained
3/4 cup chopped seeded tomato
3/4 cup chopped peeled jicama
3/4 cup fresh corn kernels, uncooked (or use frozen or canned)
3/4 cup thinly sliced radishes
1 large avocado, diced
1 large red bell pepper, chopped
1/4 cup crumbled reduced-fat feta cheese
HONEY- LIME DRESSING:
1/4 cup fresh lime juice
2 tablespoons olive oil
2 tablespoons honey
2 tablespoons finely chopped fresh cilantro (or more to taste)
1 clove garlic, peeled & minced
1 teaspoon chopped jalapeño pepper (use canned for less heat)
Directions:
Toss all salad ingredients in a large bowl.
In separate bowl, mix dressing ingredients. Pour dressing over mixture and toss again. Season with salt and pepper to taste.
Nutrition:
7 Weight Watchers Freestyle SmartPoints per serving (recipe divided into 4 servings)
SOURCE: RecipeGirl.com (Adapted from Self)