Here's a delicious salad recipe that is perfect for sharing with a large group of people:  Layered Nacho Salad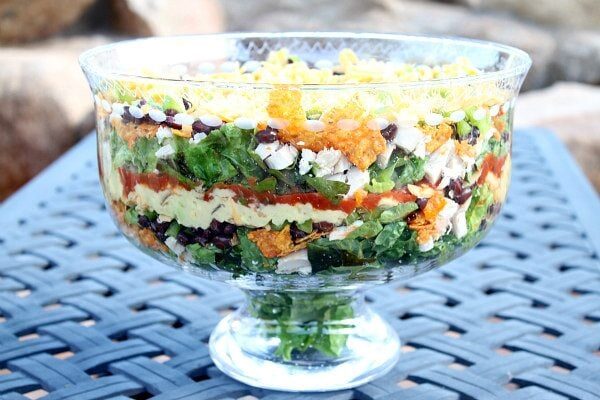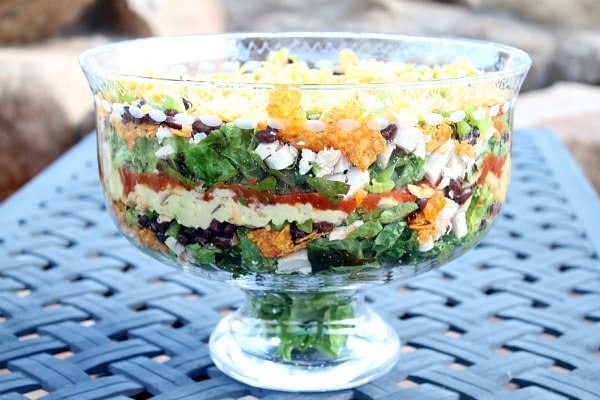 Remember the 7-layer Mexican dip?  Well, this is the salad version.  Layers of lettuce, chicken, tortilla chips, black beans, green onions, guacamole, salsa, bell pepper and cheese fill up a large glass bowl.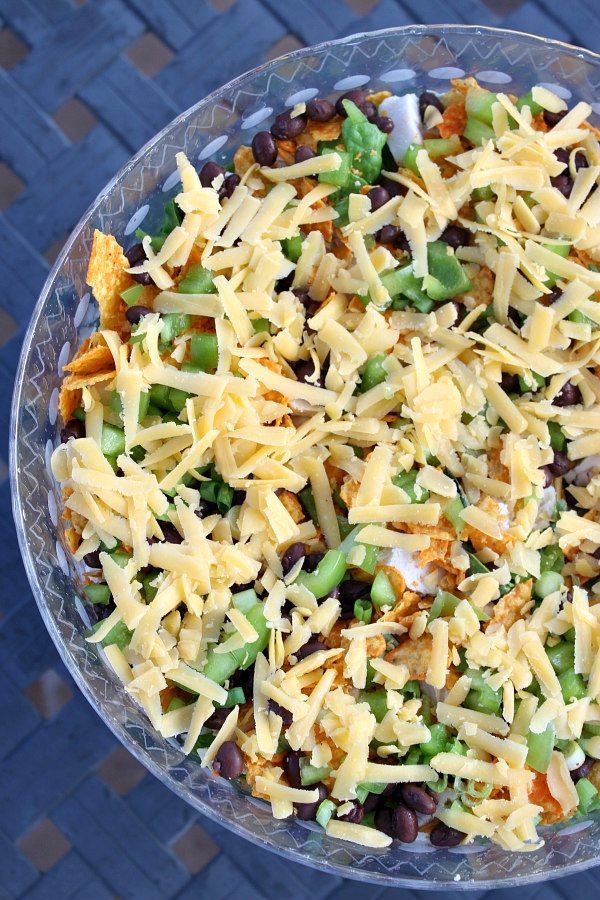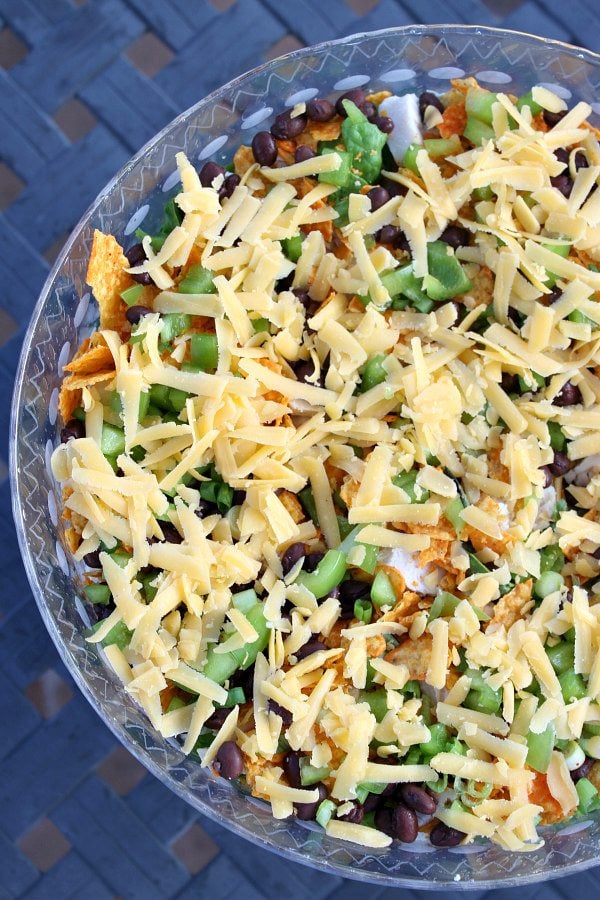 It's all super pretty served in a glass bowl- like it's on display for your guests, and everyone gets a sneak peek at what's in the salad.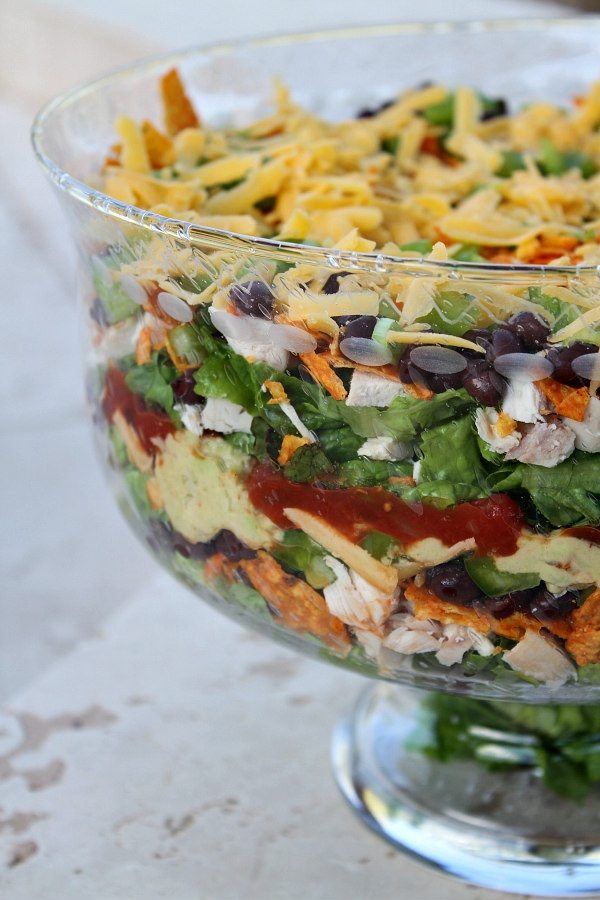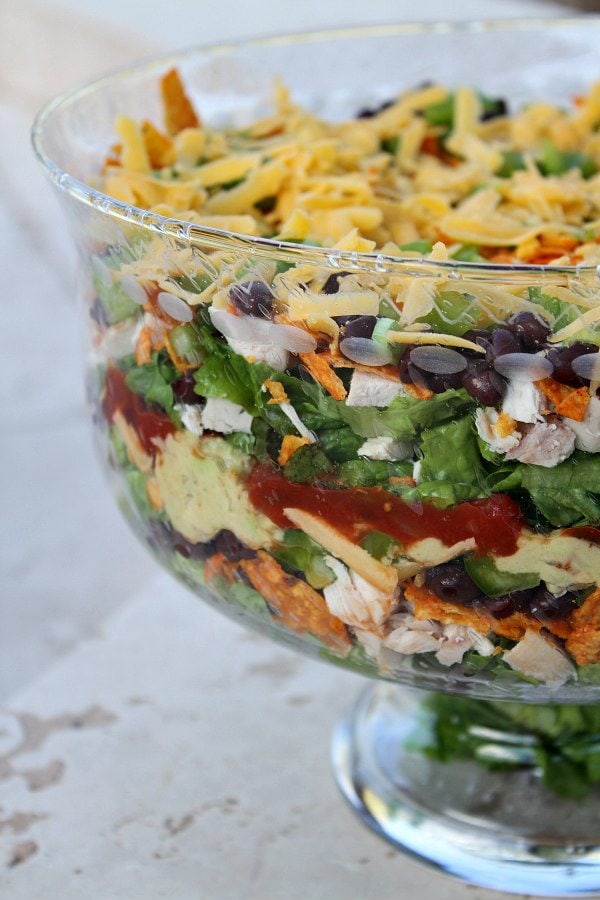 I recommend serving this salad with my homemade Buttermilk Salad Dressing.  Just let your guests scoop out the salad and drizzle the dressing on top of individual servings.
Enjoy!
Layered Nacho Salad
Yield:
8 to 10 servings
Prep Time: 20 minutes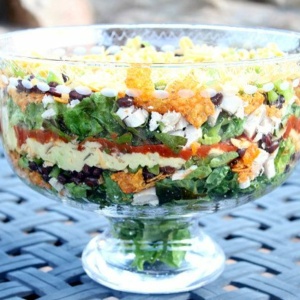 Ingredients:

2 large ripe avocados, peeled and pitted
1 1/3 cups (or more) bottled thick and chunky salsa (mild or medium- hot), divided
1/4 cup sour cream
1/2 lime, juiced
salt and pepper to taste
1 head red leaf lettuce, torn into bite- size pieces
3 cups shredded cooked chicken (or turkey)
3 cups lightly crushed tortilla chips or nacho cheese tortilla chips
1 (15 ounce) can black beans, rinsed and drained
4 whole green onions, chopped
1 small green bell pepper, seeded and chopped
1 cup (packed) grated sharp cheddar cheese
buttermilk salad dressing, bottled or homemade

Instructions:

Place avocados in a medium bowl. Add 1/3 cup salsa and sour cream; mash to chunky guacamole consistency. Season with lime juice, salt and pepper.
In a large glass bowl, layer half of lettuce, chicken, chips, beans, green onions, bell pepper and cheese. Top with all of the guacamole and all of the remaining salsa. Repeat layering with remaining ingredients.
Let guests scoop up their own salad and drizzle buttermilk salad dressing on top of individual servings.

Tips:

If preparing this recipe as GLUTEN FREE, just be sure to use a brand of tortilla chips that is designated as GF, and use your favorite GF salad dressing.
This salad may be prepared up to 2 hours ahead (no more than that or the chips and guac will get icky)- cover and chill.
SOURCE: RecipeGirl.com (adapted from Bon Appetit)
Here are a few more salad recipes you might enjoy: