Here's a salad I created for all of the Dad's out there:  Grilled Steak Chopped Summer Salad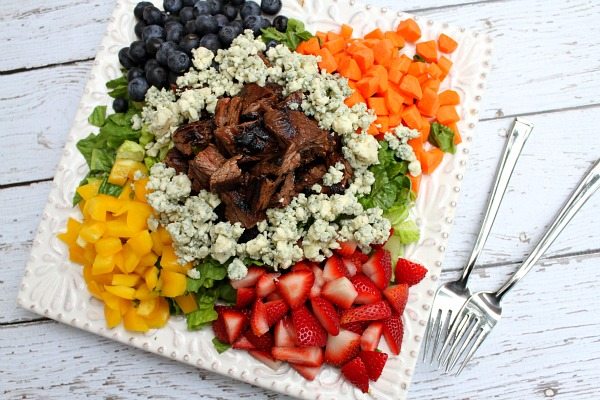 My husband is one of those guys who doesn't picture "salad" as dinner.  I've mentioned this many times before, but he's actually beginning to come around to the idea!  I've convinced him that if I add things like spicy marinated and grilled AMAZING skirt steak and gorgonzola crumbles to the salad, that it becomes much more than just a measly old salad.  He's definitely on board for this one!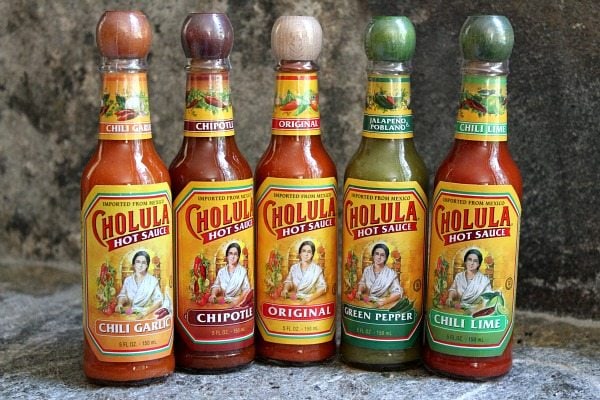 I'm featuring this awesome hot sauce in my recipe today.  I've been seriously using up all of these flavors on just about everything I eat- especially eggs.  I love the stuff.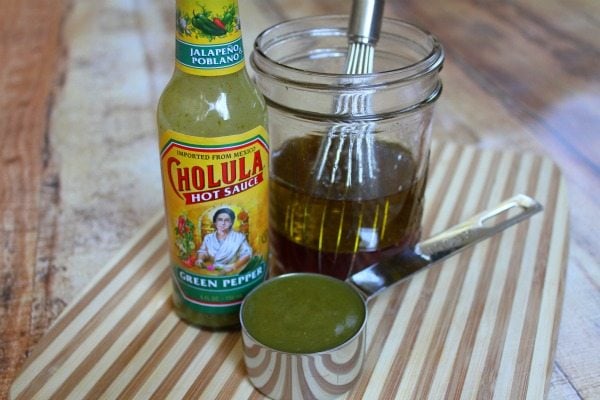 The steak marinade I created ALSO acts as the salad dressing (bonus!).  You'll need the Cholula Green Pepper Hot Sauce for this recipe.  It's spicy on its own, but in the marinade it just adds to the flavor (the steak does not come out majorly spicy or anything).  In the dressing, you'll taste a little bit of a kick, but that's all balanced out with the sweet berries and tangy gorgonzola in the salad.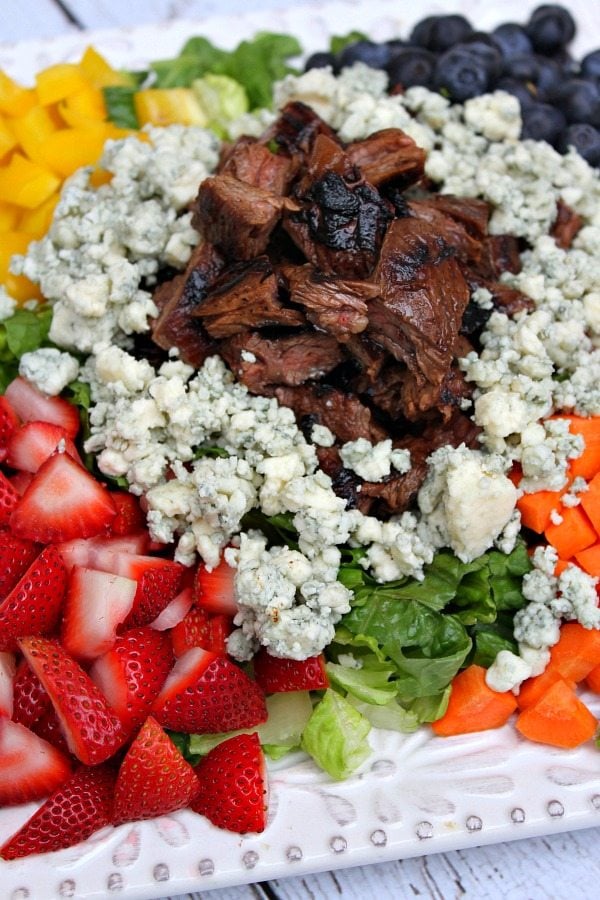 It's all a beautiful summer salad combination.  If you've never had berries in a salad, then you totally need to try it.  And combined with steak… it's just really, really good.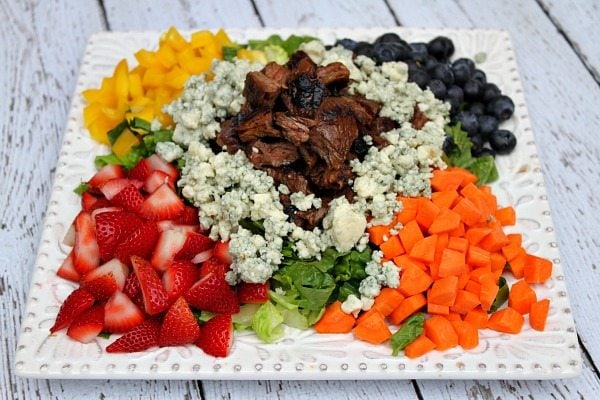 My husband was very happy with this salad, and he gave his stamp of approval to share with my readers as a Father's Day salad recipe (man-approved).  I used skirt steak in this salad, which is my favorite cut of steak of all time… SO good and tender.  The marinade in this recipe is PERFECT for the skirt steak.  Hint:  Whole Foods has skirt steak, and you can pick up a small amount of it instead of buying it already packaged at the regular market.  Enjoy!
Grilled Steak Chopped Summer Salad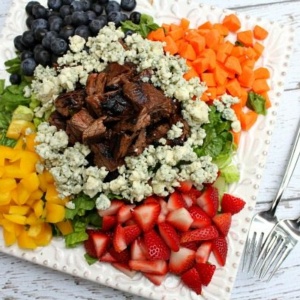 Yield:
Serves 2 as main dish (4 as side dish)
Prep Time:15 min
Cook Time:8min
Ingredients:
STEAK and MARINADE/DRESSING:
1/2 cup extra-virgin olive oil
1/3 cup red wine vinegar
1/4 cup Cholula green pepper hot sauce
2 garlic cloves, minced
2 tablespoons honey
juice from one lime
salt and freshly ground black pepper
3/4 pound skirt steak (or flank steak, but skirt is better!)
SALAD:
4 cups chopped romaine lettuce
1 cup chopped yellow bell pepper
1 cup chopped carrots
1 cup chopped strawberries
1 cup blueberries
1/2 cup crumbled gorgonzola cheese
Directions:
1. Mix marinade/dressing: In a medium bowl or jar, whisk together the oil, vinegar, hot sauce, garlic, honey, lime and a sprinkle of salt and pepper. Remove 1/3 cup of the mixture and set it aside to use as the salad dressing. Place steak in a large ziploc baggie. Add remaining marinade to the bag and move around to combine. Refrigerate and let marinate for at least a couple of hours and up to 4 hours.
2. Grill: Preheat grill to medium. Drain marinade from the steak. Grill steak until done- a few minutes on each side (it cooks quickly since this is such a thin cut). Let rest a few minutes, then chop the steak.
3. Assemble the salad (as a main dish): Divide the lettuce between two plates. Divide remaining ingredients in half and decoratively arrange on top of the lettuce. Drizzle the reserved salad dressing on top of each salad and serve.
Disclosure:  I am working with Cholula to bring you a recipe featuring their hot sauce.  Cholula is a product that I use in my kitchen often, and I'm happy to share it with you!