Mediterranean Chickpea Salad
Here's a salad that is bright, colorful, delicious, and EASY to make > Mediterranean Chickpea Salad.  Scroll down to watch a quick video of how to make this salad.  Then scroll to the end of this post to find the printable recipe.
This is such an easy salad recipe to make, and it's perfect for whipping up as a side dish when you're entertaining guests too.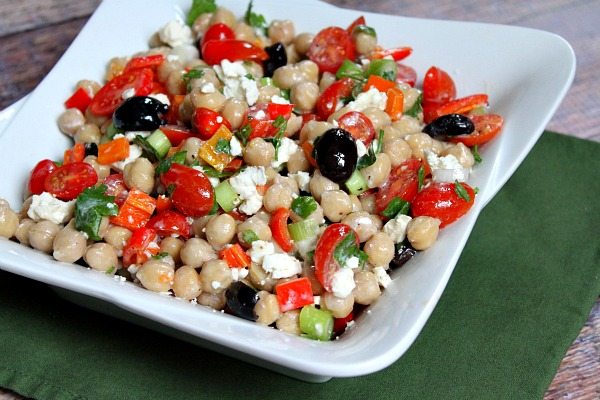 So there's a holiday weekend looming ahead.  That would be Memorial Day weekend.  Do you have fun plans for the 3-day weekend?  We're doing something that is a little out of sorts for our family- we're going CAMPING!  In a tent!  With sleeping bags and bugs and dirt!  I'm usually up for a nice hotel on vacation, but we're headed out into the wilderness to hang out with friends.
Don't be too worried about me because I'm doing my best to make it comfortable.  I bought a queen sized cot with an air mattress on top.  I'll be cooking from a two-burner stove, and you can bet that I'll be eating non-camp food (no burgers or dogs!) like this salad.  This pretty salad can be make a day ahead, and the flavors just meld and grow and make it that much better.  Yep, this salad is going to come with me on my camping trip.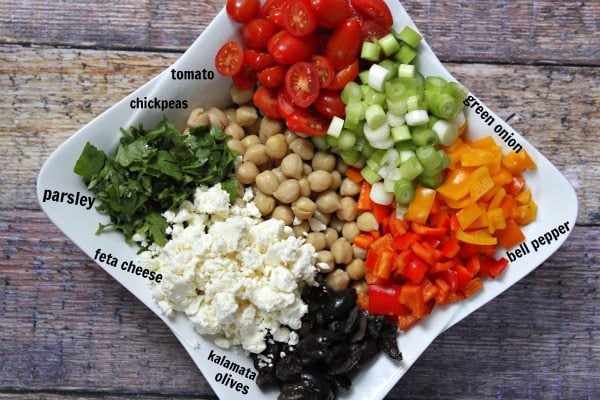 My son is in the midst of making me feel like I'm high-maintenance.  He's adamant that we sleep on the ground, remain in the same clothes all weekend long, and fish from morning 'till dawn.  I'll sleep on my cot (thank you) and will utilize the showers at the campground (I don't like to be dirty).  I'll cook up those fish that he catches for dinner (providing they're gutted for me), and I think he'll be thanking me later that I brought extra clothes for him to change into.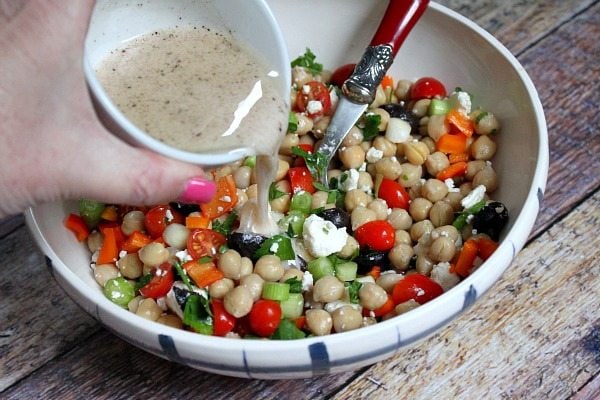 The camping friends we're going to be hanging out with will be invited to enjoy my chickpea salad.  I'm pretty sure it will be a welcome addition to our meal after a day of hiking to waterfalls and biking the trails.  Steak sounds like a nice main dish to serve with this one.  Have I mentioned the bear lockers?  There are bear lockers at this campground… which would indicate there are bears.  We are required to put any and all food and drink items into a designated bear locker when we are not using them.  I am picturing the bears spying at us from the perimeter while we're grilling our steaks.  This is kind of freaking me out.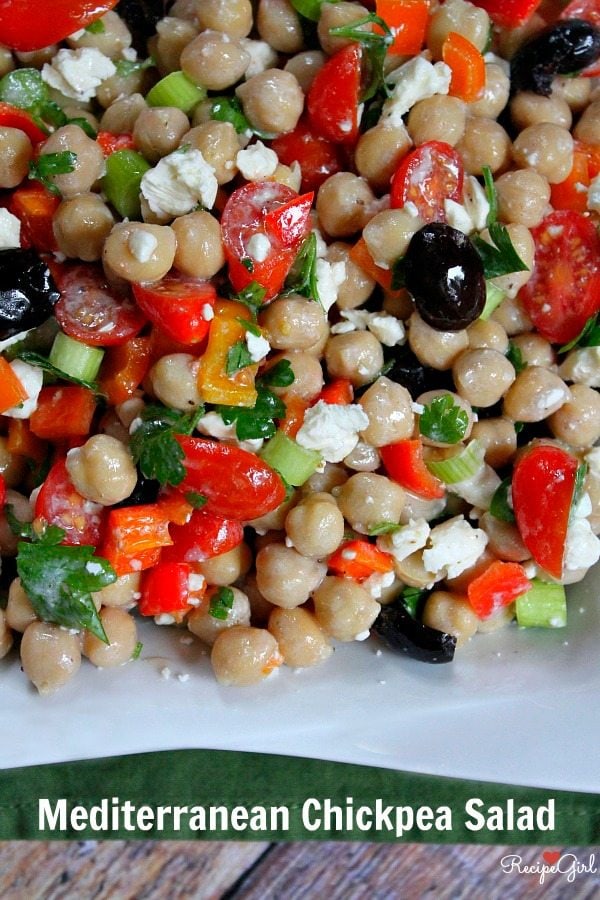 I'll let you know how the whole camping thing goes.  I hope it goes well so we'll want to do it again.  If not, I may be begging my husband to invest in an Airstream or an RV.  Surely that's still called camping if you take one of those, right?
In the meantime, enjoy this really easy, Mediterranean-style salad.  Just toss it all together, then toss again with the dressing- done!  It can be served as a main dish or a side.  I prefer the side-dish idea with grilled steak or chicken.  Just be mindful of the bears.
Click below to watch a short video showing you how to make this recipe, then print out the complete recipe so you can make this at home!
Yield: 4 main dish servings (6 as a side)
Prep Time: 20 minutes
Mediterranean Chickpea Salad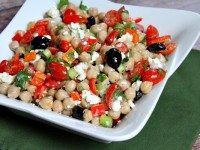 Ingredients:
SALAD:
Two 15-ounce cans chickpeas, drained and rinsed
1/4 cup chopped Italian parsley
2/3 cup chopped bell pepper (mix red/yellow/orange)
3/4 cup halved grape tomatoes
3 green onions, sliced
12 kalamata olives, sliced in half
1/3 cup crumbled feta cheese
DRESSING:
4 tablespoons extra-virgin olive oil
2 tablespoons plain yogurt
1 tablespoon freshly squeezed lemon juice
1 tablespoon red wine vinegar
1 small garlic clove, minced
1/4 teaspoon cumin
salt and pepper, to taste
Directions:
In a large bowl, toss together the salad ingredients. In a separate bowl, whisk together the dressing ingredients. Drizzle the dressing over the salad and toss.
Transfer to a serving bowl and drizzle juices on top. Refrigerate until ready to serve.
Tips:
Use good quality canned chickpeas for this recipe (not generic). I really think it makes a difference in the flavor of the salad.
If you are preparing this recipe as gluten-free, be sure to use a brand of chickpeas that is known to be GF.
4 WEIGHT WATCHERS Freestyle SmartPoints per serving (based on 6 servings)
Here are a few more salad recipes you might enjoy:
60 Responses to "Mediterranean Chickpea Salad"
Leave a Comment