Here's a step-by-step tutorial showing you How to make Falafel.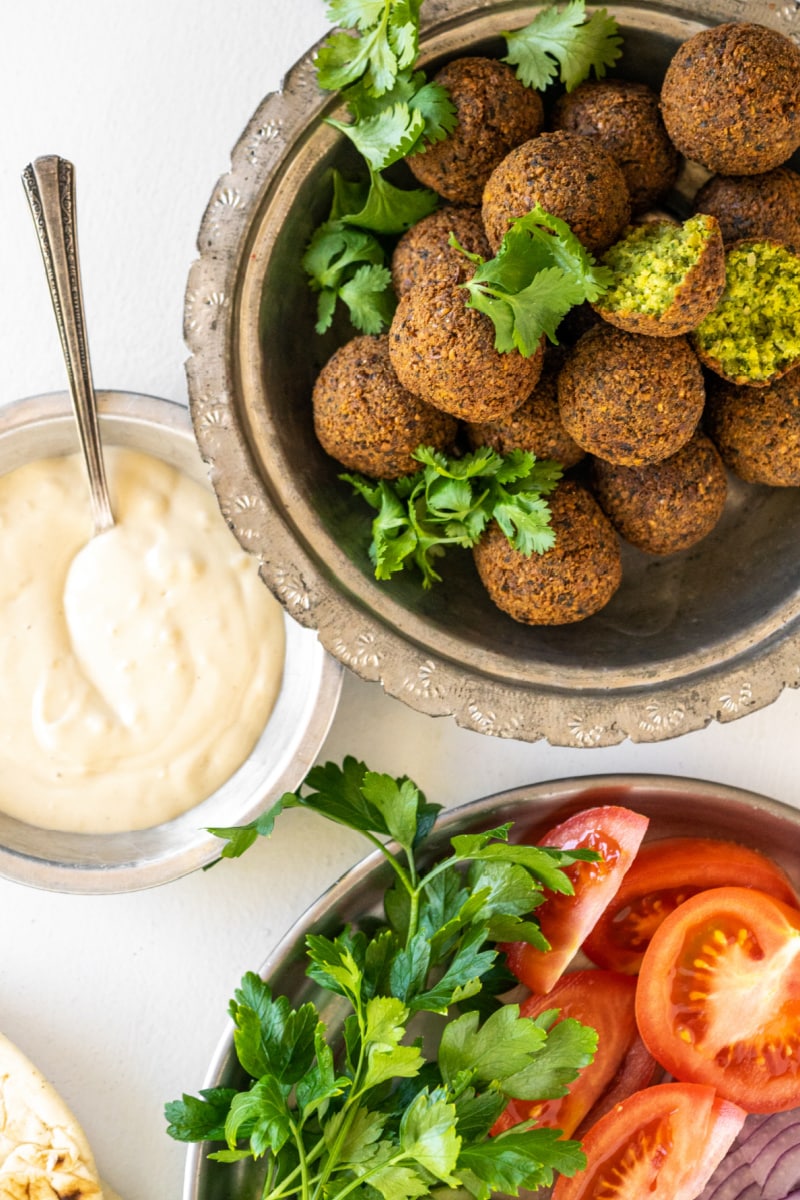 Falafel is a Middle Eastern food that can be served as an appetizer or stuffed into a wrap or sandwich. It's a ball of deep fried chickpeas mixed with spices. And it's very tasty to eat with Tahini Sauce.
Falafel is definitely something that you will want to order if you go to a Middle Eastern restaurant. But it's easy to show you how to make falafel at home too.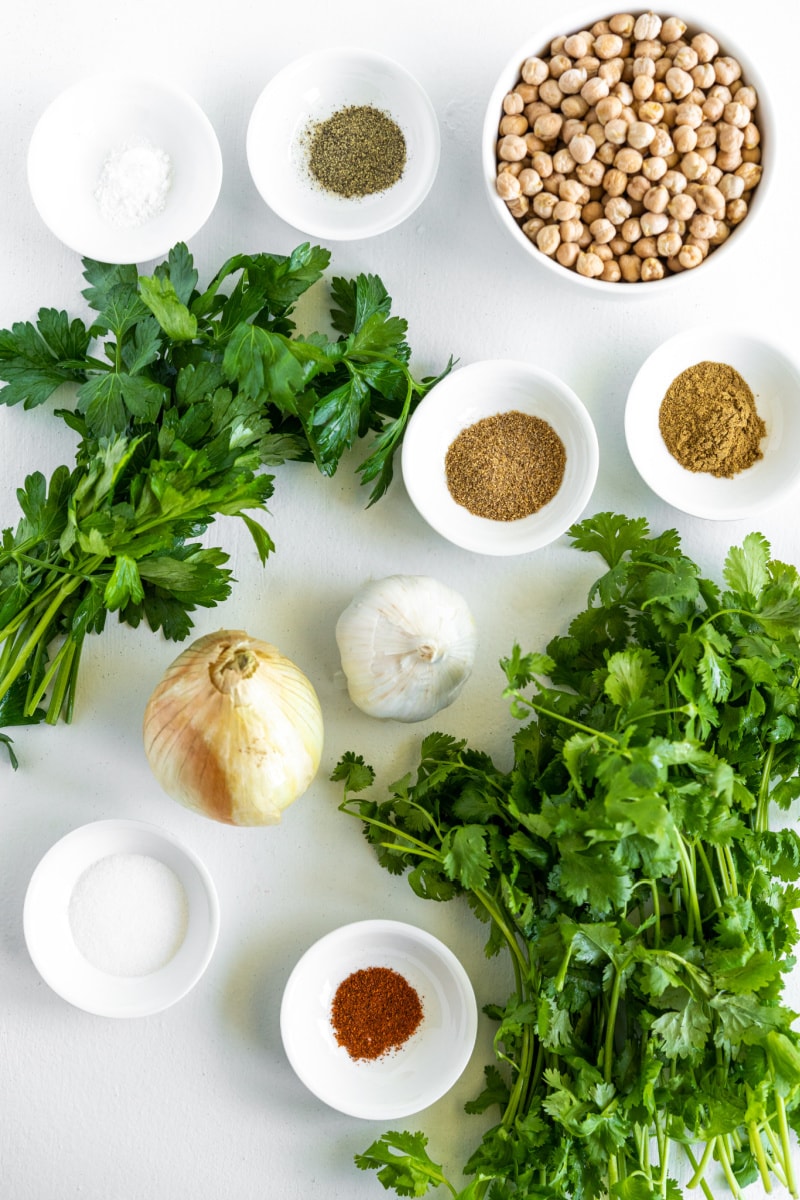 Ingredients needed:
dried chickpeas (do not use canned chickpeas for this recipe)
baking soda
ice cold water
onion
garlic
parsley
cilantro
cumin, coriander, salt, pepper and cayenne
vegetable oil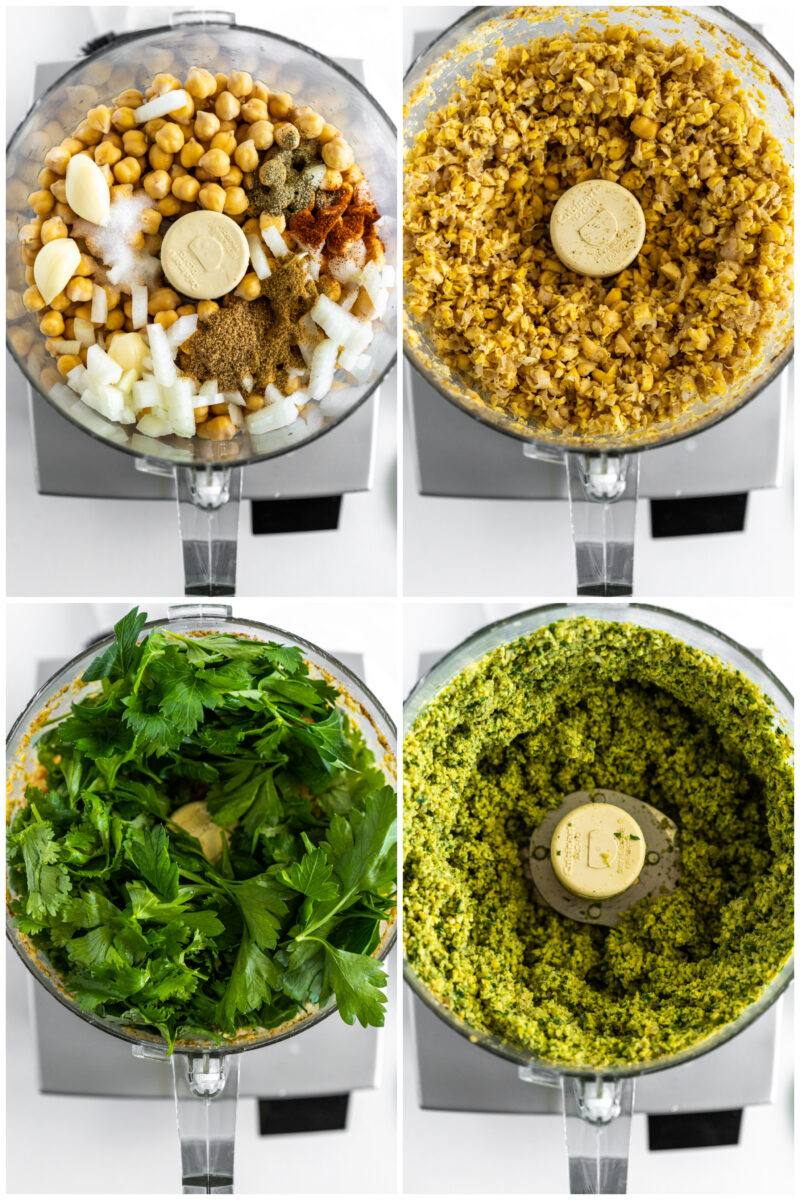 How to make Falafel:
Start the day before you want to make these by soaking the chickpeas in water and baking soda for 24 hours.
Drain the chickpeas and combine them with onion, garlic and spices in the bowl of a food processor. Pulse a few times to break it up.
Add fresh parsley and fresh cilantro and process until the mixture begins to come together into a dough (not paste consistency). Transfer this mixture to a bowl, cover with plastic wrap and chill for a couple of hours.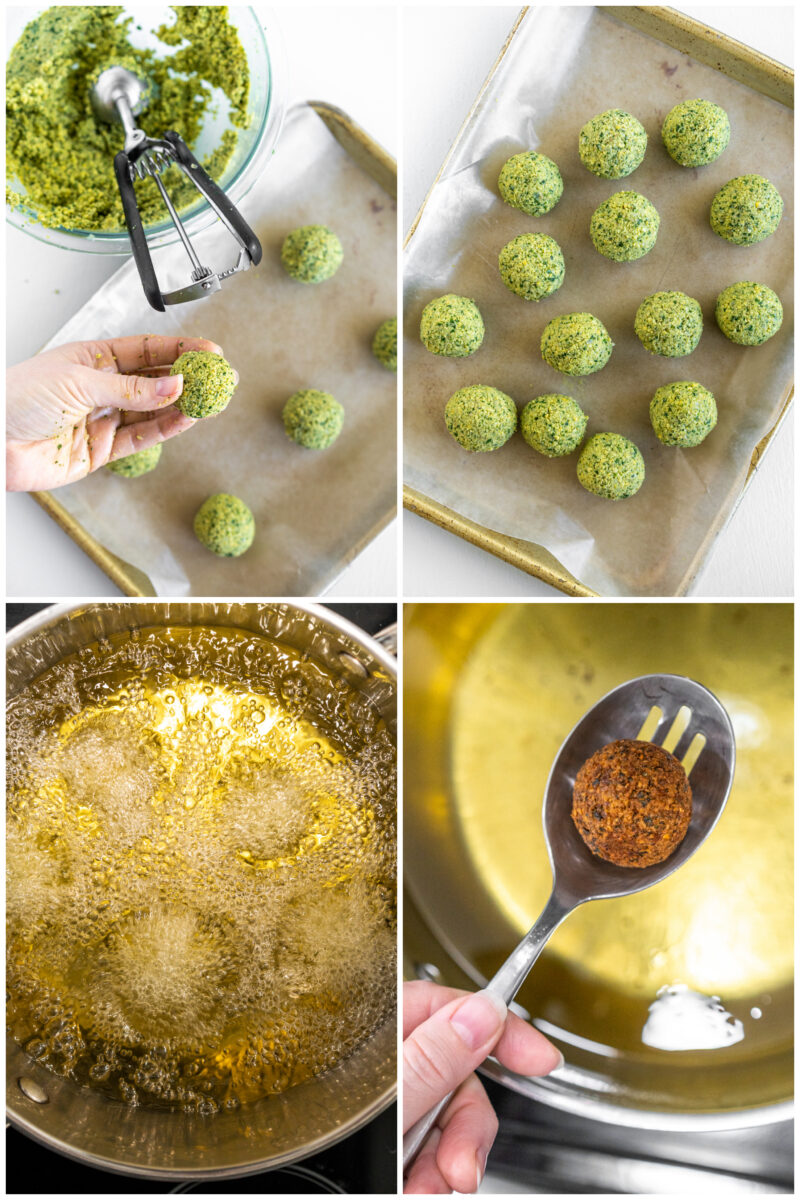 Use a 1.5 tablespoon scoop to scoop out the falafel dough and roll into balls. Using the scoop will help you maintain the same size falafel.
Heat several inches of vegetable or canola oil in a saucepan. Fry the falafel until they are golden brown.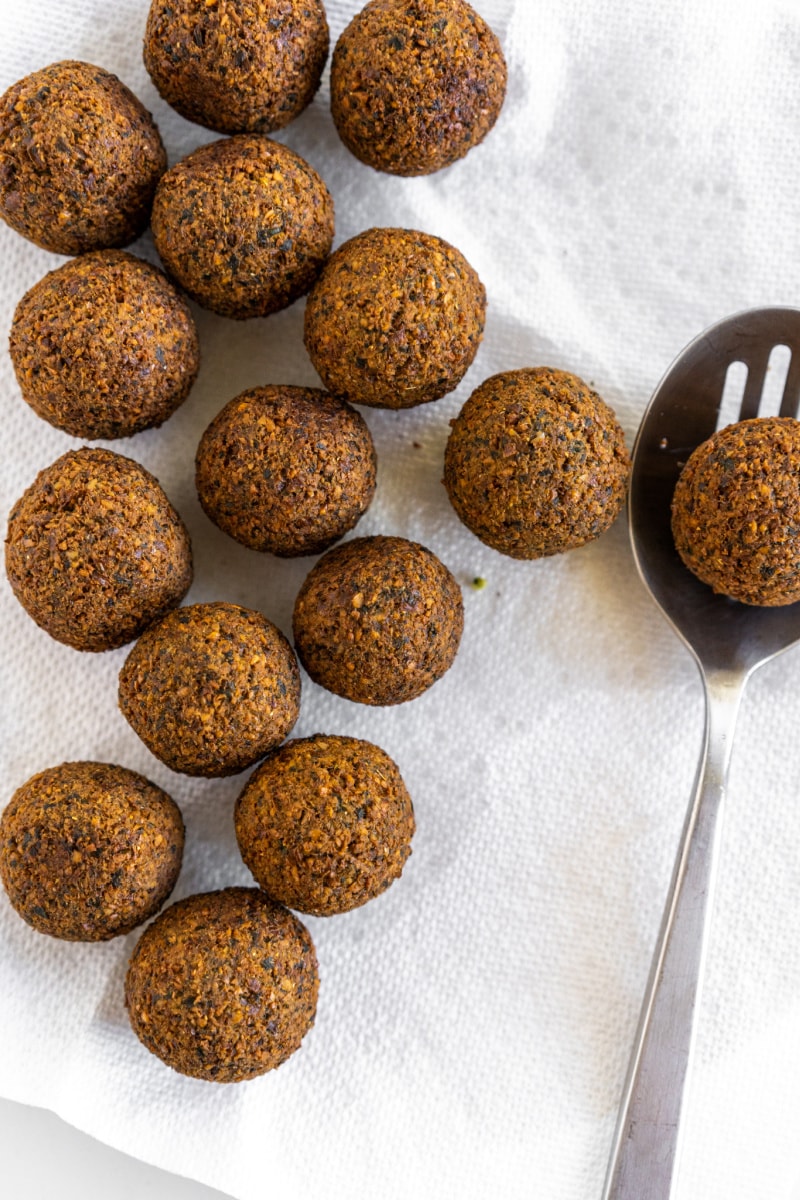 Move the falafel to a paper towel-lined plate to drain the oil. You usually don't eat falafel by itself. It's usually served with hummus, tahini sauce and flatbread. You can even serve it with Lebanese Garlic Sauce.
How to make Tahini Sauce:
Now that you know how to make falafel, you can make a very simple tahini sauce to go with it. It's a simple mix of tahini, minced garlic and salt. Lemon juice is added in, and it will thicken. Ice water is stirred in 1 tablespoon at a time to thin out the sauce to your desired consistency.
What is Tahini?
Tahini is a Middle Eastern product made from toasted ground hulled sesame seeds. In your market, it can most likely be found in your market's international aisle or near the olives. Ask if you can't find it… it's commonly carried at most markets.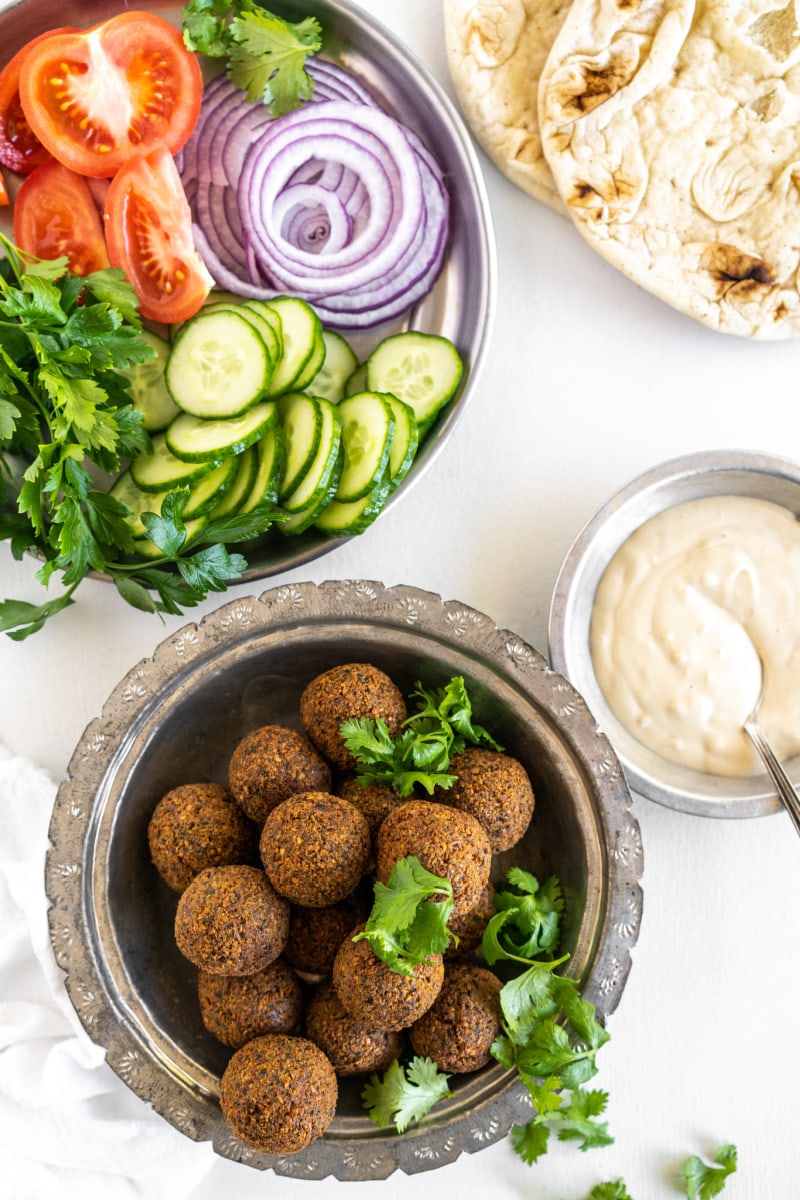 How do you serve falafel?
You can serve falafel with a side of the tahini sauce to use for dipping or drizzling on top. Or you can serve it with flatbread or pita to be made into a sandwich or wrap, along with cucumber, tomatoes and onions and tahini sauce as the condiment.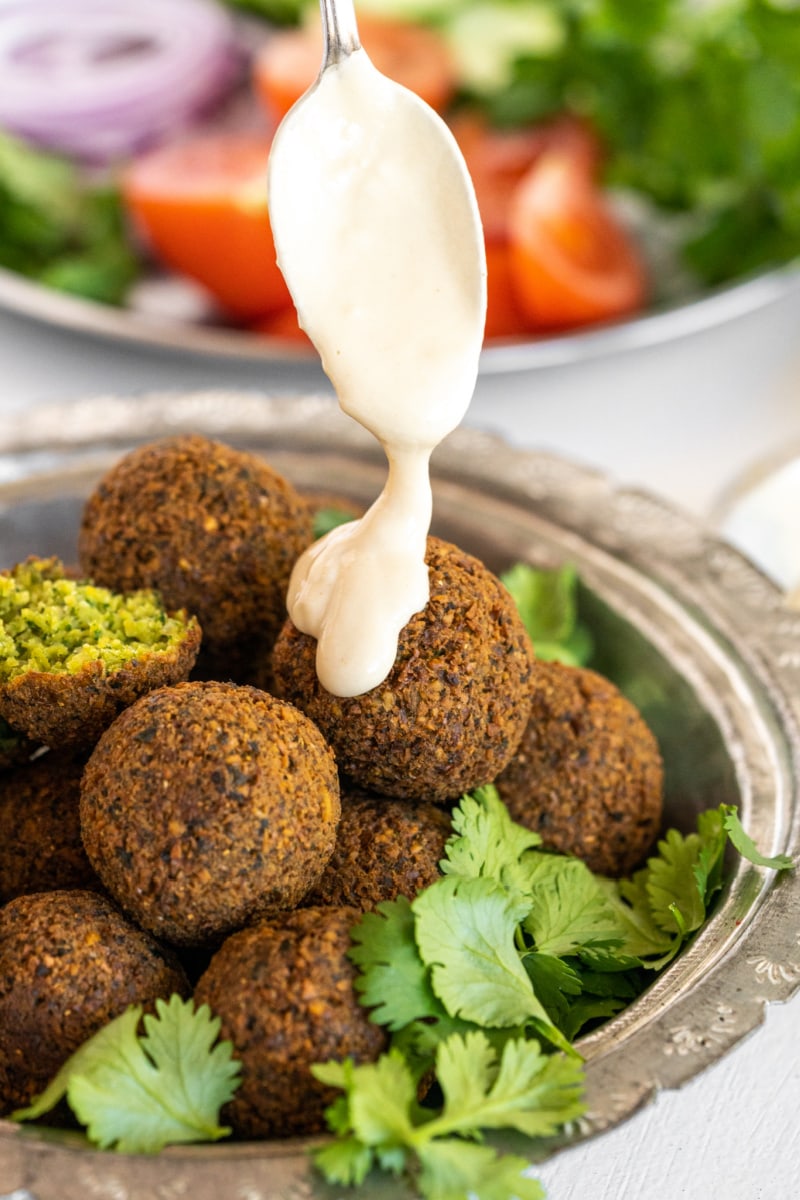 Serve Falafel with Tahini Sauce with more of your favorite Middle Eastern dishes. It's so delicious. Enjoy!
How to make Falafel
Step by step recipe for how to make Middle Eastern Falafel with Tahini Sauce.
Recipe Details
Servings:
5
servings (3 falafel + sauce per serving)
Ingredients
FALAFEL:
1

cup

dried chickpeas

¼

teaspoon

baking soda

cold water

¼

cup

chopped yellow onion

3

medium

garlic cloves,

peeled

1

teaspoon

ground cumin

1

teaspoon

ground coriander

1

teaspoon

salt

¼

teaspoon

black pepper

¼

teaspoon

cayenne pepper

¾

cup

lightly packed fresh parsley leaves

¾

cup

lightly packed fresh cilantro leaves

vegetable oil,

for frying
TAHINI SAUCE:
¼

cup

tahini,

stirred well

2

medium

garlic cloves,

minced

⅛

teaspoon

salt

1

tablespoon

freshly squeezed lemon juice

3

tablespoons

ice cold water,

plus more (as needed)
OPTIONAL FOR SERVING:
sliced cucumber, red onion, tomato, fresh herbs

Middle Eastern flatbread
Instructions
MAKE THE FALAFEL:
In a large glass bowl, combine the chickpeas and baking soda. Add enough cold water to cover by 4 inches. Cover the bowl and let the chickpeas soak for 24 hours. Rinse and drain the chickpeas.

Add the chickpeas, onion, garlic, cumin, coriander, salt, black pepper, and cayenne pepper to the bowl of a food processor. Pulse a few times until the chickpeas are broken up a bit.

Add the parsley and cilantro and process until the mixture comes together to form a dough. It should be a bit pasty in texture, but have some grit to it and not be completely pureed smooth. Transfer the chickpea mixture to a medium bowl and lay a piece of plastic wrap directly on top. Refrigerate until fully chilled, about 2 hours.

Use a 1½-tablespoon scoop to measure out the falafel mixture. Roll it into balls and slightly compact the balls with your hands

Add 3 inches of oil to a 5-quart pot. Heat the oil to 350 degrees F, and then add 5 to 8 falafel, making sure to not overcrowd the pan. Cook until the falafel are golden brown outside, about 2 minutes. Adjust the heat as necessary to try to keep the temperature between 350F to 375F (use a candy thermometer or deep-fry thermometer). Use a slotted spoon to remove the falafel from the oil and transfer them to a paper towel-lined plate to drain any excess oil. Cook the remaining falafel the same way.
MAKE THE TAHINI SAUCE:
Stir together the tahini, garlic, and salt in a small bowl. Stir in the lemon juice (the mixture will thicken). While stirring, add ice cold water 1 tablespoon at a time to thin out the sauce until it reaches a consistency where you can drizzle it.
SERVE:
Serve the falafel along with the falafel sauce to drizzle on top. Eat it along with fresh vegetables, such as cucumber, tomato, red onion, and/or fresh herbs. Or make it into a sandwich with Middle Eastern flatbread.
Notes
Nutritional information is for the falafel and sauce only, and it DOES NOT INCLUDE the oil they are fried in.

Do not use canned chickpeas for this recipe.

If preparing this recipe as gluten-free, be sure to use a brand of Tahini that is known to be GF.

If you double this recipe, you may need to process the falafel batter in 2 batches in a food processor.

The falafel shouldn't fall apart in the oil while cooking. However, if you're having trouble getting it to hold its shape before you fry it, you can add chickpea flour 1 teaspoon at a time until the falafel balls hold together.
Nutrition
Serving:
1
serving (3 falafel + sauce)
,
Calories:
232
kcal
,
Carbohydrates:
30
g
,
Protein:
11
g
,
Fat:
9
g
,
Saturated Fat:
1
g
,
Sodium:
600
mg
,
Potassium:
510
mg
,
Fiber:
8
g
,
Sugar:
5
g
,
Vitamin A:
1003
IU
,
Vitamin C:
18
mg
,
Calcium:
88
mg
,
Iron:
4
mg