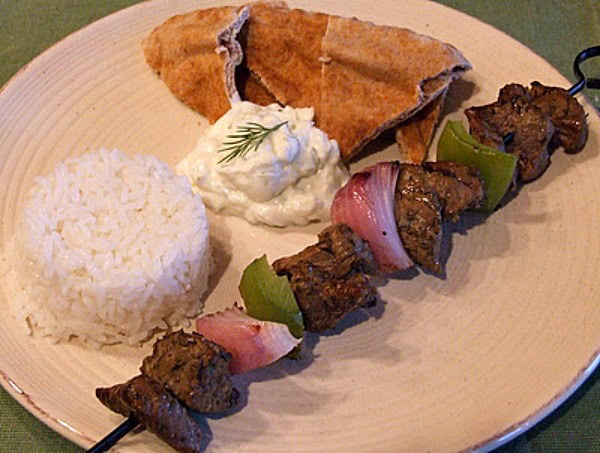 Lamb Souvlaki with Rice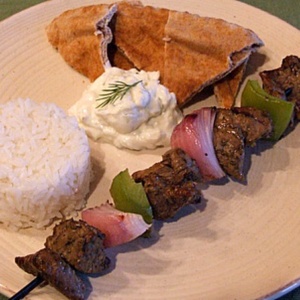 Yield:
6 servings
Prep Time: 20 min + marinating time
Cook Time: 8 min
Ingredients:
1 tablespoon extra-virgin olive oil
2 cloves garlic, minced
1 teaspoon dried oregano
1/2 teaspoon dried thyme
1 1/2 pounds boneless leg of lamb, trimmed of all visible fat, cut into 30 cubes
2 small red onions, cut into 6 wedges each
1 large green bell pepper, seeded and cut into 12 pieces
1/2 teaspoon salt
1/8 teaspoon freshly ground black pepper
3/4 cup long-grain white rice, cooked according to package directions
Directions:
1. To prepare the marinade, combine the oil, garlic, oregano and thyme in a large zip-close plastic bag; mix well. Add the lamb, seal the bag, and turn several times to coat. Marinate the lamb at room temperature 30 minutes or refrigerate overnight.
2. Preheat the broiler. Spray a broiler pan with nonstick spray; set aside.
3. Thread 5 lamb cubes, 2 onion wedges, and 2 bell pepper pieces onto each of 6 (12-inch) metal skewers, alternating the ingredients. Transfer the skewers to the broiler pan.
4. Broil the skewers 4 inches from the heat, turning at least once, until the vegetables are tender and the lamb is cooked through, 8 to 10 minutes. Serve with the rice.
Nutrition:
Nutritional Information per serving:
Serving size: 1 skewer + 1/4 cup rice
Calories per serving: 290
Fat per serving: 10.5g
Saturated Fat per serving: 4g
Sugar per serving: .5g
Sodium per serving: ,span class="sodium">271g
Fiber per serving: 1g
Protein per serving: 33g
Cholesterol per serving: 96mg
Carbohydrates per serving: 14g
WW POINTS per serving:
Points Plus Program: 7 Old Points Program: 7