Pastitsio (Greek Lasagna)
This recipe for traditional Pastitsio (Greek Lasagna) is the perfect way to celebrate the debut of the movie: My Big Fat Greek Wedding 2, opening in theaters nationwide on March 25th!  Today's post is being sponsored by Universal Pictures.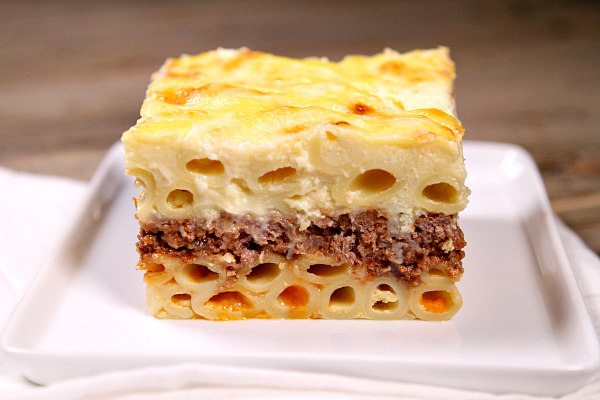 Did you see My Big Fat Greek Wedding… the first one?  Of course you did, right?  Well movie #2 is coming out next week, so it might be fun to celebrate by making a big fat Greek dinner for your family!  Pastitsio is a favorite traditional Greek dinner recipe.  It's a Greek version of lasagna- characterized by a white and creamy bechamel sauce used in place of marinara and a hint of cinnamon.
Layers are as follows:  noodles tossed in egg are topped with Greek cheese, then a generous layer of meat sauce, then more noodles and cheese, and then a layer of the bechamel sauce and more cheese!
It's baked for 40 to 45 minutes, blending all of those layers together to create a fabulous meal.
The best tip I received about making Pastitsio is to make it early in the morning (or the night before), and then warm up individual slices when ready to eat.  You certainly don't have to make it this way, just know that the pasta dish will be more "loose" and will not likely cut into neat squares as you see in the photos here.  It will be tremendously delicious either way you decide to make it!
I do love how the layers are clearly seen in the slices.  They're a little mesmerizing.
My family LOVED, LOVED, LOVED this recipe.  The bechamel sauce is a welcome change over the usual marinara, the hint of cinnamon in the meat layer is an interesting addition, and the Greek cheese connecting all of the layers is delicious!  Bring on the movie!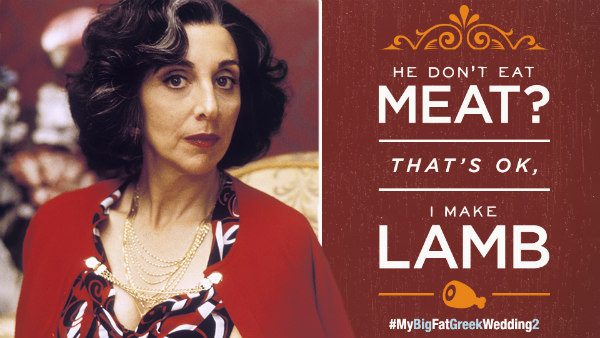 If you saw the first Big Fat Greek Wedding, I'm sure you remember this famous line!
ABOUT THE MOVIE
My Big Fat Greek Wedding 2 – In Theaters March 25, 2016
Gold Circle Entertainment and HBO present a Playtone production of My Big Fat Greek Wedding 2, the long-awaited follow-up to the highest-grossing romantic comedy of all time.  Written by Academy Award® nominee Nia Vardalos, who stars alongside the entire returning cast of favorites, the film reveals a Portokalos family secret that will bring the beloved characters back together for an even bigger and Greeker wedding.
One of my good friends from college came from a Greek family.  I remember she felt HUGE PRESSURE to date ONLY GREEK guys.  Her family was very concerned about her marrying a Greek boy.  It helped me understand the movie, lol!
I'm absolutely thrilled to see so many of the same actors in #2.  I can't wait to see the new movie- how about you??
Yield: 8 to 10 servings
Prep Time: 40 minutes
Cook Time: 45 minutes
Pastitsio (Greek Lasagna)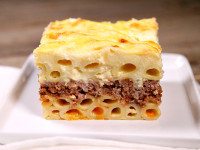 Ingredients:
Bechamel Sauce:
6 tablespoons unsalted butter
3/4 cup all-purpose flour
1 quart whole milk, warmed until hot
1 1/2 teaspoons salt
3 large eggs
Main dish:
4 tablespoons unsalted butter
2 medium onions, chopped
2 pounds 90% lean ground beef
1/8 teaspoon ground cinnamon
salt and pepper, to taste
1/2 cup water
2 tablespoon tomato paste
1 pound ziti pasta
3 large eggs, beaten
1 1/2 teaspoons salt
12 to 16 ounces Kasseri or Kefalotiri cheese, grated (see notes below)
Directions:
Prepare the bechamel sauce:  Melt the butter in a medium saucepan.  Whisk in the flour and then gradually whisk in the hot milk.  Cook, whisking constantly, until the sauce is smooth and thickened.  Stir in the salt, remove from heat and let cool.  When the sauce is lukewarm, whisk in the eggs.  Set aside.
Prepare the meat layer:  Melt 4 tablespoons butter in a large skillet.  Add the onions and saute until softened and golden.  Crumble the beef into the skillet and cook with the onions until the beef is browned.  Stir in the cinnamon, salt and pepper.  Stir in the water and tomato paste, and simmer for 5 minutes.  Set aside.
Prepare the pasta layer:  Cook ziti according to directions on the package.  Drain and rinse with cool water.  When pasta has cooled down, stir in the beaten eggs and 1 1/2 teaspoons salt.
Preheat your oven to 350 degrees F.  Spray a deep 9x13-inch casserole dish with nonstick spray.  You really need a deep casserole dish for this recipe (deeper than the usual 9x13-inch pyrex).
Assemble the dish:  Scoop half of the pasta into the bottom of your prepared dish.  Sprinkle generously with cheese.  Spoon on the meat mixture to create an even layer; sprinkle with another layer of cheese.  Scoop the remaining pasta on top of the meat and sprinkle with more cheese!  Top with the cream sauce and sprinkle with the remaining cheese.
Bake 45 minutes, or until the sauce is bubbly and golden on top.  Let sit at room temperature for at least 20 minutes before serving (but it is suggested that you refrigerate to let the layers set... and then warm up later to serve).
*Whole Foods carries Kasseri cheese- or check a specialty cheese shop.  If you have trouble locating Greek cheeses, you can sub Parmesan.
SOURCE:  RecipeGirl.com (traditional recipe shared from a Greek family)
30 Responses to "Pastitsio (Greek Lasagna)"
Leave a Comment