Here's a buttery shortbread-type cookie recipe:  Greek Butter Cookies
This recipe has been featured in a post on The Recipe Girl blog: Greek Dinner Party- The Desserts!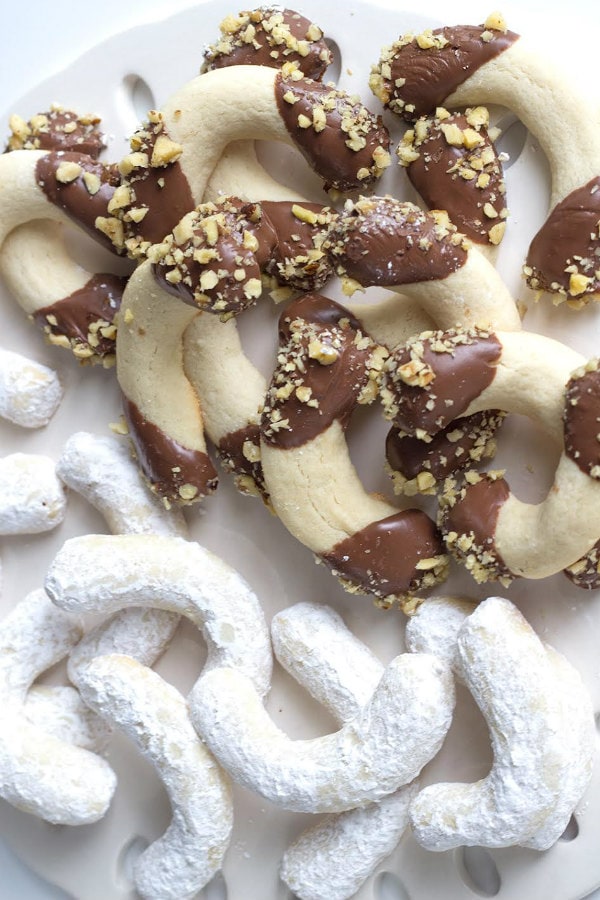 Greek Butter Cookies
Great butter cookie! We dipped some in chocolate and rolled a few in powdered sugar too.
Yield:
About 39 cookies
Prep Time: 25 minutes
Cook Time: 10 minutes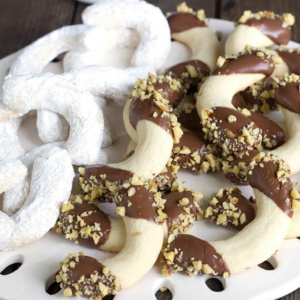 Ingredients:

1 cup (2 sticks) butter, softened
3/4 cup granulated white sugar
1 large egg
1/2 teaspoon vanilla extract
1/2 teaspoon almond extract
2 1/4 cups all-purpose flour
1/2 cup powdered sugar for rolling

Instructions:

Preheat the oven to 400 degrees F. Grease cookie sheets, or line with parchment paper.
In a medium bowl, cream together the butter, sugar and egg until smooth. Stir in the vanilla and almond extracts. Blend in the flour to form a dough. You may have to knead by hand at the end as the dough will be crumbly before it takes shape as a ball of dough. Take about a tablespoon of dough at a time and roll into 4-inch logs, then curl them slightly to make a crescent shape. Place cookies 1 to 2 inches apart onto the prepared cookie sheets.
Bake for 10 minutes in the preheated oven, or until lightly browned and firm. Allow cookies to cool completely before dusting with confectioners' sugar (or dip in chocolate per the instructions in the notes below).

Tips:
*Try dipping some in chocolate (1/2 cup melted chocolate chips) and edging them in 1/2 cup finely chopped walnuts.
SOURCE: RecipeGirl.com