Here's a dinner recipe that I absolutely LOVE:  Greek Spinach Pie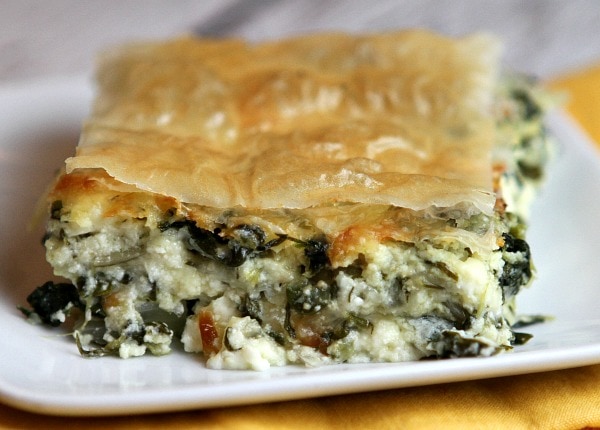 I've always, always been drawn to Greek food of every kind.  I love lemon.  I love spinach.  I love feta cheese.  I love dill.  And I adore lamb!  So if you were taking me on a hot date and you took me to a Greek restaurant, I guess you could say I'd be pretty happy.  (I'm married though… so that hot date would have to be with my hot husband).  This Greek Spinach Pie recipe is a homemade version of the traditional spanakopita with a couple of twists.  This version utilizes three cheeses:  feta, ricotta and jack.  There is dill.  There is sauteed onion.  This pie makes a great dinner item (my family loves it so I'm going to call it family-friendly!)  It's especially awesome served with Greek Lemon Chicken Orzo Soup!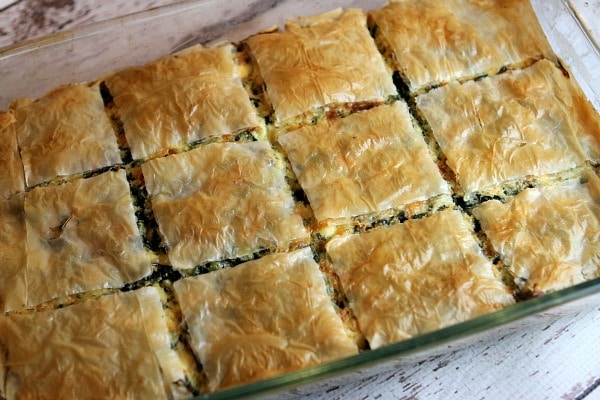 It's made layered with phyllo, melted butter and the spinach- cheese filling.  Before you bake it, you score the pastry with a knife so the baked squares will be easy to cut out of the pan for serving.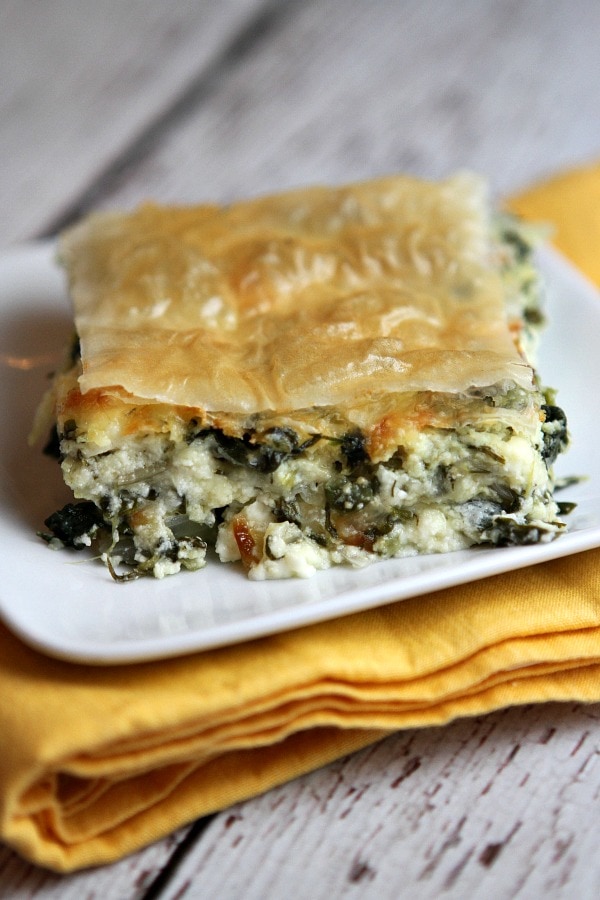 The baked pie pieces are delicious!  The filling is tender and cheesy and wonderful, and it's layered with crispy, golden phyllo.  It's a neat twist on the classic Greek spinach pie.  I hope you like it as much as I do!
Yield: 12 servings
Prep Time: 30 minutes
Cook Time: 50 minutes
Greek Spinach Pie
Everyone in my family loves this Spinach Pie!  And leftovers are wonderful too!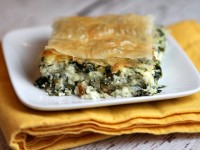 Ingredients:
PHYLLO PASTRY TOPPING:
6 sheets phyllo pastry (about 17x13-inches each), defrosted if frozen 4 tablespoons unsalted butter, melted
FILLING:
1 tablespoon olive oil
1 large onion, finely chopped
Two 10-ounce packages frozen, chopped spinach, defrosted
2 cups ricotta cheese
8 ounces feta cheese, crumbled
8 ounces jack cheese, grated
2 large eggs
3 tablespoons finely chopped fresh dill
3 tablespoons finely chopped fresh parsley
1/4 teaspoon salt
1/4 teaspoon freshly ground black pepper
Directions:
Preheat oven to 350°F. Butter a 13x9x2-inch baking dish or spray with nonstick spray.
In a medium skillet, heat the olive oil over medium heat for about 1 minute. Add the onions and cook until softened, about 5 minutes, stirring often. Set aside.
Squeeze the liquid out of the thawed spinach.
In a large bowl, stir together onion, drained spinach, ricotta, feta, jack cheese, eggs, dill, parsley, salt and black pepper. Spread half of filling in baking dish. Cover with 2 pieces of the phyllo pastry (just tuck the edges in on the sides). Brush pastry lightly with melted butter. Top with one piece of phyllo. Tuck in any overhanging edges. Spread remaining filling over phyllo. Top with 2 more pieces of phyllo and brush lightly with butter. Top with remaining phyllo sheet and brush with butter. Use a sharp knife to mark 12 squares by cutting through the top layers of pastry.
Bake until phyllo topping is golden and filling is bubbling gently, about 45 minutes. Use a sharp knife to cut through the marked squares. Serve warm.
Tips:
*If covered tightly and refrigerated, this pie can be assembled early in the day and baked later. Cold pot pie will probably need to bake an additional 5 minutes.
More Greek-style recipes you might enjoy:
41 Responses to "Greek Spinach Pie"
Leave a Comment