I have a DELICIOUS recipe for salmon lovers + Mexican food lovers today: Baked Salmon Taquitos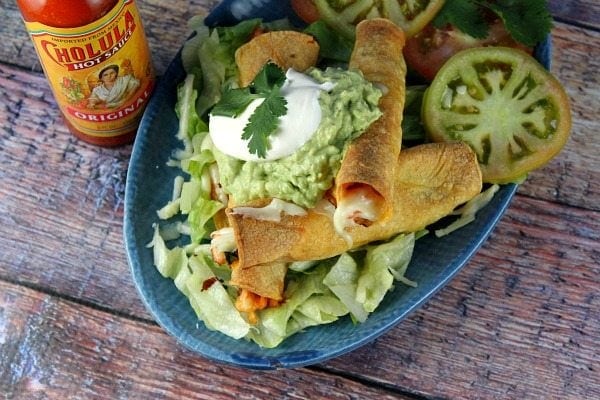 My husband texted me a photo at lunchtime from his business road trip to the Bay Area yesterday. The photo pictured rolled tacos with guacamole from a favorite Mexican restaurant of ours in Sacramento. I stared at the picture and felt anger boiling up inside of me. I wanted those rolled tacos immediately!! Since moving from San Diego to Reno, we have yet to find really decent fast-food Mexican food. We grab it in other cities every chance we get! I did what any food-obsessed food writer would do. I marched myself to the store and decided right then and there that my son and I would be having rolled tacos for dinner. The fresh king salmon looked so good, so I decided to use that in my newest recipe instead of the typical chicken or beef.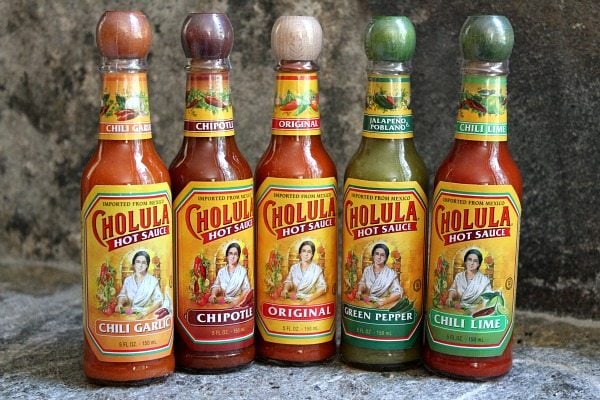 My friends at CHOLULA contacted me last week to see if I'd like to partner with them to create a couple of recipes. CHOLULA, BABY! "Of course!" I said. Did you have any idea that there are 5 varieties??? >> Original, Chili Lime, Chipotle, Chili Garlic and the newest flavor, Green Pepper will hit stores in June. I love this stuff because it has ZERO calories and it adds a huge flavor punch to food (and it happens to be gluten-free, too!)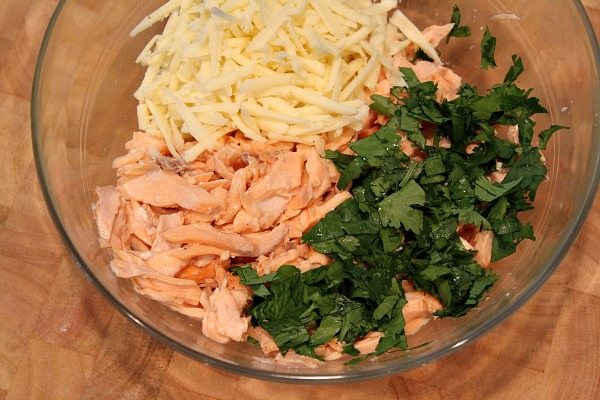 So here we go with the tacos: Baked salmon is flaked and mixed with fresh cilantro and jack cheese.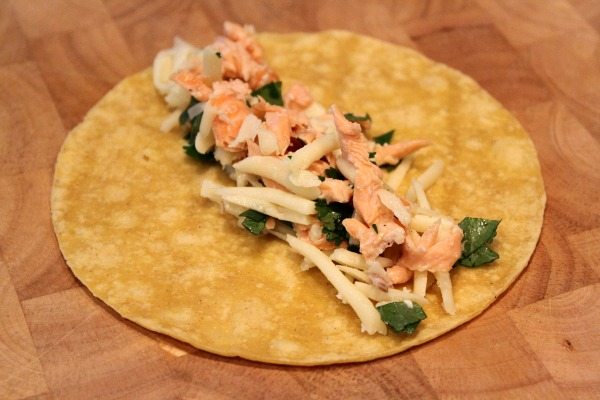 That filling mixture is sprinkled down the middle of a softened corn tortilla.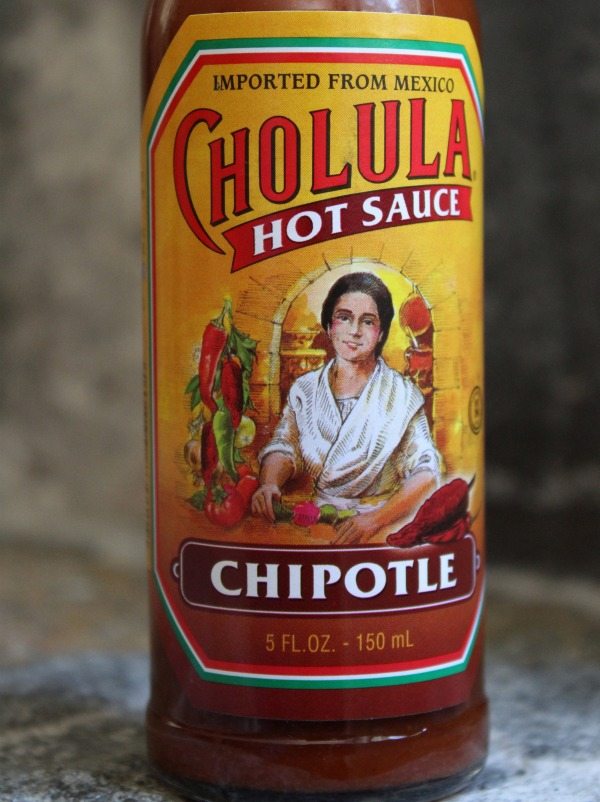 This is the lovely variety I chose to highlight in this recipe. The Chipotle-flavor is basically their Original + smoky + sweetness from real chipotle peppers. It's a tough call, but it's probably my favorite flavor of the bunch.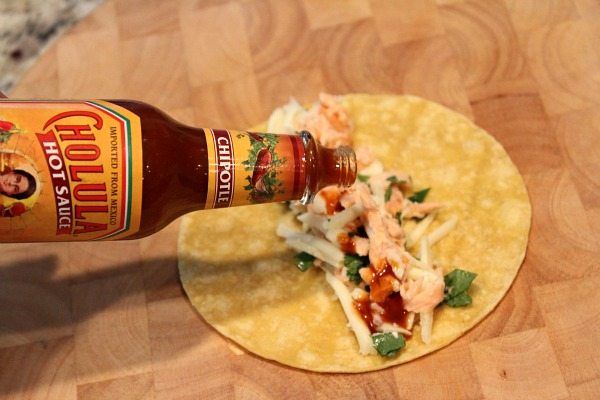 A generous does of the Cholula Chipotle ensures that these tacos have good flavor when you bite into them. Don't worry… the Chipotle variety is not super spicy (says my 12-year old). Some people typically use Cholula to just sprinkle on top of things (for use as a condiment). It was better to stuff as much of it as possible inside the taco!
Rolled up tightly, these guys are placed seam-side-down on a baking sheet, sprayed lightly with cooking spray, then baked until crisp.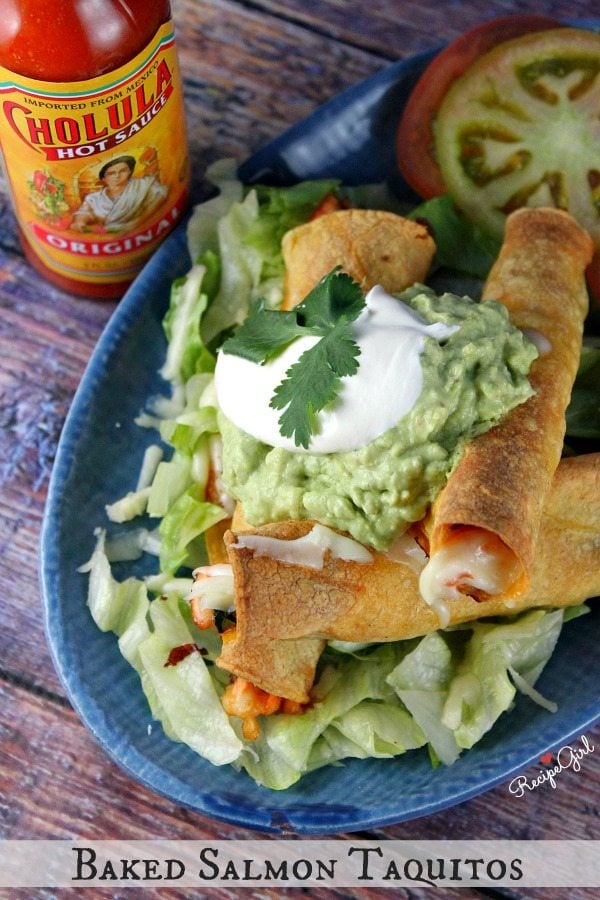 While they are baking, you can make the guacamole (I include instructions below on whipping up a simple guac to dip these tacos in). Serve with additional Cholula, if desired… for those of you who like a little more spice in your life. It's safe to say that these totally satisfied my mass-craving for rolled tacos that my husband bestowed upon me. After speaking to him later in the day, HE was bummed that he didn't get to sample this new recipe for Salmon Taquitos- ha! As far as taste goes, these are an awesome seafood taco with great, added flavor from the Cholula Chipotle Hot Sauce. Enjoy!
Baked Salmon Taquitos
Salmon isn't what you'd typically expect in taquitos, but it's delicious!
Recipe Details
Servings:
6
servings (2 taquitos per serving)
Ingredients
TAQUITOS
¾

pound

baked salmon,

flaked apart (see tips below)

1

cup

shredded Monterey Jack cheese

¼

cup

chopped fresh cilantro

12

small (5½ inch)

corn tortillas

1

bottle

Chipotle-flavored Cholula Hot Sauce

cooking spray
SIMPLE GUACAMOLE
2

medium

ripe avocados

⅓

cup

sour cream

½

medium

lime,

juiced

2

teaspoons

Original Cholula Hot Sauce

salt and pepper,

to taste
Instructions
TAQUITOS
Preheat oven to 400 degrees F. Line a baking sheet with foil and spray with cooking spray.

In a medium bowl, combine the salmon, cheese and cilantro. Place 2 corn tortillas at a time in between two damp paper towels and microwave for 20 to 30 seconds to soften them (this helps to prevent cracking when rolling).

Place one tortilla on a working surface. Scoop about ¼ cup of the salmon filling mixture down the center of the tortilla, sprinkle a generous dose of Chipotle Cholula on top, then roll tightly. Place the taquito seam-side down on the prepared baking sheet. Repeat with the remaining tortillas, filling and hot sauce. Spray the rolled tortillas lightly with cooking spray. Bake 20 to 25 minutes, or until crisp.
SIMPLE GUACAMOLE
While the taquitos are baking, use a fork to mash the avocado in a medium bowl. Mix in sour cream, lime juice, hot sauce, salt and pepper.

Serve taquitos warm with a big scoop of the guacamole for dipping.
Notes
For baked salmon you can buy a chunk already baked at Trader Joe's. To make your own (which is what I did): Preheat the oven to 450. Salt and pepper the salmon, place skin-side-down in a glass baking dish. Bake 12 to 15 minutes, or just until cooked through but still tender. You don't want to over-bake it.
Nutrition
Serving:
1
serving
,
Calories:
388
kcal
,
Carbohydrates:
28
g
,
Protein:
20
g
,
Fat:
23
g
,
Saturated Fat:
7
g
,
Polyunsaturated Fat:
4
g
,
Monounsaturated Fat:
10
g
,
Cholesterol:
55
mg
,
Sodium:
1526
mg
,
Potassium:
731
mg
,
Fiber:
8
g
,
Sugar:
1
g
,
Vitamin A:
394
IU
,
Vitamin C:
9
mg
,
Calcium:
209
mg
,
Iron:
2
mg
Disclosure: I'm working with Cholula Hot Sauce to create recipes with their products. This is a product that I have used in my RecipeGirl kitchen for years- we love it! All opinions shared are my own.