If you are a fan of citrus, then you'll love these Iced Lemon Lime Cookies!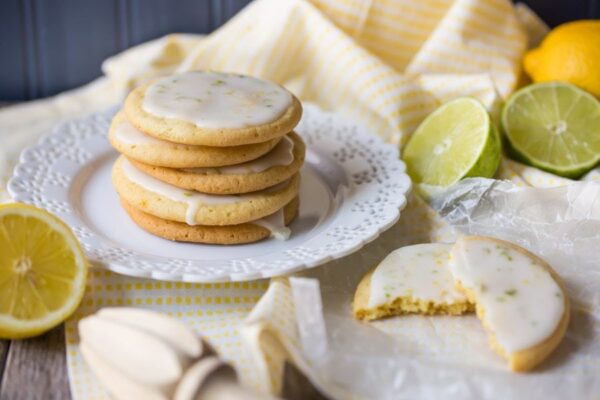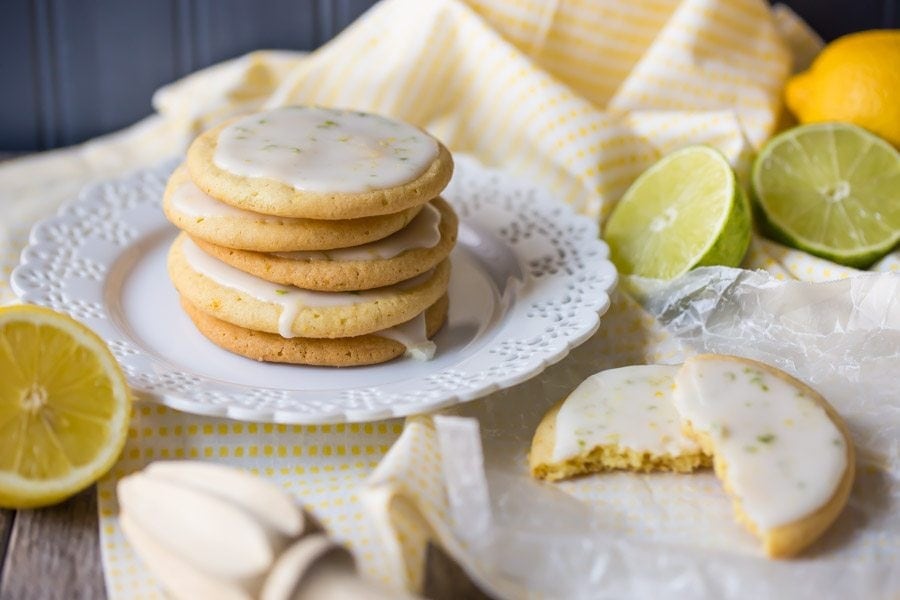 There's nothing better than a soft, chewy cookie, am I right?  And when the weather is warm and sunshine-y, citrus just feels so right.
These lemon lime cookies really hit the spot.  I made up a big batch of them for my family, and they've been eating them up ever since.  I've been sending my kids to day camp with them in their lunchboxes, and I bet they'd be great for poolside snacking too.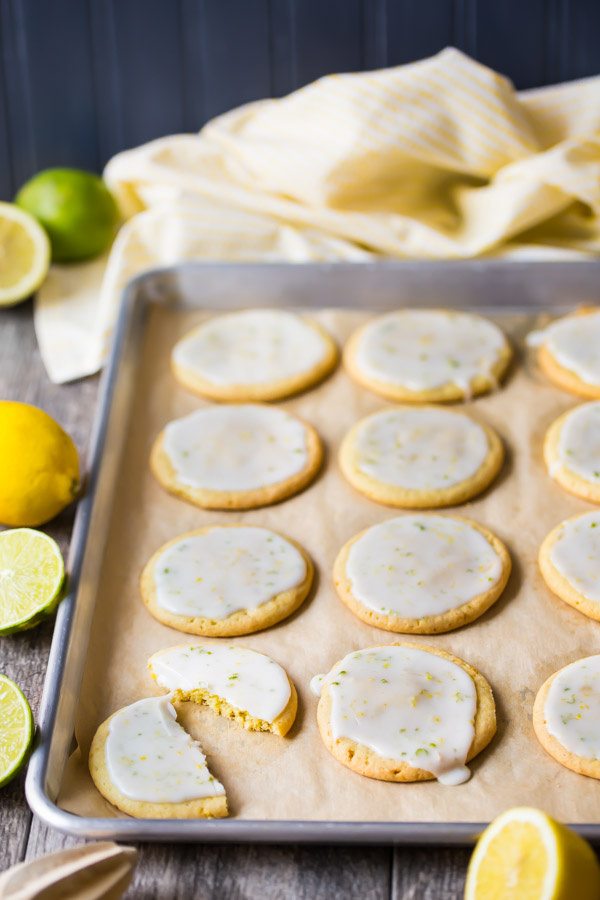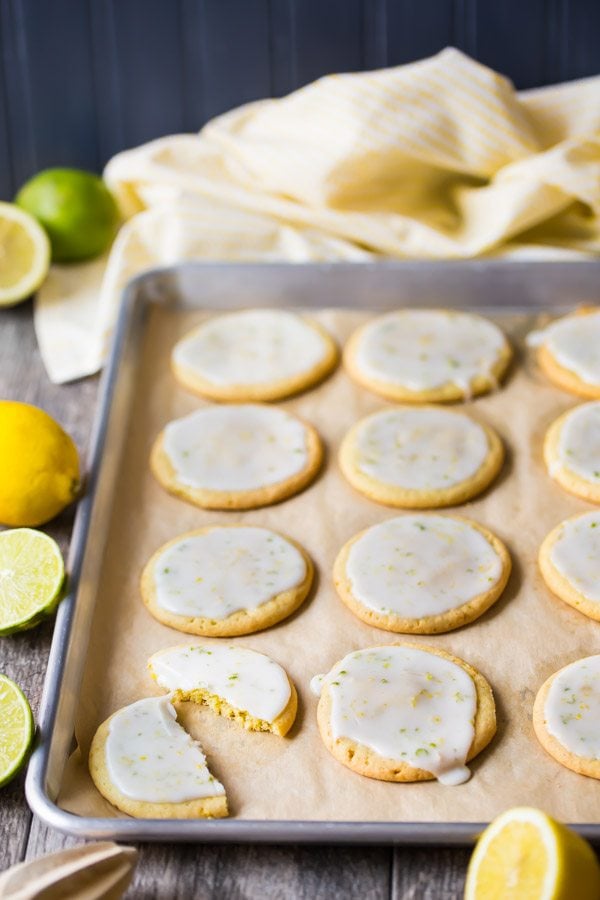 The cookies are positively loaded with bright lemon and lime zest, and the simple icing on top is too, along with fresh lemon juice and lime juice.  They really pack a pucker-y citrus punch!
And they're super simple to make.  Just cream the butter and sugar together until very pale and fluffy, then mix in the egg.  The extra yolk keeps these cookies soft and chewy.  Then, in goes the flour, cornstarch, baking soda, and salt.  Scoop out the batter, bake, and top with glaze!
You'll love having a batch of these citrus-y cookies to nibble on!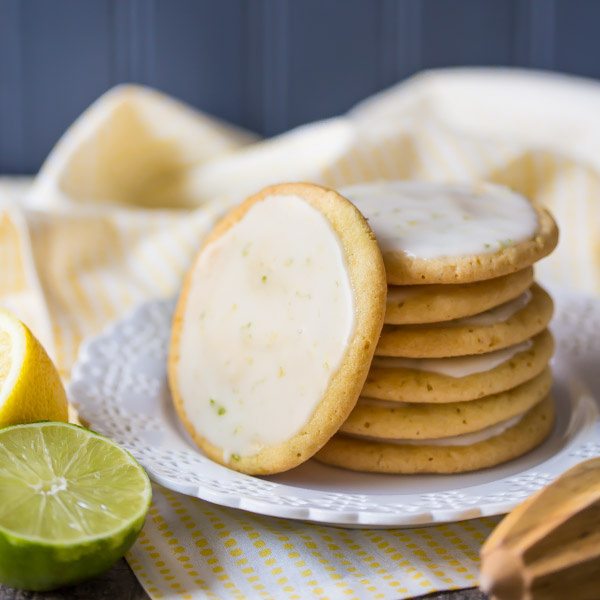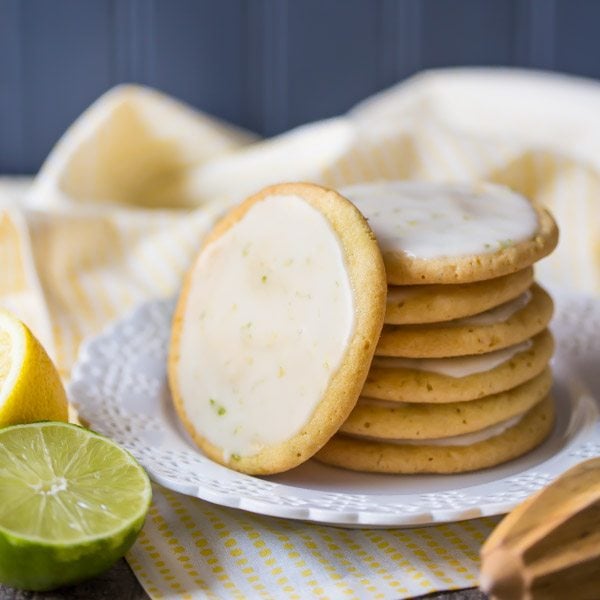 Iced Lemon Lime Cookies
Yield:
2 dozen 3-1/2 inch diameter cookies
Prep Time: 40 minutes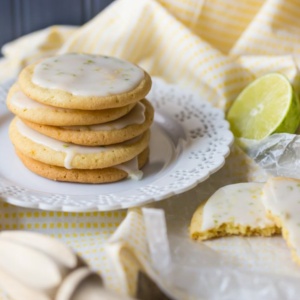 Ingredients:

For the cookies:

3/4 cup (1 1/2 sticks) unsalted butter, softened
1 cup granulated white sugar
1 large Eggland's Best egg
1 large Eggland's Best egg yolk
zest of one lemon
zest of one lime
2 cups all-purpose flour
1/4 cup cornstarch
1 teaspoon baking soda
1/2 (scant) teaspoon kosher salt

For the icing:

2 cups powdered sugar
juice of one lemon
juice of one lime
zest of half a lemon
zest of half a lime

Instructions:

To make the cookies:

Preheat the oven to 350 degrees F, and line baking sheets with parchment paper.
In a large bowl, use an electric mixer to cream the butter and sugar together until very pale and fluffy (about 5 minutes).
Stir in the egg and the yolk until completely incorporated (about 2 minutes).
Add the citrus zest, flour, cornstarch, baking soda, and salt, and stir together until just combined.
Use a 1.5 tablespoon scoop to portion out the dough on the prepared cookie sheets.
Bake for 12 to 16 minutes, or until the cookies are just beginning to turn golden around the edges, but are still soft in the center.
Cool completely, then top with icing.

To make the icing:

Stir the powdered sugar, citrus juice, and citrus zest together until smooth.
SOURCE: RecipeGirl.com
Here are a few more cookie recipes you might enjoy: