This recipe has been featured in the following posts on The Recipe Girl blog: Labor Day Gourmet Grilling Party and Leftover Watermelon Recipe.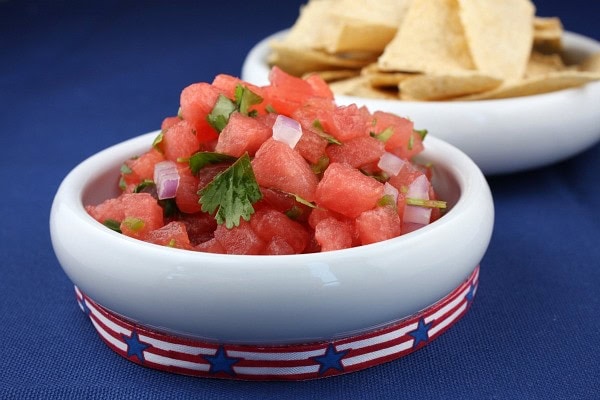 Watermelon Salsa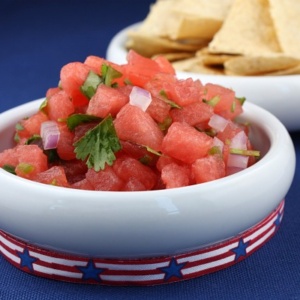 If you find yourself with a few wedges of watermelon left over from a summertime picnic, be sure to use it up making this watermelon salsa appetizer. It's so refreshing, and it's a nice change from tomato-based salsa.
Yield:
8 servings (1/2 cup per serving)
Prep Time: 15 min
Ingredients:
3 cups finely diced seedless watermelon
1 large jalapeno pepper, seeded and minced
1/3 cup chopped fresh cilantro
1/4 cup finely minced red onion
1/4 cup freshly squeezed lime juice
1/4 teaspoon salt, or to taste
Directions:
1. In a medium bowl, toss watermelon, jalapeno, cilantro, and onion with lime juice. Season with salt. Serve at room temperature (or chilled).
Tips:
*Use a combination of yellow and pink watermelon to make this a really colorful salsa!
*Be sure to take out the seeds and the inside membrane from the pepper... that's the extra-hot stuff.
*It's okay to make this early in the day and let it chill until serving. I've found that it's also good the following day.
*Serve with tortilla chips or slices of jicama.
Nutrition:
Nutritional Information per serving:
Serving size: 1/2 cup
Calories per serving: 26
Fat per serving: 0g
Saturated Fat per serving: 0g
Fiber per serving: 1g
Protein per serving: 1g
Cholesterol per serving: 0mg
Carbohydrates per serving: 7g
WW POINTS per serving:
Points Plus Program: 0 Old Points Program: 0