Preparing fresh salsa couldn't be any easier.  Here is my recipe for Salsa Fresca.
Here in Southern California, Mexican food is a pretty big deal. Restaurants of the Mexican sort are plentiful, and many of them are very inexpensive. Tortillas of every make and grind are easily available. Avocados are treasured and loved and affordable year-round. Egg burritos are a welcome breakfast item. Everyone is familiar with "Carne Asada." The idea of a "fish taco" is not unusual or gross. And salsa rarely comes from a jar.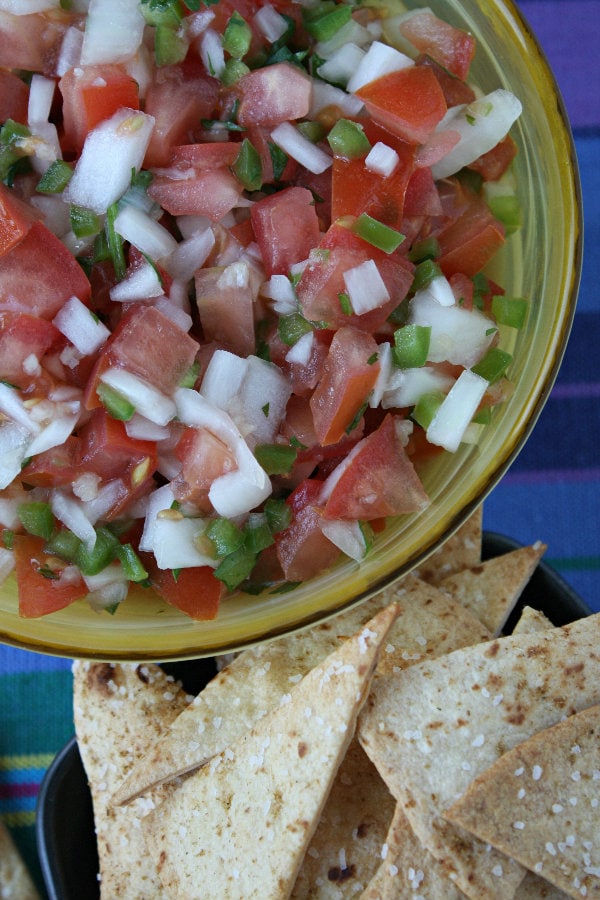 "Salsa Fresca" translates to "Fresh Sauce" to top Mexican food. When I worked for a caterer for a few years back in college, we made gallons upon gallons of this stuff for too many parties to count. I could make it in my sleep.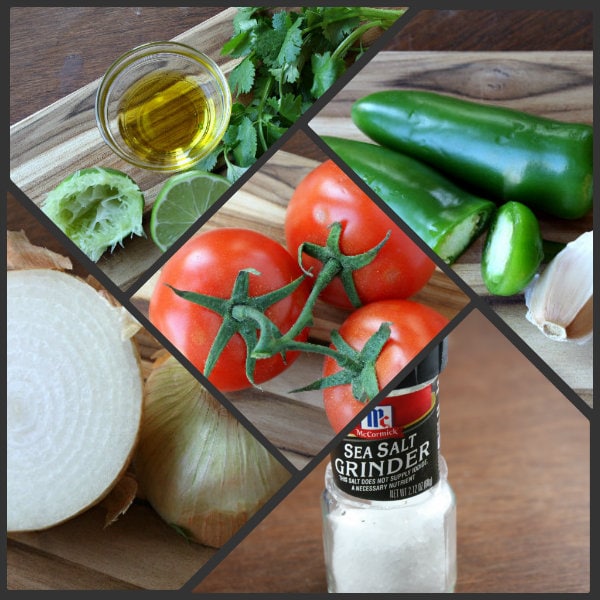 You'll need these simple and fresh ingredients to make your own fresh salsa.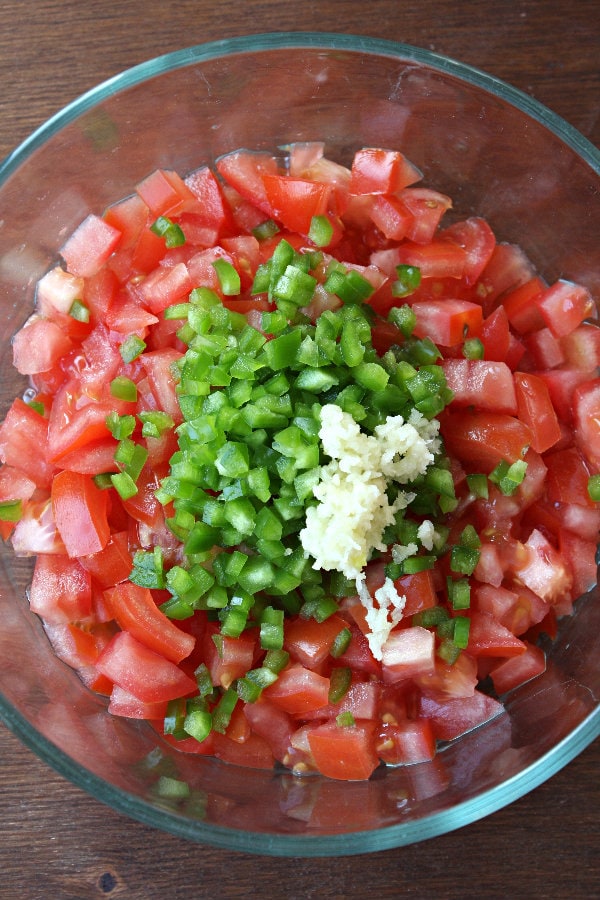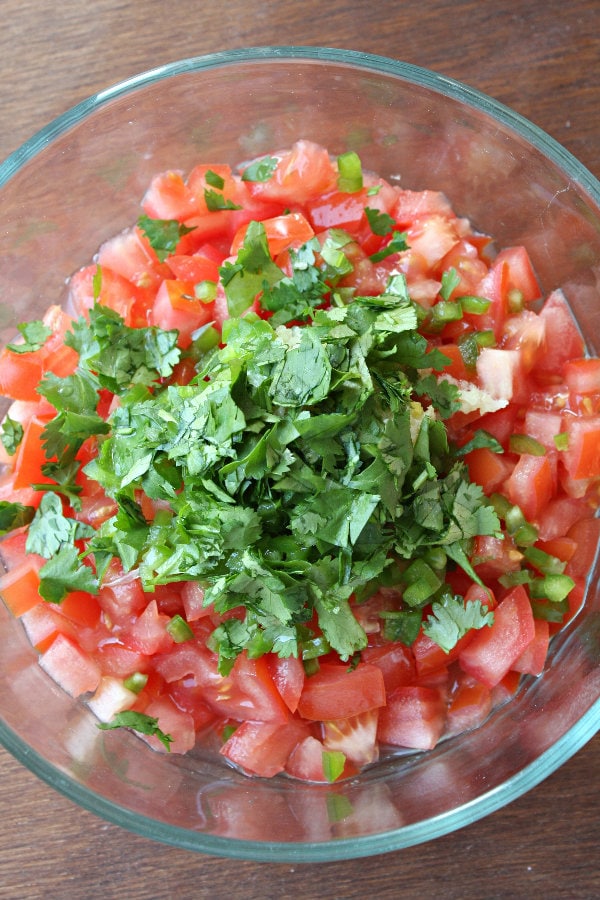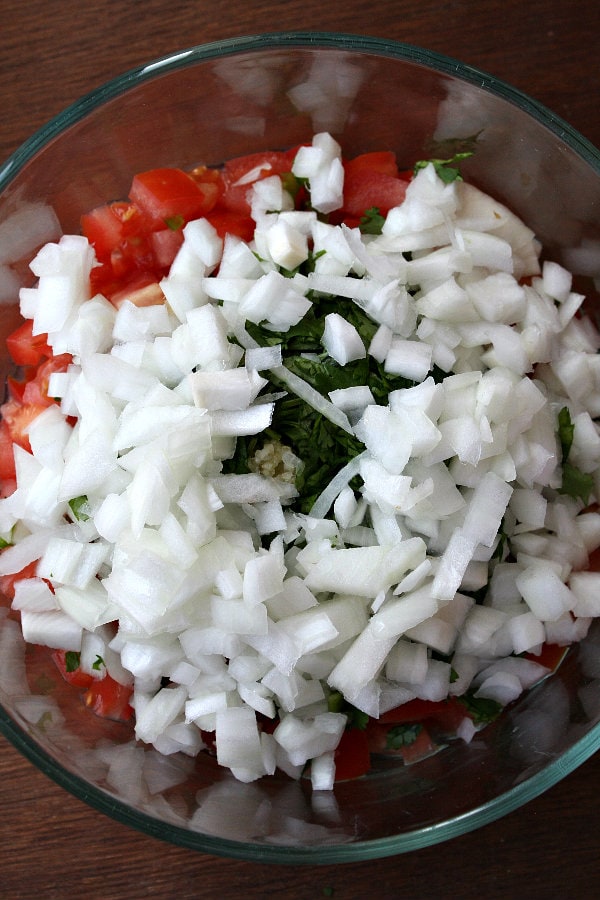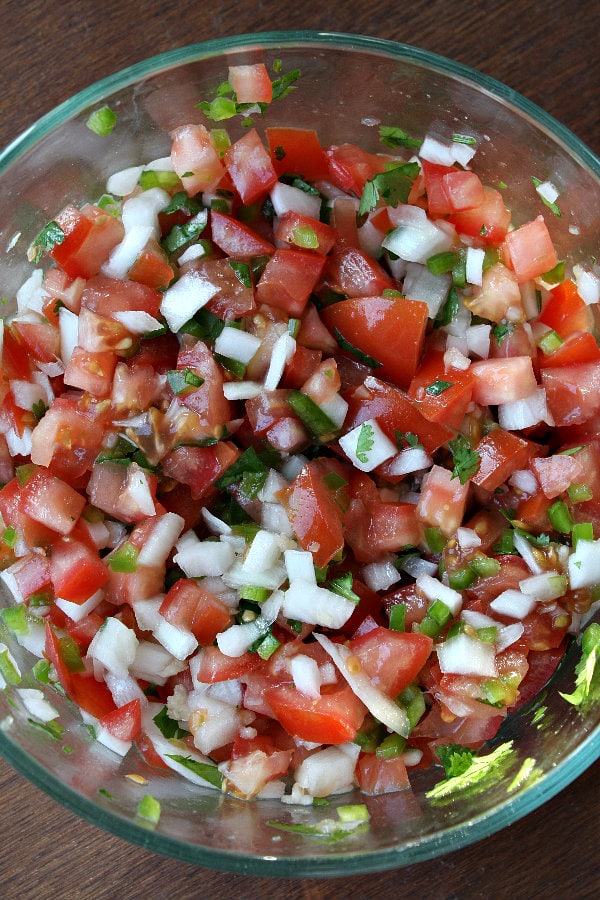 Pile all of the ingredients in one big bowl, give it a stir, add a little sea salt to taste, and that's it!  I prefer to make my salsa a couple of hours ahead of serving time– just to give the flavors a chance to blend together.  Just cover the bowl with plastic wrap and keep it chilled until you're ready to serve.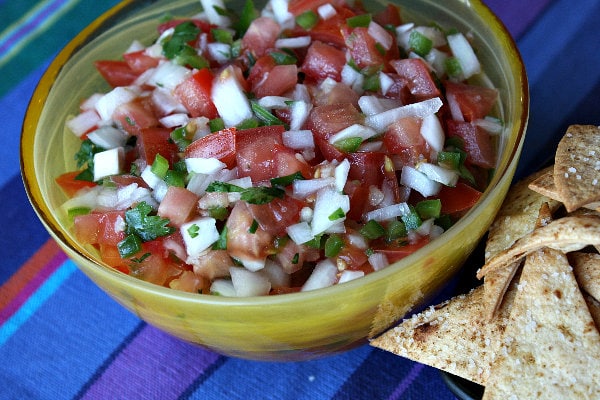 This can be served with tacos and burritos, and one of my favorite ways to enjoy it is to add a big spoonful on top of my scrambled eggs.  Of course the most popular way to enjoy Salsa Fresca is as an appetizer, alongside chips for dunking.
Shown here, I made my own chips using low carb flour tortillas.  I cut them into wedges, placed them on a baking sheet, sprayed them with nonstick olive oil spray and gave them a light sprinkle of cumin powder and kosher salt.  Then I baked them in the oven at 400 degrees F. until they became crisp (5 to 7 minutes).
And since I'm predicting that someone will ask, nope… it's not spicy.  I use two medium jalapeño peppers (seeds and ribs completely removed), and my 10 year old gobbles this stuff like there's no tomorrow.
Don't be afraid of the jalapeños, but do be careful in handling them.  The spice gets on your fingers and you need to be careful not to rub your eyes until you can successfully rid your fingers of that spicy stuff (or better yet- use plastic gloves when handling them).
Salsa Fresca
Such a wonderful recipe to make in the summertime when tomatoes are fresh and flavorful, this recipe is best when made several hours ahead and is given time to marinate.
Yield:
2 cups (16 servings)
Prep Time:15 minutes + chilling time
Ingredients:
3 medium vine-ripened tomatoes, finely chopped
1 medium onion, finely chopped
2 cloves garlic, minced
2 to 3 fresh jalapeño peppers, seeded (ribs removed too) and finely chopped
1 tablespoon olive oil
1 tablespoon freshly squeezed lime juice
2 tablespoons chopped fresh cilantro
sea salt to taste
Directions:
In large glass bowl, combine all ingredients and season to taste with salt.
Refrigerate for at least one hour before serving.
Tips:
This is great to prepare the evening before your event and let it marinate and chill overnight.
Try adding corn or black beans to your salsa for a different twist.
This salsa will keep for several days (covered) and kept refrigerated.
Nutrition:
Nutritional Information per serving (Serving size: 2 tablespoons

) 

Calories:

14, 

Fat:

.88g, 

Saturated Fat:

.12g, 

Sugar:

.69g, 

Fiber:

.3g, 

Protein:

.22g, 

Cholesterol:

0mg, 

Carbohydrates:

1.6g

Weight Watchers POINTS per serving: Freestyle SmartPoints: 1 (if you omit the olive oil-- this recipe has ZERO points), SmartPoints 0, Points Plus Program: 0, Old Points Program: .5
SOURCE: RecipeGirl.com
Here are a few more recipes for salsa you might enjoy: