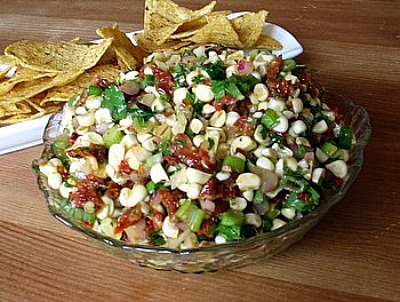 Fresh Corn & Sundried Tomato Salsa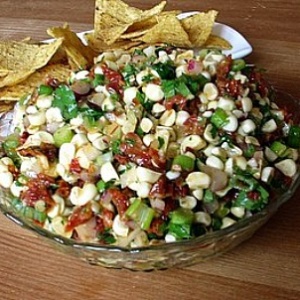 This is a delicious and very colorful salsa. It's perfect for making in the summertime, when fresh corn is at its best.
Yield:
3 cups
Prep Time:20 min
Ingredients:
1 1/2 cups fresh corn kernels
6 Tablespoons sun-dried tomatoes packed in oil, drained & minced
6 Tablespoons thinly sliced green onions
6 Tablespoons finely chopped red onion
3 cloves garlic, minced
1 Tablespoon seeded jalapeño, minced
3 Tablespoons fresh lime juice
1 1/2 Tablespoons white wine vinegar
6 Tablespoons olive oil
6 Tablespoons finely chopped fresh cilantro
Directions:
1. Combine all salsa ingredients in a medium bowl. Set aside at room temperature for about an hour. Serve!
Tips:
*To cut corn easily, cut end off of the corn and set it cut-end-down inside a shallow bowl. Use sharp knife to cut down from top to bottom and let the corn kernels gather in the bowl.
*If the onions are bothering you while chopping them, put lime juice directly on the chopped onions- it neutralizes them.
*If you're not a cilantro fan, you can substitute fresh Italian parsley and fresh oregano.