Watermelon Caprese is a totally delicious way to eat Caprese salad in the summertime.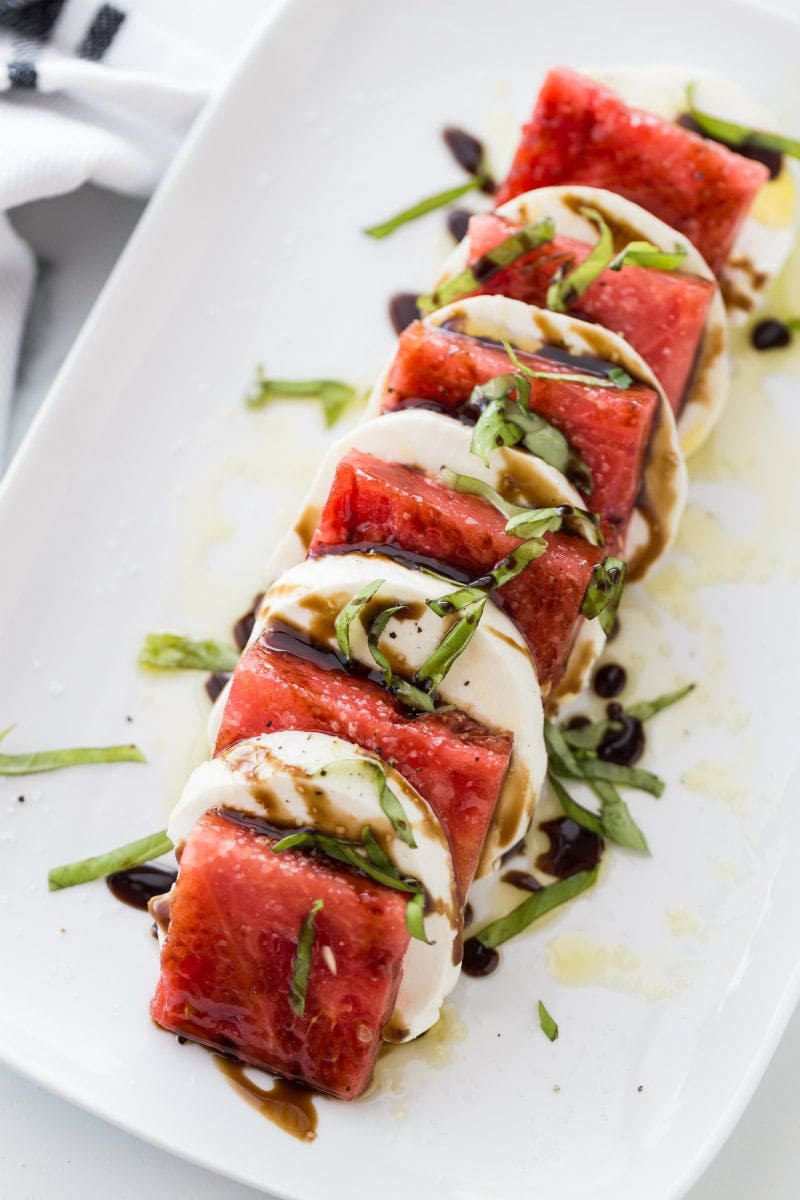 My kiddo made a salad a couple of summers ago that we eat quite often. It's a Watermelon- Strawberry Caprese Salad. It's the perfect salad that has all the best summery flavors. That one doesn't have any balsamic glaze, so we sometimes make a Watermelon Caprese that does. This Caprese is so delicious drizzled with sweet balsamic glaze. It's our favorite, super-simple salad recipe to make for summer.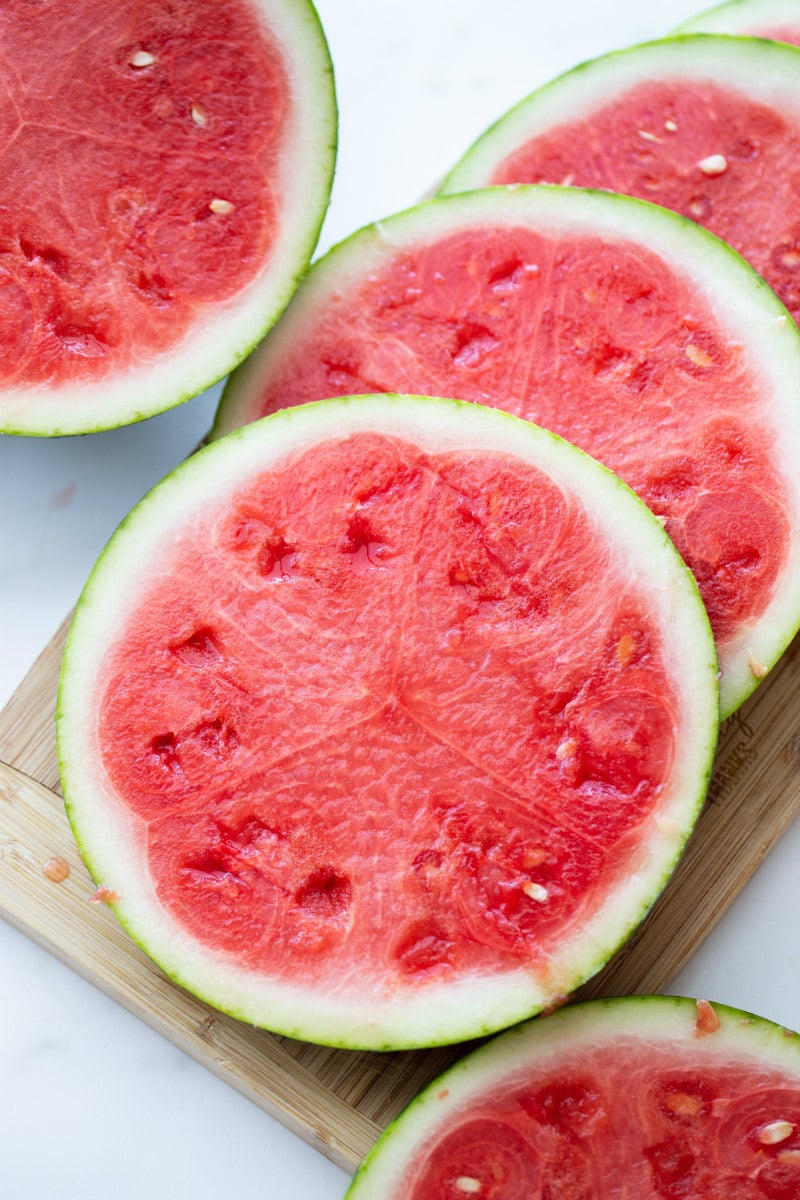 The best watermelon to use:
The best size watermelon to use for your Watermelon Caprese is the small personal-sized watermelon. Make sure it's seedless. You will see little white seeds throughout the watermelon (as pictured), but those are edible and you hardly notice them.
How to Pick a Ripe Watermelon
Pick it up. A ripe watermelon will feel heavy for its size.
Watermelons develop a yellow spot at the place they rested on the ground while growing. When they are ripe and ready to eat, the spot will turn a a brighter yellow. The brighter the spot, the longer the melon stayed on the vine sweetening up.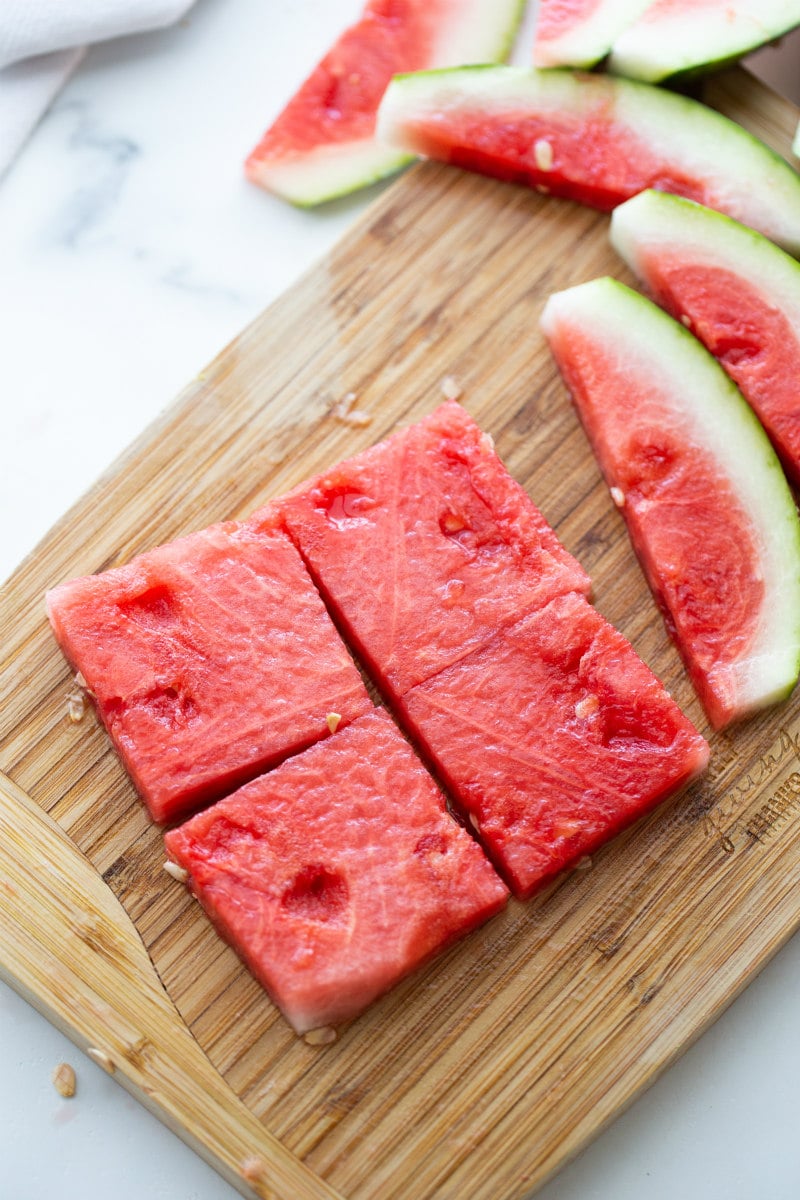 How to make Watermelon Caprese:
Slice your watermelon, and then cut the watermelon slices into squares. Cut those squares into 4 equal pieces. 4-inch squares are just about right. Cut up the rest of your watermelon and save for munching. You don't want any of it to go to waste! You'll need 6 squares of watermelon for this recipe to make 3 servings. You can double or triple the recipe to make more.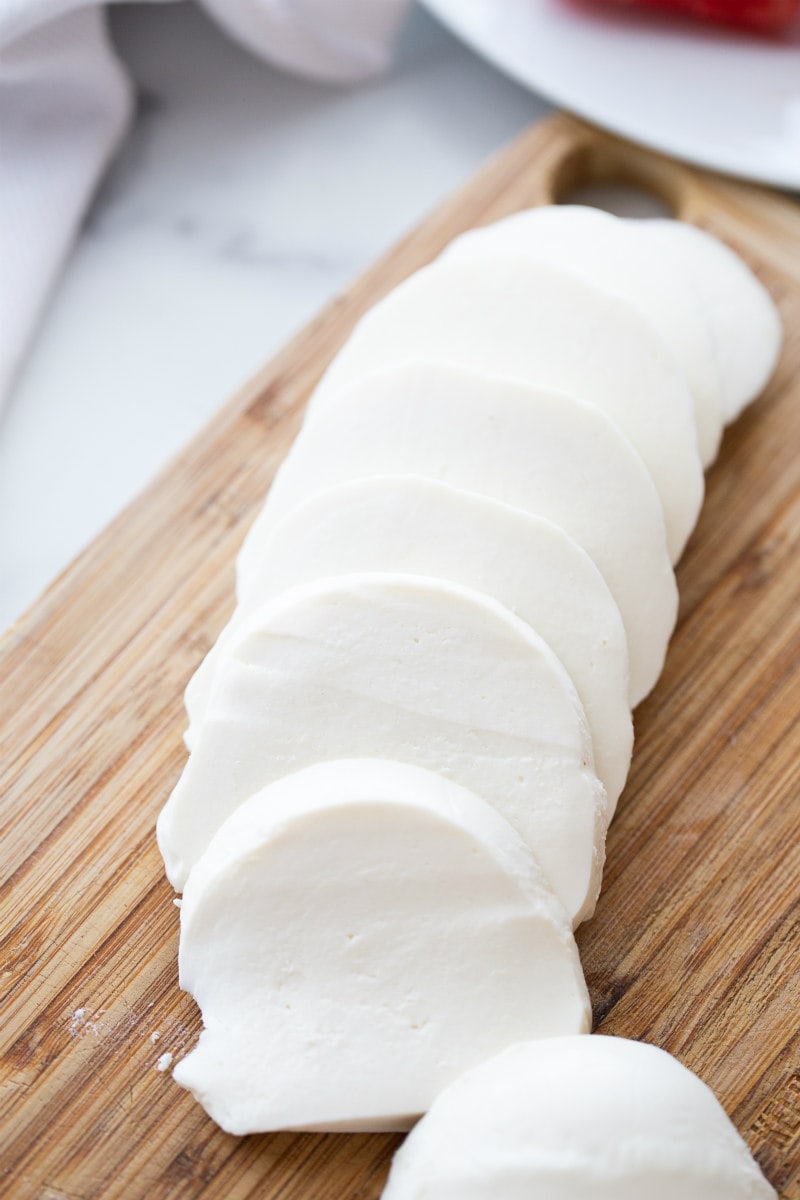 About Fresh Mozzarella:
Use fresh mozzarella when making Watermelon Caprese. You can find balls of fresh mozzarella to cut into slices. You may also be able to find fresh mozzarella that has already been cut into slices for you. 6 slices are needed for this recipe.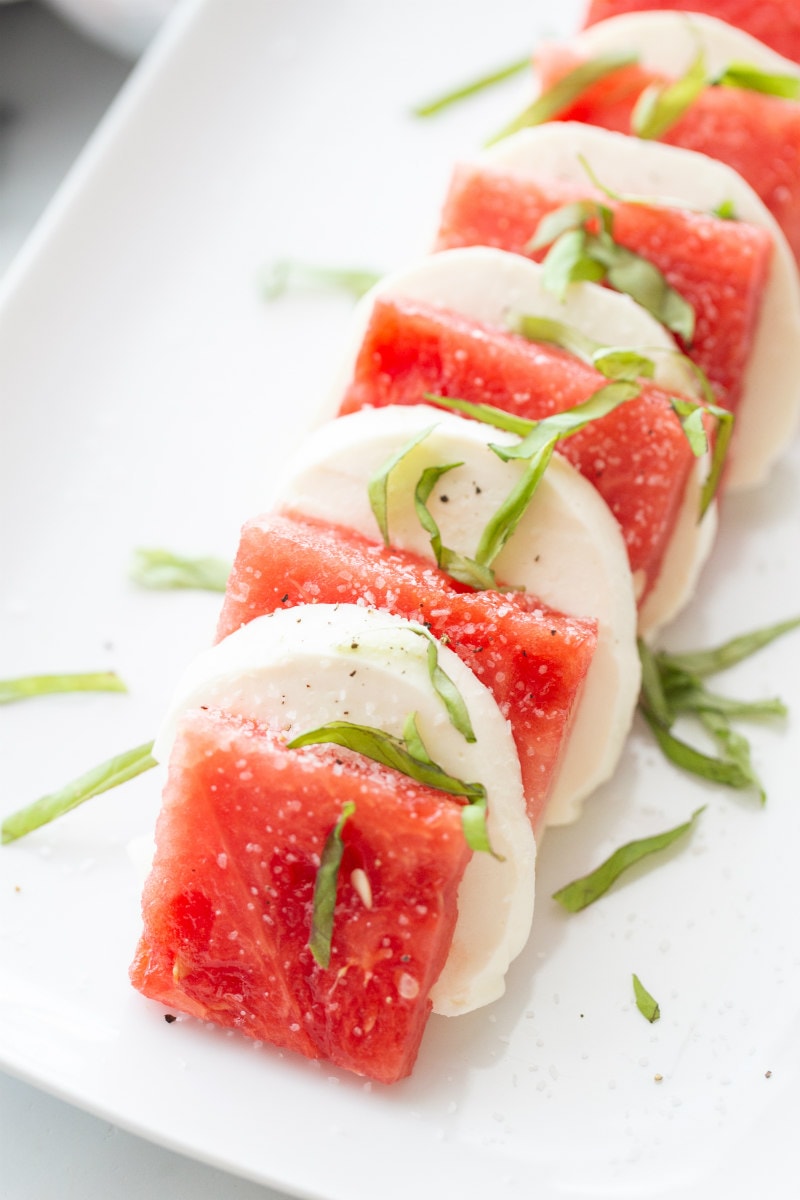 You'll alternate watermelon and mozzarella in a long row on your serving platter, and then you'll give it a good sprinkle of kosher salt and freshly ground black pepper. Take your fresh basil leaves and stack them on top of each other. Slice the fresh basil thinly. Fresh basil is sprinkled on top. And then it's drizzled with olive oil and balsamic glaze.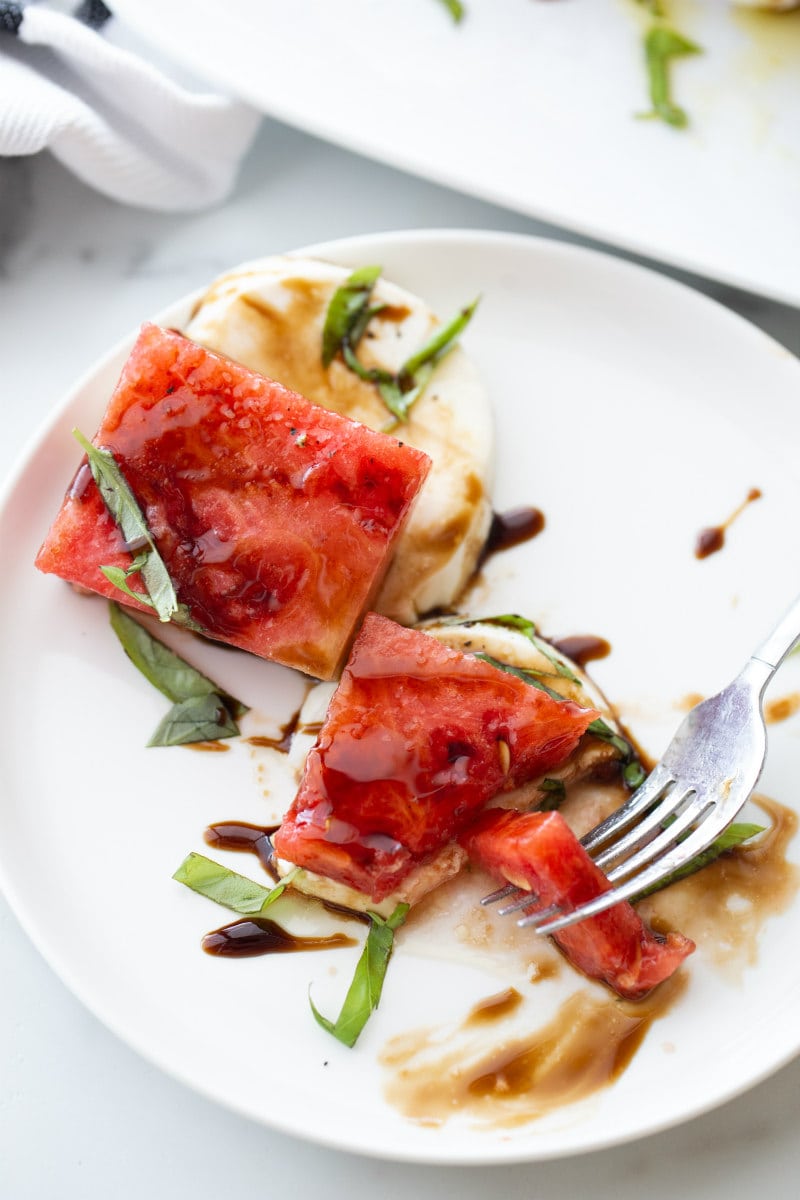 One serving is two stacks of watermelon and mozzarella. That should be plenty. Watermelon Caprese is the perfect summer salad to serve as a side-dish for dinner. Enjoy!
How to make homemade Balsamic Glaze:
You can buy balsamic glaze at your local market, but if you don't want to buy a bottle… don't worry because it's super easy to make it at home! You need only one ingredient to make balsamic glaze: balsamic vinegar. Pour about 1 cup of vinegar into a small saucepan and bring to a boil over medium-high heat. Reduce the heat to medium and simmer, stirring occasionally, until the vinegar thickens, coats the back of a spoon, and is reduced to about 1/4 cup, 20 to 25 minutes. Set aside to cool for 10 minutes — the glaze will thicken slightly as it cools. Use more vinegar if you want more glaze.
Here are a few more Caprese themed recipes you might like to try:
Watermelon Caprese
Totally delicious caprese using watermelon in place of tomato.
Recipe Details
Ingredients
6

pieces

watermelon,

cut into 4-inch squares

6

slices

fresh mozzarella

kosher salt and freshly ground black pepper

3

tablespoons

sliced fresh basil

2

tablespoons

extra-virgin olive oil

2

tablespoons

balsamic glaze
Instructions
On a serving platter, line up watermelon and mozzarella, alternating, in a single row. Sprinkle with salt and pepper.

Sprinkle the watermelon and mozzarella with fresh basil, drizzle with olive oil and top with a drizzle of balsamic glaze.

Serve two watermelon/mozzarella stacks per plate. Double the recipe for more servings!
Nutrition
Serving:
1
serving
,
Calories:
361
kcal
,
Carbohydrates:
29
g
,
Protein:
14
g
,
Fat:
22
g
,
Saturated Fat:
9
g
,
Cholesterol:
45
mg
,
Sodium:
359
mg
,
Potassium:
384
mg
,
Fiber:
1
g
,
Sugar:
21
g
,
Vitamin A:
2219
IU
,
Vitamin C:
25
mg
,
Calcium:
311
mg
,
Iron:
1
mg